As an OFW in Japan, you should be aware of the importance of having an Overseas Employment Certificate, also known as an OEC. This post will walk you through the process of obtaining an OEC in POLO for Filipino workers in the Philippine Overseas Labor Office and through the online process. Pinoys in Japan may visit the branches in Tokyo or Osaka, whichever is nearest.
Also Read:
– How to Renew OWWA Membership in Osaka, Japan
– How to Renew OWWA Membership in Tokyo, Japan
You must be knowledgeable about the situation of what will happen if you do not secure an OEC before or after your vacation in the Philippines. We want to make the research easier for you by doing this guide so that you can spend more time on the process of obtaining the OEC itself.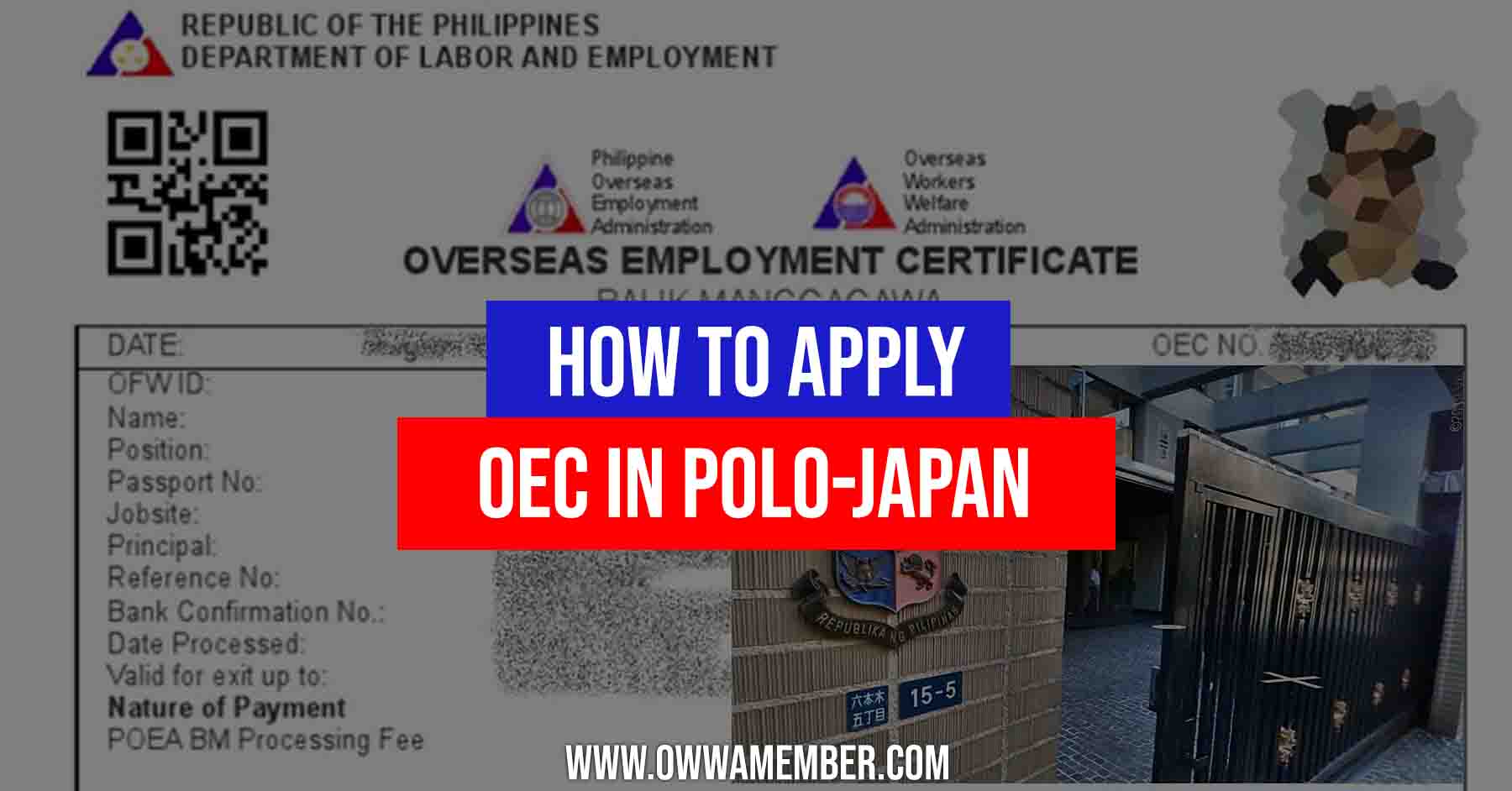 What is OEC (Balik Manggagawa) in Japan?
In accordance with the rules of the Philippine Overseas Employment Administration (POEA), Overseas Filipino Workers (OFW)/Balik Manggagawa (BM) Workers are properly secured and documented through the issuance of an Overseas Employment Certificate, also known as an OEC.
To enable all Filipinos working abroad to leave the country, this document serves as an exit clearance/pass for them to leave the country.
In order to work legally abroad, if you are from the Philippines, you must first register with the Philippine Overseas Employment Administration (POEA) and obtain an OEC (Overseas Employment Certificate). This rule also applies to overseas Filipino workers who travel to the Philippines for a brief visit or vacation with the expectation of returning to their previous jobs afterward, as covered by the guidelines.
If you do not have an OEC, you may be denied permission to leave the country. OFWs are also entitled to certain benefits, such as a reduction in travel tax for your spouse or dependents, as well as an exemption from travel tax and airport terminal fees.
All Filipino workers must have a valid OEC before leaving the country because it is only valid for 60 days from the date of issuance. If you don't use your OEC within this period, you might need to apply again.
Requirements for getting OEC in POLO-Japan
In order to work in another country, an OFW must provide proof that the POEA has properly documented him or her. To be exempt from paying travel tax and terminal fees, OFWs must also submit copies of their OEC to the respective airlines that they fly with the Labor Assistance Center and the Terminal Counter at the Philippine International Airport.
For an OFW or Balik-Manggawa to be eligible to apply for an OEC in POLO Japan, they must provide the original and at least two (2) copies of the following requirements:
Passport with a minimum of six (6) months remaining validity from the date of departure.
A valid work visa, work permit, or any other equivalent document must be presented.
An employment contract or offer of employment that has been verified by the POLO.
Information Sheet on Balik-Manggagawa printed out through POPS-BaM.
To obtain an OEC, the employment contract must be verified by POLO and authenticated by the Philippine Consulate.
Qualifications
Workers on leave or Balik-Manggawa and those who meet the qualifications listed below are required to obtain an OEC.
OFWs on vacation or leave from a valid job.
Re-hired OFWs who have fulfilled their contracts and are on leaving the Philippines for the purpose of work
Undocumented/illegal workers hired abroad and registered with POLO to be included in the POEA database returning to the same employer.
Cost of OEC in Japan
The amount of the processing of OEC is PHP 100.00, or its equivalent to YEN.
Ascertain that your PAG-IBIG and OWWA memberships are active. If not, you must pay for them.
How to Schedule OEC online appointment in Japan
The appointment information sheet for Balik-Manggawa can be accessed online using the POEA Online Processing System for Balik-Manggawa, or POPS-BaM.
These processes are given to assist you in registration and scheduling an appointment through the POEA's online processing system.
To begin the process of creating and registration of an account, follow this initial step-by-step procedure:
Go to your browser and type https://onlineservices.dmw.gov.ph/OnlineServices/POEAOnline.aspx in the URL
Click on Let's Go
Click on "Register" for new users ( just log in if you already have an account )
Then click "I accept the terms of use."
Fill out the required information and then click register. (a message will display indicating that your registration was "Successful")
Log in to the email address you provided when you registered (there is a message containing your "temporary password")
Return to the link provided in Step 1 and log in using the registered email address, then click "next."
Use the temporary password sent to your email, then click "log in."
Set the password you want
Update your profile by clicking "My Profile," after completing your profile, click "Update Profile" on the upper right side of the page
Add your Identification and Beneficiary
Attach profile picture and passport
To schedule an appointment using your POPS-BaM account, complete these steps:
Log in to your POPS-BaM account (onlineservices.dmw.gov.ph/OnlineServices/POEAOnline.aspx)
Click "Balik-Manggagawa," located at your top right-hand side.
Input your next flight date, and then click "next."
You will be asked if you are returning BM to the same employer (if yes, you can print your OEC, if no, proceed to step 5)
Accomplish your contact details with true and correct information to the best of your knowledge.
After clicking "Submit," select POLO location near your workplace.
Then, choose an available Appointment Schedule.
You now have an Appointment with POLO. You can print or cancel your appointment.
How to Apply OEC at POLO Japan?
To get your OEC from POLO Osaka, you should visit the Philippine Consulate on the date and time specified for your appointment. You can also go to the POLO Tokyo located at the Embassy of the Philippines in Japan. Remember to bring the appointment sheet with you when you visit the POLO. Here's the process once you are in the consulate/embassy:
Directly proceed to the POLO counter in order to obtain an OFW Information Form.
Fill up the blanks on the OFW Information sheet with accurate and truthful information.
Upon completion, submit the completed OFW Information sheet to the POLO Administrative staff along with the other requirements outlined above.
Make the necessary payments for the fees. Wait for the original and copies of your OEC.
How to Get OEC Exemption in Japan
To qualify for an OEC exemption, the worker must be an OFW with a POEA record who is returning to the same employer and job site. The worker must log into his or her BM account prior to returning to the same employer overseas on the scheduled date and time. The system would inform the BM employee whether he or she is eligible for an OEC exemption.
If qualified, the BM worker is not required to get an OEC at any POEA office and is therefore not required to pay the OEC processing cost. Additionally, before departing the Philippines for the purpose of labor, the BM employee can present the OEC exemption number to Bureau of Immigration employees at the airport, which would free him/her from paying the travel tax and airport terminal fee.
If the worker is not qualified, he or she may apply for a new OEC at any POLO branch in the area.
Video: POLO-Tokyo OEC Issuance and Contract Verification
If you are looking for a helpful video about getting OEC abroad, you might want to check this clip as uploaded by the POLO-Tokyo office on  their official YouTube channel.
Frequently Asked Questions
Below are some commonly asked questions and answers regarding the POLO-Japan office for OEC Balik Manggagawa application:
1. Who is eligible to benefit from the OEC Exemption for Balik Manggagawa (BM) pursuant to GBR No. 12, S 2016?
A Balik Manggagawa employee who has completed or is currently completing his/her job contract and is (a) returning to the same employer; (b) returning to the same job site; (c) has recorded in the POEA database.
2. What does "having a record in the POEA Database" mean?
OFWs who have previously been handed an OEC by the POEA in any of its offices/centers (POEA Headquarters, Regional Offices, Extension Units, BM Mall Processing Centers, and POLO offices abroad) have records
3. How can I tell if I'm exempt from having to secure OEC?
The BM is obliged to log into his or her POPS-BaM account before the date of return to the employer. The system would determine whether or not the worker is already exempt from securing OEC.
4. I was issued an OEC at the POLO and an E-Receipt during my previous vacation at the POEA main office. Still, I have not registered with BM Online. Am I exempt from OEC?
To check whether you are exempted or not, all you need to do is create a new user account since you have a record in the POEA database but have not yet registered in the system. You will be directed through the registration procedure by the system.
Registered users must log in using their registered email address and password. When the worker returns to the same employer and job site, the system verifies whether the worker is exempt from getting OEC.
Summary
The OEC is a very important document for an OFW. It can help you get an appropriate vacation or leave from work. The process is fairly simple because you may obtain an OEC or an OEC exemption online using the POPS-BaM without having to go through the hassle of visiting POLO.
For first-timers, you will need to spend at least one hour at POLO to apply for your first OEC, after which you will be able to use the online facility to obtain your OEC before your next vacation to the Philippines.
Contact Information
POLO-OWWA Tokyo
Address: Embassy of the Republic of the Philippines 5-15-5 Roppongi, Minato-ku, Tokyo 106-8537 Japan
Telephone Number/s: OWWA: 03-6441-0428/0478/0959
Email: OWWA: polo_tokyopost@yahoo.com.ph, Labor and Employment Facilitation Services: polotky@philembassy.net, Welfare Services: polo_tokyopost@yahoo.com.ph
Website: https://polotokyo.dole.gov.ph
Facebook Pages: facebook.com/poloowwatokyo/
POLO-OWWA Osaka
Main Address: 701 Floor Urban Center Midosuji, 4-3-5 Awaji-machi, Chuo-ku, Osaka, Japan
Telephone Number/s: +81 665 757 593; +8170 2275 6082 (hotline for labor documentation concerns), +8170 2447 4016 (hotline for welfare concerns
Email: osaka.laborsection@gmail.com, verfication2020@yahoo.com (for labor documentation concerns), laborsection.welfare@gmail.com (for welfare concerns)
Website: https://poloosaka.dole.gov.ph/
Facebook Page: https://www.facebook.com/PHinOsaka/
Google Map Location
POLO-Tokyo
Please see the map guide to the location of the POLO-OWWA Tokyo office in Japan. The office is in the same location as the Embassy of the Philippines in Tokyo Japan.:
POLO-Osaka
Please see the map guide to the location of the POLO-OWWA Osaka office in Japan. The office is in the same building as the office of the Consulate General of the Philippines.