Overseas workers from the Philippines working in Jordan can apply for an Overseas Employment Certificate (OEC) at the Philippine Overseas Labor Office (POLO) in Amman. If you are an OFW in Jordan, you will be required to obtain this document if you plan to take a vacation in the Philippines and then return to Jordan to work again.
Also Read: How to Renew OWWA Membership in Amman, Jordan
To help you out, we summarized everything you need to know in this article. This article will guide you through the whole process of getting an OEC. The procedure doesn't have to be complicated. If you know what you are doing, you will spend lesser time processing this legal document. Let's get started.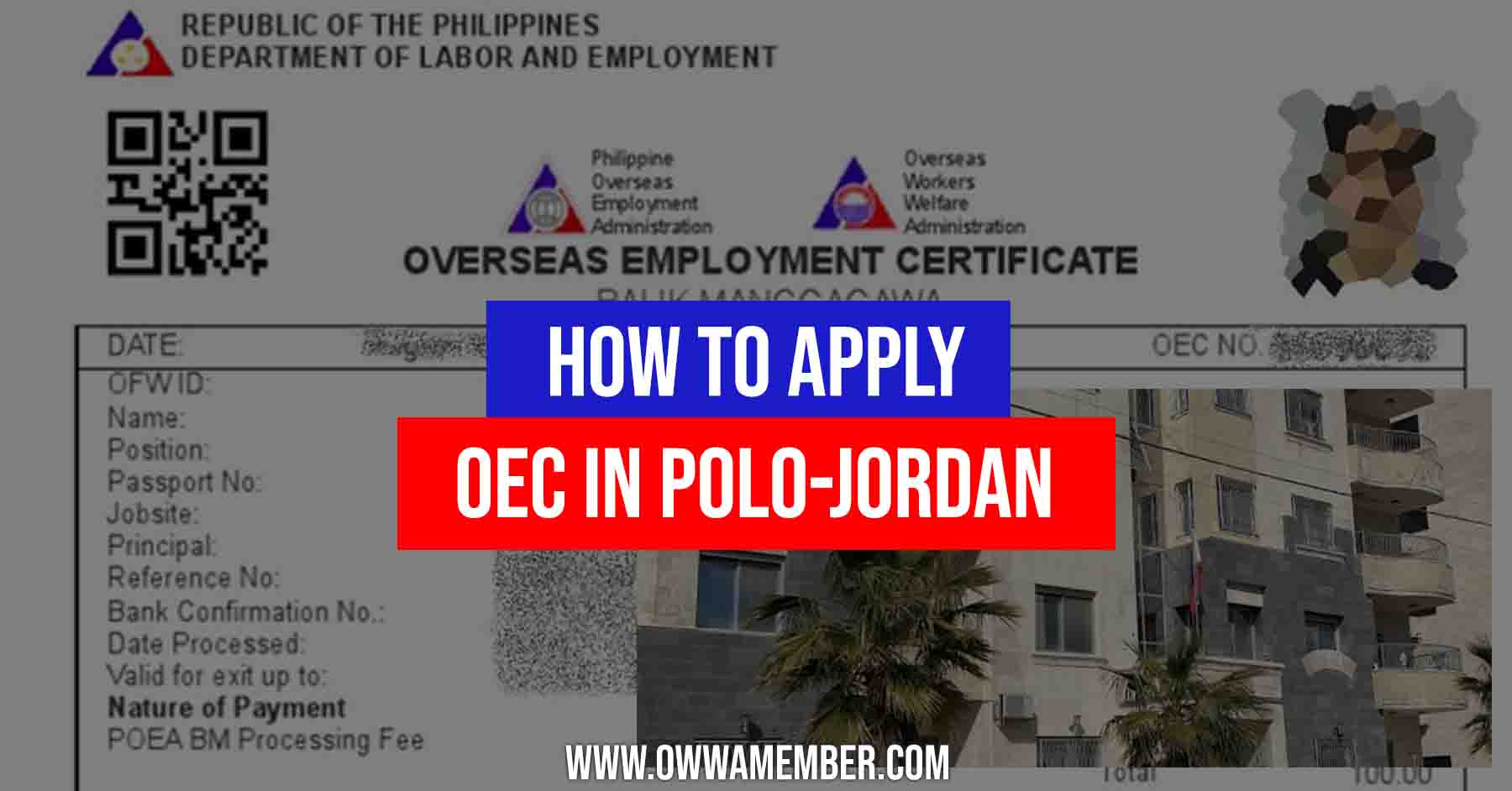 What is an OEC (Balik Manggagawa) in Jordan?
The Overseas Employment Certificate, or OEC, is a document that can be presented at an immigration counter as proof of the worker who has been properly accredited by the Philippine Overseas Employment Administration (POEA). OEC is proof that the OFW has paid the processing fee and made a financial contribution to OWWA as a member.
When Filipino workers return to their country of work after a vacation, they are typically charged travel taxes and terminal fees. But with an OEC, they will be exempt from these costs. By obtaining an OEC, OFWs can also benefit from reduced travel taxes for their spouse and dependents.
An OEC is regarded as an exit clearance when departing the Philippines. The OEC demonstrates that the OFW or Balik-Manggawa (BM) worker is legally permitted and fully documented to work abroad by the POEA.
OECs are valid for a period of sixty (60) days. You need to use it before it expires.
OEC Requirements in Jordan
Those who are planning to get an OEC from POLO Jordan should keep in mind the requirements needed. The following documents are what you need. Make sure to complete all of them even before you go back to the Philippines to avoid the hassle.
Letter addressed to the POEA Administrator
Original valid Philippine passport
Valid re-entry visa
Valid residence permit
Work contract and employment certificate
Previous records from POEA (Records Division, 6th Floor)
Completed OFW Information Sheet
Request for Clearance Form
Proof of Arrival/Exit from Job Site
Other documents that may be required on a case to case basis
OFWs who failed to secure their Balik-Manggagawa/OECs from POLO-Amman before returning home for vacation leave are required to submit these documents to the Balik-Manggagawa Processing Division located in the basement of the POEA Building on Ortigas Avenue.
Qualifications
The following OFWs, also entitled as Balik-Manggawa, are eligible to receive OEC from POLO Amman:
OFWs who are returning to the same employer and same workplace with a POEA record
OFWs who are returning to the same employer but in a different country with a POEA record
OFWs who changed employer on-site and/or without a POEA record
You must obtain your OEC or OEC Exemption on or before your flight if you meet the following conditions.
Cost of OEC in Jordan
Is it necessary to pay for OEC? Yes. When accomplishing your OEC, keep the costs in mind as well.
The fee for OEC processing is PHP 100.00.
How to Schedule OEC Online Appointment at POLO Jordan?
The POEA Online Processing System for Balik Manggagawa, also known as POPS-BaM, is required in order to obtain the OEC. This is a requirement for all OFWs. Without an online account with the POEA, you will encounter a lot of inconvenience in the future.
To access POEA's online system, you must first create an account at POEA Online Processing System for Balik Manggagawa.
To assist you with the account registration process, we have introduced a simple guide. Simply follow the steps outlined below:
Go to your browser and type https://onlineservices.dmw.gov.ph/OnlineServices/POEAOnline.aspx in the URL
Click on Let's Go
Click on "Register" for new users ( just log in if you already have an account )
Then click "I accept the terms of use."
Fill out the required information and then click register. (a message will display indicating that your registration was "Successful")
Log in to the email address you provided when you registered (there is a message containing your "temporary password")
Return to the link provided in Step 1 and log in using the registered email address, then click "next."
Use the temporary password sent to your email, then click "log in."
Set the password you want
Update your profile by clicking "My Profile," after completing your profile, click "Update Profile" on the upper right side of the page
Add your Identification and Beneficiary
Attach profile picture and passport
Following your registration, you will need to print your BM Information/Appointment Sheet or book your schedule at POLO Jordan through the following steps outlined below:
Log in to your POPS-BaM account (onlineservices.dmw.gov.ph/OnlineServices/POEAOnline.aspx)
Click "Balik-Manggagawa," located at your top right-hand side.
Input your next flight date, and then click "next."
You will be asked if you are returning BM to the same employer (if yes, you can print your OEC, if no, proceed to step 5)
Accomplish your contact details with true and correct information to the best of your knowledge.
After clicking "Submit," select POLO-Americas: Washington DC.
Then, choose an available Appointment Schedule.
You now have an Appointment with POLO. You can print or cancel your appointment.
How to Apply for OEC at POLO Jordan
After successful registration and booking of an appointment, the following steps can be taken to apply for OEC:
Go to the POLO Amman on the day and time specified on your OEC appointment.
Approach the receptionist and present all of the requirements listed above. The officer will inquire about your status and provide you with forms to complete.
Receive a queue number and wait to be called.
Make the required fee payment and await your OEC's approval.
How to Apply OEC Exemption in Jordan
OEC exemptions are available to BM workers who return to the same employer and workplace and have an existing record in the POEA database. Additionally, those BM employees hired through the Government Placement Branch (GPB) are exempt.
The OEC Exemption requires that BM workers use the current online processing system prior to flight. The worker's credentials and employment details must be entered into the system in order to determine whether he or she is exempt from obtaining an OEC. His/her personal information will be stored in the POEA database and will be electronically transmitted to the Bureau of Immigration to assist the Immigration Officer in evaluating the BM's exemption. With this exemption, the worker is prevented from paying the processing fee.
After presenting the necessary documentation to the Tourism Infrastructure and Enterprise Zone Authority (TIEZA) and the Manila International Airport Authority (MIAA), the BM work is exempt from paying the Travel Tax and Airport Terminal Fee. The documents to be presented are:
Valid Work Visa/Work Permit
Valid Employment Contract
Valid Company Identification/Valid Recent Paystub or Other Employment Documents
Balik-Manggagawa, who are not exempt from obtaining OEC, will be re-directed to a new page on the website to register and schedule an appointment with the ideal POEA office.
If you come to the airport without your BM online account and without your OEC, you will be assisted by the Labour Assistance Counter (LAC) officer for clearance and document evaluation.
Frequently Asked Questions
Below are some commonly asked questions and answers regarding the POLO Amman application for OEC Balik Manggagawa:
1. What is the POPS-BaM BM Exemption Number?
The BM Exemption number is a reference number generated by the system and transmitted to the Immigration Officer via a link, demonstrating that you are not required to obtain OEC. This simply means that you are exempt from obtaining an OEC.
2. How do I know if I'm exempt from obtaining OEC?
The BM worker must log into his or her POPS-BaM account before the scheduled date of return to the employer. The system would determine whether the worker is already exempt from OEC acquisition.
3. What if my OEC is already expired?
If you are a qualified BM returning to the same employer, you are not required to obtain a new one. A possible solution is to print your OEC using POPS-BaM.
4. Can the old employment contract be used as a requirement in obtaining OEC?
No. In accordance with the requirements, you must submit an existing or new verified contract for evaluation.
Summary
That is how simple the processes are for obtaining an OEC. If you are a qualified OFW based on the criteria listed above, you may apply for an OEC. For a more convenient process, you might want to check whether you are exempt from obtaining this document or not. It would be better to be exempted since you can save up fees.
We hope this article helps you acquire your OEC without a hassle. Don't forget to share this with your family and friends.
Contact Information
Philippine Overseas Labor Office – Amman, Jordan
Address: No. 113 Al Manar Bldg, Khalil Yassin al Talhoni St., Hay-diyar Dier Ghabar, Amman, Jordan
Contact Number: + 962 6 593 038564 – Office of the Labor Attaché; + 962 6 593 0385- OWWA
Email Address: labatt_jordan@yahoo.com (labor attaché); jordan@owwa.gov.ph (welfare officer)
Website: https://ammanpe.dfa.gov.ph/
Facebook Pages: https://www.facebook.com/Jordan-POLO-OWWA-108092100755636/, https://www.facebook.com/PHLinJordan/
Google Map Location
 This is a map guide for those who are planning to go to POLO Jordan.