The Tulong-Agri Program (TAP) implementation was governed by CHED Memorandum Order (CMO) No. 24, series of 2021, which was issued by the Commission on Higher Education (CHED).
The program is open to qualified and deserving Filipino students who are enrolled or want to enroll in degree programs in agriculture, fishery, forestry, food technology, veterinary medicine, and other relevant fields, including hybrid programs. Private higher education institutions (PHEIs), state universities and colleges (SUCs), and local universities and colleges (LUCs) all offer the program.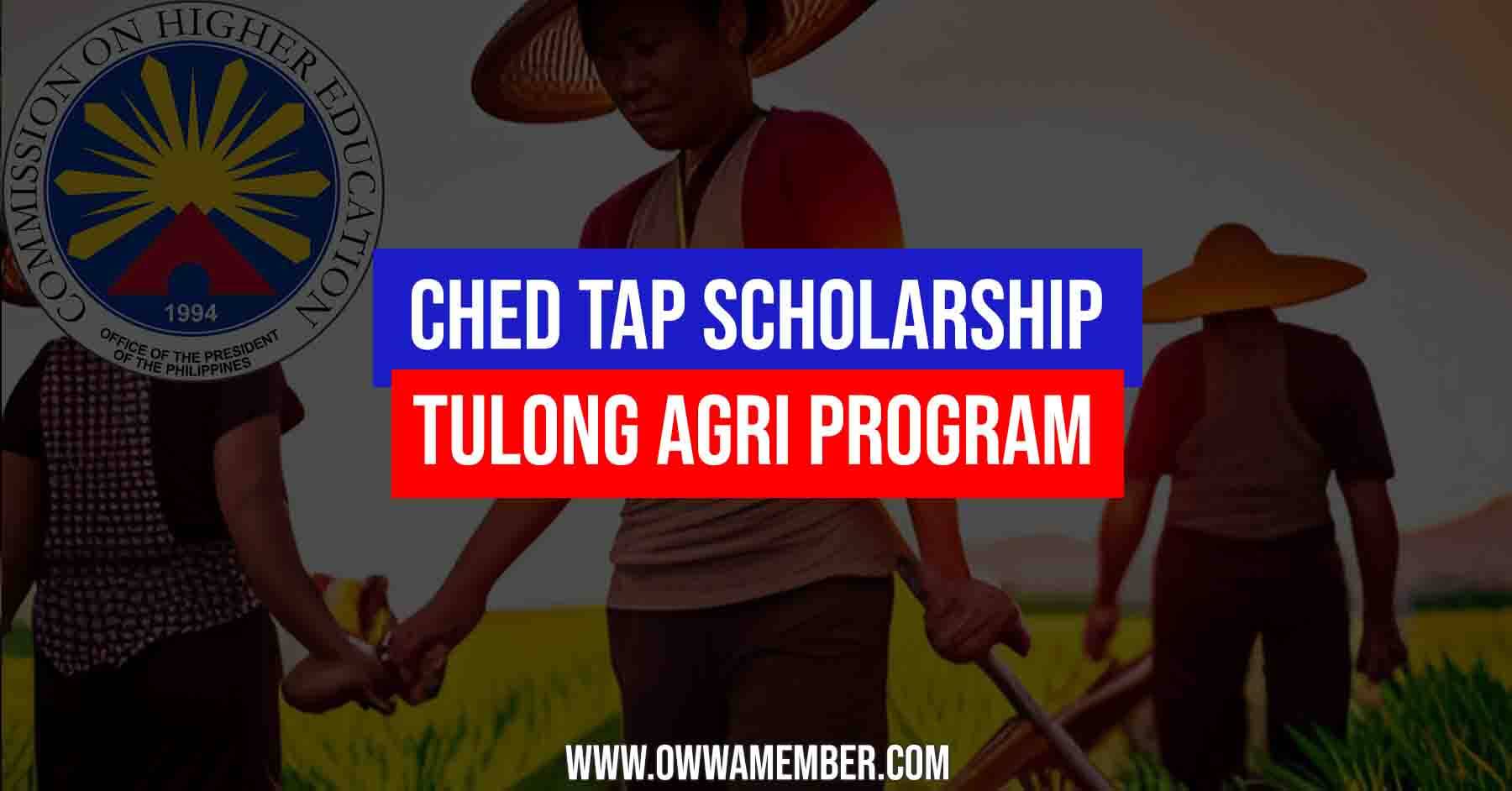 Qualification
The following are the list of qualifications in the CHED Tulong Agri Program (TAP):
Must be a Filipino Citizen
Students who will enroll in programs related to agriculture, fisheries, forestry, food technology, veterinary medicine, and other related agricultural and fisheries education, including hybrid programs in PHEIs, SUCs, or LUCs with Certificate of Program Compliance (COPC)
Must be a high school graduate or student who has completed high school and has earned college credits
Must have a general weighted average (GWA) of 75% or its equivalent
A parent's or guardian's total annual gross income must not exceed four hundred thousand pesos (Php 400,000). If the applicant's income is greater than Php 400,000, they must provide a written certification, medical evidence of a family member's illness, or proof that two or more dependents are enrolled in college.
Student-applicants who fall under a special category, such as the Underprivileged and Homeless Citizens under RA No. 7279, Persons with Disabilities (PWDs) under RA No. 7277 as amended, Solo Parents and/or their Dependents under RA 8972, Senior Citizens under RA 9994, and Indigenous Peoples under RA 8371, must submit certifications and/or Identification Cards (IDs) issued by the appropriate offices or agencies.
Not receiving any government-funded assistance, with the exception of the "UAQTE Act of 2017″'s provision for Free Higher Education in SUCs and LUCs.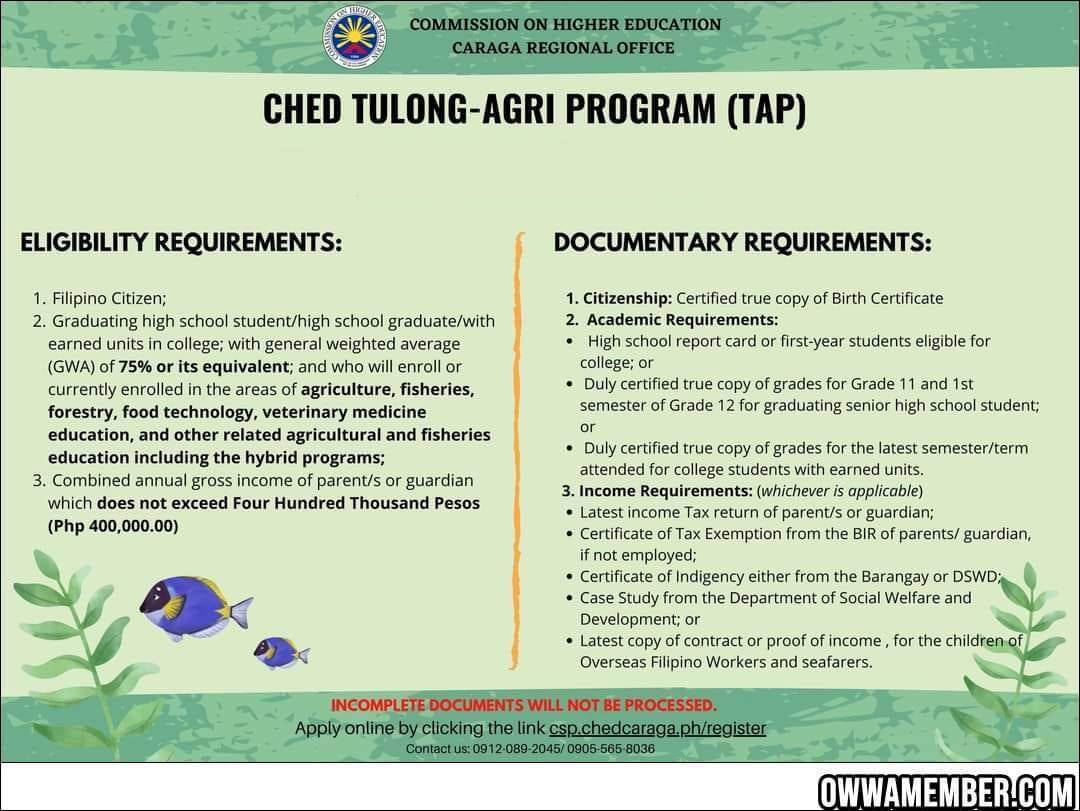 Requirements
The following is the list of requirements for the CHED Tulong Agri Program (TAP):
A certified true copy of the Birth Certificate
High school transcript or report card for incoming first-year college students
For graduating senior high school, true certified copies of grades for Grades 11 and the first semester of Grade 12. For college students with earned units, true certified copies of grades for the most recent semester or term attended.
Any of the following documents:
Case Study from the Department of Social Welfare and Development
Certificate of Indigence either from the Barangay or DSWD
Certificate of Tax Exemption from the BIR of parents/guardian (if employed)
Latest Income Tax Return of parent/s of guardian
Latest copy of the contract of proof of income for the children of Overseas Filipino Workers and seafarers
CHED Tulong Agri Program (TAP) Priority Courses
The following list are the priority courses for CHED Tulong Agri Program (TAP):
Bachelor in Agriculture and Biosystems Engineering
Bachelor in Agricultural Technology
Bachelor in Dairy Technology
Bachelor in Sugar Technology
Bachelor of Science in Agriculture
Bachelor of Science in Environment Science
Bachelor of Science in Fisheries
Bachelor of Science in Forestry
BS Agribusiness
BS Food Technology
Doctor of Veterinary Medicine Education
Note: Students who applied but did not meet the grade requirement or did not enroll in the designated priority courses would be automatically eliminated from the ranking.
Benefits
The Tulong-Agri Program (TAP) provides those who qualify with the assistance that covers tuition and other school fees (TOSF), a monthly stipend of Php 2,500, and a book allowance of Php 200 each month. The entire amount of assistance given per school year is Php 47,000. The TOSF is not a part of the financial assistance package, but, for qualified grantees enrolled at State Universities and Colleges (SUCs)/Local Universities and Colleges (LUCs) who are eligible for Free Higher Education (FHE) benefits under RA 10931.
TOSF: Php 20,000
Stipend: (Php 2,500 per month) Php 25,000
Book Allowance (PHP 200.00 per month): Php 2,000
Total financial assistance per academic year: Php 47,000
How to Apply CHED Tulong Agri Program (TAP)
If you are qualified, accomplish the CHED TAP Application Form Online. Note that incomplete requirements will not be included in the official rank list.
Step 1: Click and open the designated link for you to access the online application form. Contact the CHED Regional Office in your region if it is not included below.
CHED Region 1: https://stufaps.chedro1.com/application/home
CHED Region 2: https://stufaps.chedregion2.com/
CHED Region 4-A: https://www.chedcalabarzon.com/csp/index.php/stufap/app_form
CHED Region 5: https://docs.google.com/forms/d/e/1FAIpQLSdgmo9UNG5xgyR4wSr34UVlLS7T6b8aMkdCJLoMDamxNbsfOg/viewform
CHED Region 6: https://docs.google.com/forms/d/e/1FAIpQLSdCtnPVUrIQjxAk62RCoq9-YHhvwVT3hus8iwciui_abhW-fg/viewform?pli=1&pli=1
CHED Region 7: https://forms.gle/QXWqVC8gfKWH2S8j6
CHED Region 8: https://tinyurl.com/CHED8Tap
CHED Region 9: https://chedro9.com/
CHED Region 10: https://docs.google.com/forms/d/e/1FAIpQLSdFLd4Vh66rTsGGxjhsSiwZF4ll8KMkz7fbfcCHrDFRHlQOWg/viewform
CHED Region 11: https://docs.google.com/forms/d/e/1FAIpQLSdzfk8jVTt1VQcljhkDbDOcvLfhFnySkExat1GREGLvvrZxsA/viewform
CHED Region 12: https://bit.ly/R12CHEDTAPApplicationAY2021-2022
CHED CARAGA: http://csp.chedcaraga.ph/register
CHED CAR: https://chedcar.com/agri_prog/stufap/how_to_apply
Step 2: Fill out all the details needed in the CHED TAP Application forms.
Step 3: Check the application form to make sure all the information is accurate before submitting.
Step 4: The CHEDRO assesses the submitted applications and ranks the qualified applicants.
Step 5: The CHEDRO will update the list of applicants through HEIs and give each qualified applicant a Notice of Award (NOA).
Step 6: Sign the return slip and deliver it to the concerned CHEDRO within thirty (30) days of the date on which you received the NOA, whether in hard copy or electronically. If the NOA is not submitted within the required time frame, the designated slot will be automatically forfeited.
Note: First-year applicants must submit their applications to the CHEDRO that is closest to the school that they graduated from.
For college students with earned units, file an application to the CHEDRO where the current HEI is located.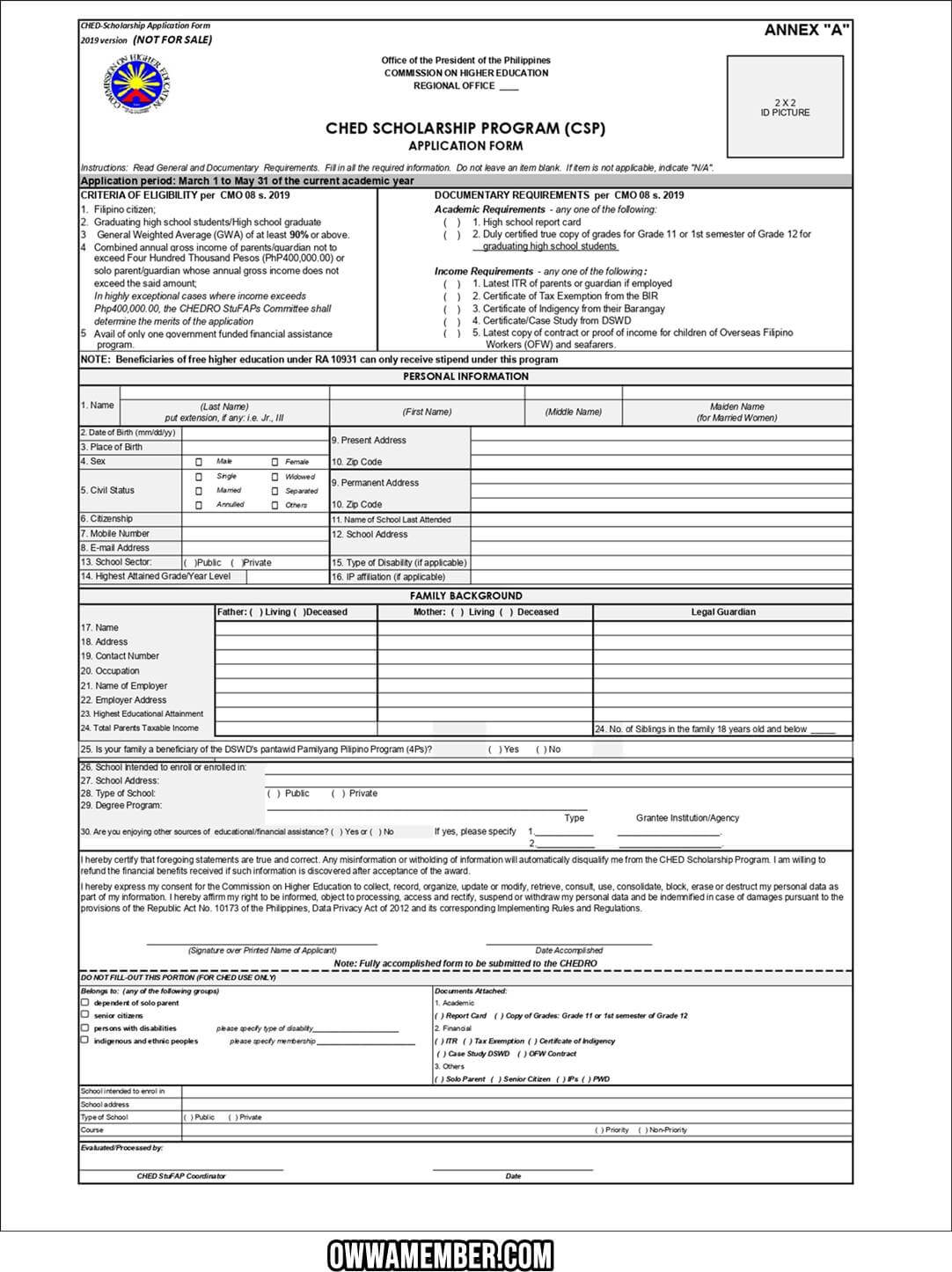 Video: CHED TULONG-AGRI PROGRAM Requirements and Qualifications
To learn more about the CHED Tulong Agri Program (TAP), watch the tutorial video below. The qualifications, requirements, and application procedure are unchanged for the current academic year.
Frequently Asked Questions
If you have any further questions regarding the "How to Apply CHED Tulong Agri Program (TAP)" see the list of frequently asked questions and answers below.
1. What is CHED Tulong Agri Program (TAP)?
The CHED Tulong-Agri Program (TAP) is a government project to encourage Filipino students to enroll in degree programs in agriculture, fishery, forestry, food technology, veterinary medicine, and other relevant fields. It is offered by local, state, and private colleges and universities.
2. What is the purpose of the CHED Tulong Agri Program (TAP)?
Through increased access to and affordability of higher education, TAP aims to give assistance to students pursuing professions in agriculture and related fields. Recognizing the significance of agriculture in the Philippines, the program supports and promotes agricultural education in an effort to create professionals who are knowledgeable in the field.
3. How soon can I enroll if my application is approved?
Applicants are required to formally enroll within one semester of receiving notification of approval. If this is not done, the scholarship will be forfeited and given to another eligible applicant instead.
4. What if I am unable to enroll? Can I postpone enrolling?
The applicant may postpone his/her enrollment until the following semester, but he/she must submit a new application and all the required documentation.
5. Does it ever happen that someone submits everything required and still doesn't get the program?
Yes, there is an instance like that. You will still need to wait until the next batch of scholarships if your school does not currently have any openings in the course you applied for. Additionally, your scholarship grant will be canceled if you fail to comply with the academic criteria (i.e., grade requirements), do not meet other conditions outlined in CHED regulations, or provide false information on your application.
6. What if I am unable to enroll in the course for which I applied? Can I switch to a different course or college?
Yes, but he or she will need to apply for a scholarship again. If his or her admission is denied because they didn't meet the conditions, neither a refund nor assistance would be given. It is not permitted to change universities, institutions, or course levels.
7. When will applicants be informed of their application status?
An email will be sent to applicants before the start of the enrollment of the school year. Your application status will be updated by the CHED TAP officer assigned.
8. Where should I send my application?
You can submit your application to CHED at any of its regional offices or online.
9. How many semesters am I eligible for the scholarship?
If you meet all of CHED's requirements, you are eligible to receive the CHED TAP scholarship for a year in college.
10. How can I have my CHED TAP scholarship renewed?
Before the scholarship year ends, current scholars must submit their income tax return documents; scholars must just follow the same steps as they did their first year.
Summary
Filipino students who aspire to pursue professions in agriculture or related fields can receive assistance through the CHED Tulong Agri Program (TAP). The applicant is encouraged to apply for a CHED TAP scholarship grant as long as they meet the requirements, can provide all the required documentation, and can maintain passing grades.