You might be wondering why you need to verify your employment contract if you're an OFW in Morocco. The Labor Attaché conducts or applies verification to guarantee that all Filipino migrant employees' job rights, benefits, and welfare at the worksite are properly protected.
It ensures that the employment contracts of overseas Filipino workers (OFWs) comply with current employment laws, standards, and practices in the Philippines and the host country, as well as the Philippine Overseas Employment Administration's (POEA) documentary requirements for overseas employment.
Filipinos who are based in Morocco and need to verify their employment contracts can process this at Philippine Overseas Labor Office, #1 Avenue Al Arz, Block 1 Sector 8, Hay Riyad, Rabat, Morocco 10100.
Due to the pandemic, you must always wear a face mask and use social distance when visiting the POLO Morocco office. In this article, you'll learn about the process and guidelines for obtaining an Employment Contract Verification in Morocco.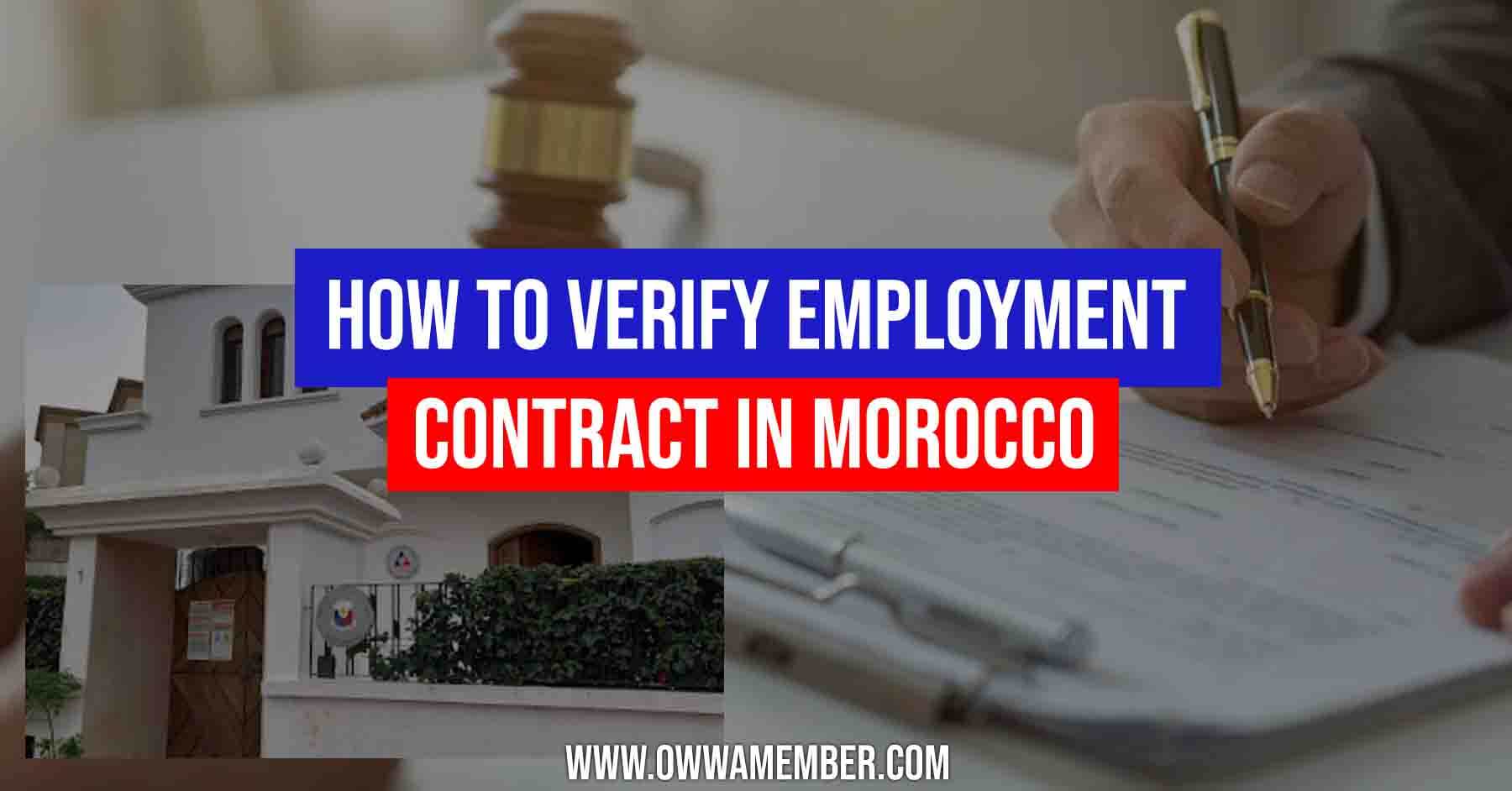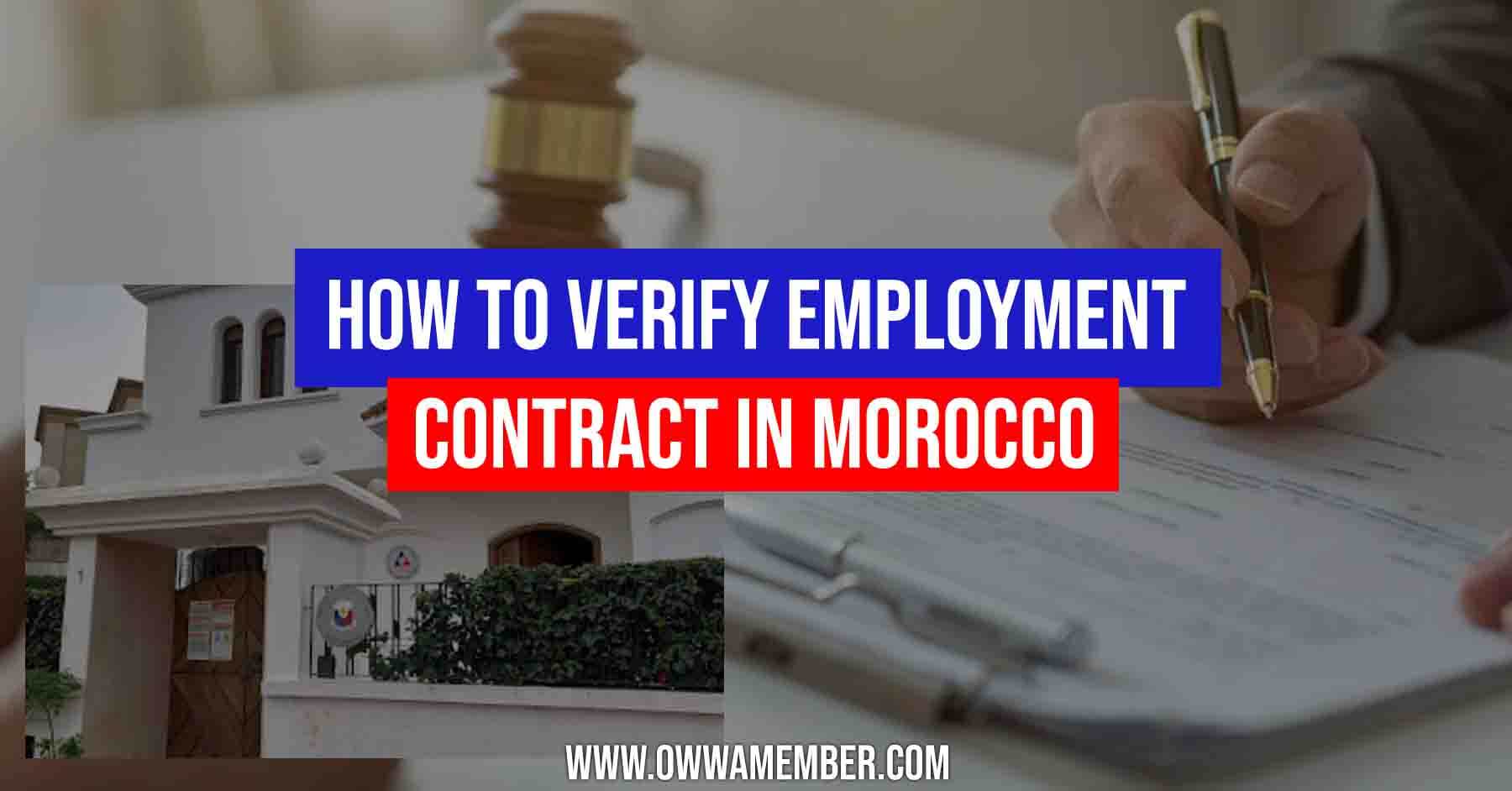 Qualifications
Filipino workers that have changed jobs onsite and are registered with POEA.
Filipinos working in Morocco without a POEA record.
Filipino nationals who have been authorized for an employment visa by the Immigration Department.
Change of employer and/or name of employer for the first time in Morocco (for example, from a tourist or from another nation).
Others on a fixed-term contract (this needs contract verified every renewal).
Note: OFWs who have already had their contracts verified with their present employer do not need to have their renewal contracts verified again. They can just show their old verified contract and their renewed contract when applying for BM, as long as the Employer remains the same.
Requirements
Each document should be submitted in two (2) copies: an original and a duplicate or photocopy.
If NO LA CARTE (for Morocco job site only):
Worker's remittance slips (western union, bank transfer etc.)
mployer Undertaking (The employer's signature must be "legalized" or "mokataa") – Link: http://polorabat.dole.gov.ph/wp-content/uploads/2022/05/POLO-RBT-04-2021-Undertaking-BM.pdf
Submit proof of application or claim slip if la carte is already in process (recepisse de depot de la demande du titre de sejour)
National ID or passport of the employer or company representative (If employer is a diplomat, diplomatic ID and passport required)
Company Profile and Company Registration with English Translation (For skilled/professional only who changed employers or has no prior record at POEA)
Written statement of how you arrived to and obtained a position at your current workplace
(Only for individuals who have no prior records at POEA for their current job site/irregular entry; signed by the worker and addressed to POLO.)
Release or clearance letter from the former employer (Only applicable to those who changed employers)
100.00 Moroccan Dirhams Employment Contract Verification fee
Note: Requirements are subject to change without prior notice; for questions and clarification, contact the POLO office in Morocco
How to Process Contract Verification in Rabat, Morocco
Check out the procedure below on how to book an appointment and how to process employment contract verification in Morocco.
Step 1: Gather all of the necessary requirements.
Step 2: Combine all of the documents into one PDF file and send it to polo.rabat2021@gmail.com with email subject CONTRACT VERIFICATION_(Job Site)_(Last Name, First Name, Middle Initial) for review and checking.
Step 3: POLO Morocco will send you an email for the appointment schedule if the evaluation is completed.
Step 4: Print your confirmed appointment.
Step 5: Go to POLO Morocco on your scheduled appointment day. Show your approved appointment letter, valid ID, and full dose vaccination certificate to the assigned security personnel.
Step 6: The assigned security personnel will check your name to the list of approved appointments for the day. To avoid long lines, bring the complete set of requirements.
Step 7: Get a token number from the assigned personnel.
Step 8: Go to the processing window and submit your documents.
Step 9: Pay 100.00 Moroccan Dirhams for the employment contract verification fees.
Important Reminders
Make sure that the employment contract is dated and signed on all pages by both the employee and the employer.
All documentation should be submitted in two (2) sets or copies; original and duplicate or photocopy (must be colored).
Incomplete document submissions, payments, or other deficiencies, such as missing signatures, will not be accepted.
All applicants must bring their own pens.
All applicants are encouraged to arrive at the POLO Morocco office well-dressed. Shorts, transparent clothing, or slippers are not permitted.
To avoid delays, employers should closely comply with all requirements.
Feel free to call +212-660333587 and +212-808568852, Monday to Friday, 9:00AM to 6:00PM (Every Thursdays at the Honorary Consulate-Casablanca 10AM to 2PM) (Closed on Moroccan and Philippines public holidays).
Frequently Asked Questions (FAQs)
If you have any further questions regarding "How to Verify Employment Contract in Morocco", see the list of frequently asked questions and answers below.
1. What is Employment Contract Verification?
Employment Contract Verification verifies that the OFW has a job and an employer, and that the contract conditions match the POEA and host government's minimum requirements.
2. Is it possible to get OEC without a verified contract?
A verified employment contract is the most important requirement for the issue of an OEC. Only the POLO or the POEA can provide verification services.
3.    Can I skip getting employment contract verification?
No, you can't skip getting your employment contract verification because it's one of the first steps in getting your OEC.
4. Can I go to the POLO Morocco office directly to verify my employment contract?
No, you cannot go straight to the POLO Morocco. Prior to visiting, the POLO Morocco requires an appointment. You can book an appointment after sending the scanned copy of employment contract verification requirements to their email address.
5.    What is the POLO Morocco's office hour?
The POLO office in Morocco is open from Monday to Friday, 9:00AM to 6:00PM (Every Thursdays at the Honorary Consulate-Casablanca 10AM to 2PM) (Closed on Moroccan and Philippines public holidays).
6. What is POLO Morocco's address?
POLO Morocco's address is Philippine Overseas Labor Office, #1 Avenue Al Arz, Block 1 Sector 8, Hay Riyad, Rabat, Morocco 10100.
7. What is the POLO Morocco's hotline number?
You can reach the POLO Morocco office at +212-660333587 and +212-808568852. You can also send a message to MWO Rabat, Morocco via messenger.
MWO Rabat, Morocco Facebook Link:  https://www.facebook.com/polo.rabat21
8. What is the email address of POLO Morocco?
The email address of POLO Morocco is polo.rabat2021@gmail.com.
9.  How much does it cost to process employment contract verification?
The processing fee for employment contract verification is 100.00 Moroccan Dirhams.
Summary
Verifying your employment contract is important because it guarantees that you, as an OFW, have a legitimate job and employer abroad, as well as that the contract terms meet the POEA and host government's minimum standards.
Only employment contracts of workers who have not previously been registered with the Administration will be verified by POLO Morocco. From Monday to Friday, OFWs can verify their employment contracts at the POLO office in Morocco and every Thursdays at the Honorary Consulate-Casablanca.
To avoid any delays in contract verification, you must carefully follow the processes and complete your requirements.
Contact Information
POLO-OWWA Migrant Workers Office-Rabat, Morocco
Address: #1 Avenue Al Arz corner Avenue Addolb, Block 1 Sector 8, Hay Riyad 10100 Rabat, Morocco
Telephone: +212 660-333587
Email: polo.rabat2021@gmail.com
Website: https://polorabat.dole.gov.ph/
Facebook Page: https://www.facebook.com/polo.rabat21
Google Map Location
Please see the map guide to the location of POLO-OWWA Rabat, Morocco: