The Department of Social Welfare and Development (DSWD) runs a program called Technical Assistance and Resource Augmentation Program (TARA), which aids local government units (LGUs) and other partner organizations in providing social welfare and development services to their constituents.
Also Read: DSWD AICS Cash Assistance Programs
This article will provide in-depth coverage of all the information you require to make an informed decision about participating in this program.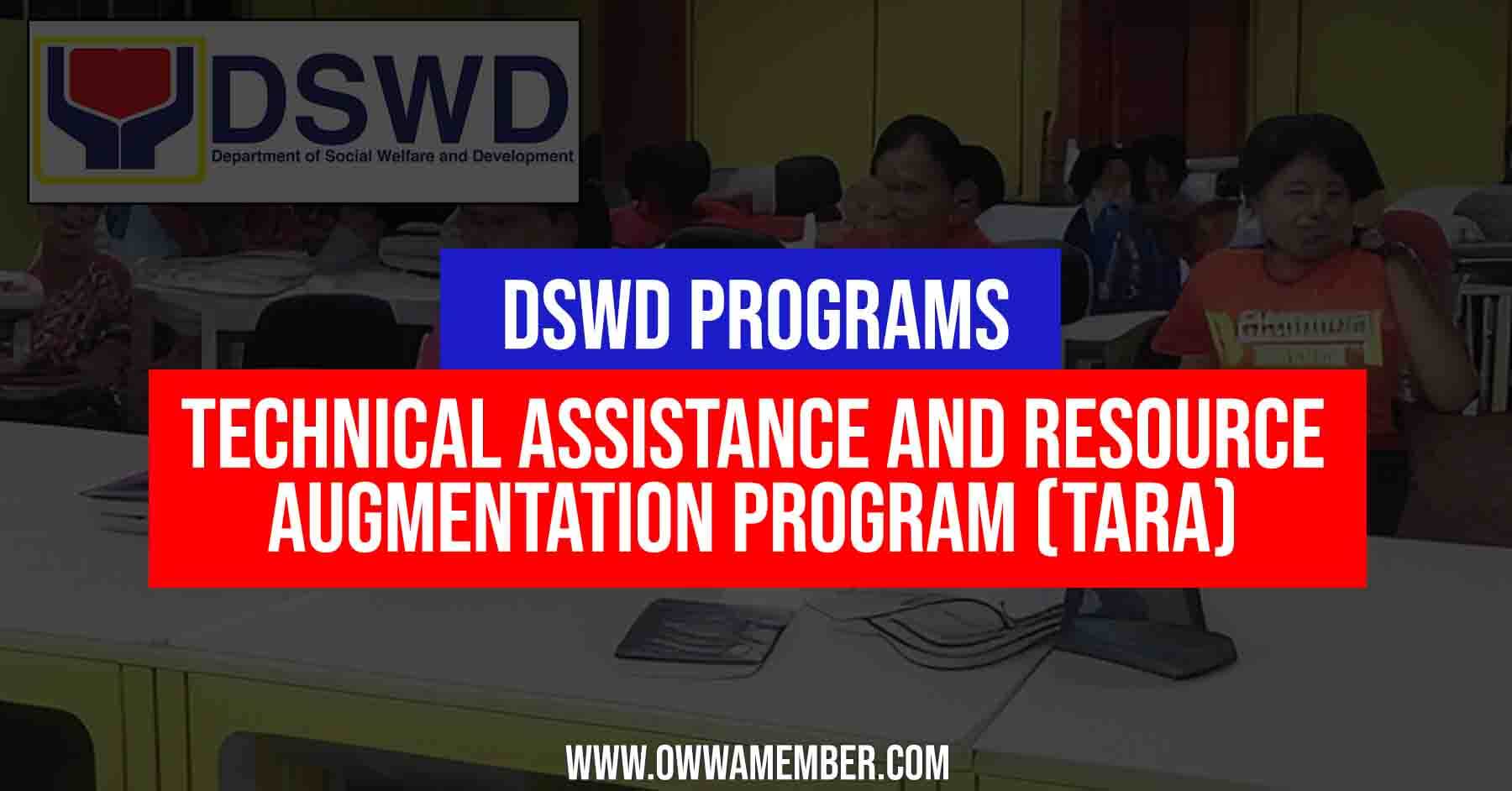 What is the DSWD Technical Assistance and Resource Augmentation Program (TARA)?
The DSWD transferred its direct service personnel, assets, liabilities, and budget for providing basic social services to the LGUs with the adoption of Republic Act (RA) No. 7160, also known as the Local Government Code of 1991.
When it came time to publish regulations for putting this order into effect, EO 503 s. 19922 was issued. Memorandum Order No. 27 was implemented by the DSWD by this policy so that decentralized programs and services may be handed off to LGUs as smoothly as possible.
In light of the paradigm shift brought about by devolution under RA No. 7160, the DSWD took the helm in matters of social welfare and development (SWD) policy formulation, standard establishing, monitoring, and technical assistance. Further, it served as an instrumental resource and collaborative partner to LGUs. The DSWD's ability to steer the SWD sectors was strengthened by Department Order No. 20 in 1997, which mandated the creation of institutional frameworks that would allow for more effective resource management and service provision.
This change was formalized in 1998 with Executive Order No. 15, which emphasized the DSWD's shift from a supplier of direct services to one of technical support and refocused the agency's mission. In 2003, EO No. 221 revised EO No. 15, giving the DSWD even more authority in the SWD sector by granting it responsibility for both rowing and steering. By Executive Order No. 221, the Department of Social Welfare and Development (DSWD) must:
(1) assist local governments (LGUs) in having to implement programs and services to reduce poverty and increase the economic and social well-being of disadvantaged individuals, families, and communities; and
(2) carry out statutory and specialized programs that are placed with the DSWD and have not yet been devolved to LGUs.
In light of this, the DSWD has adopted Organizational Outcome 5, also known as "Delivery of Social Welfare and Development Prowams by Local Government Units, through Local Social Welfare and Development Offices, Improved," beginning in 2017.
Therefore, the DSWD provides support to LGUs/Local Social Welfare and Development Offices (LSWDOs) by facilitating the development of sector-specific policies and plans; enhancing SWD programs and services for vulnerable individuals, families, and communities; and guaranteeing social protection for the poor, the vulnerable, and the disadvantaged in local communities.
The DSWD's TARA Program is the vehicle for these initiatives.
Benefits Of Technical Assistance and Resource Augmentation Program
Its specific objectives are the following:
To strengthen the capabilities of LSWDOs in the areas of policy-making, program/project creation and management, service delivery, social technology model adoption or replication, administration and organization, residential care facility operation, case management, disaster risk reduction and management, sustainability, and monitoring and evaluation.
With the help of sectoral and functional specialists or experts, conducting capability-building activities, exchanging studies/researches/evaluations, and providing comparable chances, may help the LSWDO staff expand their skills and knowledge.
Enhance the capacity of LGUs to meet the needs of their citizens through LSWDOs, particularly in the areas of disaster response, early recovery and the implementation of other LSWDO-led programs and projects by the requirements of existing laws; and,
To help LSWDOs develop into fully operational agencies.
Qualifications And Requirements
The DSWD TARA Program is designed to provide support to local government units in carrying out social protection and welfare services. To qualify for this assistance, a local government unit must have an approved Local Social Welfare and Development Plan, complemented by an organization or partnership with a functional team for service delivery.
Detailed Procedure Of Technical Assistance and Resource Augmentation Program
A. Situation Analysis
The DSWD Field Offices (FOs) are required to do a situation analysis every three years, which will include an assessment of the following areas of operation: administration and organization, program management, and institutional processes. Conclusions about the situation can be taken from how well LSWDOs address the problems and worries highlighted by the local DSWD situationer, based on data collected in the Social Protection and Development Report, various research, evaluations/assessments, and reports.
Also by this, the DSWD will update its Tool for the Assessment of the Functionality of Local Social Welfare and Development Offices in the Philippines and conduct needs assessments of LSWDOs every three years. At the conclusion, the specific gaps, problems, issues, and concerns that have not been complied with or are difficult to comply with will have been recognized, along with the needs and actions or specific TA and/or RA needed to address them.
Levels of capability for LSWDOs shall be operationally specified in the aforementioned assessment instrument, as improved, by the assessment process for defining TARA requirements of LSWDOs.
The local top heads and executives of LSWDOs need to be updated by the DSWD FOs on the findings of the situation analysis and needs assessment.
B. Planning
After requirements evaluation and collaboration with LSWDOs, a three-year regional TARA strategy for LSWDOs is created. Then, LSWDOs will choose relevant interventions or TA/RA.
The DSWD TARA Program prioritizes TA and RA for partially functioning and functional LSWDOs.
The DSWD FOs and LSWDOs shall create a 3-year regional TARA strategy that includes the following: Functionality Work Areas, Desired Results, Desired Results, Forms of TARA, Indicators for Improvement, Target LSWDOs, Responsible Party, and Resource Requirement (with Amount and Source).
DSWD Central Office (CO) Offices/Bureaus/Services (OBSs) support for DSWD FO interventions in the three-year regional LSWDOs TARA plan must also be defined. The DSWD FOs will coordinate with the CO OBSs on any support/TARA. DSWD OBSs will include the same in their TARA strategies.
Thus, the DSWD FOs must provide their 3-year regional TARA plans to the DSWD CO OBSs and the Policy Development and Planning Bureau (PDPB).
C. Partnership Contracting
Partnership contracting shows DSWD FOs and LSWDOs' commitment to the TARA Program.
The DSWD FOs will work with LGUs/LSWDOs through the local chief executive and LSWDO head, as recommended or approved by the local legislative council, to implement the 3-year regional TARA plan.
The partnership agreement may be revised or supplemented if the annual TARA plan review results in mutually agreed-upon adjustments.
By the regional TARA plan, collaboration agreements with LGUs/LSWDOs will last three years.
D. Implementation
All forms of TA and RA as described above shall be used in carrying out the DSWD TARA Program for LSWDOs, particularly the intended interventions.
The DSWD's Social Welfare Institutional Development Bureau (SWIDB) has established guidelines for the design and implementation of capability-building activities during TA, which stipulate three distinct phases: preparatory, the actual conduct of TA, and after TA.
With regards to TARA for Disaster Response and Early Recovery, the DSWD FOs' three-year regional TARA plan with LSWDOs must be in line with the DSWD's measures on disaster readiness for a response.
The DSWD Field Offices (FOs) are responsible for implementing the DSWD TARA Program by providing the identified interventions (targeted technical assistance (TA) and/or regulatory assistance (RA)) to LSWDOs within the time frames and with the resources specified in the regional TARA plan (subject to allocation and availability). Aside from the LSWDOs specified in the plan, the DSWD FOs are free to engage in other TARA-related activities they see fit.
E. Monitoring And Evaluation
Regional DSWD FOs will annually review LSWDOs' 3-year region TARA plan implementation. To evaluate planned interventions or specific TA and/or RA, DSWD FOs may hold a program review and assessment workshop with LSWDOs.
The DSWD FOs may also consult with LSWDOs to rapidly address bottlenecks, discuss recommendations from the execution of specific TA and/or RA, and amend the plan when necessary and upon mutual agreement.
To evaluate TARA Program execution, the DSWD CO, led by the Policy and Plans Group, will conduct the PREW with the DSWD FOs and OBSs.
F. Reporting
The DSWD Regional Offices are required to produce a 3-year regional progress report every semester. Not only are the tasks in the TARA plan to be recorded, but so are any additional tasks performed for LSWDOs.
The DSWD Protective Services Bureau will step in if necessary (PSB), the Community Programs and Services Bureau (CPSB), Social Welfare and Investment Development Bureau (SWIDB), Disaster Response and Management Bureau (DRMB), and Social Technology Bureau (STB) and other relevant DSWD OBSs shall submit a semestral progress report on the TARA Program to the Undersecretary for Policy and Plans Group, via the PDPB.
The DSWD CO OBSs in charge of the DSWD FOs in question must be provided with semiannual reports detailing the FOs' successes to provide the necessary assistance with the administration of the DSWD TARA Program.
Frequently Asked Questions
1. How Does TARA Work When It Comes To Disasters?
Every region has a regional technical working group, composed of various stakeholders such as LGUs, national government agencies, and civil society organizations. When a disaster occurs, the RTWG assesses the needs of affected LGUs and determines which areas require TARA assistance. These needs can range from relief goods to personnel augmentation. The DSWD provides these resources to the LGUs so they can effectively respond to the disaster.
2. How Do I Know If My LGU Has Received TARA Assistance?
You may check with your local disaster risk reduction and management office or contact your regional DSWD office for updates on TARP deployment in your area.
Summary
Livelihood opportunities, skills training, infrastructural development, and psychosocial interventions are just some of the specific needs that are being met through this initiative. Capability-building efforts are also a focus to better equip local governments.
Grants from the TARA program are distributed to LGUs, which are subsequently put toward initiatives that aim to meet needs that have been determined by consulting with relevant stakeholders in the community.
In summary, the TARA program is a useful addition to the many other initiatives already underway to foster positive transformation in marginalized groups.