The OFW Hospital was built to provide medical care to Filipino migrant workers and OFW dependents. It provides quality healthcare to Overseas Filipino Workers (OFWs) and their families, who often cannot afford to pay for private medical care. The hospital offers a wide range of services, including outpatient care, inpatient care, and emergency care, and surgery.
The opening of the Overseas Filipino Workers (OFW) Hospital in San Fernando, Pampanga, has been approved by the Department of Labor and Employment (DOLE) for this year 2022. The OFW Hospital began operating as a polyclinic in partial on May 2 began its full operations in June 2022.
Thousands of current and former OFWs, as well as their families, would greatly benefit from the services offered by the OFW Hospital, which was built by the Duterte administration to assist our modern-day heroes, the OFW.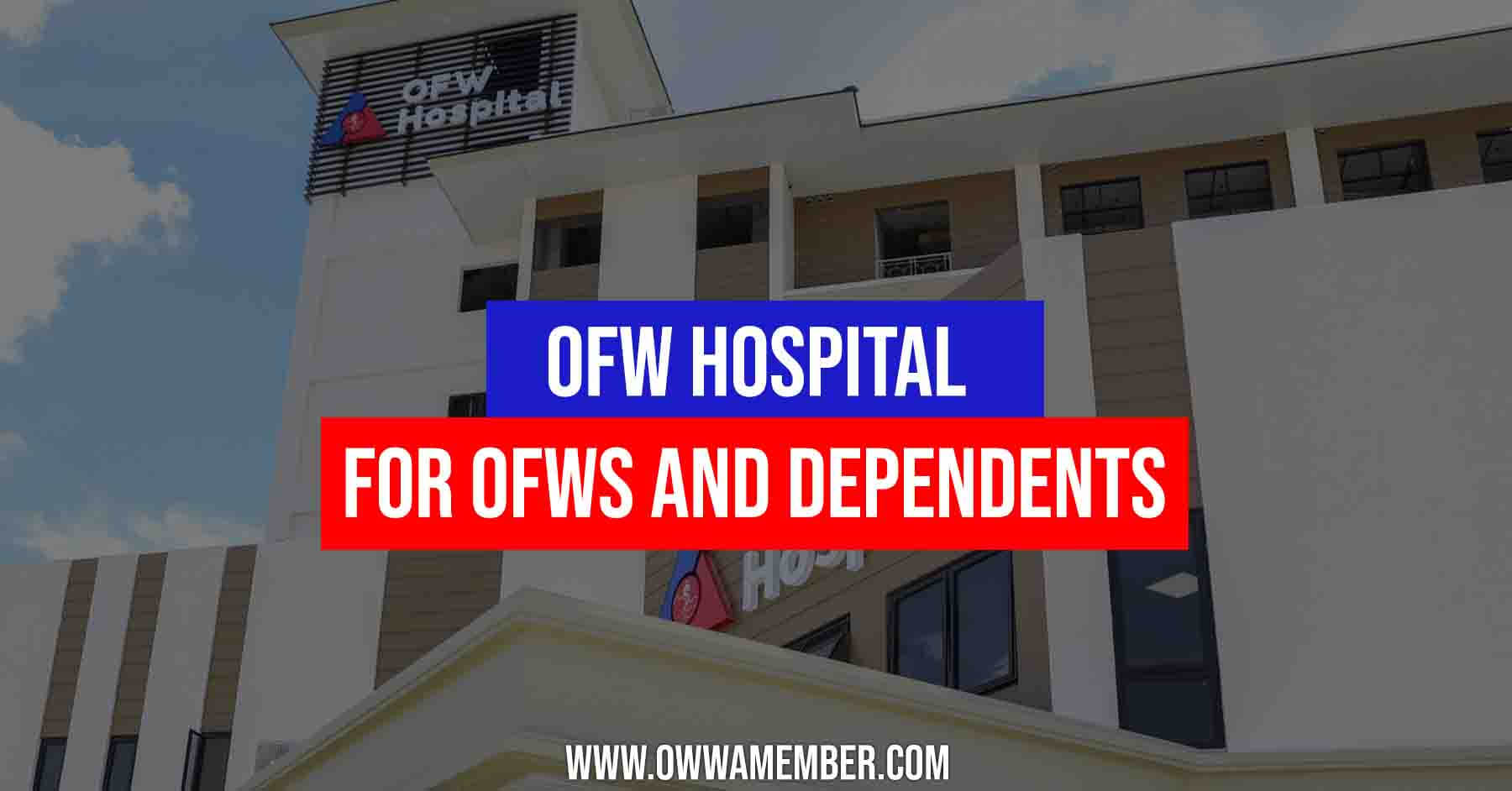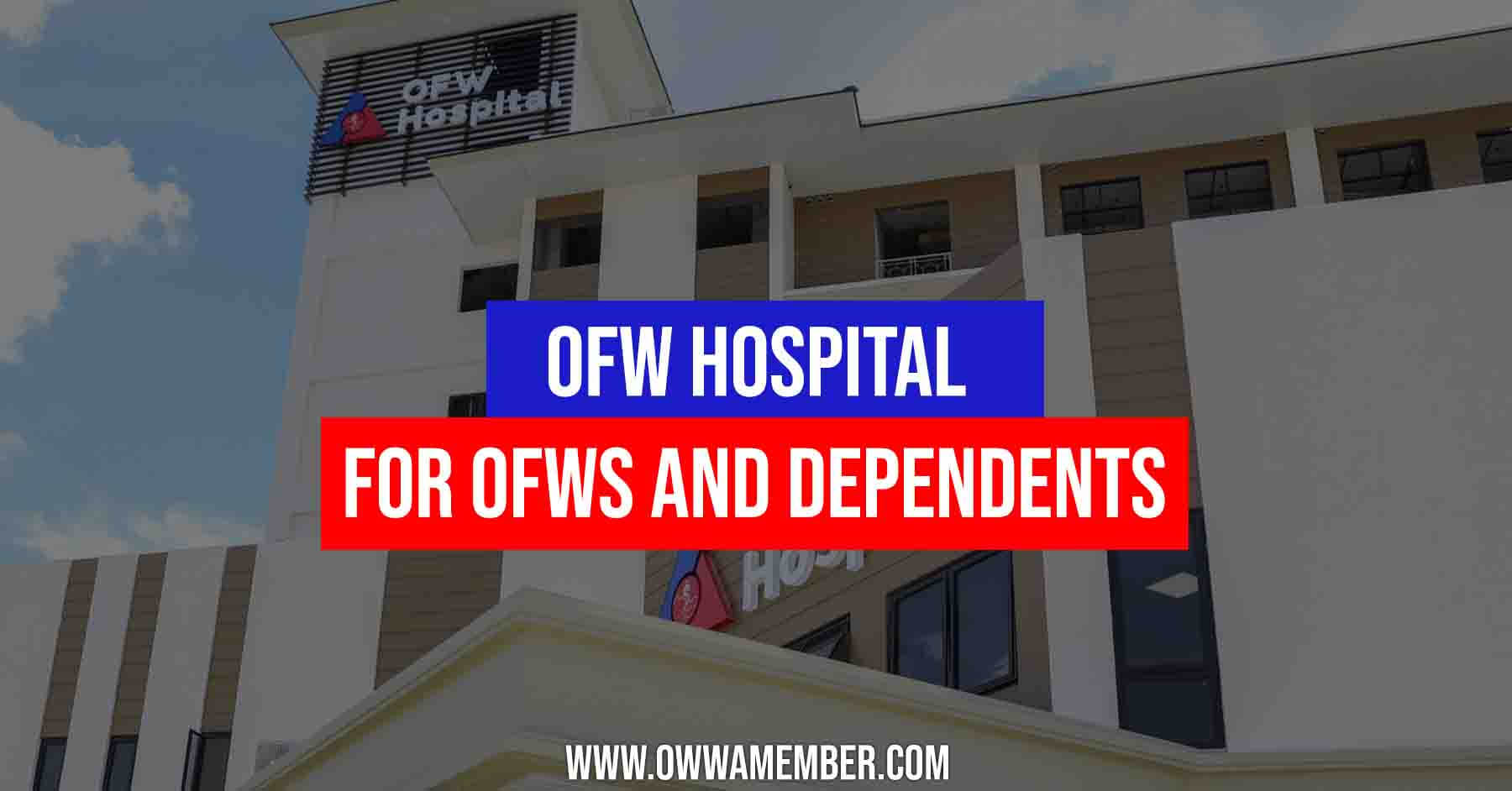 What is the OFW Hospital?
The Overseas Filipino Workers (OFW) Hospital and Diagnostic Center, also known as the OFW Hospital, is a specialized medical facility in San Fernando, Pampanga, Philippines. The hospital will perform medical examinations on foreign workers to ensure that their physical and mental capabilities are consistent with the accepted task order standards. Additionally, it will serve as a important referral hospital for Filipino citizens in need of care.
The OFW hospital has 100 beds and is aimed at providing complete medical care to the family members of foreign workers. It also aims to provide foreign workers, including OWWA members, with a wide variety of additional medical services.
Purpose of OFW Hospital
The Overseas Filipino Workers (OFW) Hospital's purpose is to provide medical care and health services to OFWs and their families.
Qualifications
Filipino worked or working overseas
Land based or Sea based OFW
OFWs whether active or inactive, undocumented at OWWA
No age limit
Eligible Dependents
OFWs legal spouse,
OFWs minor or incapacitated child
OFWs parents (who mostly rely on the support of member-OFWs)
If the OFW is unmarried: minor sibling
Benefits
The development of OFW hospital will make accessing healthcare for OFWs and their dependents easier and more convenient. Particularly if they work in occupations with a high risk of illness or injury, this can be of great help to foreign workers and their dependents who do not have access to appropriate medical care in their home countries.
In addition to offering basic healthcare services, OFW Hospital also offers all-inclusive medical treatment. Both curative and preventive treatment options, as well as preventative measures like vaccination programs, will be a part of this type of care.
Programs and Services
If you are an OFW, it is important that you keep your body healthy. You might need to visit the hospital in the country where you were born at some point in the future. In the event that you are injured or ill, this hospital offers a range of programs and services, including medical assistance.
The hospital has offered the following outpatient programs and services to the OFWs and its dependents:
General Consultation
General consultations allows doctors to monitor the development of the patient's condition, treat illness or disability, prevent current or impending health problems, improve life and movement, and extend life as much as possible.
Your doctor will listen to you, address your concerns, and give you advice on all of your treatment options during a general consultation. An average general consultation lasts between 15 and 30 minutes.
Diagnosis
It is the process of figuring out which illness or condition explains your symptoms.
Referral to Specialist
When a diagnosis is made that requires specialized care or to assist in making a diagnosis, the doctors will refer the patient to a specialist. The patient might benefit from a specialist's occasionally different perspective.
Additionally, the hospital offers a wide range of services to help OFWs with their daily lives. One of these is free consultation on various health insurance plans and programs. This includes pregnancy coverage as well as pre-existing disease coverage.
Note: Prior to visiting the OFW Hospital, you must schedule a consultation appointment. – Appointment Link: https://appointment-ofwhospital.owwa.gov.ph/
How to Book an Appointment in OFW Hospital
If you need medical care, you can book an appointment through OFW Hospital Website website. The process is simple and only takes a few minutes. Here are the steps:
Step 1: Visit the OFW Hospital appointment page here – https://appointment-ofwhospital.owwa.gov.ph
Step 2: Choose the site and program
Step 3: Select the date of appointment of your visit.
Step 4: Enter your personal detail information.
Step 5: Confirm your appointment.
After you've confirmed your appointment, take a screenshot for reference. You can then visit the OFW hospital on the scheduled date and time.
Booking an appointment through the OFW Hospital website is easy and convenient, and it ensures that you will get the care you need.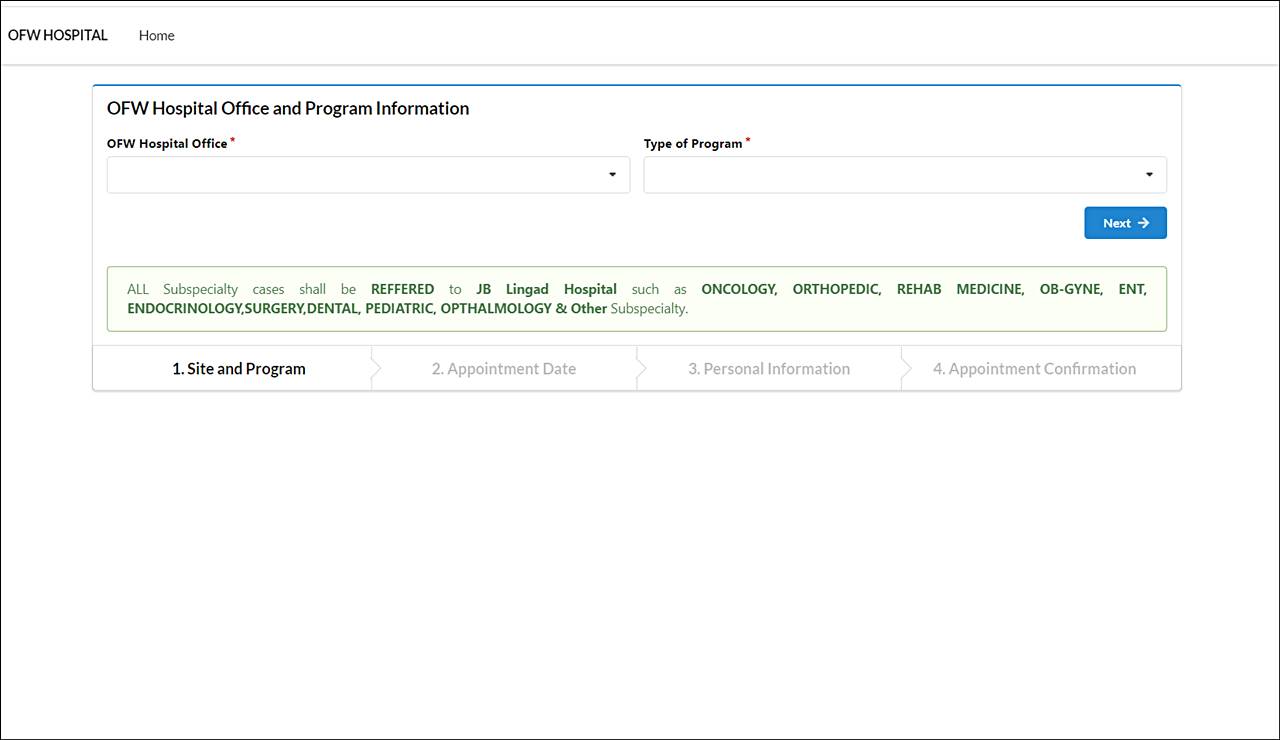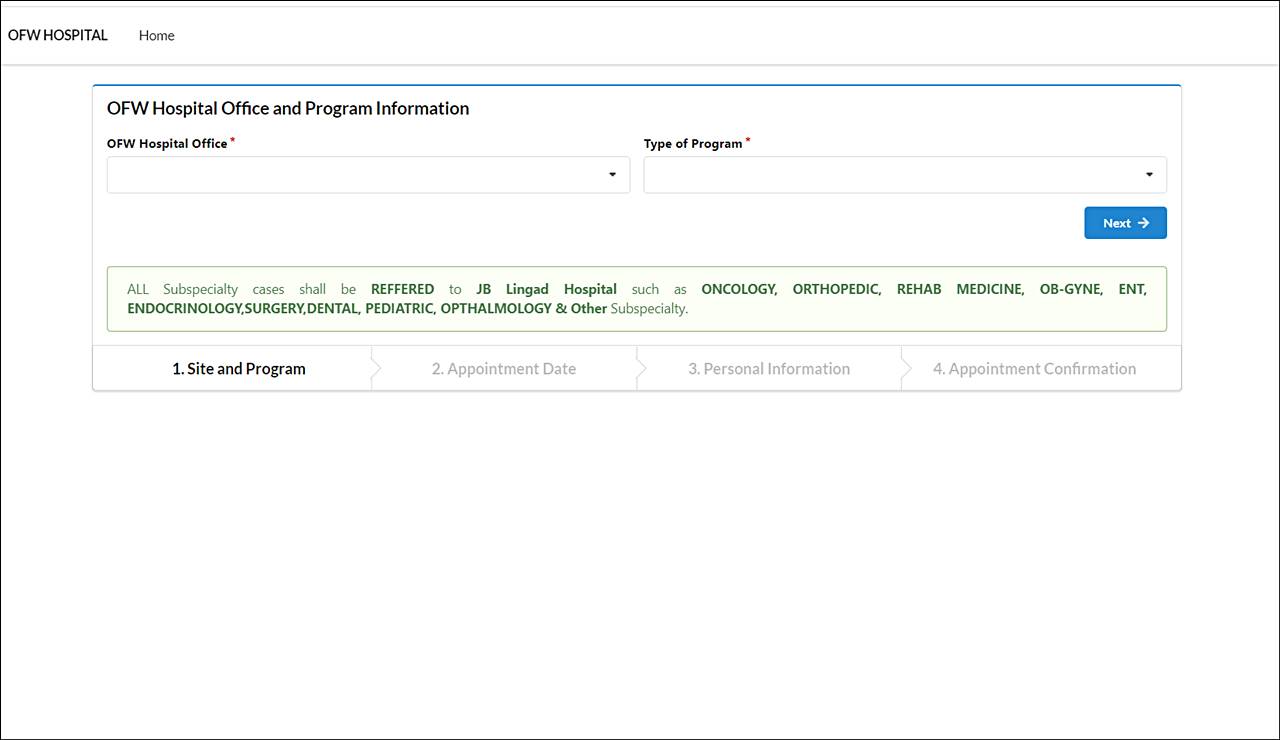 Photos of the OFW Hospital in Pampanga
Check out these pictures of the hospital to give you an idea how it looks like. These images were taken during the inspection of President Duterte and his visit.
The Overseas Filipino Workers (OFW) Hospital in Pampanga is a state-of-the-art facility that provides free medical care to OFWs and their families. The hospital was built with the support of the Philippine government and Overseas Filipino migrant Workers. The hospital offers a outpatient services, including general medicine and laboratory, consultation and referral to specialists.
Video: OFW HOSPITAL Free for OFWs and Legal Dependents
Check out Kabayani Channel's YouTube video below to know more about the OFW Hospital and its services.
Frequently Asked Questions
If you have any further questions regarding "OFW Hospital", see the list of frequently asked questions and answers below.
1. What is OFW Hospital?
The OFW Hospital is a hospital developed specifically for OFWs and their dependents. When securing their medical certificates, conducting for laboratory tests, and other basic requirements for their deployment overseas, the hospital will offer them free services.
2. What is the purpose of OFW Hospital?
The purpose of the OFW Hospital is to provide medical treatment and health services to overseas Filipino workers, their dependents, and other patients who have been referred to the hospital.
3. What are the services offered?
The OFW Hospital provides free medical and dental care as well as general consultations, laboratory and imaging diagnosis, and specialist referrals.
4. Does the hospital offer free medical examinations to OFWs?
Yes, the hospital would give overseas Filipino workers free medical exams. This includes any additional specialized exams that sponsors or employers may require in addition to the pre- and post-employment medical examinations.
5. Does the hospital provide emergency medical care for patients from foreign countries?
Yes, as long as they are qualified, patients from foreign countries can receive emergency medical care at OFW hospital.
6. Can non-OFWs be admitted in the hospital?
Yes. Patients who have been referred to the hospital by an overseas worker or by a company that places workers in foreign employment but who are not OFWs are welcome to receive healthcare services. The hospital also provides healthcare services for the dependents of Filipinos serving in the military or working for the government overseas.
7. Does OFW Hospital require appointment?
Yes, appointments are required at the OFW Hospital. Only 30 people can be accommodated daily at the hospital; use the link here to make an appointment – https://appointment-ofwhospital.owwa.gov.ph/
8. What is the OFW Hospital's office hour?
Except for holidays, the Overseas Filipino Hospital in City of San Fernando, Pampanga is open from 8:00 am to 3:00 pm on Mondays through Fridays.
Summary
OFW hospital is the first-ever hospital for the OFWs. High-quality medical care is available to OFW and their dependents at this hospital. The OFW Hospital has been a lifeline for many OFWs who have fallen ill or been injured while working abroad. With its modern facilities and compassionate staff, the OFW Hospital is truly a world-class institution.
The hospital has a lab, an X-ray section, and a pharmacy that provides affordable and discounted medication options. Additionally, in order to provide their patients with a greater level of care, there are future plans to broaden their services to incorporate new modalities including physiotherapy and other types of therapy.
Contact Information
OFW Hospital
Address: OFW Hospital, McArthur Highway, Bgy. Sindalan San Fernando, Philippines
E-mail address: ofwhcares@gmail.com
Website: https://ofwhospital.owwa.gov.ph/
Facebook Page: https://www.facebook.com/OFW-Hospital-101593242553179/