The PCSO Medical Assistance Program or officially labelled as the Individual Medical Access Program (IMAP) is a healthcare program offered by the Philippine Charity Sweepstakes Office (PCSO) for Filipinos who are in dire need of medical assistance. This program is designed to provide financial aid to those who cannot afford medical treatment for their illnesses, injuries, or any health-related purposes.
Also Read: What is the Malasakit Center Program?
The PCSO provides a certain amount of money depending upon the diagnosis and hospitalization expenses required for the patient's recovery. The money may be used towards hospitalization, laboratory examination fees, and/or medicines prescribed by a physician/doctor. IMAP serves as a bridge that connects indigent individuals with the vital healthcare services they need to recover from their illness or injury without having them worry about how much it will cost them.
It covers both outpatient and inpatient treatments – which include consultations, investigations, surgeries, dialysis treatments, laboratory tests, and other medical procedures. The purpose of the IMAP is to provide financial assistance to indigent patients who are unable to cover their medical expenses. The program also aims to reduce poverty in the country by giving access to quality healthcare services.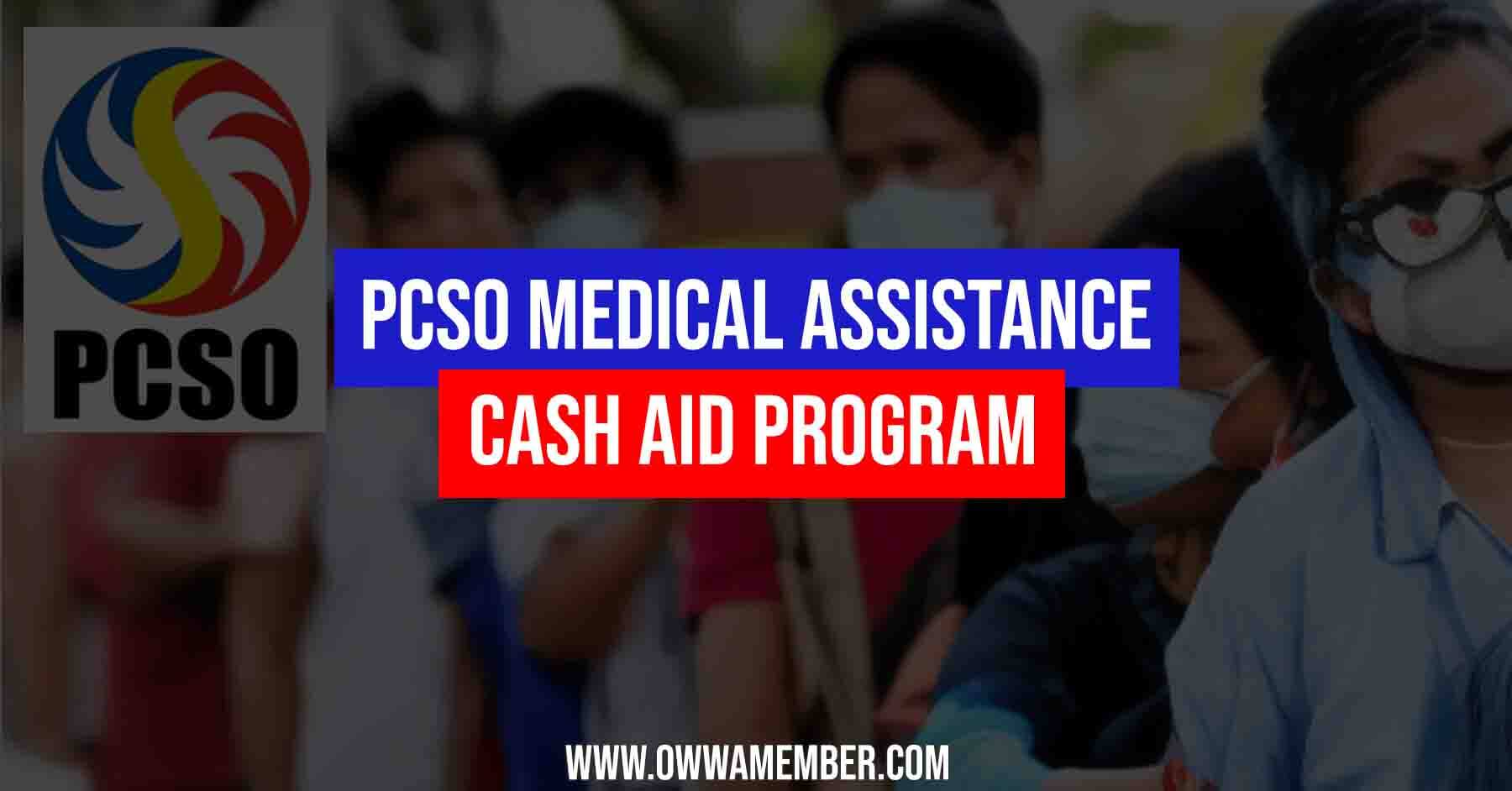 What is PCSO Medical Assistance Program / Individual Medical Access Program (IMAP)?
Since 1993, the Philippine Charity Sweepstakes Office (PCSO) has offered medical assistance. The main objective is to provide financial aid, particularly to the poorest Filipinos, by boosting their medical funds, in collaboration with a government hospital (and a private one), health facilities, drugstores, and other governmental organizations like DSWD.
The PCSO Medical Assistance Program or IMAP has helped many Filipinos receive much-needed medical care without having to break their budget. It allows those who may not be able to afford medical attention a chance of receiving proper treatment with minimal costs. In addition, the program helps lessen the burden of hospitals that are usually filled with patients who lack sufficient funds for treatment. This program has been instrumental in extending health coverage and delivering essential healthcare services even in very remote areas throughout the Philippines.
IMAP has brought much-needed hope to many families who have experienced accidents or illnesses and require medical attention. The PCSO vows to assist its constituents by providing them with high-quality healthcare services at a cost they can afford. This program serves as a powerful reminder that no person should be refused medical treatment due to their financial state. Furthermore, it emphasizes the critical importance of ensuring all Filipinos have access to quality health care regardless of their economic standing.
Male or female Filipinos with health-related problems can now apply online for assistance through the Medical Access Program (MAP) of the Philippine Charity Sweepstakes Office (PCSO), which focuses on the idea of improving expensive medical expenses.
Qualifications
You may contact the PCSO for help if you are a patient or know someone who is a patient with medical needs or medical bills in the following circumstances:
Being treated as an outpatient for any type of healthcare management
Confinement in a healthcare facility
Seeking medical attention overseas when no facility in the Philippines can perform the needed procedure
Requirements
To apply for PCSO Medical Assistance Program, the beneficiary must submit the following documents (Original or Clear copy):
General Requirements
Duly accomplished PCSO IMAP Application Form here – https://www.pcso.gov.ph/pcsofiles/downloads/Updated-IMAP-Form-2015.pdf – Can also be obtained at PCSO Main Office, PCSO Branch Offices, and PCSO Desk Partner Hospitals
Any Government-issued ID of the patient and the representative Such as Passport, Driver's License, GSIS UMID, SSS ID, PRC ID, NSO Authenticated Birth Certificate, Digitized Voter's ID, PhilHealth ID, Senior Citizen's ID, Government Issued Office ID, DSWD-4Ps ID, and Student ID
Original or Certified True Copy of the Clinical Abstract (for inpatient and chemotherapy) or Medical Certificate (for outpatient), duly signed by the attending oncologist or doctor, with printed full name, signature, and license number
In situations where there is no close relative available for the interview, the patient must provide an authorization letter
Specific requirements
Chemotherapy
Original prescription with printed full name, signature, and license number of an oncologist or attending physician
Original treatment plan document bearing the oncologist's or attending physician's name, license number, and signature
Photocopy of Surgical, Histopathological, or Biopsy Results
Index Card for patients who have received previous assistance
Confinement
Original copies of the final statement of accounts and most recent hospital bills, both with the billing officer's and credit supervisor's printed names and with PhilHealth, Senior Citizen, HMO, and MSS deductions
If discharged: A validly executed promissory note that has been duly signed by a hospital representative, or a certification that includes the remaining hospital balance.
For medico-legal cases: Copy of the vehicle or police report
Dialysis (Hemo/PD/Erythropoietin)
Acceptance letter from the hospital or dialysis facility accepting the PCSO guarantee letter
Official quote from the hospital or dialysis center
For erythropoietin, a prescription with the attending physician's full name, signature, and license number printed on it
Photocopy of any recent three (3) month relevant laboratory results
Index Card for patients who have received prior assistance
Copy of the Member Data Record for PhilHealth Members
Certification of the number of benefits received
Medical expenses (Hemophilia and Post-transplant medicines)
A prescription with the attending physician's full name, signature, and license number printed on it
Photocopy of any recent three (3) month relevant laboratory results
Index Card for patients who have received prior assistance
Medical Assistance Coverage
Assistive devices – Like a hearing aid, wheelchair, prostheses such as legs, arms, or eyes, and pulmonary apparatus (rental of ventilator or respirator)
Bone or cochlear implants
Cardio Procedures – Cardiology procedures like coronary angiograms, pacemaker surgery, congenital heart surgery, peripheral bypass surgery, percutaneous coronary intervention, and coronary artery bypass surgery.
Chemotherapy sessions – For cancer patients receiving chemotherapy, both oral and intravenous.
Dialysis – Eligible patients undergoing peritoneal and hemodialysis (also known as continuous ambulatory peritoneal dialysis, or CAPD).
Hospital Confinement – Eligible patients who have been accepted into the facility or have recently been discharged with a promissory note that has been properly acknowledged by the medical facility.
Laboratory or Diagnostic procedures
Medical devices – Medical devices such as septal occluders, pacemaker devices, and Percutaneous Coronary Intervention (PCI) devices.
Medicines – Anti-rabies, antibiotics, psychiatric drugs, hemophilia drugs, post-operative drugs, and intravenous drugs are a few examples.
Non-invasive and minimally invasive procedures – Extracorporeal shock wave lithotripsy (ESWL), laparoscopic surgery, and other minimally invasive/non-invasive procedures.
Radiotherapy sessions – For patients with cancer receiving radiotherapy treatments like external beam radiation therapy.
Rehabilitative Therapy – This covers speech, occupational, and physical therapy.
Surgical supplies – For some surgical supplies, IMAP could provide assistance.
Transplant procedures – This includes cadaver (deceased donor) packages as well as transplantation packages for kidney and liver transplants.
So as you can see , the IMAP could provide assistance for a wide range of medical and healthcare expenses that you may incur. To apply for IMAP assistance, you will need to submit all relevant documents that are necessary such as a valid ID, proof of current income, doctor's prescription with the attending physician's full name, signature, and license number printed on it, copies of laboratory results or diagnostic procedures performed if applicable, and other requirements. So make sure to prepare all these documents before applying for IMAP assistance.
Download PCSO Medical Assistance IMAP Application Form
In case you need to download a copy of the PCSO IMAP Application Form, you can find it on the official website. Below is a copy for your reference. Please be advised that this application form for medical assistance by PCSO is NOT FOR SALE.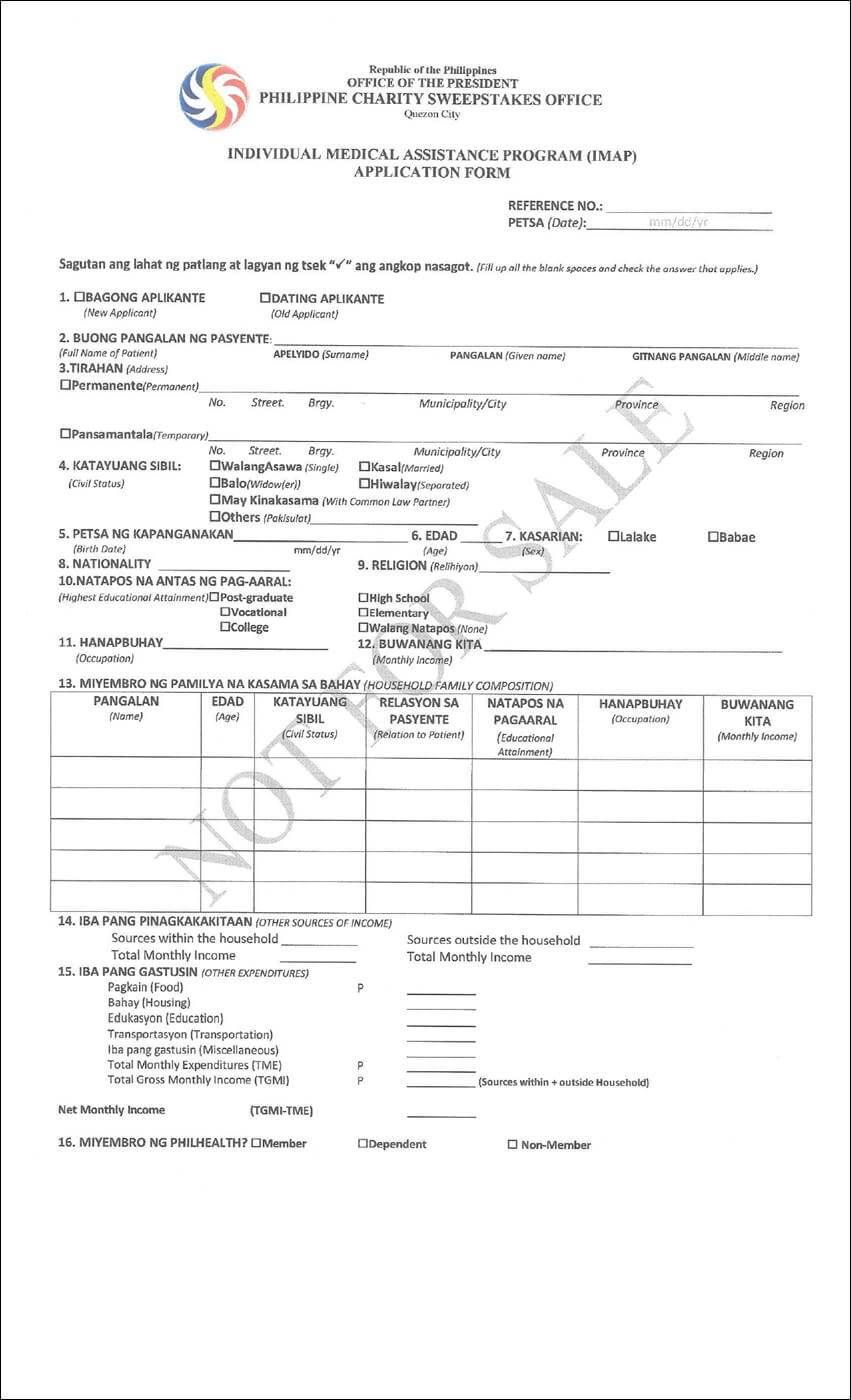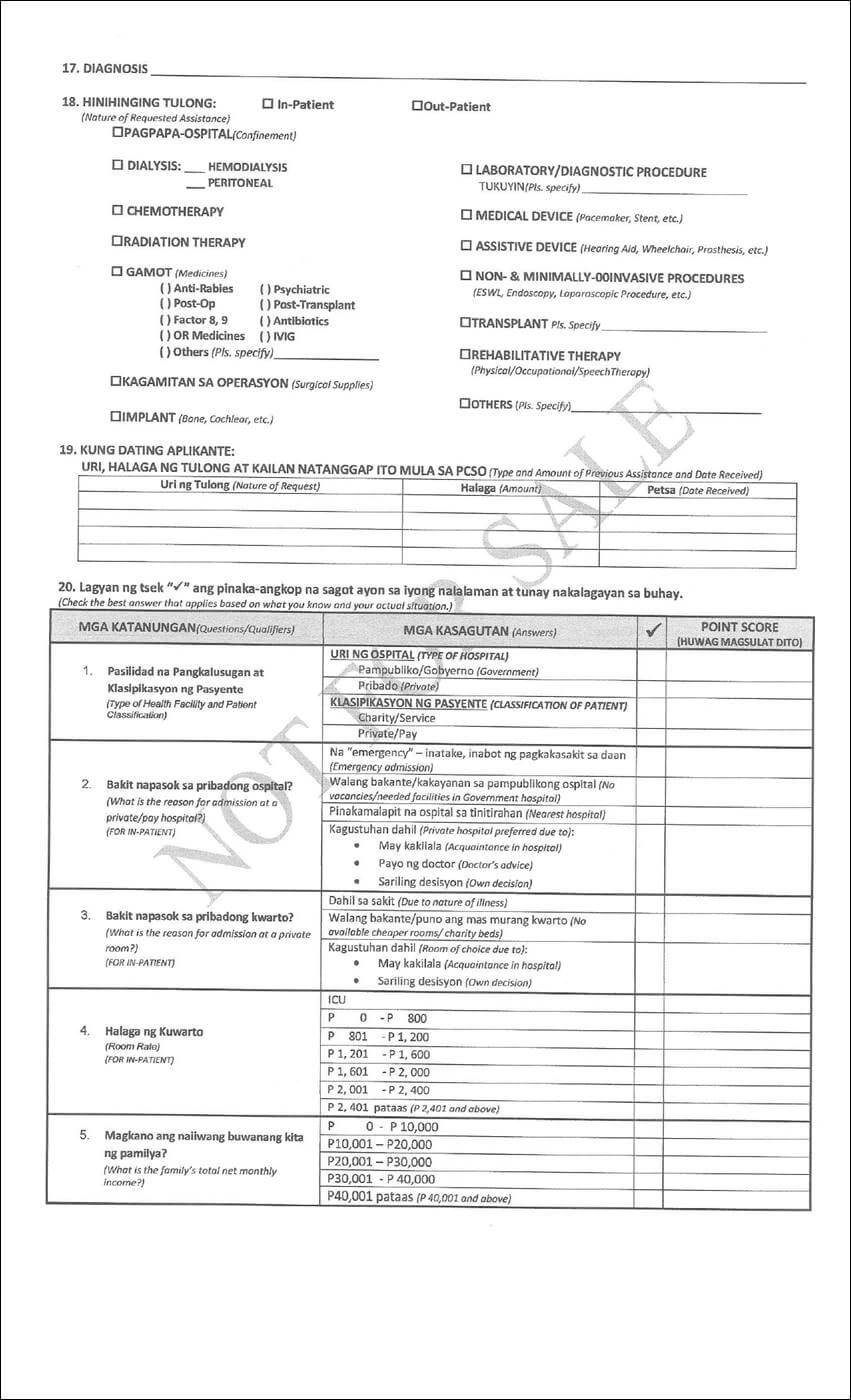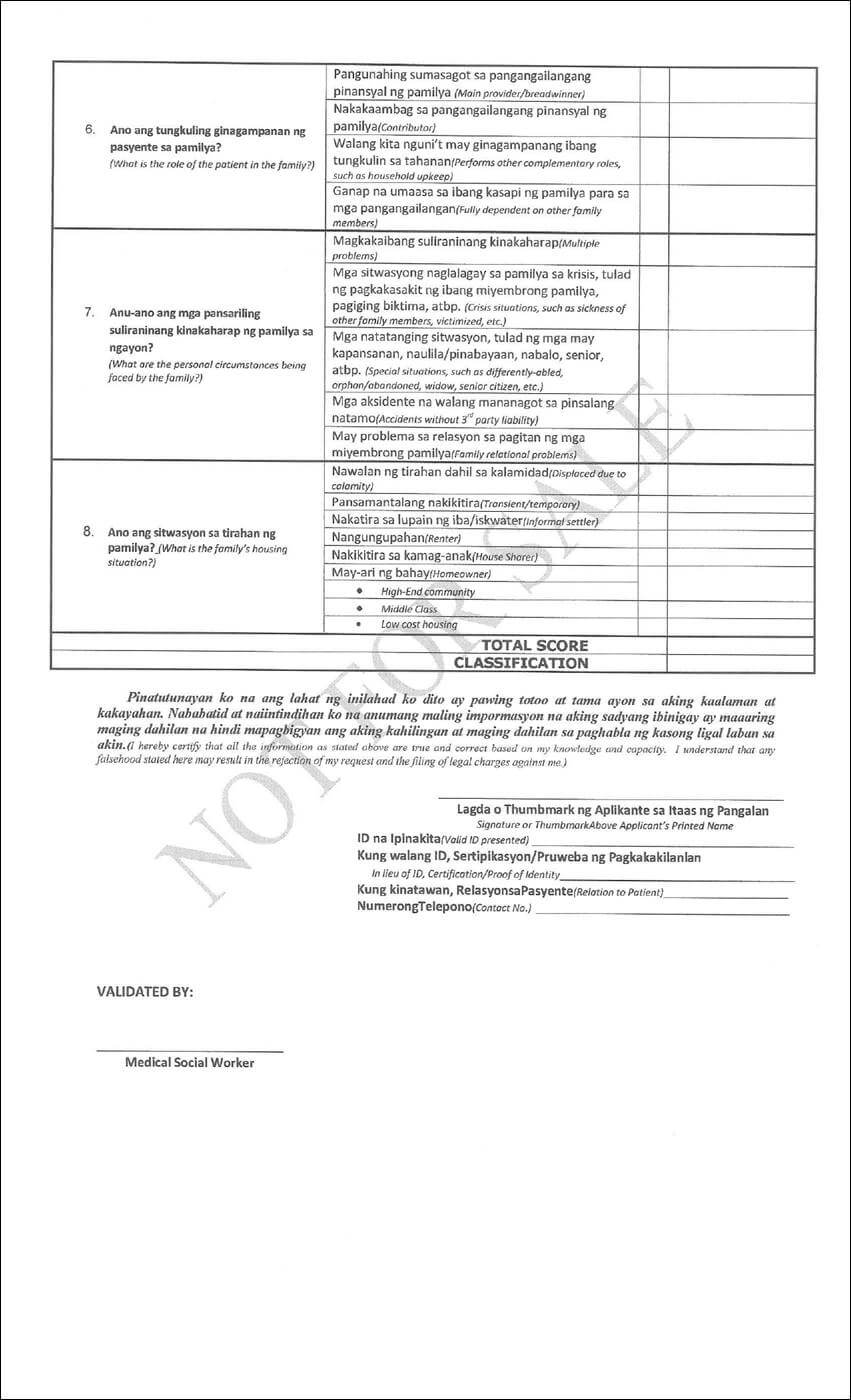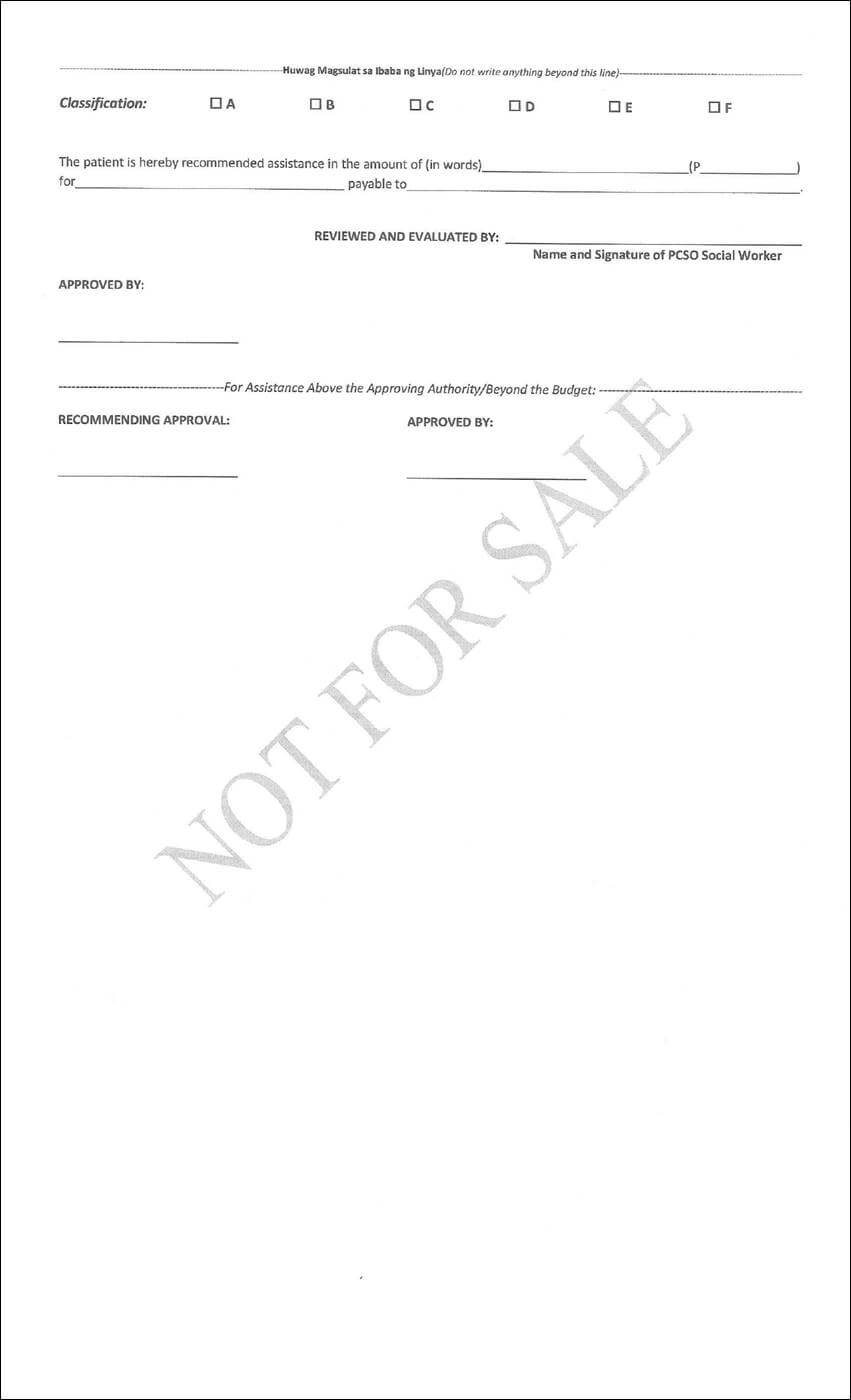 You may download and print a high-resolution PDF copy of the  medical assistance form below:
The IMAP form should be filled out with all requested information and signed by the patient or guardian. All documents that are necessary for the application should also be included in order to make the process easier. After submitting your application form along with all requirements needed, you will receive an email notification confirming your submission.
How to Apply for PCSO Medical Assistance Program / Individual Medical Access Program (IMAP)
NCR Patients
As of February 1, 2022, applicants for the PCSO Medical Access Program must submit an online application through the NCR Online Application System. The following are the steps for applying for PCSO medical assistance:
Step 1: Scan all the documentary requirements. Make sure that the copies are readable and clear.
Step 2: Go to the PCSO website, select "E-Services," and then choose the NCR Online Application for Medical Assistance choice. Website link here – https://www.pcso.gov.ph/
Step 3: Read the important reminders, tick the boxes, and click "Proceed to Online Application".
Step 4: Enter all the patient's information and required details.
Step 5: Upload to the system all required documents. Documents shouldn't be larger than 2MB.
Step 6: Within a day, you will receive a notification of the request via email.
Step 7: Once approved, a Guarantee Letter will be sent. Print this and the MAP application together.
Step 8: Send the Guarantee Letter, the MAP application form, and all necessary documents to the hospital, dialysis center, partner health facility (PHF), medication retailer, or diagnostic facility.
Step 9: Submit your application as early in the day as possible.
Step 10: After the application and all requirements have been submitted, a notification regarding the request's status will be sent within 24 hours.
The website will accept applications from 8:00 AM to 3:00 PM, but there is also a daily budget cut-off for online applications. You can apply the following day once they've received the maximum number of cases.
Non-NCR Patients
For patients based in other regions of the Philippines, you may follow the steps below for applying for PCSO medical assistance:
Step 1: Complete the required documentation.
Step 2: Visit the nearest PCSO Regional Offices and submit all requirements for the application.
Step 3: The medical evaluator will review your requirements.
Step 4: You will be scheduled for an interview after your application has been processed.
Step 5: You will know the status of your application 24 hours after the interview.
Reminders
Use just once each confinement or treatment cycle. Multiple applications for the same patient for the same confinement or treatment cycle are not permitted by the PCSO. You must wait until after your subsequent confinement or treatment cycle if you previously applied for PCSO medical assistance.
You can only apply for assistance within six months from the date of discharge or treatment.
For dialysis patients and cancer patients, the deadline to apply for assistance is once every three months and once every six months, respectively.
The PCSO branch office closest to your hospital or healthcare facility is the only place you can apply for assistance.
Your Guarantee Letter can only be used at the hospital or medical center where you are getting treatment or where there is an outstanding balance.
Your Guarantee Letter is only valid for 30 days after the date it was issued.
Video: ALAMIN: PROSESO NG PAG-APPLY MEDICAL ASSISTANCE SA PCSO / LIST OF PCSO OFFICES NATIONWIDE
Watch the detailed video below about the PCSO Medical Assistance Program. All of PCSO's Philippine branches were outlined in the video. The requirements, qualifications, and application procedure are the same for all PCSO offices.
Frequently Asked Questions
If you have any further questions regarding "How to Apply for PCSO Medical Assistance Program" see the list of frequently asked questions and answers below.
1. What is PCSO Medical Assistance Program?
As part of its adherence to and compliance with the Bayanihan to Heal as One Act, the PCSO emphasizes and strengthens this supporting role, particularly in providing healthcare to Filipinos, carrying some of the burdens, and improving government efforts in these strained and difficult times.
2. Who are the hospital partners of the PCSO?
Visit the link to know the PCSO hospital partners here – https://www.pcso.gov.ph/Partners/Hospitals.aspx
3. How can I check the status of the PCSO medical assistance application?
You can call or go online to check the status of your PCSO medical assistance application.
Visit the PCSO website and select the IMAP Status Inquiry link to check online. To access your information, you will need to enter your Guarantee Letter number and the date it was issued.
You can check by phone by dialing the PCSO's hotline. When requesting information about your status, you must include your name, GL number, and the date of issuance.
4. How much can I receive from PCSO Medical Assistance?
The amount provided by PCSO varies and is determined by PCSO's evaluation. This will depend on where you are currently admitted. PCSO prioritizes patients who are poor or marginalized following their mandate.
5. If the patient has already been released from the hospital, can we still receive PCSO Medical Assistance?
PCSO does not reimburse hospitalization bills. PCSO will never reimburse you, even if you only borrowed the money to cover your hospitalization expenses.
Summary
Due to the high rate of inflation that our country is currently experiencing, many sick and suffering Filipinos are unable to pay for their medical expenses.
Thanks to the Philippine Charity Sweepstakes Office (PCSO), which provides PCSO Medical Assistance. The Individual Medical Assistance Program (IMAP) of PCSO is available to any Philippine citizen who is hospitalized or in need of appropriate care. IMAP is open to everyone, so you don't need to know someone who works for the government to be included in this program.