If you wish to work as an OFW, whether as a Domestic Worker or a Professional/Skilled Worker, you will need a Pre-Employment Orientation Seminar (PEOS) Certificate to apply for an Overseas Employment Certificate (OEC) from the Department of Migrant Workers Office (previously Philippine Overseas Employment Agency – POEA) .
You'll learn about the process and guidelines for acquiring a PEOS certificate online in this article. You'll also learn about the learning modules accessible in this online program that you should take.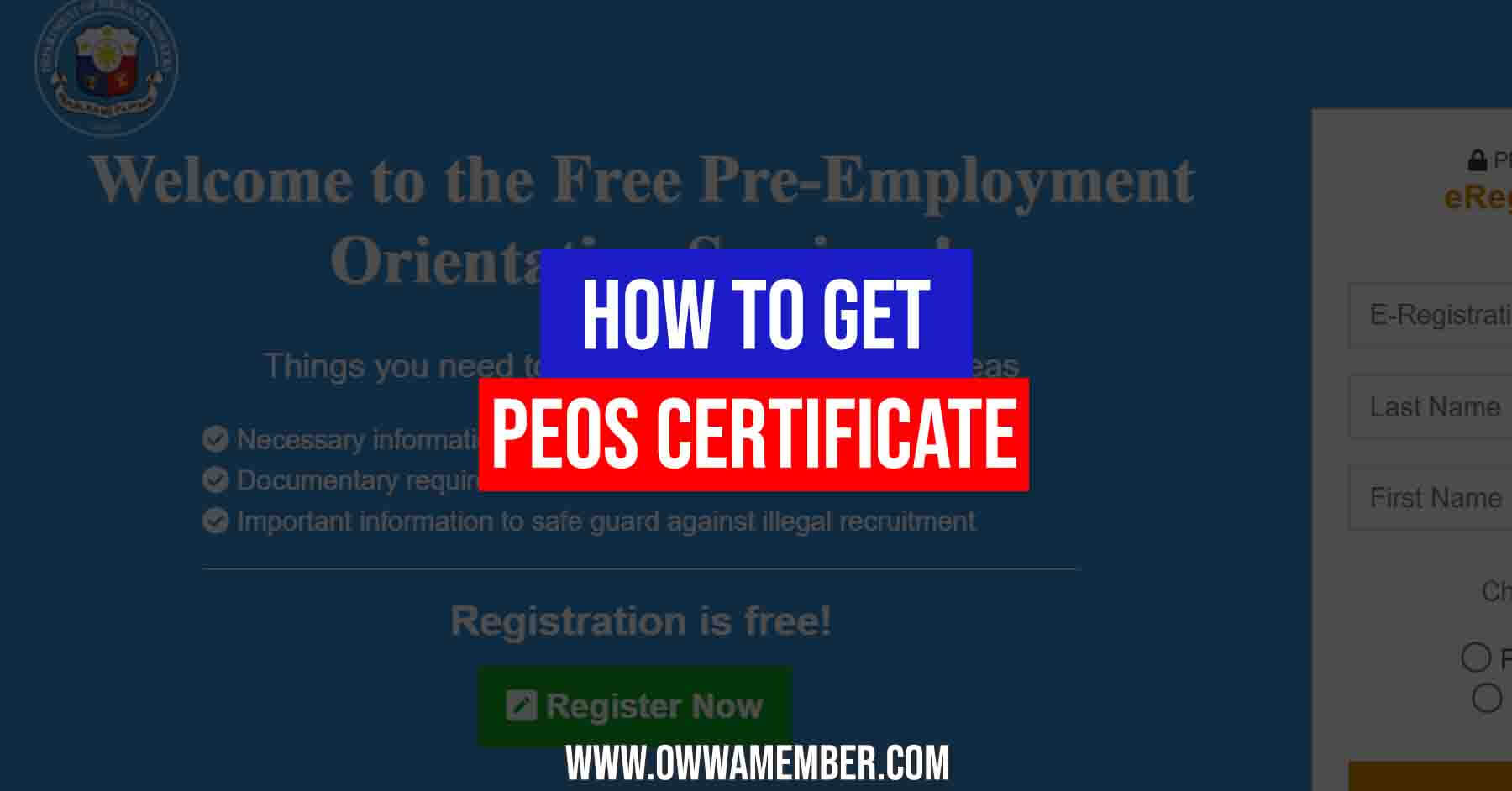 What is PEOS?
PEOS is the first step toward getting a job in another country and preparing to become an OFW. It covers the fundamentals of working overseas, such as understanding your rights and obligations, common employment scams, employment contracts, job matching, and so on.
POEA suggests PEOS subjects, however Pre-Employment Orientation Seminar providers are free to add their own topics that are important to their clients.
What is a PEOS Certificate?
Filipino domestic workers must first complete an online program called the Pre-Employment Orientation Seminar (PEOS), which is mandated by the Philippine Overseas Employment Administration (POEA). Workers must complete an assessment test and receive a completion certificate.
What is the purpose of PEOS Certificate?
The purpose is to educate you with enough information on OFW jobs abroad before they leave. This will ensure that everything goes smoothly for them, particularly with regard to their papers and documents.
What are the Benefits?
PEOS was created as a welfare measure to equip workers with information to help them plan for and make informed decisions about travelling overseas. The following are some of the benefits of completing the PEOS:
It is a necessity for persons interested in becoming OFWs.
The certificate has no expiration date and is good for life.
The seminar is completely free.
There are modules that can walk you through the visa application process, embassy protocols, pre-departure orientation, contract signing, airport procedures, and living in your host country.
You will have a better understanding of the work environment as an OFW in another country, which will help you mentally and emotionally prepare.
You'll learn about OFW rights and obligations as defined by the Migrant Workers and Overseas Filipinos Act of 1995.
What are the Qualifications?
Anyone wishing to work in another country can participate in the Pre-Employment Orientation Seminar online.
What are the Requirements?
Before attending the PEOS online, you must meet the following requirements:
Password and POEA e-Registration Number
First Name and Last Name registered on the e-Registration.
What are the Modules Included in the PEOS Certificate?
There are eight modules in the PEOS seminar. These learning modules are designed to assist Filipinos in preparing for a career working overseas. According to the POEA website, the following are the contents of these learning modules:
Module 1: Pricest
It covers topics such as physical mobility, relationships, income and expenses, job advancement and direction, environment, skillset, and time when working overseas.
Module 2: Job Search
Provides detailed information on the various overseas employment application channels, paperwork requirements, and the significance of possessing an Overseas Employment Certificate (OEC).
Module 3: Forewarned, Forarmed
This contains information on how to avoid illegal recruitment and the many types of illegal recruitment.
Module 4: The Price is right
Includes a list of pre-departure fees, such as placement fee rulings and government-imposed fees.
Module 5: Seal the deal
This document contains a list of minimal provisions that must be included in any normal foreign employment contract.
Module 6: Country Information
Keep your options open and learn more about the place you want to visit.
Module 7: Healthy & Safe
This document contains information on the biggest security and health threats that Overseas Filipino Workers (OFWs) may face.
Module 8: POEA Cares
Regional offices and extension units of the POEA are listed here.
How to Get a PEOS Certificate?
An upcoming OFW, whether a Domestic Worker or a Profession/Skilled Worker, will need a PEOS Certificate to get an Overseas Employment Certificate from the POEA.
Here's how to register for an online Pre-Employment Orientation Seminar.
You must first create an account with the POEA Online Service Portal in order to process the PEOS seminar.
Please follow these instructions to take the PEOS Online if you already have a POEA account.
Step 1: Go to https://peos.poea.gov.ph/ to access the PEOS website.
You can also type "PEOS Online" into your preferred/available search engine and hit search. Then click the first search result.
Step 2: Fill in the required information on the site, including your POEA e­ Registration number, as well as the first and last names you used to register on the POEA e­Registration portal.
Choose the module type you require from the options below your log in details. Then press "Proceed."
Step 3: You will read 8 modules after you sign in and click proceed. This is the first page you'll come upon.
Go over each module and make sure you understand everything.
There is an assessment at the end of each module that you must complete.
To find out your score, click "Check your Answer" after you've finished completing the five questions. If you make a mistake, you can retake the test until you get it right. Still, give it your all on the first try and perfect it if you can.
Step 4: When you finish the last module, you'll get the message "Congratulations on completing the PEOS Online!"
Step 5: A copy of your PEOS certificate is now available for download.
How to Download and Print your PEOS Certificate
Step 1: Generate and print your certificate. You may quickly download and print your certificate once you've completed and passed the tests. You can also tell your family and friends about it. This certificate verifies that you attended the PEOS Seminar.
Step 2: Click "Print Certificate" beside the congratulatory message. Then select "Print" from the drop-down menu.
At the top of the certificate with the barcode is your name, the date of completion of the PEOS, and the PEOS number.
After downloading the PEOS Certificate, you can continue your application with POEA-licensed recruitment firms on an in-house or job-order basis without paying immigration or placement costs until you are deployed overseas. Also, keep in mind that the only documents required for employment applications in other countries are OEC copies of any single sheet of paper.
You can now keep your certification in case you need it to attach it to an application for work in another country, whether on a job order or through an agency. You can save it to cloud storage sites in case you need to present it in the future.
Video: How to Get PEOS Certificate Online
Check out our fellow kababayan Auntie Cecille TV's video guide below for tips and step-by-step tutorials on how to earn a POEA PEOS certificate online.
Frequently Asked Questions
If you have any further questions regarding the PEOS, see the list of frequently asked questions and answers below.
1. What is PEOS
PEOS is a public awareness program that aims to educate people on the reality of international migration.
2. When will the PEOS certificate expire?
The PEOS certificate has no expiration date. It is valid for a lifetime.
3. Is it possible for me to change an error on my PEOS certificate?
You won't be able to change it, but your registered agency will. You can also get assistance at the POEA Helpdesk website. Link: https://apps.poea.gov.ph/helpdeskvS/Public/myHome
4. Is it okay if I show my previous PEOS certificate?
Yes, the previous PEOS certificate can be used.
5. I took the PEOS online course twice, once for home and once for skilled. Will they come into conflict?
No, simply submit the required certificate for the job you're applying for.
6. Is it acceptable to get a PEOS certificate even if I have no plans to travel overseas?
Yes it is acceptable; a PEOS certificate is available to anyone even if they have no plans to travel overseas.
7. Where can I look up the number on my PEOS certificate?
On the opposite side of the POEA logo, the PEOS certificate number may be located on the top of the certificate and the barcode.
8. Is PEOS required to attend?
Yes, it is required.  It is designed to provide you with information so that you can understand how an OFW works in another country.
9.  Is it possible for me to get a hard copy of my PEOS modules and certificate?
You certainly can. For your PEOS modules and certifications, you may print a copy.
10. Is there a seminar fee for PEOS?
There is no charge for the PEOS seminar.
11. Can I skip the PEOS process?
No, you cannot skip the PEOS process because it is the initial step in travelling overseas.
12. How long does PEOS last?
The online seminar takes 42 minutes to complete. Each module can be completed in 7 minutes.
Summary
Prior to their departure to their allocated work countries, all aspiring OFWs must attend PEOS. Returning workers who have worked overseas for a length of time and want to renew their contracts or explore other work prospects abroad are also included.
The procedure for registering in the PEOS, studying the modules, and downloading the PEOS certificate is outlined in this article. I hope you find this essay useful as you go through the process.
Contact Information
POEA Department of Migrant Workers
Address: Blas F. Ople Building, Ortigas Avenue, corner Epifanio de los Santos Ave, Mandaluyong, Metro Manila
Hotline Number: 722-11-85
Email: connect@poea.gov.ph
Website: poea.gov.ph
Facebook: https://www.facebook. com/poea.gov.ph
Google Map Location
Please check out the map guide to the location of POEA / Department of Migrant Workers office below: