Shipping a balikbayan box to the Philippines is a long-running tradition for Filipino migrant workers and Overseas Filipino Workers (OFWs). Millions of Filipinos working and living abroad send a balikbayan box to their families and loved ones left in the country. These large boxes contain plenty of good stuff, from food, clothing, and electronics. For most Filipinos, a balikabayan box is a way to send love to their families since they're miles away to express affection.
Also Read: Why Many Filipinos Want to Become OFWs and Work Abroad
During the Christmas season, OFWs and migrant workers are speeding up to fill balikbayan boxes, so their families can get them just in time for Christmas. But what is a balikbayan box exactly? Who can send them, and what items can you put and cannot put in these cardboard boxes? Keep reading as we answer what a balikbayan box is and the new shipping laws. We also included the steps on how to send a balikbayan box to the Philippines and a list of cargo shipping companies to entrust your packages.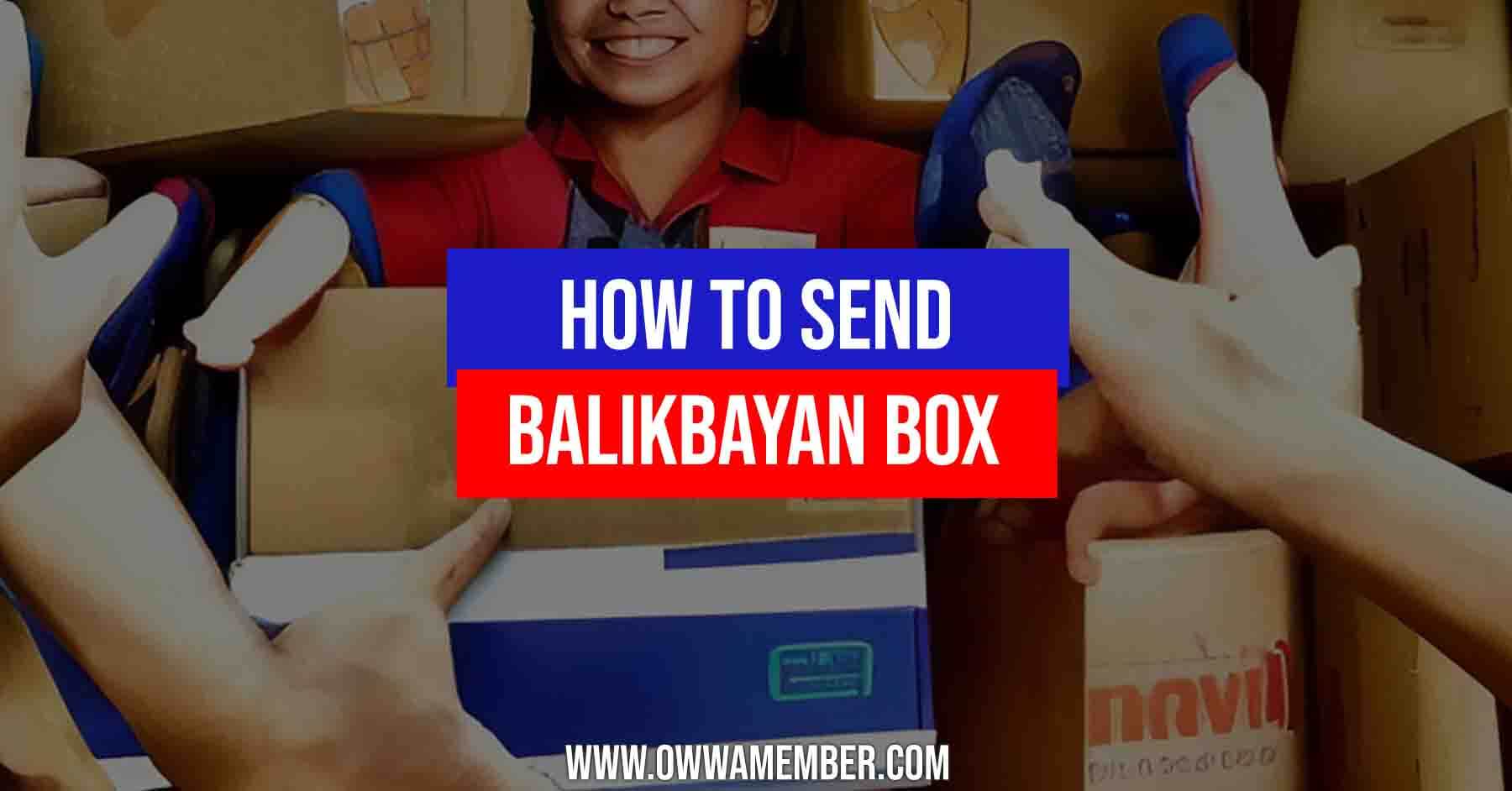 What is a Balikbayan Box?
Balikbayan box is a large package sent by OFWs and migrant workers to their families in the Philippines. It's derived from the Tagalog word "balikbayan", which means coming home or returning to one's country. A balikbayan box is an easy-to-assemble sturdy corrugated cardboard filled with different goods they want to send to their families, relatives, and friends in the Philippines, from chocolates, toys, and canned goods to medicine, shoes, apparel, and electronics.
Most of the time, OFWs and migrant workers shop for the items throughout the year. After filling the balikbayan boxes, they send them before the end of the year, arriving just in time for the holiday season. It also comes in varying sizes based on your budget and preference. However, there are some restrictions and requirements to follow in sending a balikbayan box. Since it is challenging to ship these boxes, following the shipping laws is a must to pass customs and avoid delays in the shipment.
Qualifications
Sending a balikbayan box to the Philippines is open to everyone, whether as an individual or a corporation. Nonetheless, the tax and duty-free privilege are only for Qualified Filipinos While Abroad (QFWA), including:
Filipino residents or citizens who are staying overseas temporarily
Non-resident Filipinos with permanent residency overseas
OFWs employed abroad
Requirements
When sending balikbayan boxes to the Philippines, OFWs, and migrant workers should secure the following requirements:
Balikbayan BOC Information Sheet
Receipt of valuable goods
Original copy of the Philippine passport or photocopy of the Philippine passport showing the data page
For dual citizens without a Philippine passport, provide a copy of a foreign passport showing personal information, photo, and signature and present proof of dual citizenship.
Do note that the Balikbayan Information Sheet from the Bureau of Customs (BOC) is available at your preferred cargo shipping company. But to ensure that all the items in your balikbayan box are carefully listed, you can do the listing yourself by downloading the Balikbayan BOC Information Sheet thru this link. Also, you need three (3) copies of this form. The first copy should be attached to your package, one for the shipping company, and one as your copy.
Balikbayan Box New Shipping Laws
Back in the day, OFWs and migrant workers shipped balikbayan boxes for a fixed flat rate no matter how heavy the contents were, making the shipping low-cost. However, everything changed when the Philippines Customs Administrative Order refurbished the provisions of the previous balikbayan box shipping laws on August 1, 2017.
At present, senders should list the contents of their balikbayan box and provide three (3) copies of the BOC Information Sheet, especially for newly purchased goods.
How to Declare Items inside Balikbayan Cargo Box
Before sending a balikbayan box, cargo companies will ask you to declare the items inside with their corresponding prices. To do this, here is a simple step-by-step guide:
1. Get a Balikbayan BOC Information Sheet from the cargo shipping company or download it online.
2. Fill up all the information needed such as sender's name and address, recipient's name and address, and items inside the box with corresponding prices.
3. Attach one copy of the form to your balikbayan box while retaining two copies for customs clearance purposes.
When shipping brand-new and valuable items, senders should declare and support them with receipts. It applies to appliances, gadgets, jewelry, watches, and other valuable goods. On the contrary, senders don't need receipts when sending used goods, groceries, and new items that are less valuable, like chocolates, toiletries, or daily clothing. But senders should still list these items on the declaration form.
Balikbayan Box Tax Rules
As per latest update, the balikbayan box is tax-free so long as the goods do not reach more than PHP 150,000 worth per year. If there are products and items exceeding this amount, senders should pay the corresponding taxes to Philippine Customs.
Under the new shipping law, balikbayan boxes that will exceed the maximum allowable value or quantity are subject to tax and duty importation. The updated policy aims to prevent the illegal importation of goods and boost government funds. As per BOC, qualified Filipinos can avail of tax and duty-free, given that the balikbayan boxes they send for the whole year will not exceed P150,000. If it exceeds, items exceeding the allowed quantity are subject to VAT, duty, and excise tax.
Thus, you can only send items below the commercial quantities for your family's personal use and not for selling. In addition, consider the arrangements of BOC for Qualified Filipino While Abroad (QFWA) and Non-Qualified Filipinos While Abroad (NQFWA). QFWAs are OFWs and non-resident Filipinos with Permanent residency abroad who remain Filipino citizens (Dual Citizens). Filipino citizens with temporary visas are considered QFWAs, such as business or student visas.
Meanwhile, NQFWA refers to corporations, partnerships, and sole proprietors registered with DTI. Non/previous Filipino citizens who obtained foreign citizenship and opted not to retain Filipino citizenships also belong to NQFWA. If the sender is NQFWA, they should also pay the duty and import tax if the balikbayan box exceeds P10,000, which is the De Minimis Importation value. This policy applies to other foreign nationals sending a balikbayan box to the Philippines. Most of all, BOC prohibits or restricts the shipment of some items. BOC can also seize the package if caught shipping these items.
So before you fill up your balikbayan box, take a look at the following prohibited and restricted items by BOC:
Prohibited Items
Any substances, drugs, or instruments intended to use for unlawful abortion
Any written or printed materials that promote unlawful abortion
Written or printed pornographic materials, such as lithographs, paintings, engravings, cinematographic or negative films, or any immoral or obscene character representation
Any goods made of precious metals, whether as a whole or part, contain gold, silver, alloys, and other metals, like gold-plated bracelets and brands or stamps that do not specify the actual quality of the metal.
Any goods that incite or promote rebellion contradicting the law and the Philippine government
Any goods that can inflict harm or threaten any individual
Flammable materials, including batteries, chargers, lighter, firecrackers, fireworks, and fire extinguishers
Any mislabelled or adulterated drugs, food, or any item intended for human consumption that infringe the laws
Infringing goods as per the Intellectual Property code
Any other item or parts of it that are unlawful
Restricted Items
Any goods or parts of it used as a weapon of war, such as ammunition, dynamite, or gunpowder.
Any weapon of mass destruction and items in the National Strategic Goods List (NSGL) or the Strategic Trade Management Act (STMA)
Any goods or devices used for gambling or game of chance, like marked cards, loaded dice, or roulette wheels
Sweepstakes and lottery tickets, aside from advertisements and drawing lists
Any compound or drug used to prepare or manufacture it, except if prescribed for medical use
Toxic and hazardous substances under the Toxic Substances and Hazardous and Nuclear Wastes Control Act of 1990
Opium and its paraphernalia
Restricted imported goods
Other restricted items such as automobile parts, ceramic tableware, lubricants, plants, soil, seeds, and perishable goods not canned, like fruits, meats, cheese, or rice
Also, remember that you cannot send money via balikbayan boxes. Instead, transfer it thru trusted remittance centers in the Philippines.
Allowed Items (For Personal Use)
On the other hand, you can send the following items to the Philippines in limited quantities without clearance from the Food and Drug Administration (FDA):
Processed food 10kg maximum
1kg or less assorted cosmetics
Lipsticks 10 pieces maximum
5 pieces or fewer perfumes
Childcare items not exceeding 5kg
Toys not exceeding 10kg
Supplements and vitamins not exceeding 500g
Bar soaps, shampoo, and lotion not exceeding 2kg each
Hazardous household products not exceeding 5kg
Wine and liquor not more than 2 bottles and not exceeding 1.5L each
Balikbayan Box Sizes and Price Range
Most cargo shipping companies offer three types of balikbayan boxes: jumbo, regular, and small. Here's a quick overview of the sizes and pricing range for each type:
Jumbo – 24 x 18 x 24 inches (price range: $85 to $95).
Regular – 20 x 16 x 20 inches (price range: $65 to $75).
Small – 12 x 10 x 12 inches (price range: $50 to $60).
The cost of sending your box also depends on the weight and size of the package as well as the destination in the Philippines. Be sure to check with your chosen cargo company for their rates. The price will usually cover only the door-to-door delivery of the balikbayan box, so you will be responsible for any additional shipping fees or taxes imposed by Philippine Customs. You may also need to pay an extra fee if your box is dropped off at a freight terminal instead of being delivered directly to the recipient's doorstep.
When sending items through cargo, make sure that all the goods are properly packaged and labeled. This will ensure that your items arrive safely and on time in their destination.
How to Send a Balikbayan Box to the Philippines
Now, let's proceed with the steps on how to send a balikbayan box to the Philippines.
Find a reliable and DTI-accredited shipping company that can dispatch your package. Also, look into different shipping companies since their services and pricing may vary.
Select the suitable box size for your package and call the shipping company to order. Ensure that it fits all the items you wish to send.
Pay for the box and proceed to pack.
Assemble the box and reinforce all sides, from top to bottom, with a sturdy duck and packaging tape to ensure it won't cave in transit.
Buy and collect the items you wish to include that will fit the balikbayan box. Also, don't forget to check the list of prohibited items of BOC.
Before packing, fill out the Balikbayan BOC Information Sheet and list all the items.
For liquid items, seal them in plastic or Ziploc bags in case it spills. Use bubble wrap for fragile items to prevent damage.
Close and seal the box using duct, packaging, and fragile tape.
Attach the declaration form on the balikbayan box and the shipping label with your details and the recipient's name, address, and contact number.
Contact the cargo company to schedule the collection of your package.
During the collection of the balikbayan box, the cargo company will ask for the duly-accomplished declaration form.
Pay the shipping fee and collect your official receipt.
Then, wait for your balikbayan box to arrive in the Philippines, which takes 8 to 12 weeks to be shipped.
List of Balikbayan Box Cargo Shipping Companies
If you're all set to send balikbayan boxes to your families and loved ones in the Philippines, here are some of the DTI-accredited cargo shipping companies to consider when sending your packages:
12:24 Cargo Express Corporation
Afreight Phils Incorporated
Al Mohr Customs Brokers Incorporated
Associated Freight Consolidators Incorporated
Atlas Brokers & Express Padala Incorporated
BICM Genesis Freight International Incorporated
Brand Expert Freight Forwarder Corporation
Cargoflex Haulers Corporation
Chenvel Svcs Incorporated
Coriner Global Express Logistics and Trading Corporation
CT Movers and Forwarding Services Corporation
Ernst International Logistics Corporation
E-pad Freight Forwarder
Fil Asia Cargo Express Services Corporation
Fil Cargo Express
Focus International Brokerage Corporation
Forex Cargo
Genesis Logistics Global SVCS Incorporated
Globelink International Pty Limited
I-Genex Cargo Forwarder Incorporated
I-Merex Group of Companies Incorporated
Jeezan Int'l Cargo and Courier Services
Jexsan Logistics Philippines Incorporated
Jiamin Cargo Express Incorporated
Jolly-B Box Express Line Incorporated
JRC Logistics Phils Int'l Incorporated
KC Express Door Delivery Services Incorporated
Kingspoint Express & Logistics
LBC Express Incorporated
LCSN Express Movers Incorporated
Makati Express Cargo Incorporated
MMD Logistics Incorporated
Ocean Star Freight Express
Pehanshin Shipping Philippines Incorporated
Phil-Global Cargo Movers Incorporated
Pooten Forwarding
Rensworld Freight Logistics Corporation
Roxas Cargo Express
Royal Cargo Incorporated
RV Door-to-Door Delivery Services
Skyfreight Forwarders Incorporated
Skyland Global Logistics Incorporated
Speedstream Transport
Total Line Logistics Incorporated
Transtech Global Phils Incorporated
Trico International Forwarding Phils Incorporated
Umac Express Cargo
Unifreight Cargo System Incorporated
Willxpress Incorporated
XYZ Global Express Corporation
Balikbayan Box Privilege
Qualified Filipino While Abroad (QFWA) and Filipinos with dual citizenship can avail of the balikbayan box privilege, allowing them to send balikbayan boxes worth P150,000 maximum tax-free. It is only available for 3 times/shipments per calendar year, which consist of personal and household effects. Household effects refer to books, dishes, linens, and similar household items intended for personal use.
Personal effects are new or used commodities not to be sold commercially, including toiletries, clothes, gadgets, or personal adornment. Nonetheless, BOC has no restriction on the number of balikbayan boxes you can dispatch per shipment. But it should not exceed 20 cubic meters or around an extra large box. Also, the total cost of the shipment should not exceed P150,000 throughout the year, and the items should not exceed the commercial quantity to avail of the tax and duty exemption.
To avoid exceeding the commercial quantity, it's best to only put 20 items maximum for every consumable good and 5 items maximum for every non-consumable good on your balikbayan box.
Video: Guide to Packing a Balikbayan Box as an OFW
Check out this video by an OFW Filipina who shares her experience packing and filling up her balikbayan box to send to the Philippines:
Frequently Asked Questions
1. How long does a Balikbakan Box arrive?
It depends. The shipping duration will vary based on the shipping company, your chosen service, and the season. For instance, air freight will take 7 to 10 days to arrive, and 40 to 60 days for sea freight thru LBC Express. But in general, the balikbayan box may arrive around 8 to 12 weeks.
2. How many times can I send a Balikbayan Box?
You can avail of the balikbayan box privilege for up to 3 times/shipments per calendar year, given you're a Qualified Filipino While Abroad (QFWA) and the shipment value does not exceed P150,000 throughout the year.
3. Can I bring a Balikbayan Box on an airplane?
It depends on the airline. But, yes, you can. For Cebu Pacific Air, they accept a properly packed balikbayan box that measures 20"x20". You can also check other airlines for more details.
4. What are the items I cannot put inside a Balikbayan Box?
Strictly prohibited items include firearms, explosives, and flammable materials. Other than these items, there's no limit to what you can pack in your balikbayan box. Just make sure that it does not exceed the allowed weight and dimensions of the cargo shipping company you're working with.
5. Can I send a Balikbayan Box via Sea Freight?
Yes, you can ship a balikbayan box via sea freight, which is the most cost-effective and cheapest way to do so. With this type of service, it usually takes 60-90 days for the package to arrive as compared to air cargo servicers that deliver in just a few days.
6. What are the documents needed to send a Balikbayan Box?
You need to provide the following documents for sending balikbayan boxes: a copy of your passport and valid visa, proof of residency (e.g., driver's license or utility bill), and the packing list with approximate values of the items inside the box. Additionally, you may also be asked to provide an affidavit of contents if requested by customs authorities.
7. Can I track my Balikbayan Box?
Yes, most cargo shipping companies offer tracking services so you can monitor your shipment along its journey. You can check with your chosen company for more details on how you can track your balikbayan box.
8. What is the cost to send a Balikbayan Box?
The cost for sending a balikbayan box will depend on the company you choose, the size of your package, and your destination. Generally, it could range from USD 50 – 100 or more depending on the factors we've mentioned earlier.
9. How do I prepare a Balikbayan Box?
When packing your balikbayan box, make sure that all items are well-secured and protected against damage during its journey. Also ensure that you're following the guidelines of your chosen cargo shipping company as regards dimensions, weight limits, and prohibited items in order to avoid delays or payment of additional fees. Additionally, the box should be properly sealed and labeled clearly with your name, address, and contact details.
10. How do I know if my Balikbayan Box has arrived?
You can check with the cargo shipping company or track your package online to monitor its arrival. Most companies also provide phone numbers that you can call to inquire about the status of your shipment. As soon as it arrives at its destination, you will receive a notification.
Once you've received this notification, make sure your recipient picks up your balikbayan box right away and secures it for transport back home. Make sure to bring along all necessary documents when retrieving it from the cargo shipping center in order to avoid any delays or confusion.
Summary
Balikbayan boxes are a great way to send items to loved ones back home. Qualified overseas Filipino workers (OFWs) can avail of the balikbayan box privilege and make your family/relatives happy. Of course, this balikbayan cargo box is not a mandatory thing. You can choose to send one every now and then at your own convenience.
The balikbayan box is a tradition that many Filipino families take part in and is a great way to send items that cannot be found or are too expensive back home. You can always use other methods of shipping, but the balikbayan box remains a convenient and cost-effective way for overseas Filipinos to keep in touch with their families.
When sending a balikbayan box, make sure to check the guidelines of your chosen cargo shipping company regarding dimensions, weight limits, prohibited items, etc. Additionally, prepare all necessary documents such as passport copies and packing list with approximate values of the items before shipment. Once you've done this, you can track your balikbayan box along its journey and receive notifications when it arrives at its destination.