The Department of Health (DOH) is the principal health agency and national health policy-maker and regulatory institution in the Philippines. Having said that, it holds the overall technical authority on health, health plans, policies, goods, and services in the country and has been doing so since it was officially established in 1944.
Also Read: PRC – Philippine Red Cross – Purpose, Functions and Responsibilities
The DOH is responsible for the implementation of national health programs and projects, as well as the mobilization and allocation of resources to support them. It monitors the health status of Filipinos and manages health emergencies. It also works with other government agencies and non-governmental organizations to develop effective strategies to address public health concerns.
As an agency that specializes in health, the DOH basically plays three roles for the health sector: health leader, enabler and capacity-builder, and administrator of specific services. Keep reading to learn about how DOH carries out its functions to help Filipinos nationwide.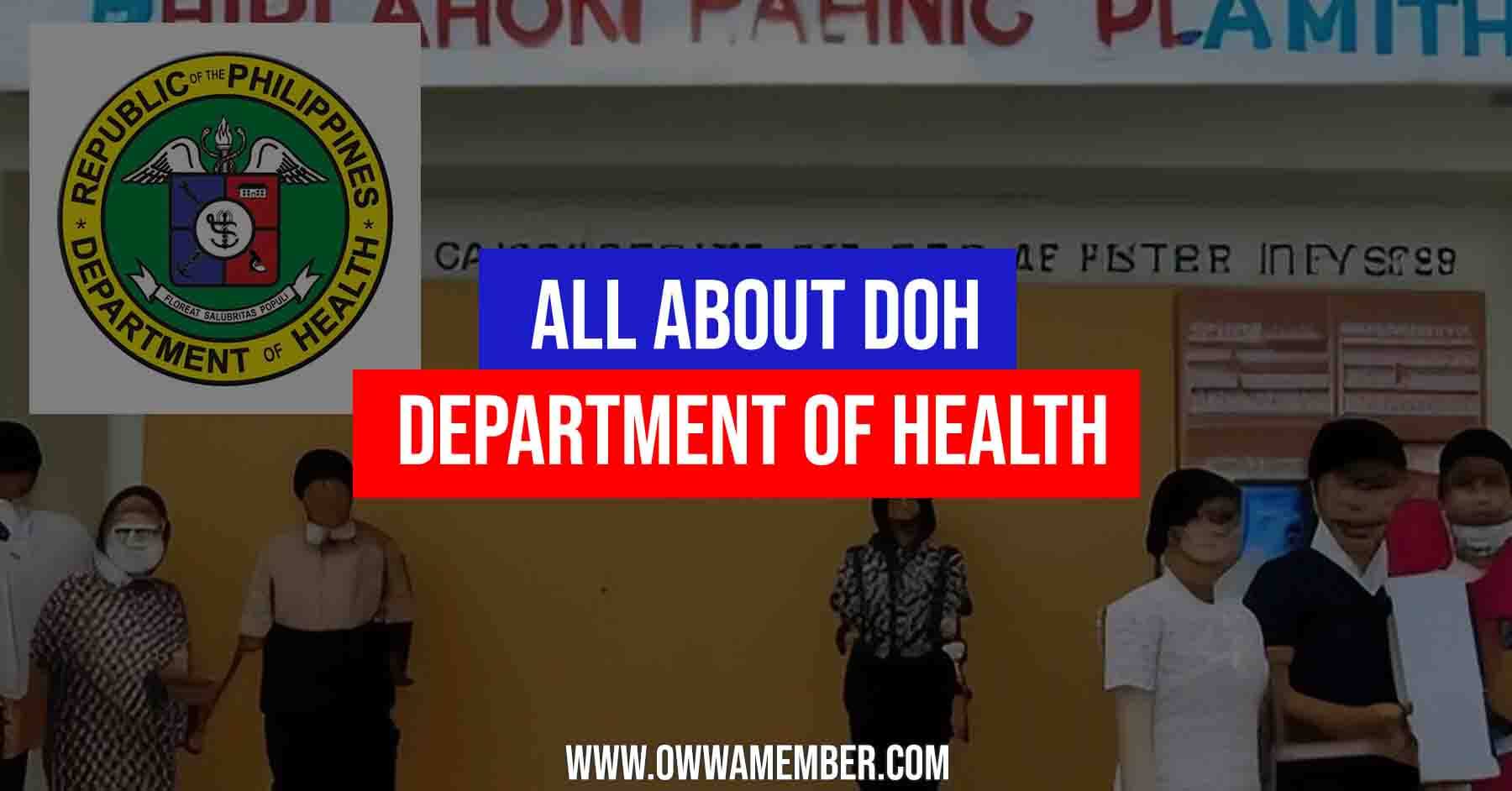 What is the meaning of DOH?
DOH is an abbreviation for the Department of Health. It is a government agency in-charge of developing, promoting, and regulating the health sector in the country so it can serve the Filipinos better.
When did the DOH launch?
The Department of Health (DOH) started off as the military Board of Health on September 10, 1898. It was originally established to care for injured American troops, but eventually evolved into the Bureau of Health which is dedicated to improving public health. In the 1940s, it changed into the Department of Health and Public Welfare before becoming the Department of Education, Health, and Public Welfare. In 1944, it became the Department of Health it is now, with both the Bureau of Hospitals and the Bureau of Quarantine under its management.
What does the Department of Health do?
The Department of Health (DOH) serves as the principal health agency in the country. It plays three major roles: as a health leader, enabler and capacity-builder, and as an administrator of specific services. As a government agency, the DOH is also tasked to ensure that the general public has access to basic health services and quality health care and to regulate the providers of health goods and services.
Its mandate also includes developing national plans, technical standards, and health guidelines for the health sector to abide by. It also provides special tertiary healthcare services and technical assistance to both providers and stakeholders in the health industry.
department of health philippines logo
What are the DOH's principles of management?
Together, these vision, mission, and values statements provide direction for everything that the Department of Health engages in in support of the Filipino people.
Mission
DOH's mission has always been to lead the country in the development of a productive, resilient, equitable and people-centered health system for Universal Health Care (UHC).
Vision
The agency hopes that the Filipinos would become among the healthiest people in Southeast Asia by 2022, and in the entirety of Asia by 2040.
Core Values
These values serve as the guiding principles that DOH adheres to when it operates as stewards of health:
The DOH strives to uphold truth and pursue honesty, accountability, and consistency in performing its functions.
It always strives for the best, making sure it is up-to-date in terms of innovation so it will continue to function effectively and efficiently, while being pro-action, dynamic, and open to change.
Compassion and respect for human dignity
Whilst DOH upholds the quality of life, it also encourages respect for human dignity, sympathy, and benevolence, especially towards people in need.
The department commits to achieve its vision for the health and development of future generations.
The DOH performs its functions professionally, exhibiting the highest ethical standards, principles of accountability, and full responsibility.
The DOH employees work together with a result-oriented mindset.
Stewardship of the health of the people
Being stewards of health for the people, the Department pursues sustainable development and care for the environment.
What is the function of the Department of Health in the Philippines?
The Department of Health (DOH) is mandated to develop national plans, technical standards, and guidelines on health and serve as the regulator of all health services and products. It is also the designated provider of special tertiary health care services and technical assistance both to health providers and the stakeholders.
What are the attached agencies of the DOH?
Together with its attached agencies, the DOH performs its roles and functions continuously in a bid to improve the healthcare system in every region of the Philippines.
The DOH attached agencies are as follows:
Philippine Institute of Traditional and Alternative Health Care (PITAHC)
Address: Matapang St East Avenue Center Compound, Diliman, Q.C.
Contact Person: Annabelle De Guzman, MD, FPAFP, MHA, MA MED, CESE
Position: Director General
Tel. No.: 376-3067 (TF), 376-30-68
Email address: pitahc@gmail.com
Address: Citystate Centre Building, 709 Shaw Boulevard, Pasig City
Contact Person: Eli Dino D. Santos
Position: OIC-President and CEO
Tel. No.: 441-7444, 441-7442
Philippine National Aids Council (PNAC)
Address: Ground Flr. Bldg 12, San Lazaro Compound, Sta. Cruz, Manila
Contact Person: Dr. Joselito R. Feliciano
Position: OIC-Executive Director IV
Tel. No.: 8651-7800 loc. 2212
Email address: pnac_sec@yahoo.com
National Nutrition Council (NNC)
Address: Nutrition Building, 2232 Chino Roces Avenue, Taguig City
Contact Person: Dr. Azucena M. Dayanghirang, MCH, CESO III
Position: Assistant Secretary and Executive Director
Tel. No.: (63 2) 818-7398, 892-4271
info@nnc.gov.ph
Email address: apet.dayanghirang@nnc.gov.ph, apet2265@yahoo.com
DOH Health Programs
Adolescent Health and Development Program
Aedes-Borne Viral Diseases Prevention and Control Program
Belly Gud for Health
Blood Donation Program
Cancer Control Program
Child Health and Development Strategic Plan Year 2001-2004
Chronic-Kidney Disease Prevention and Control
Climate Change
Committee of Examiners for Massage Therapy (CEMT)
Committee of Examiners for Undertakers and Embalmers
Dengue Prevention and Control Program
Dental Health Program
Early Childhood Care Development Program
Emerging and Re-emerging Infectious Disease Program
Environmental Health Programs
Expanded Program on Immunization
Family Planning Program
Filariasis Elimination Program
Food and Waterborne Diseases Prevention and Control Program
Food Fortification Program
Garantisadong Pambata
Healthy and Productive Ageing Program
HIV, AIDS and STI Prevention and Control Program
Uman Resource for Health Network
Immunization Program
Infant and Young Child Feeding Program
Integrated Helmnith Control Program
Integrated Management of Childhood Illness Program
Inter Local Health Zone
Knockout Tigdas 2007
Leprosy Control Program
Lifestyle-related Diseases
Malaria Control and Elimination Program
Mental Health Program
Micronutrient Supplementation Program
National Family Planning Program
National Leprosy Control Program
National Safe Motherhood Program
National Tuberculosis TB Control Program
Newborn Hearing Screening Program
Newborn Screening Program
Occupational Health Program
Oral Health Program
Persons with Disabilities
Philippine Cancer Control Program
Philippine Medical Travel and Wellness Tourism Program
Philippine Organ Donation and Transplant Program
Prevention of Blindness Program
Province-wide Invesment Plan for Health (PIPH)
Public Health Associate Deployment Program (PHADP)
Public-Private Partnership for Health Program
Rabies Prevention and Control Program
Rural Health Midwives Placement Program (RHMPP) / Midwifery Scholarship Program of the Philippines (MSPP)
Safe Motherhood Program
Sanitation Program
Schistosomiasis Control and Elimination Program
Smoking Cessation Program
Tuberculosis Control Program
Unang Yakap (Essential Newborn Care: Protocol For New Life)
Urban Health System Development (UHSD) Program
Violence and Injury Prevention Program
Water Safety Program
Women and Children Protection Program
Also Read: PCH – Philippine Heart Center – Purpose, Functions and Responsibilities
Video: DOH @ 120 Years
Learn more about DOH and what it has been doing for over 120 years by watching this video:
https://www.youtube.com/watch?v=j0WesKAier
Frequently Asked Questions
For your reference, here are some of the most commonly asked questions and answers regarding the Department of Health (DOH):
1. What is the role of the DOH in food safety?
The DOH is the department responsible for the safety of processed and prepackaged foods, foods locally produced, or foods that are imported, as well as the conduct of monitoring and epidemiological studies on food-borne illnesses.
2. What is the role of the DOH in disaster management?
The DOH is tasked with maintaining the operations centers, documenting all health emergency events, and reporting them to Department of Health—Health Emergency Management Staff (DOH-HEMS). This includes all emergencies and disasters and any event with the potential of becoming an emergency.
3. How does DOH help consumers?
The DOH has set and implemented procedures for the conciliation and arbitration of consumer complaints applicable to cases under DOH jurisdiction through an Administrative Order. The DOH resolution of such consumer complaints is applicable only to cases under DOH jurisdiction.
4. What is the advocacy of DOH?
The DOH advocates a healthy diet as a way of life even during emergencies.
5. What is P100?
The P100 is a DOH-initiated program meant to offer Filipinos Drug Packages for diseases such as hypertension, diabetes and asthma at 100 pesos or less in all DOH hospitals and select LGU Hospitals.
6. How can I learn more about the programs and services offered by the Department of Health?
To learn more about the programs and services offered by the Department of Health, you may reach out to them via the following:
DOH Call Center
Telephone No: (632) 8651-7800 local 5003-5004, (632) 165-364
Email Address: callcenter@doh.gov.ph
department of health website screenshot
Summary
The Department of Health is an agency dedicated to safeguarding and protecting the health and wellness of Filipinos. As the prime government agency in charge of developing, promoting, and regulating the health sector, the DOH oversees the overall technicalities of health, health plans, policies, goods, and services in the country.
It also takes care of policy development so and works with attached agencies in carrying out its advocacies for the Filipinos.