Filipinos working in Brunei need to verify their employment contract with the Philippine Overseas Employment Administration (POEA) to ensure that their rights and welfare are protected. The verification ensures the employer/legal company's existence, financial capacity to pay the offered salary, and compliance with the terms and conditions of employment.
Contract Verification will also verify that overseas Filipino workers living in Brunei are legal and necessary, as well as prevent complications with Canadian officials, who are notoriously strict when it comes to immigration issues.
OFW's who are based in Brunei and need to verify their employment contracts can process this at Philippine Overseas Labor Office (POLO) located at Simpang 336 Diplomatic Enclave, Jalan Kebangsaan, Bandar Seri Begawan, BA 2312, Brunei Darussalam.
Also Read:
It is recommended that visitors to the POLO Brunei office wear a facemask and maintain a social distance. The procedures and requirements for acquiring an Employment Contract Verification in Brunei will be discussed in this article.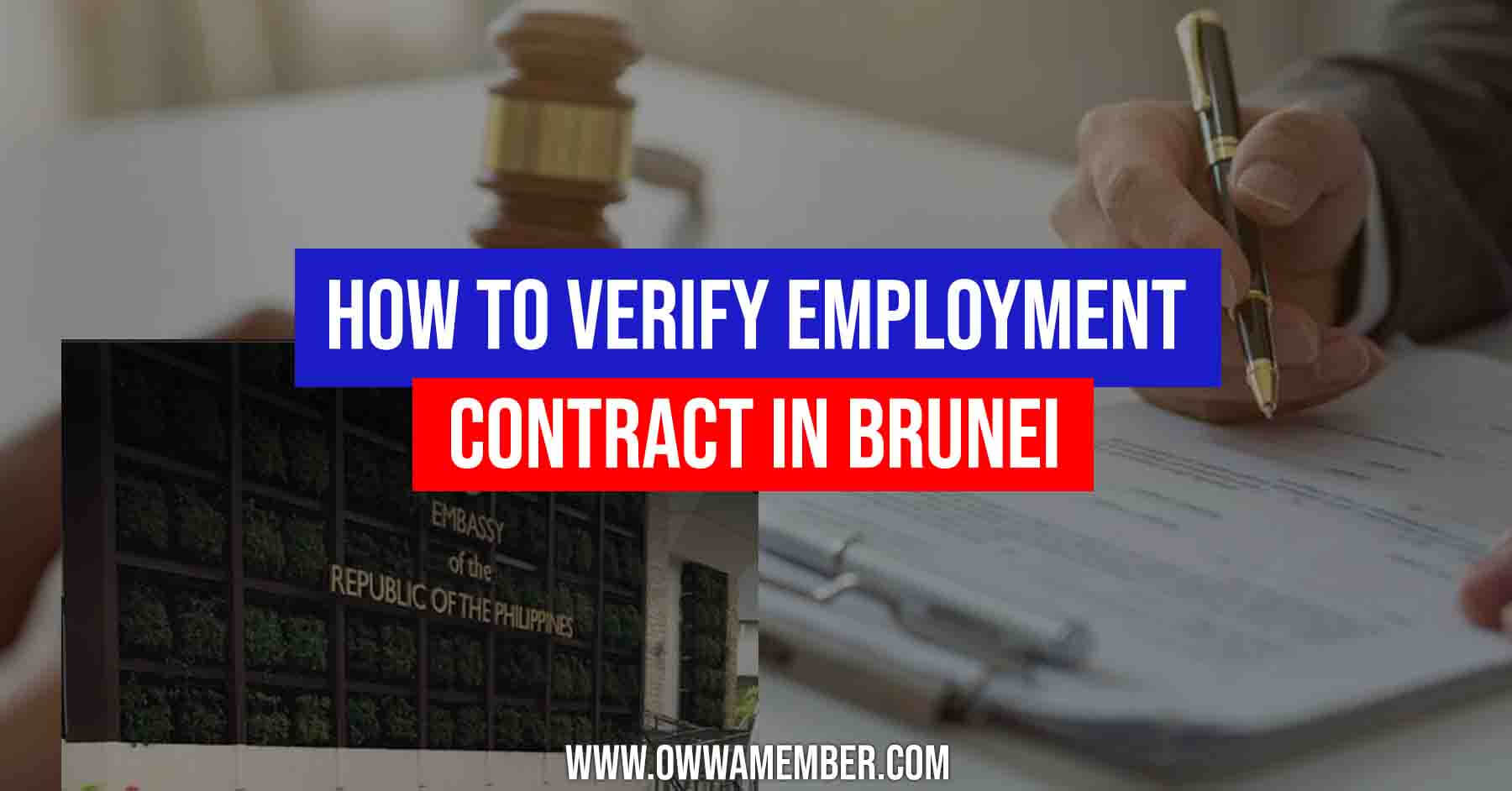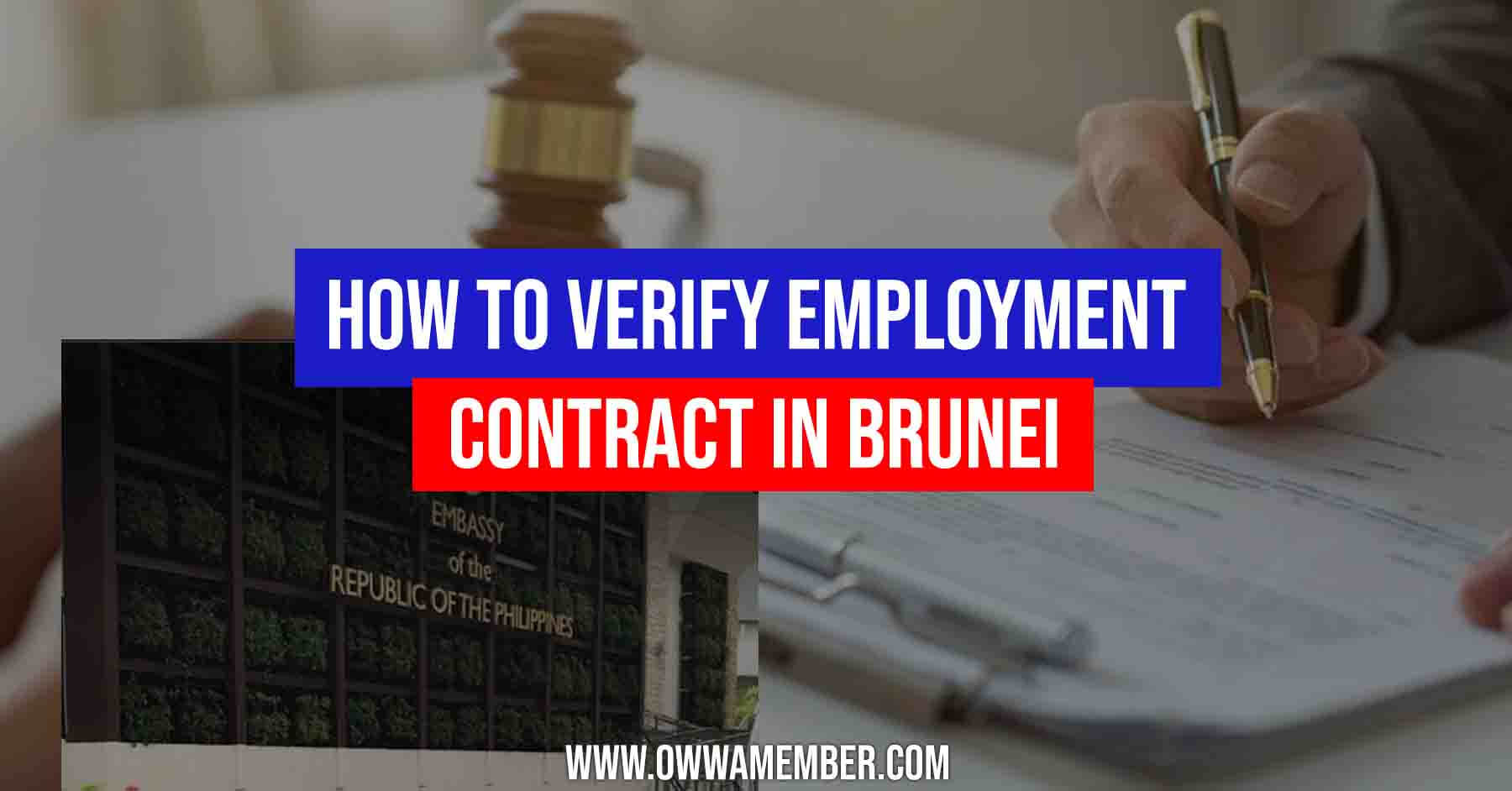 Qualifications
Filipino workers that have changed jobs onsite and are registered with POEA.
Filipinos working in Brunei without a POEA record.
Filipino nationals who have been authorized for an employment visa by the Immigration Department.
Change of employer and/or name of employer for the first time in Brunei (for example, from a tourist or from another nation).
Others on a fixed-term contract (this needs contract verified every renewal).
Note: OFWs who have already had their contracts verified with their present employer do not need to have their renewal contracts verified again. They can just show their old verified contract and their renewed contract when applying for BM, as long as the Employer remains the same.
Requirements
Original Employment Contract (Signed by the worker and the employer)
Photocopy of worker's passport that is valid for travel for at least six (6) months
Photocopy of worker's valid Work Visa
Workers recent pay slip
Contract Verification fee
Note: Requirements are subject to change without prior notice; for questions and clarification, contact the POLO office in Brunei.
How to Process Employment Contract Verification in Brunei
POLO Brunei office requires an appointment before visiting the office.  Although there have been instances of other OFWs going directly to the Brunei office, it is strongly advised that you get in touch with them beforehand and find out whether an appointment is necessary.
Check out the procedure below on how to book an appointment and how to process employment contract verification in Brunei.
Step 1: Click and open the link to book an appointment – https://bruneipe.setmore.com/bookappointment
Step 2: Click the "Contract Verification" on the list of services.
Step 3: Click the "POLO-OWWA" as provider.
Step 4: Choose your preferred date and time on the calendar.
Step 5: Fill in the required information.
Step 6: Review the appointment details then click the "Book" button.
Step 7: Check your email for appointment confirmation.
Step 8: Gather all of the necessary requirements.
Step 9: Go to POLO Brunei on your scheduled appointment day. Show your approved appointment letter, vaccination card and valid ID to the assigned security personnel.
Step 10: The assigned security personnel will check your name to the list of approved appointments for the day. To avoid long lines, bring the complete set of requirements.
Step 11: Get a token number from the assigned personnel.
Step 12: Go to the processing window and submit your documents.
Step 13: Pay for the employment contract verification fees.
 Important Reminders
Make sure that the employment contract is dated and signed on all pages by both the employee and the employer.
All documentation should be submitted in two (2) sets or copies.
Incomplete document submissions, payments, or other deficiencies, such as missing signatures, will not be accepted.
If the employer handled the processing and completion of the employment contract verification, the employer must send the worker the original processed document or deliver it to the Philippine Recruitment Agency, which will then submit it to POEA as part of the processes for the issuance of exit clearance.
All applicants must bring their own pens.
All applicants are encouraged to arrive at the POLO Brunei office well-dressed. Shorts, transparent clothing, or slippers are not permitted.
To avoid delays, employers should closely comply with all requirements.
Feel free to call +673-729-1316 and 729-1316, Monday to Friday 8:00am to 5:00pm (Closed on Brunei and Philippines public holidays).
Frequently Asked Questions
If you have any further questions regarding "How to Verify Employment Contract in Brunei", see the list of frequently asked questions and answers below.
1. What is Employment Contract Verification?
Employment Contract Verification verifies that the OFW has a job and an employer, and that the contract conditions match the POEA and host government's minimum requirements.
2. Is it possible to get OEC without a verified contract?
A verified employment contract is the most important requirement for the issue of an OEC. Only the POLO or the POEA can provide verification services.
3. Can I skip getting employment contract verification?
No, you can't skip getting your employment contract verification because it's one of the first steps in getting your OEC.
4. Can I go to the POLO Brunei office directly to verify my employment contract?
No, you cannot go straight to the POLO Brunei. Prior to visiting, the POLO Brunei requires an appointment. You can book your appointment through their website here –https://bruneipe.setmore.com/bookappointment
5. What is the POLO Brunei's office hour?
The POLO office in Brunei is open from Monday to Friday 8:00am to 5:00pm (Closed on Brunei and Philippines public holidays).
6. What is POLO Brunei's address?
POLO Brunei's address is Philippine Overseas Labor Office (POLO), Simpang 336 Diplomatic Enclave, Jalan Kebangsaan, Bandar Seri Begawan, BA 2312, Brunei Darussalam.
7. What is the POLO Brunei's hotline number?
You can reach the POLO Brunei office at +673-729-1316 and 729-1316. You can also send a message to Philippine Embassy in Brunei via messenger.
Facebook Link:  https://www.facebook.com/PHinBrunei
8. What is the email address of POLO Brunei?
The email addresses of POLO Brunei are polobrunei2007@gmail.com and brunei.pe@dfa.gov.ph.
9. Can I verify my employment contract instead of my employer?
Yes, as long as you have all of the requirements, you can process your employment contract verification, although it is preferred that the employer perform it. Because foreign employers that hire Filipinos must work through a legally licensed Philippine recruitment agency and sign a recruiting agreement with them.
Summary
POLO contract verification is required for the recruited or employed Filipino worker's registration with the Philippine Overseas Employment Administration (POEA) and the processing of the Overseas Employment Certificate (OEC).
Authorities in Brunei, are on high alert for illegal immigrants, so be sure your contract is verified. After you verified your contract, you'll have access to all of POLO's benefits and services, as well as those provided by POLO's Brunei-based partners.
You must carefully follow the procedures and complete your requirements to avoid contract verification delays.
Contact Information
POLO-OWWA Bandar Seri Begawan, Brunei Darussalam
Main Address: Simpang 336 Diplomatic Enclave, Jalan Kebangsaan Bandar Seri Begawan, BA 2312, Brunei Darussalam
Tel. Nos.: (+673) 2241465, 224 1466, 223 8845, 222 0781
Hotline: (+673) 871 4881 (Consular); (+673) 883 0933 (Labor)
Fax No.: (+673) 223 7707
Social Security System (SSS): 2221173 / Trunk Line: 2241465, 2241466 Loc. 122
PAGIBIG Fund: 2222916 / Trunk Line: 2241465, 2241466 Loc.120
Website: https://bruneipe.dfa.gov.ph/
Facebook Pages: https://www.facebook.com/PHinBrunei/
Google Map Location
If you plan on visiting POLO Brunei, here's a quick map guide you can follow. The POLO-OWWA office is in the PH Embassy location: