The DSWD AICS Transportation Assistance is a program that provides transportation assistance allowance to qualified indigent individuals. This is for them to be able to avail of public utility vehicles or purchase fare tickets so they can go home to their families. Take note that this is intended for poor individuals who cannot afford to buy their own fare tickets or avail of public transportation.
Also read: How to Get Cash Aid in DSWD Medical Assistance Program
If you have been stranded in an area due to a natural disaster or an unforeseen illness, then you may need help navigating through the various forms of social work and development available to help you. For instance, if you have been the victim of an illegal recruiter, you can get help from the DSWD.
The DSWD's Assistance to Individuals in Crisis Situations (AICS) program provides various aid services to individuals in crisis situations. These include transportation assistance, burial assistance, medical assistance, and educational assistance. The program is designed to help the poor, vulnerable, and disadvantaged members of society. This guide will discuss how you can get help from the DSWD's Transportation Assistance Program. Read on to learn more!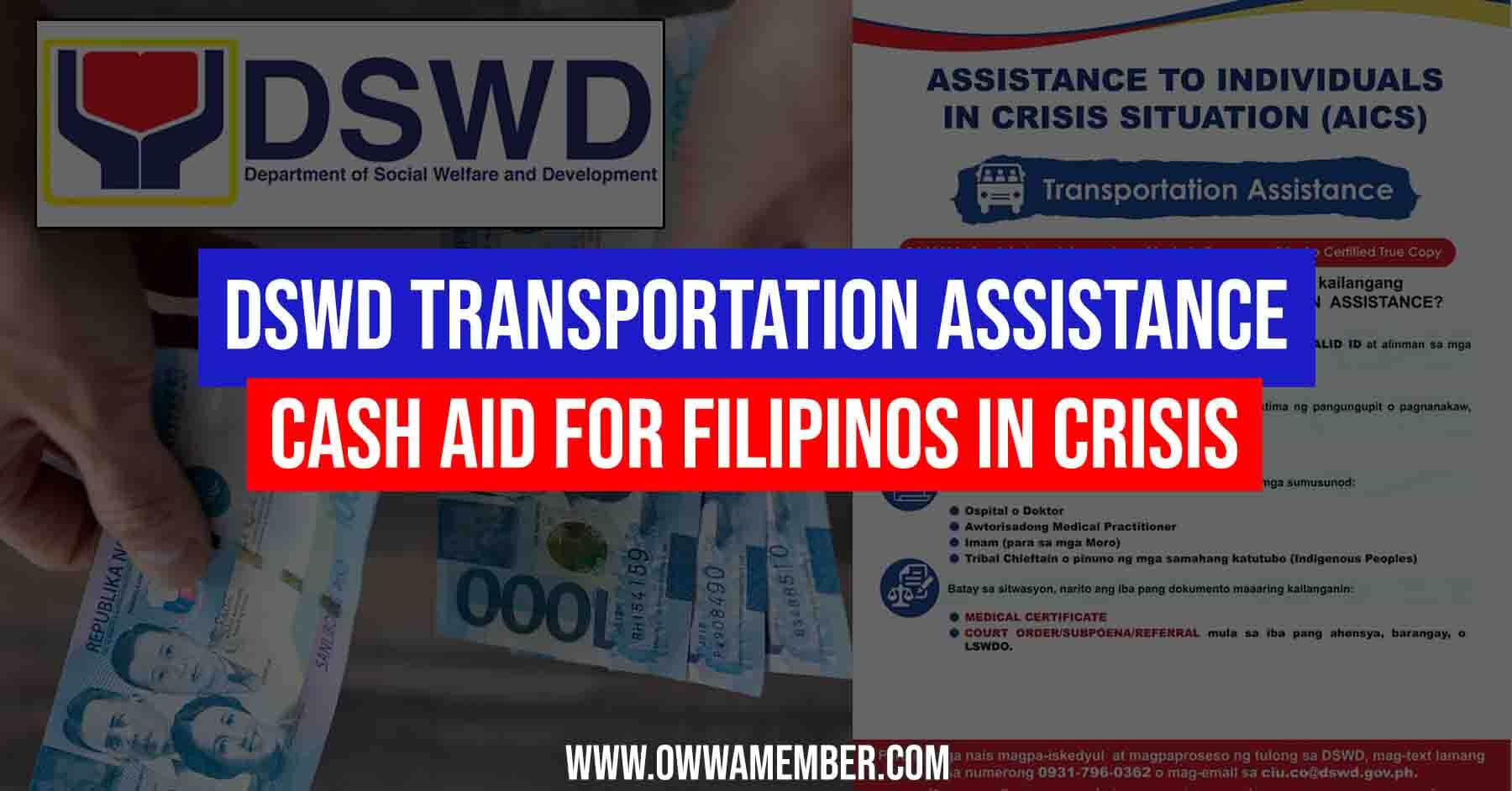 What is AICS Transportation Assistance?
The DSWD's Transportation Assistance Program is a service that provides free bus tickets to individuals who are in need of transportation. This program is available to everyone regardless of their income level or social status. It was created by the Department as part of its efforts to alleviate poverty and promote social justice.
DSWD's AICS transportation assistance is available to the following individuals:
"Strandees" due to a natural calamity;
People returning to their hometowns;
Victims of illegal recruitment;
Victims of pickpockets;
People who need to travel for medical care; and
People with sudden death in the family.
Benefits
DSWD Transportation assistance program provides qualified applicants a cash grant to help them with their transportation due to a crisis/calamity. This allowance is intended to help those who are in need and cannot afford to pay for their transportation expenses.
Requirements
To be eligible for the DSWD transportation assistance program, applicants must meet certain requirements aside from being Filipino citizen. In order to apply for assistance, applicants must provide a government-issued ID and one of the following documents:
Police Blotter / Certification (for victims of pickpockets, illegal recruiters, etc.); or
Death Certificate or any proof from a Hospital, Doctor, Authorized Medical Practitioner, Imam (for Muslims), or Tribal Chieftain (for indigenous peoples).
Additional Requirements
In addition to the above, the following documents may also be required, depending on the situation:
Medical Certificate; or
Court Order / Subpoena / Referral (from other agencies, Barangay, or LSWDO).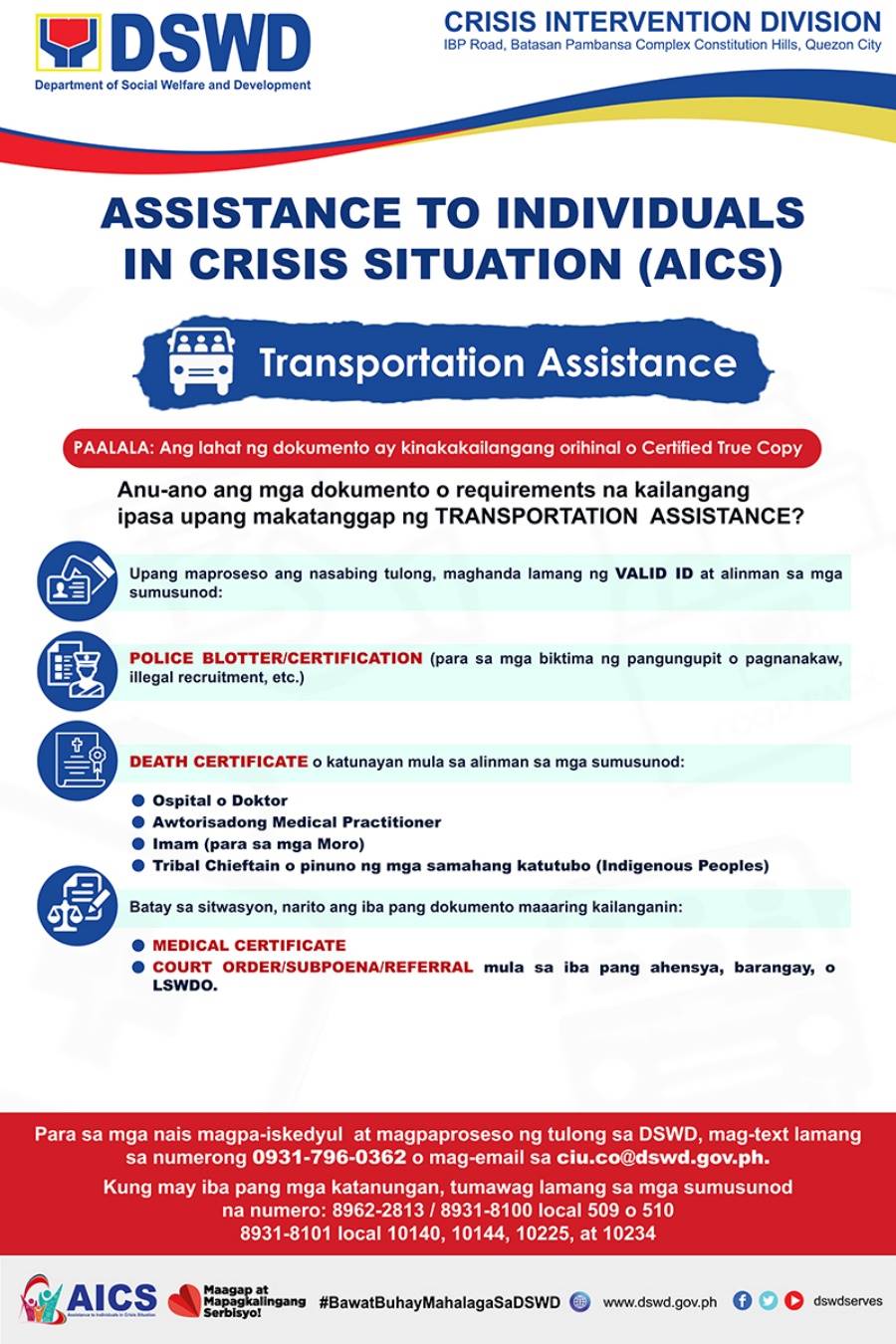 How to Apply for the DSWD Transportation Assistance Program (DSWD-MAP)
If you need transportation assistance, the DSWD can help you. You can reach its various offices across the NCR by going to its central office in Quezon City or if you live in the province. On the other hand, if you live in a different area, you can visit the agency's satellite offices.
You will be given the necessary instructions to apply for transportation assistance. The application process usually involves three main steps:
Screening. The step usually involves the submission of all the necessary documents.
Assessment. After completing the application, a Social Welfare Officer will then assess your needs and determine the type of transportation assistance that you need.
Payout. The DSWD will release the financial assistance once the approval of the application is received.
Applying for this benefit is very easy. You just need to visit a local Social Welfare Office, fill out the form and submit it together with all the required documents. If you are eligible for this assistance, DSWD will provide you with transportation assistance in the form of cash or a voucher.
This is especially helpful for our kababayan from the provinces who are stranded elsewhere as a result of being a victim of natural disasters or even illegal recruitment or domestic abuse.
Video: AICS Program a Big Help to Many Filipinos
For many years, the DSWD has provided financial assistance to Filipinos through its AICS program. In a video released by the agency, several individuals talked about how the program helped them with their various needs:
Whether it's you or someone you know who requires assistance from the DSWD, it would be crucial to know the basics of the AICS program. The DSWD has several helpful resources online, including its website and social media channels. Be sure to check out videos and onlineresources about the program, as well as the FAQ section below. If you're unsure about any aspect of the AICS program, you can always contact the DSWD directly by calling their hotline in the contact information section below.
Frequently Asked Questions
Here are some FAQs about the financial assistance for transportation and the AICS program:
1. What is DSWD's AICS program?
The AICS program is a regular program of the DSWD that provides financial assistance to individuals in crisis. It offers various types of aid, such as medical assistance, transportation assistance, burial assistance, and educational assistance.
2. How can I avail of financial assistance from DWSD?
To apply for financial assistance, individuals should visit the nearest DSWD office. These are located in different areas across the country, such as the central office in Quezon City and DSWD field offices in different regions.
The DSWD will also give instructions on how to apply for various types of financial assistance. However, there are usually three basic steps involved in this process.
Step One. The first step in the process is to submit the necessary documents. These documents are usually taken during the screening process.
Step Two. After interviewing you, a Social Worker will then determine the type of financial assistance that's available to you. Based on your needs, the worker will also determine the appropriate level of support.
Step Three. After completing the application, the DSWD will then review the documents related to the application and determine the appropriate payment for the financial assistance.
3. What are the required documents?
The documents you need to fill out will be based on your specific situation and requirements. For instance, if you're seeking transportation assistance if you're the victim of a pickpocket, illegal recruiter, etc., you'll most likely need to provide a Police Blotter. On the other hand, if you're planning on traveling for medical care, you'll need to provide a Medical Certificate.
4. When will I receive the financial assistance?
The DSWD can generally release financial aid worth less than PHP 10,000 within one working day. On the other hand, aid worth over PHP 10,000 can be issued within three to five days, depending on the approval of upper management. A guarantee letter may also be issued in funeral and medical assistance cases.
5. Who can I call to ask about DSWD's financial assistance programs?
To discuss or ask about the AICS program or other DSWD services, individuals can call its Agency Operations Center. This can be reached by calling its 24-hour hotline number.
Smart — 0943 464 8026 / 0943 464 8086 / 0932 933 3251
Globe — 0995 715 3926 / 0995 715 3934
NOTE: The above-mentioned numbers are also available to answer inquiries from 8:00 am to 6:00 pm every working day, excluding holidays. These can be reached from 8:00 am to 5:00 pm during weekends and holidays.
6. What other programs or services similar to the AICS are offered by the DSWD?
The DSWD also has the Assistance to Communities in Need Program and Malasakit Centers, wherein recipients can avail of the department's aid.
7. What is the DSWD Assistance to Communities in Need Program?
The DSWD provides financial and other support to communities in need, those affected by natural or human-induced disasters. These include individuals who have been displaced or are experiencing a crisis due to the demolition or eviction of their homes.
8. What are DSWD Malasakit Centers?
The Malasakit Center is a one-stop shop for various government agencies that provide financial and medical assistance to the poor. It is located in different public hospitals across the country.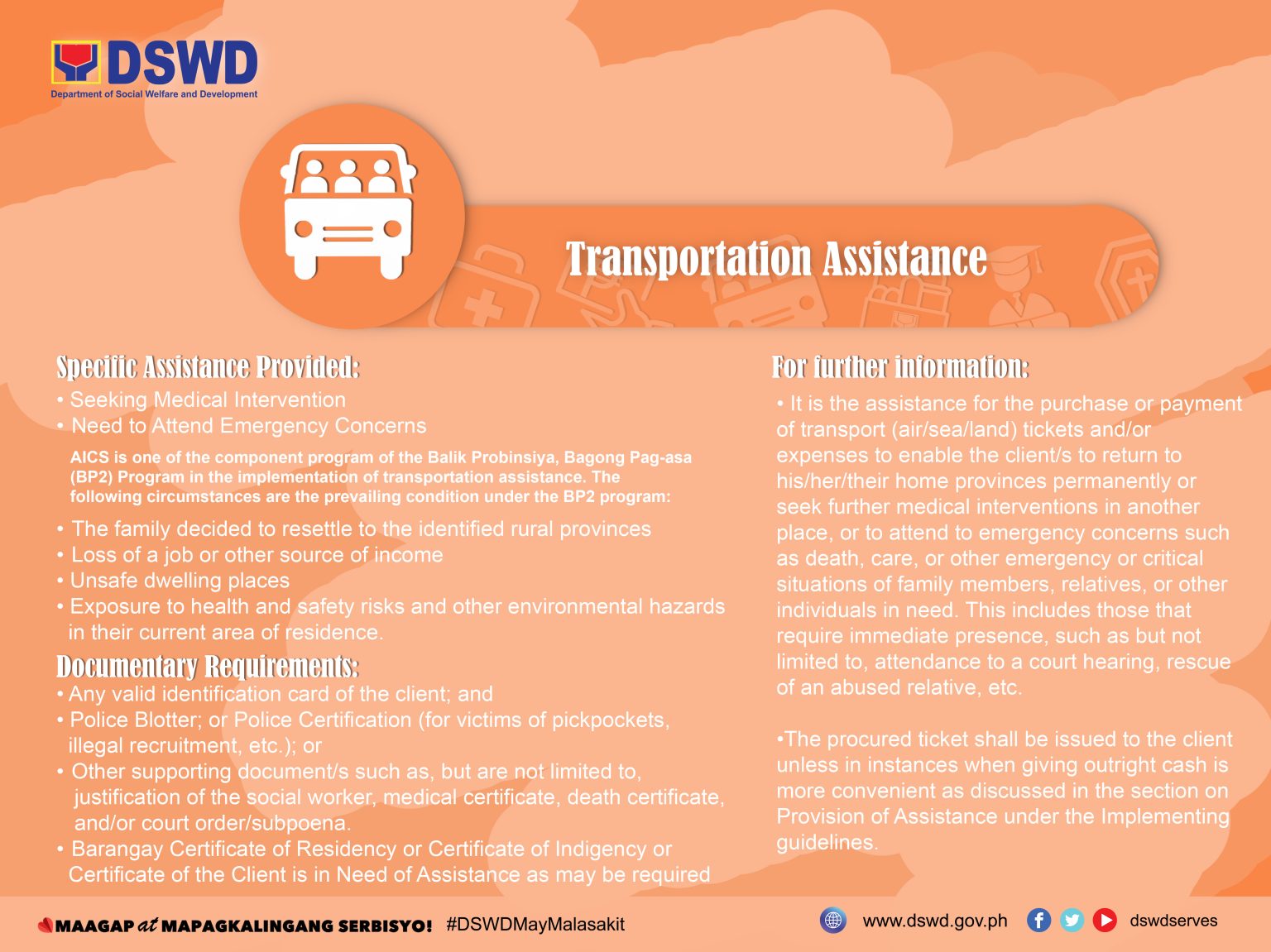 Summary
The DSWD is a great help to those who need it most. It can provide transportation assistance to those who need it most, especially those who might be the victims of illegal recruiters or those who might be stranded due to a natural disaster. In other cases, people might need to travel to get medical care. The agency's AICS program can help you get to your destination safely.
We hope you've learned something from this article and that it has been helpful. If you have any questions about the DSWD, don't hesitate to ask us in the comments section below!
For more information, feel free to contact the DSWD directly or visit the agency's website. The department's contact information is as follows:
Contact Information: DSWD Central Office
If you are based in the NCR and would like to contact the DSWD Central Office regarding the AICS program, please contact the following contact details. The program's management team will then address your concerns.
Address: Batasang Pambansa Complex, Constitution Hills, Quezon City, Philippines, 1126
Telephone: (02) 8931 8101
Email: inquiry@dswd.gov.ph
Website: https://www.dswd.gov.ph/
NOTE: Aside from its central office in Quezon City, the DSWD also has field offices across the country. These can be found in the agency's website and its contact details here: https://www.dswd.gov.ph/directory-of-officials-field-office/
DISCLAIMER: This guide is intended to help people seeking information about the DSWD's financial assistance program. However, it should also be noted that this information is only presented for general purposes. To learn more about the agency's AICS program, individuals can visit its official website or its Facebook page.