DSWD eServices is a one-stop online portal that provides access to various social welfare and development services of the Department of Social Welfare and Development (DSWD). It aims to provide an efficient and convenient way for the public to avail of DSWD programs and services.
Some of the services that can be accessed through DSWD eServices include: Application for social welfare programs and services, Submission of documents, Tracking of application status, and Access to information on DSWD programs and services.
The world is constantly progressing. Advanced technology is the ground for everything that we do nowadays. Technology makes it possible for us to connect with each other more instantaneously. We have access to many amazing devices and software programs that can help us in our daily lives, including enhancing our relationships with one another.
The Department of Social Welfare and Development has launched the DSWD e-Services to give people more ease and convenience when accessing their services. In this article, we are going to know more about what DSWD E-services are as well as the services that they offer.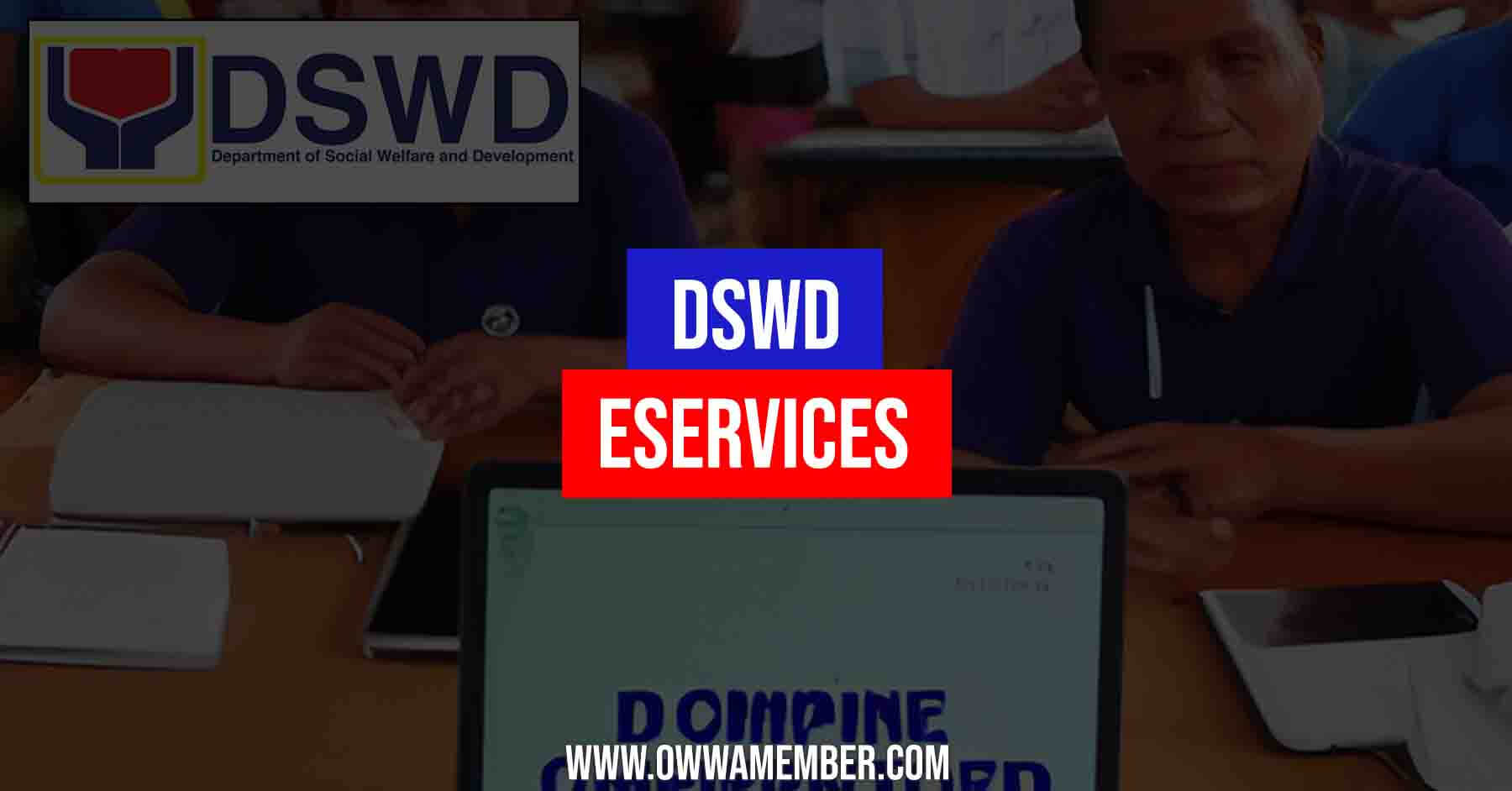 What is the DSWD E-Services Platform?
The DSWD eServices are online application frameworks that aim to give the direct public access to the frontline services of the DSWD via the internet while also shortening the approval time and processing of the DSWD transactions with the public. The DSWD E-Services include online processing, applications, and approvals for Travel Clearance for Minors Traveling Abroad, as well as the registration, accreditation, and licensing of the Service Providers (SPs) and the Social Welfare and Development Agencies (SWDAs).
To start using DSWD eServices, simply create an account by providing your personal information and contact details. Once your account has been created, you will be able to log on to the portal and start availing of the services that are available.
Benefits
These are the following benefits that can be acquired in DSWD E-Services:
Shortened approval time for transactions with the DSWD: The DSWD E-Services allows faster processing and approval of transactions, so you can get your travel clearance more quickly than if you had to go through the traditional application process.
Convenience and flexibility: With the DSWD eServices, you have access to all of your DSWD transactions from the comfort and convenience of your own home or office, wherever you have an internet connection. Additionally, the online application process is flexible and tailored to fit your needs and preferences, so you can choose how you want to apply for travel clearance, as well as when and where you want to do it.
Increased transparency and accountability: The DSWD eServices allow for greater transparency and accountability in all DSWD transactions, providing you with more visibility into the entire application process. In addition, all data and information submitted as part of your application are securely stored on a centralized database that can be accessed by authorized government officials, so you can have peace of mind knowing that your personal information is safe and protected.
Qualifications
Any Filipino Citizen who has a registered account on the DSWD
Requirements
Registered email and password
Documents needed for the chosen services to acquire
How to Apply for DSWD Services Online
Step 1: Go to https://eservices.dswd.gov.ph/ then log in with your email and password. If you don't have an account in the DSWD, make sure to sign up for you to be able to have an account.
Step 2: Check out the services you want to acquire
Step 3: Prepare the requirements needed
Step 4: Submit it online.
Video: GOVERNMENT AT WORK | Enhanced DSWD Regulatory E-services, implemented
Here is the news video regarding the launching of the E-Services of the Department of Social and Development.
According to the video, in order for the DSWD to process and approve transactions more quickly, they have launched the DSWD E-Services, which are online application frameworks that give the public access to the services of the DSWD. Some of these E-Services include online processing and applications for travel clearances for minors traveling abroad, as well as registrations and licensing for service providers and social welfare agencies. It is important for the clients to have registered accounts on the DSWD website in order to use these E-Services, and they offer many benefits to both clients and government officials, including shorter approval times and more transparency and accountability.
Frequently Asked Questions
1. What Is The Knowledge Management (KM) Portal Of The DSWD?
The DSWD Knowledge Management (KM) Portal is a dynamic facility established to promote knowledge acquisition and sharing within the DSWD as well as its partners. The Portal contains a large number of Knowledge Products (KPs) of DSWD and other learning resources about social welfare and protection. It is a multifaceted method for organizing and sharing user-centered and adaptable digital, print, and audio-visual resources in the community of learners. With its resources that are downloadable and records of communities of practice, the KM Portal of the DSWD website is an engaging and virtual facility built to provide opportunities to learn across borders.
2. How Can I Apply For The Assistance Of DSWD Online?
To apply for the initiative or program, applicants must complete the online registration in DSWD by scanning a QR code, then sending a mail to the office of the DSWD, or visiting a link portal in order to enter personal details. After this, applicants must submit the required documents to support their applications. These may include documentation of income and financial assets, medical reports, birth certificates, or other supporting information. Finally, applicants should follow up on the status of their application via email or phone in order to check on the progress of their request.
3. Is It Safe To Submit My Information Online To DSWD?
The DSWD takes the security and privacy of your information very seriously and has implemented strict standards to protect against unauthorized use or access. All data is securely transmitted via encrypted networks, stored on secure servers behind firewalls, and only accessible by authorized government officials.
4. Is It Fast To Process Services In DSWD E-Services?
The processing time for services in the DSWD E-Services varies depending on the specific request. However, most requests are processed within a few days or weeks, which is significantly faster than traditional paper-based applications. Additionally, applicants can track the status of their requests online, allowing them to stay informed about the progress of their applications.
5. What Kind Of Services You Can Acquire In DSWD E-Services?
There are many different services available through DSWD E-Services, including online applications for travel clearances for minors traveling abroad, as well as registrations and licensing for service providers and social welfare agencies. You can also apply for various financial assistance programs such as disaster relief and pension benefits.
Summary
Finally, the DSWD E-Services are online portals that allow users to access a wide range of social welfare and protection services from the government. These services include online applications for travel clearances, registrations, and licensing for service providers and social welfare agencies, as well as many different financial assistance programs.
With fast processing times, secure data handling, and a wide variety of services available, the DSWD E-Services are an efficient and effective way to access government support.