The DSWD International Social Welfare Services for Filipino (ISWSFN) provides assistance to overseas Filipino workers (OFWs) and their families. The services are free of charge, and include a range of programs that provide financial support, job placement advice, legal aid, repatriation assistance and social integration activities. ISWSFN also provides medical and psychological counseling to those in need.
The Department of Social Welfare and Development (DSWD) is the government agency responsible for social welfare and development in the Philippines. It is responsible for providing services to poor Filipinos, such as food, education, housing, health care, and disaster relief.
Also Read: How to Apply Balik Probinsya, Bagong Pag-asa Program
DSWD also provides international social welfare services to Filipino migrants and their families living abroad. These services include family reunification, assistance during repatriation, provision of emergency relief, and counseling and referral services.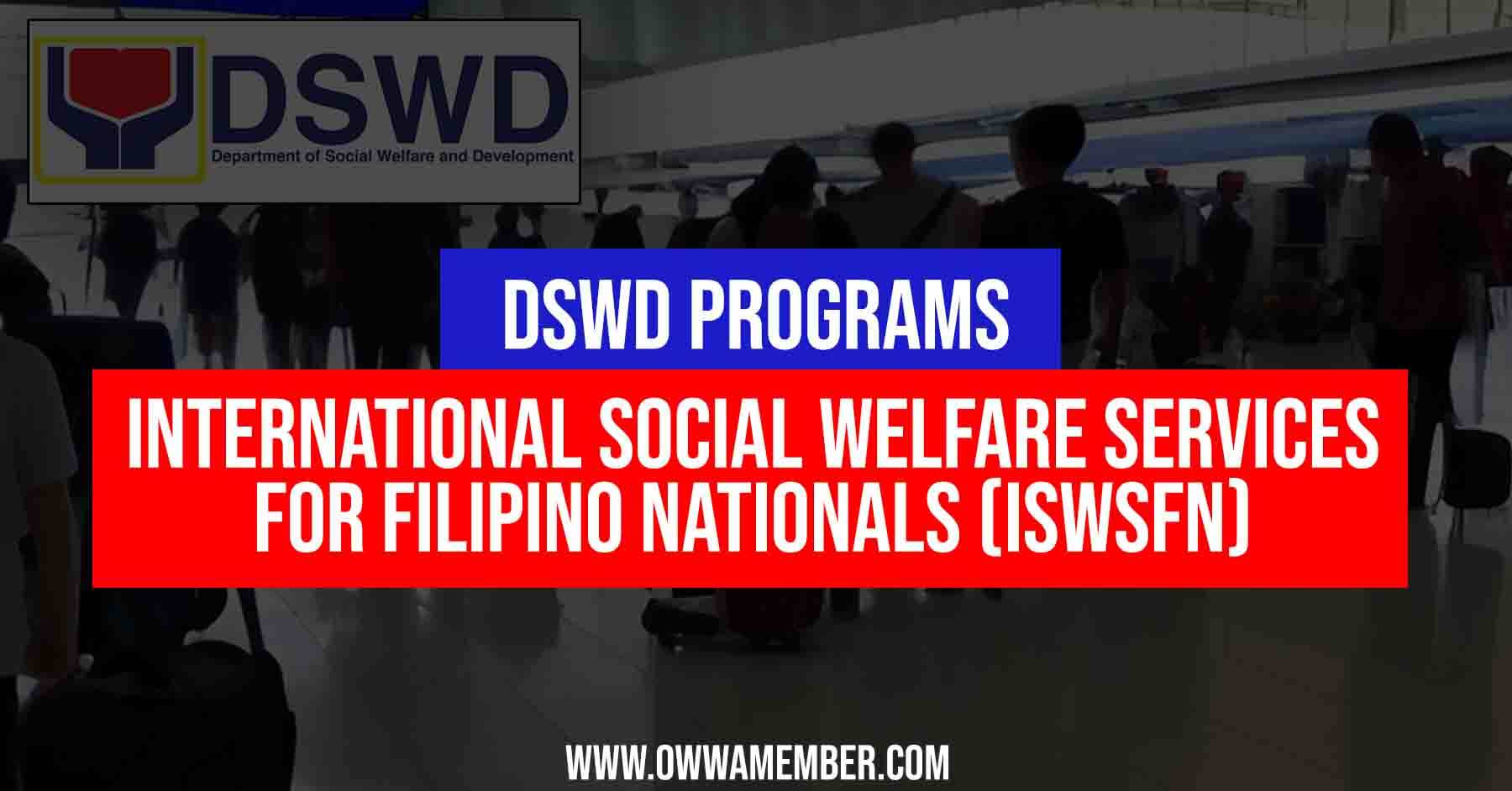 What Is DSWD International Social Welfare Services for Filipino Nationals (ISWSFN)?
It was with this goal in mind that the Philippine government's Department of Social Welfare and Development (DSWD) created the International Social Welfare Services for Filipino (ISWSFN) program to standardize the delivery of social services to Filipinos living abroad.
There are four models for sending social workers abroad:
sending social workers overseas to assist with the DOLE's Overseas Comprehensive Social Services Package for OFWs in the capacity of Technical and Administrative Assistant to the Labor Attaché (TALABATT);
sending intern social workers to Japan and Hong Kong to get experience with the International Social Service (ISS);
the Department of Foreign Affairs (DFA) should send a social welfare attaché to Malaysia so that Filipino migrants, especially illegal immigrants and undocumented workers, can receive psychosocial interventions and other welfare assistance.
a social worker as part of Humanitarian Missions; this position was intended to be filled, but no hires were ultimately made.
Benefits of ISWSFN
Migrant workers or any overseas Filipino in Japan, Malaysia, and Middle East countries have access to the following whenever indicated based on the evaluation of the concerned social worker:
The Provision of Counseling Services
are given to people in need to help them handle issues like homesickness and family discord. Also, victims of abuse and maltreatment, especially women and children, should have access to intensive therapeutic counseling when it's needed and in collaboration with experts.
Psychological Consultation After a Traumatic Event
involves meeting with people one-on-one or in groups to help them cope with the emotional fallout of traumatic experiences.
Help for People Facing Difficult Circumstances
involves giving them a small amount of money or other resources to help them get through a difficult time.
Referral
means making it easier for overseas Filipino workers to get the help they need from other government agencies and non-governmental organizations, either in their host country or back home in the Philippines.
Assisting with Repatriation
"return help" means aid given to overseas Filipinos (OFWs) or other Filipino nationals to ensure their secure return to the Philippines.
Adoption and Foster Care Placement (for ISS Japan only)
foster care, or alternative family care, is the temporary placement of abused, neglected, or abandoned Filipino children with a caring family until they can be reunited with their birth families in the Philippines or adopted.
Qualifications
In sending social workers abroad, DSWD's primary concern is always the well-being of Filipino migrant workers and other ex-pats living far from home.
If the DSWD decides to send a social worker overseas, they will only be there for up to two years before returning home for an evaluation and a possible extension, depending on budgetary constraints.
Third, the DSWD-Regional Director/Bureau Director may recommend multiple suitable nominees from their region/bureau, but the Selection Committee will only choose one from each bureau/region to ensure continuity in the delivery of social welfare and development services at that level. The Regional Directors and Bureau Directors of DSWD are responsible for making sure that their subordinates can carry out their duties in their absence.
There shall only ever be one Bureau Director or Regional Director and one Assistant Bureau Director or Assistant Regional Director chosen for the Social Welfare Attaché positions at any given time by the Selection Committee.
No one outside of the Department's Bureaus, Services, or Field Offices is eligible to apply for social worker positions.
Procedure
A. Methods of Hiring and Evaluation
Declaration
It takes at least three months to find a Social Welfare Attaché/social worker. To attract the best individuals, DSWD's main office and regional branches must advertise recruitment and selection dates.
The Application Process
Human Resource Management and Development Services (HRMDS) is accepting applications from competent social workers until the application deadline.
HRMDS must also verify that all candidates have been physically evaluated and passed a physical by the DSWD HMO doctor on staff or another government-approved doctor.
The Human Resource Management and Development Service (HRMDS) will review applications and develop a list of suitable individuals who fulfill minimal standards.
The HRMDS gives the Selection Committee a matrix with all applicants who passed the initial screening.
B. Selection Committee
It is necessary to form a selection Committee to choose among qualified candidates for abroad assignments. Due to differences in rank and responsibilities, International Social Service will employ a separate selection process to find its next social welfare attaché than it uses to find its social work interns.
C. Information Gathering, Tracking, and Analysis
DSWD staff abroad must submit quarterly accomplishment reports to the Head of the Embassy/Consular Diplomatic Post. The Undersecretary of the Policy and Programs Group must receive the report (ANNEX A) each quarter (PPG).
All of the following, but not limited to, should be included in the report:
OFW Situation Analyst
Types of Cases Handled and Total Number of Clients Served
Provided Services
Case updates
Networking
Financial Reports
Concerns, Problems, and Other Challenges
Assessment
Advice for various stages of development: Embassy, DSWD, Both DSWD and DFA, Both ISSJ and DSWD
The Social Technology Bureau's ISWSFN Project implementation team will monitor deployed social workers' cases.
The Head of the Embassy or Consular Office and the Director of the Bureau implementing ISWSFN must use the Performance Contract to evaluate the Social Welfare Attaché or Social Work Intern.
Frequently Asked Questions
1. How Many Months Is The Duration Of The Social Welfare Attaché Assignment?
The social welfare attaché assignment is for a period of one year, with the possibility of an extension for another year.
2. How Many Hours Per Week Is The Social Welfare Attaché Expected To Work?
The social welfare attaché is expected to work a minimum of 40 hours per week.
3. What Is The Social Welfare Attaché's Salary?
The social welfare attaché's salary is commensurate with their qualifications and experience.
4. What Are The Benefits Of Being A Social Welfare Attaché?
The social welfare attaché will receive a gratuity upon completion of their assignment, as well as medical and life insurance.
5. What Are The Qualifications For Being A Social Welfare Attaché?
The social welfare attaché must be a licensed social worker in the Philippines with at least three years of post-licensure experience. They must also have excellent communication, interpersonal, and writing skills.
Summary
The Social Welfare Attaché/social worker position is a demanding but rewarding role that helps to protect and empower some of the most vulnerable members of society. The Department of Social Welfare and Development hires and supports the top applicants.