The PAyapa at MAsaganang PamayaNAn (PAMANA) Program was launched in 2011 as a priority program of the Philippine Government. The purpose of the PAMANA program is to support the Peace Negotiation Track and contribute to the goal of attaining Just and Lasting Peace.
The PAMANA program is implemented by the Department of Social Welfare and Development (DSWD), in coordination with relevant national government agencies, local government units, civil society organizations, and other stakeholders.
For the past fifty years, there has been an ongoing insurgency in the country. As a result of its presence in the remote communities in which the poorest of the poor and Indigenous Peoples (IPs) make their homes, the already challenging life of these groups is made even more so.
The government initiated Payapa at Masaganang Pamayanan (or PAMANA) as a response, through the Department of Social Welfare and Development (DSWD). In the following paragraphs, we will discuss further this program, its benefits, application process, and provide a summary of this initiative.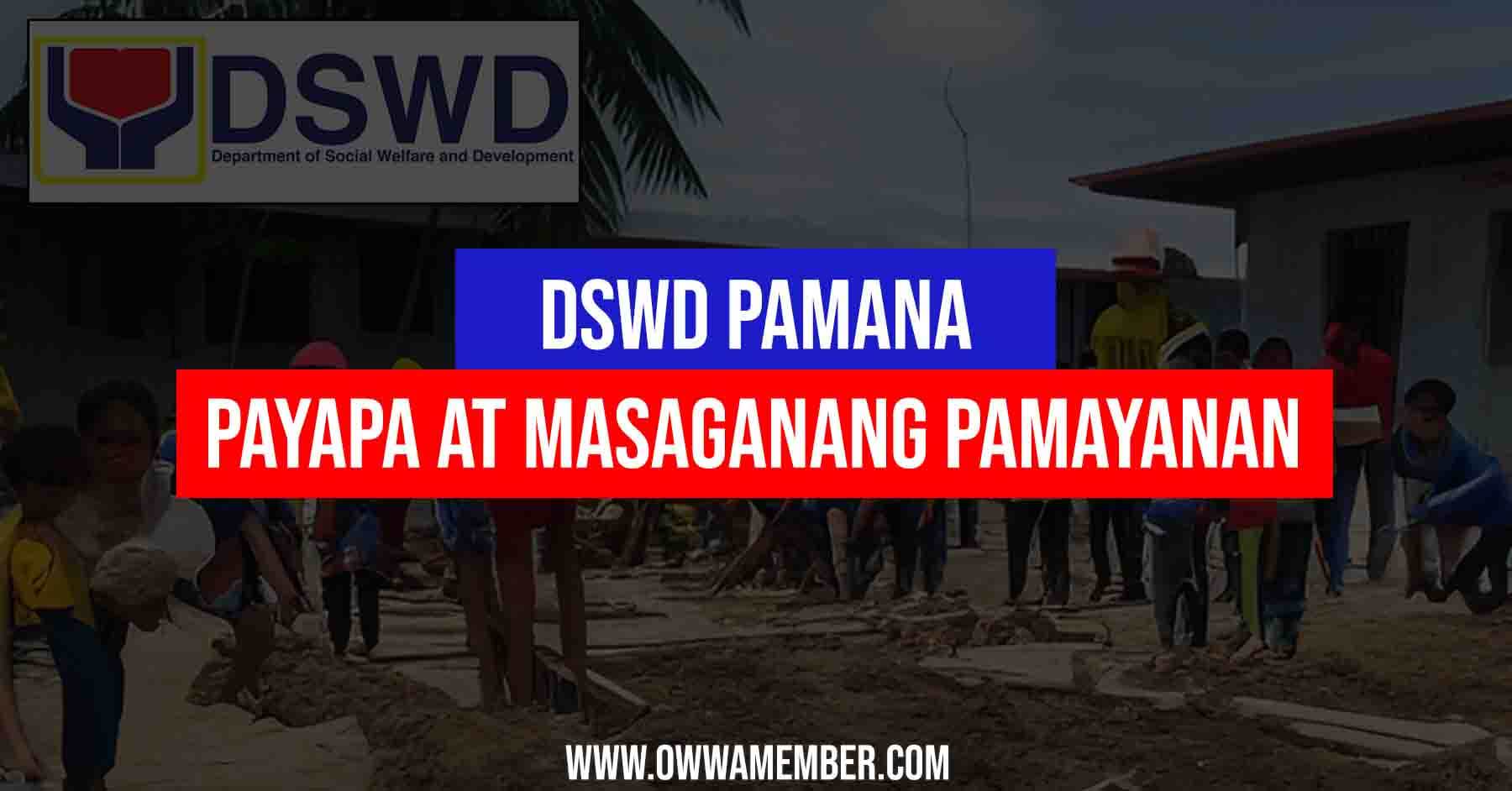 What is DSWD PAMANA?
The PAMANA is a government initiative that aims to heighten peacebuilding initiatives, reconstruction, and development in conflict-ridden areas. It involves the Department of Social Welfare and Development (DSWD), Office Presidential Adviser on Peace Process(OPAPP) as well local governments who ensure communities benefit from improved basic social service delivery while being served by responsive transparent accountable government institutions
The government will pursue a two-pronged strategy: (1) a negotiated political solution of all armed conflicts through peace talks, and (2) programs targeted at alleviation of the root cause of the insurgency. These conflicts are primarily a result of poor delivery of basic social services, poverty, and poor governance, which are real-world realities that must be addressed right away.
The PAMANA program framework incorporates a peace perspective into the government's existing poverty reduction and development convergence programs. It is intended to serve as a guide for national and local government agencies, international donors, and non-governmental organizations or institutions involved in CAA program interventions. Such interventions are expected to go beyond the implementation of assistance projects. CAAs, while addressing the root causes of armed conflict, would foster peaceful relations between and among communities and duty-bearers.
The government intends to achieve these objectives through good governance. It ensures that services are distributed and utilized responsibly; basic social service delivery occurs in conflict-affected barangays without any obstruction or delay from outside forces such as ethnicity; communities are empowered so that they can demand more of their own needs be met locally, putting additional pressure on providers delivering those programs because there will always be someone demanding something better if only things were paced according to their needs.
Objectives
The goals and objectives of the program include, but are not limited to:
Address issues of injustices and improve community access to socio-economic interventions
Improve governance by building the capacity of national government agencies and local government units for a conflict-sensitive, peace-promoting, culture-sensitive and gender-sensitive approach to human rights promotion and development
Empower communities and strengthening their capacities to address issues of conflict and peace.
Simply put, PAMANA aims to
To reduce poverty and vulnerability of communities affected by conflict
To contribute to the attainment of just and lasting peace
To build the capacity of national and local government units in implementing peace and development interventions.
The PAMANA program is implemented through a multi-stakeholder and whole-of-government approach. DSWD is the lead agency for the implementation of PAMANA at the national level, with support from other agencies and local government units (LGUs).
Benefits of DSWD PAMANA
The benefits under this program are distributed through highly conflicted areas or communities rather than to individuals. The following are the key initiatives under this program:
Addressing the roots of the armed conflict: Poverty
The PAMANA Program is consistent with the national government's approach to increasing the synergy of service delivery among national government agencies and local government units in underdeveloped, conflict-affected communities. As they say, when people can put food on the table and provide for their families needs, there is no reason for them to engage in armed conflict. And when people reap the benefits of progress, they are motivated to help others improve their well-being.
Farm-to-market roads, livelihood programs, water supply systems, and environmental protection initiatives are impact-driven projects that will significantly contribute to boosting socioeconomic development in the countryside, particularly in last-mile communities. Through its Community Driven Development Program for Indigenous Peoples, the Department of Social Workers and Development (DSWD) through PAMANA implemented several poverty alleviation projects totaling Php 386,862,000 in 2019. The National Commission on Indigenous Peoples funded educational assistance programs that benefited IP communities as well – but that's not all; They also assisted in the distribution of medicine smells to those in greatest need, provided health insurance coverage to ensure that no one goes without when it comes down to simple carelessness or lack thereof, and invested approximately two million pesos in Lumad beneficiaries' livelihoods, resulting in better living conditions for all.
Peace-building training and initiatives
The OPAPP has committed itself to facilitating training on Peace and Conflict-Sensitive Programming (PCSP) for key representatives from DSWD Field Offices, and NPMO implementers. This includes basic principles of peace as well as conflict analysis with an emphasis placed on assessing the impacts that violence or other disruptive forces may have had in communities where it occurs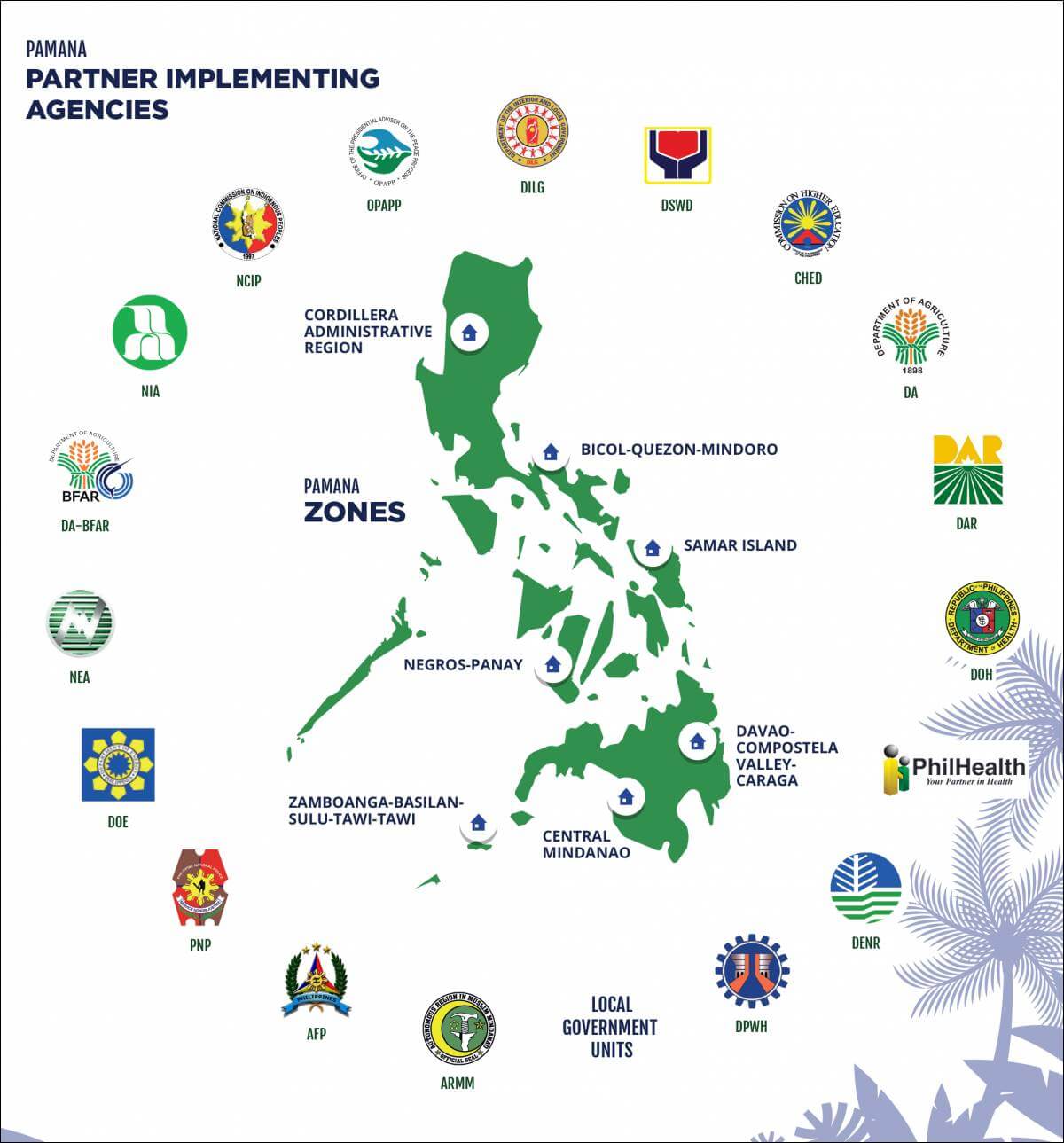 DSWD PAMANA Requirements and Qualifications
PAMANA covers peace agreement areas, conflict-affected, and vulnerable communities in seven zones from 2011 to 2016.
Cordillera Administrative Region (CAR)
Negros Island
Bicol-Quezon-Mindoro Corridor
Samar Island
CARAGA-Davao-Compostela Valley Corridor
Zamboanga, Basilan, Sulu and Tawitawi (ZamBaSulTa)
Central Mindanao (Region X, XII and mainland ARMM).
Five conflict lines across three major categories determine PAMANA zone selection and prioritization:
Closure/Peace Agreement Areas
Cordillera Bodong Administration-Cordillera People's Liberation Army (CBA-CPLA)
Rebolusyonaryong Partido ng Manggagawa ng Pilipinas/ Revolutionary Proletariat Army/Alex Boncayao Brigade (RPMP/RPA/ABB or RRA)
Areas affected by the Communist Party of the Philippines/New People's Army/National Democratic Front (CPP/NPA/NDF or CNN):
Conflict-affected areas (CAAs) with more than 50% influenced barangays will be used to determine CNN PAMANA provinces. PAMANA also intervenes in threatened barangays. Prioritization has also been given to these municipalities with below 50% conflict-affectation but is threatened by those three parties.
Areas affected by the Moro Fronts:
MNLF Peace and Development Communities (PDCs) were identified through the security forces.
The Moro Islamic Liberation Front (MILF) areas covered by the agreements on cessation of hostilities, rehabilitation, and socio-economic development in 150 municipalities and communities with Internally Displaced People (IDP) affected by the 2008 MOA on Ancestral Domain (AD) were also included.
Video: DSWD PAMANA (Payapa at Masaganang Pamayanan)
Here's a News Video on how the PAMANA program helped the communities in Camarines Norte (Belonging to the third Zone)
The video demonstrated how the PAMANA program funds the construction of a farm-to-market road, which significantly improves the quality of life in Brgy. Colasi, Mercedes, Camarines Norte. The residents of the barangay used to have a difficult time transporting their local produce to Daet, the Province's capital. This 2.5-kilometer road funded by PAMANA not only allows for faster, more convenient, and efficient travel for economic prosperity, but it also gives residents hope that help from the National Government and NGOs will finally reach them.
Frequently Asked Questions
1. How Do I Know If My Community Is Included In The Program?
OPAPP will provide the DSWD with a list of eligible communities, and their final inclusion will be mutually agreed upon. The areas to be included in subsequent years will be discussed and agreed upon by OPAPP upon finalization of the PAMANA priority areas. If a municipality withdraws from the program interventions under PAMANA's Pillar 2, OPAPP shall provide a backup list of municipalities from which the DSWD may select a replacement. You can inquire in the nearest DSWD office to know if your community is included in the lists. You can also ask them what are the community's projects that are funded through PAMANA
2. How Much Are The Community Grants From This Program?
Per the annual cycle of operation, a Peacebuilding and Development Fund (PDF) of P300,000 will be distributed to constituents of each targeted conflict-affected barangay (CAB). PAMANA will be implemented in qualified barangays for three annual cycles, subject to national government funding availability. The PDF is a fund provision for PAMANA CAB constituents to fund community-selected intervention projects that contribute to peace-building. It can be used as a supplement fund in conjunction with the KC GRANT FOR SUB projects, or it can be requested separately to fund specific peace-building interventions. Unlike other CDD project funds, the PDF is an entitlement for CABs that are unable to compete with more advanced or competitive barangays.
3. What Are The Supported Activities Under This Program?
The Fund's goal is to increase community resilience to conflict. This goal will be met through three interconnected goals: reducing poverty, both income and non-income, in the target areas; improving local government governance; and empowering communities in conflict resolution. The following criteria will be used to evaluate project proposals submitted through the PDF:
Owned and operated locally. Communities must support projects. This means that the project to be funded by the Fund has been discussed and agreed upon by the communities.
Peace-promoting and conflict-sensitive The proposed projects must demonstrate how they will aid in peacebuilding and conflict resolution. The proposal must clearly articulate the conflict issues that the project will/may address. It should also think about culturally and gender-sensitive/appropriate/responsive approaches to peacebuilding.
Adherence to the standards of peace and social cohesion
Summary
The Department of Social Welfare and Development (DSWD) has been working to promote peace through development in highly conflicted areas. One way they do this is by launching Payapa at Masaganang Pamayanan, which was created in response to the current insurgencies in our country.
This program ensures that communities receive improved basic social services such as healthcare or education, while also promoting good governance through responsive resource allocation – all within a single framework that aims for stronger reconciliation processes among all stakeholders involved.