The newly established National Commission of Senior Citizens (NCSC) is compiling a complete database of senior citizens living in the Philippines. So for Filipino seniors out there, take the time to register for the NCSC and be part of the government's effort to secure your rights. To register, you have two options: you can either fill out an online form on the official NCSC website or fill out a document and submit it to the nearest Local Government Unit (LGU) office. The Senior Citizen Data Form is available for download in PDF format from the NCSC website.
The NCSC Data Form is a form that was developed by the National Commission of Senior Citizens (NCSC) to be used as a basis for the government to identify senior citizens and provide them with necessary services. This document is a registration online for senior citizens so that once submitted, the details will serve as a database for government agencies to access and maintain updated information about these senior citizen individuals.
The form contains sections such as personal information, medical history, contact details, family members' information, etc., which will help the NCSC better assess the senior citizen's needs and interests. The data collected from this form will then be used to create personalized programs and services tailored specifically for each individual.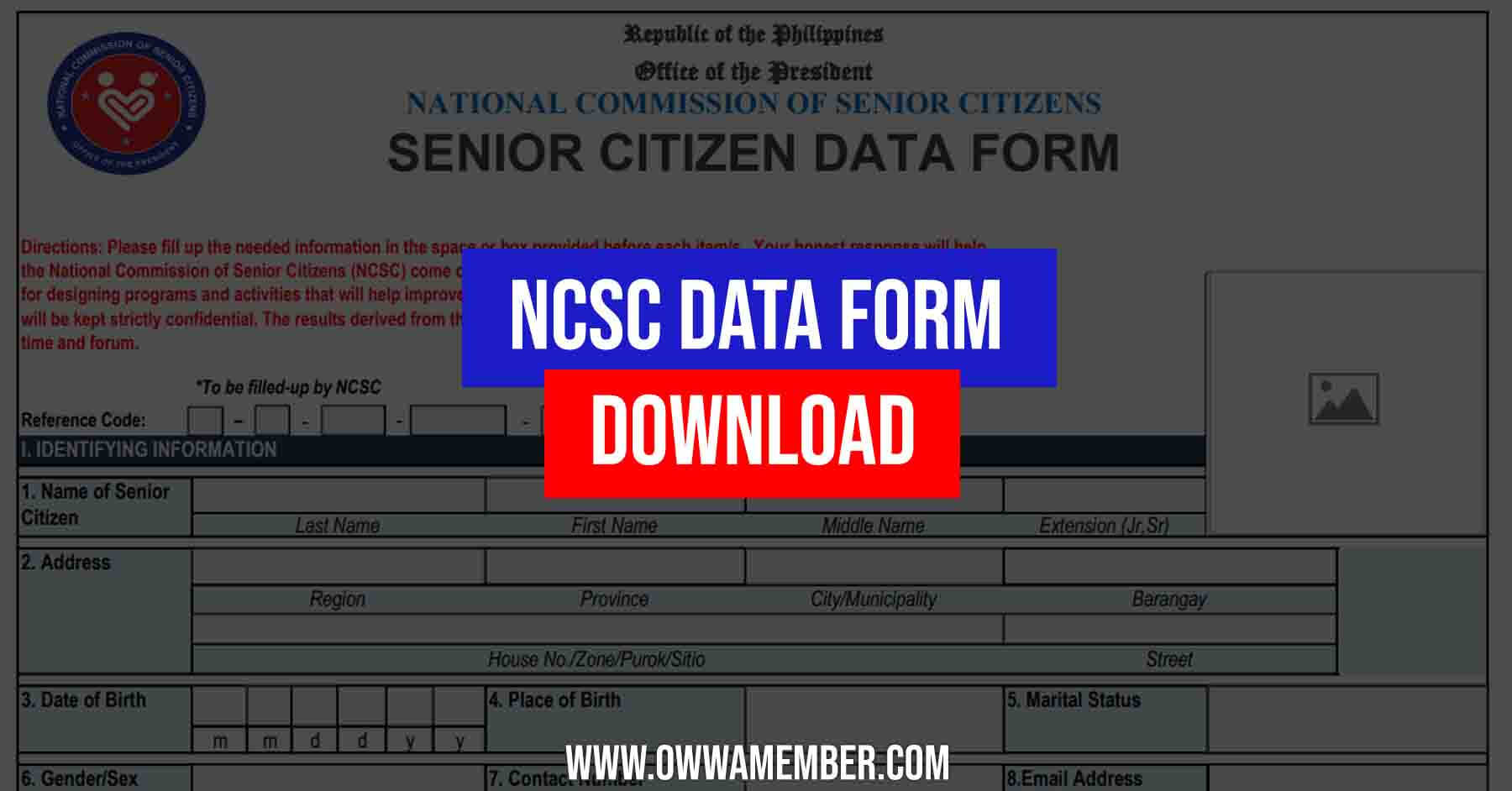 What is the National Commission of Senior Citizens?
The National Commission of Senior Citizens (NCSC) is an organization created by the Philippine government to serve as an advocate for senior citizens in the country. Its main objective is to promote their rights, welfare, and well-being. Through its programs, it hopes to help senior citizens meet their needs such as social security, health care, housing assistance, financial literacy, and employment opportunities.
The NCSC also facilitates the exchange of information between the government, private institutions, non-governmental organizations and other stakeholders to ensure that senior citizens have access to available services and resources. Additionally, it serves as a platform for seniors to interact with their peers and engage in meaningful activities.
Purpose of NCSC Data Form
The purpose of the NCSC Data Form is to collect personal data from senior citizens living in the Philippines. It helps facilitate an efficient registration process so that these individuals can access services and resources offered by the government as well as private institutions. The information collected will be used for creating programs tailored for senior citizens and also for monitoring trends on their health, welfare, and interests.
The form helps make sure that only authenticated senior citizens are registered in the database and provides a basis for authorities to determine whether they are eligible to receive certain benefits or not. In this way, it aims to promote equitable access among older Filipinos. It also serves as a record of seniors' contact details which can be useful during emergencies.
How to Download the PDF Copy of the NSCS Data Form
You can download a PDF copy of the NCSC Data Form from the official website of the National Commission of Senior Citizens. Once you have completed the form, you may submit it via email or post it to your local government unit (LGU).
Download the PDF senior citizen Data Form – NCSC Data Form
To know how the document looks like, please check out a copy of the NCSC senior registration form below: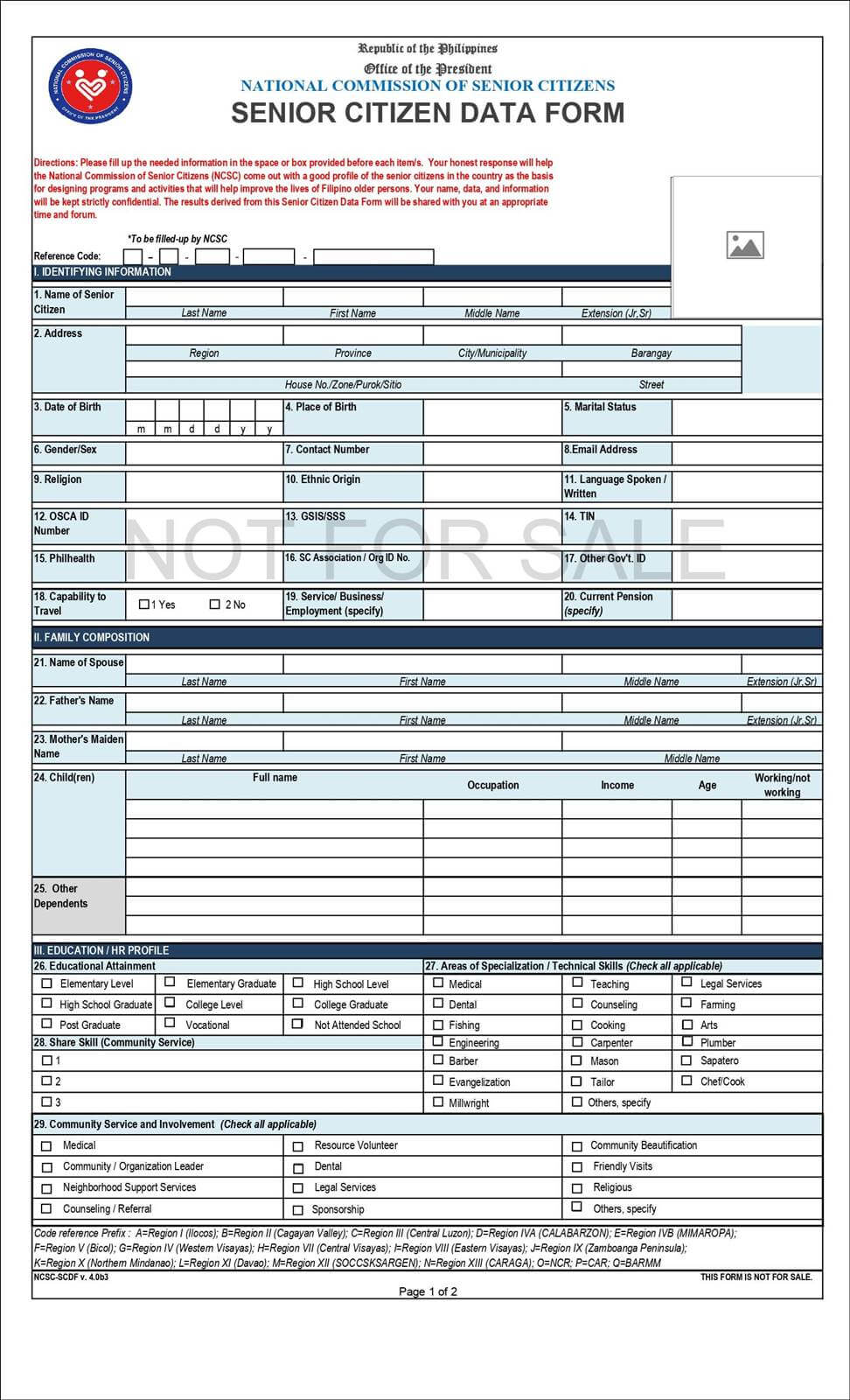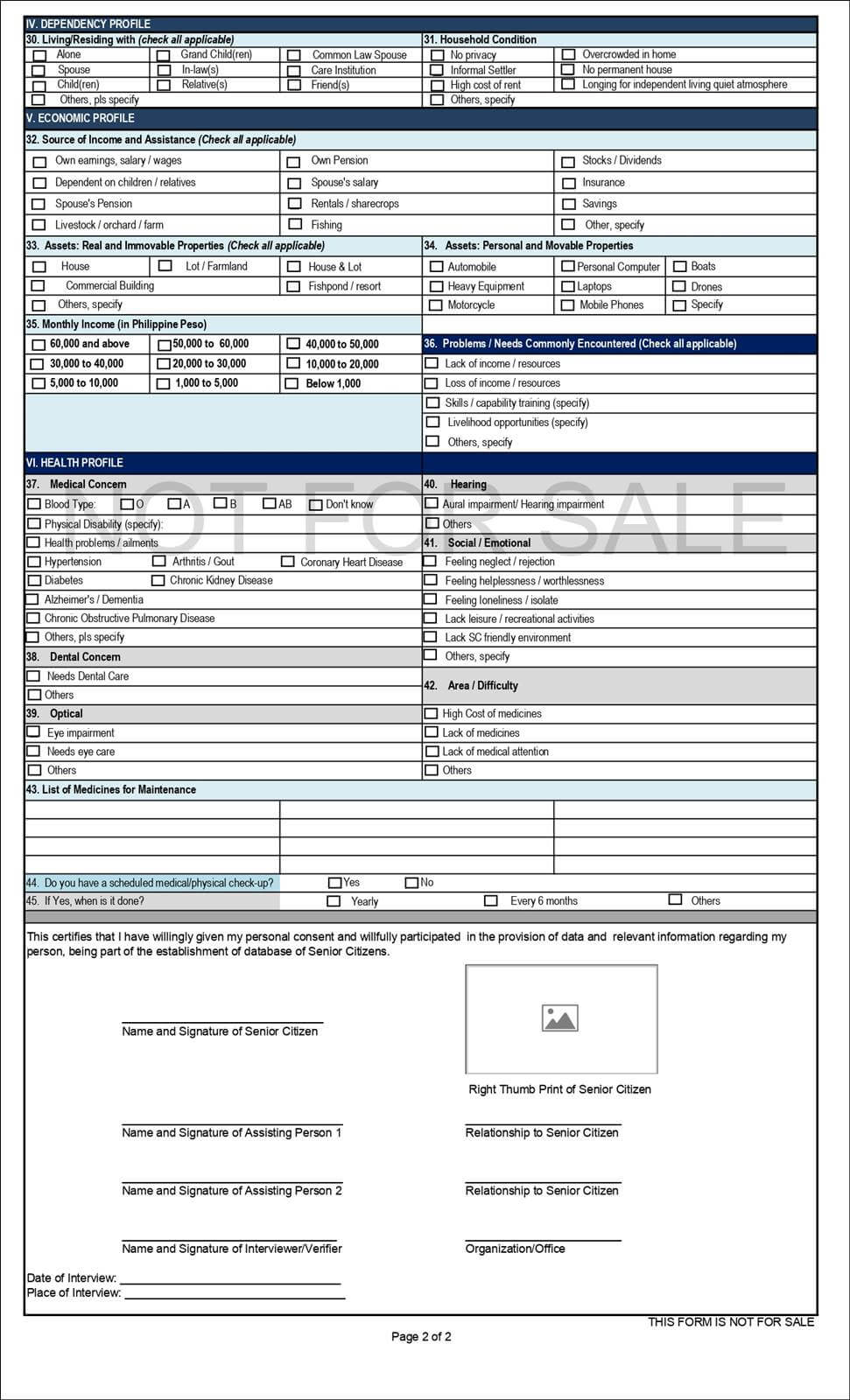 You may also print out a hard copy and hand-deliver it to your LGU for processing. All forms must be verified by the LGU before they are officially registered as senior citizens in their local database.
It is important to note that all information provided in the NCSC Data Form must be accurate and up-to-date to ensure that you will receive proper assistance and services from the government. So make sure to double check all your information before submitting the form.
What information is included in the NCSC Data Form?
The NCSC Data Form includes information such as name, age, date of birth, contact details, address, medical history, family members' information (if applicable), and other relevant information. The form also requires you to provide proof of identity such as a valid ID or passport in order to verify your account. All this data is important to ensure that senior citizens are given the accurate and necessary services they need.
What happens after I submit my NCSC Data Form?
Once you have submitted your completed NCSC Data Form, it will be reviewed by the National Commission of Senior Citizens and verified by your Local Government Unit (LGU). Upon verification, it will be added to the database so that government agencies can easily access your information and provide the necessary services you may require. It is important to note that it may take a few weeks for your form to be processed, so make sure to check back regularly to see if any updates have been made.
The data collected from the NCSC Data Form will also be used by the government to track senior citizens who are in need of assistance and create personalized programs tailored specifically for them. This way, they can receive accurate and appropriate services that would meet their individual needs.
Video: Guide to Using and Applying for the NCSC Data Form for Senior Citizens
Check out this video clip which features details on how to access and download the NCSC data form.
The NCSC data form is easy to use, and with the help of this video tutorial, you can be sure that filling out your form will be a breeze. After downloading the form, you'll need to fill out all the necessary information and upload it via email or post.
Reminder: Senior Citizen Form is Voluntary
Please note that submission of the NCSC Data Form is voluntary but encouraged as it helps the government provide more accurate services catered to senior citizens' needs. The online form submission process is available 24/7, making it convenient for senior citizens to update their information whenever necessary.
In order to ensure that all senior citizen data is accurate and up-to-date, the National Commission of Senior Citizens requests everyone to submit their updated NCSC Data Form every three years. This way, seniors can remain connected to available opportunities and resources.
Summary
The NCSC is dedicated to empowering senior citizens by giving them a voice in decisions that affect their lives. It seeks to empower them through educational campaigns and programs designed to protect their rights and promote their welfare.
By building a complete database of all senior citizens living in the Philippines, the commission hopes to ensure that no one gets left behind when it comes to receiving necessary assistance or benefits.
Through this form registration process, they are able to help seniors achieve a better quality of life and enjoy their golden years with dignity and grace.