The National Commission of Senior Citizens (NCSC) is accepting online registration for all senior citizens in the Philippines. Filipino senior citizens can register and fill out the NSCS data form online in order to get registered and be included in the database of certified senior citizens in the country. Those who wish to join must fill out the NSCS data form online with accurate information. The online form may require details such as contact person, address, date of birth, gender, civil status, educational attainment, and occupation among others.
Also Read: What is OWWA Philippines? Meaning of POLO-OWWA?
The purpose of joining is to benefit from the privileges provided by the Senior Citizen Act. These include free medical and dental checkups, discounts on certain items and services, senior pension, tax exemption for senior citizens, and other benefits that are provided for qualified elderly individuals.
NCSC provides benefits, services and privileges exclusively for qualified senior citizens. From discounts on essential goods and services to free medical check-ups and social security benefits, joining NCSC can be a great way for Filipino seniors to stay healthy and enjoy their golden years. In this guide, we'll explain how you can register with NCSC and start taking advantage of all these wonderful benefits today.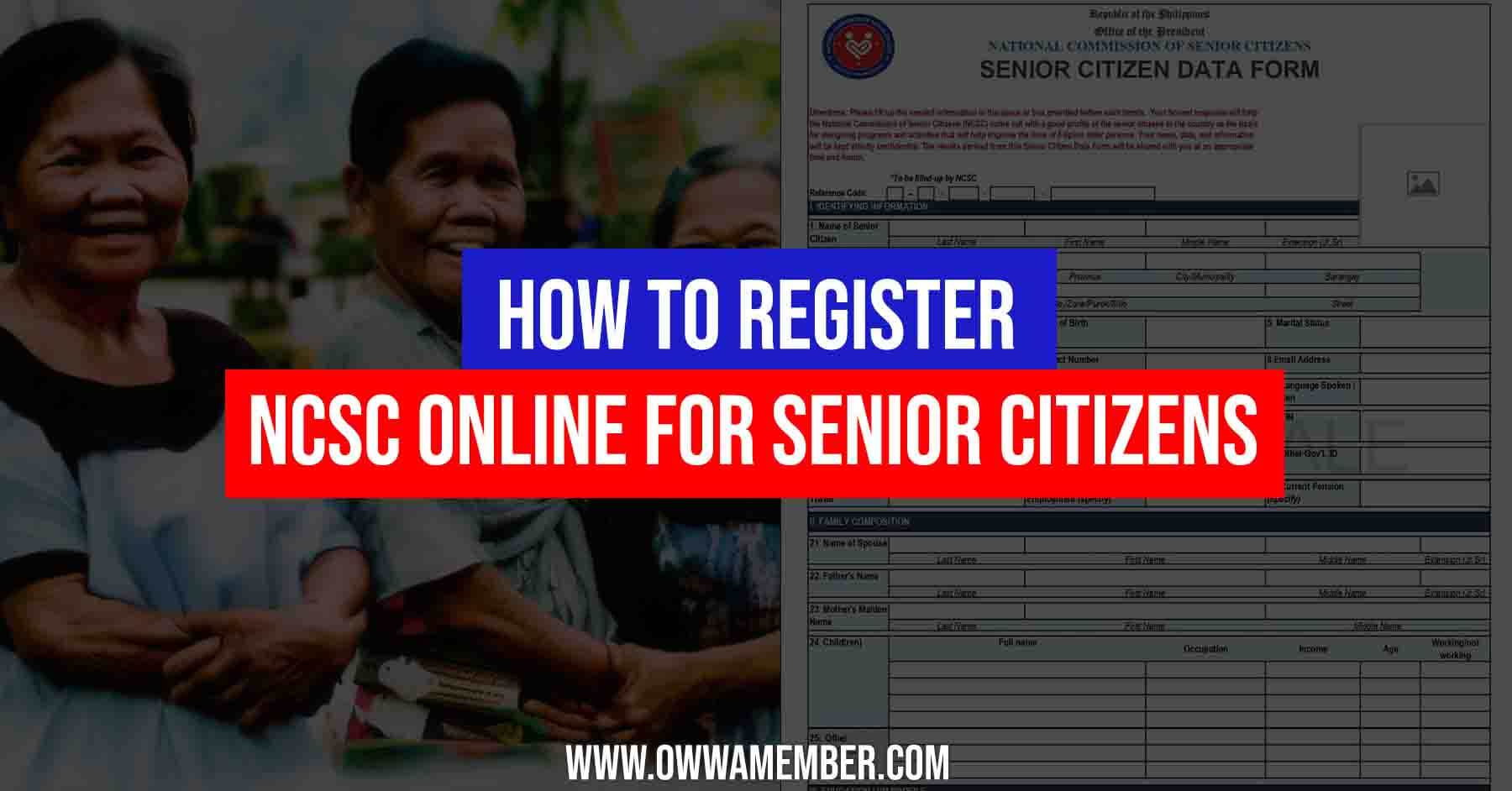 Requirements
laptop/smartphone with internet (PC computer is preferred because you will need to affix signature)
Ensure that you have a screenshot of your OSCA ID saved on the device you plan to use for filling out the online form. OSCA stands for Office of the Senior Citizens' Affairs
profile photo/selfie
Step-by-Step Guide to Registering for the National Commission on Senior Citizens in the Philippines Online
To register on the National Commission on Senior Citizen website, you need to be 60 years old or older. Please refer to the Step by Step Guide below for instructions on how to register through the NSCS website:
Step 1: Visit the NCSC website here – www.ncsc.gov.ph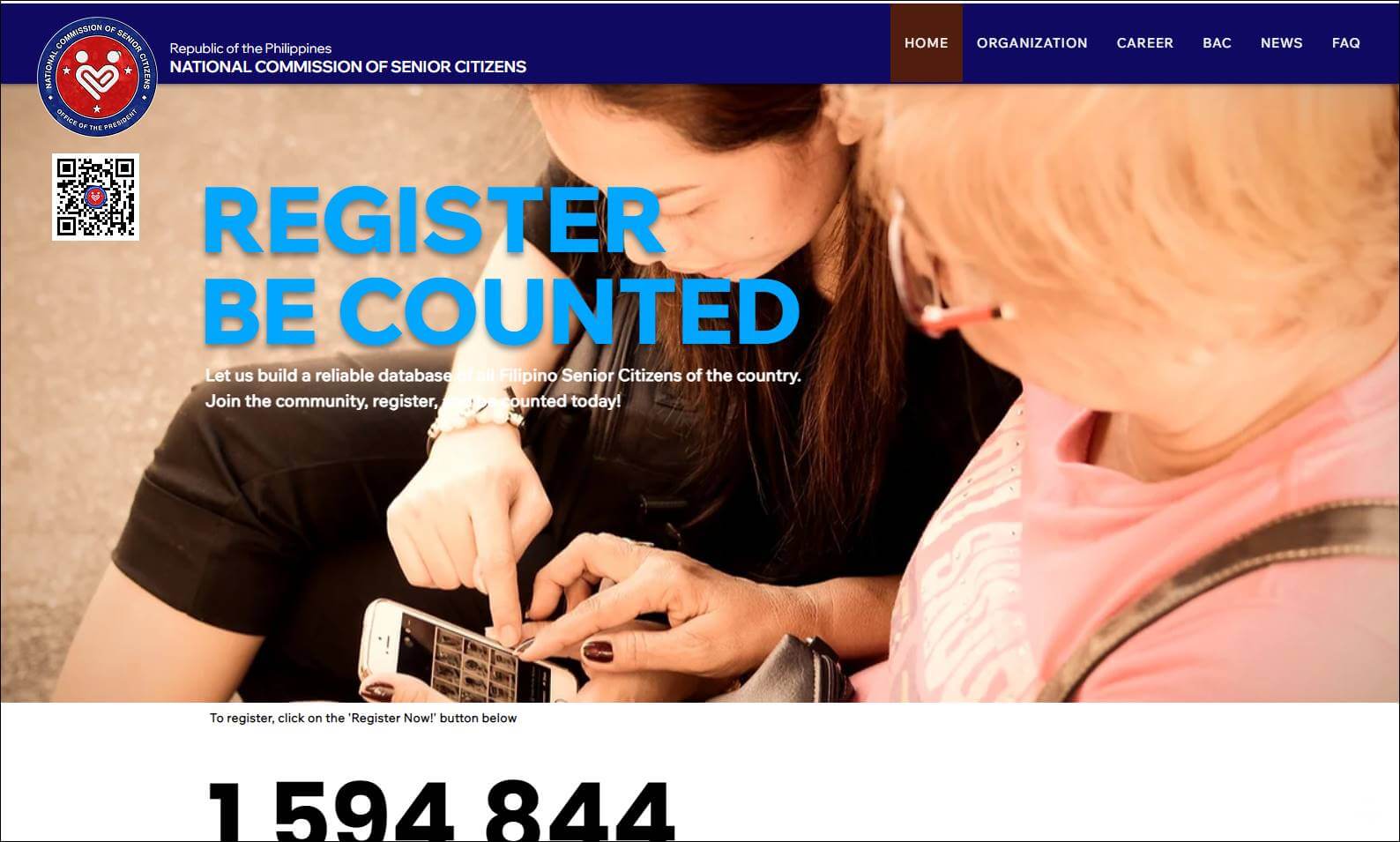 Step 2: Click the "Register" button or link at the top of the page.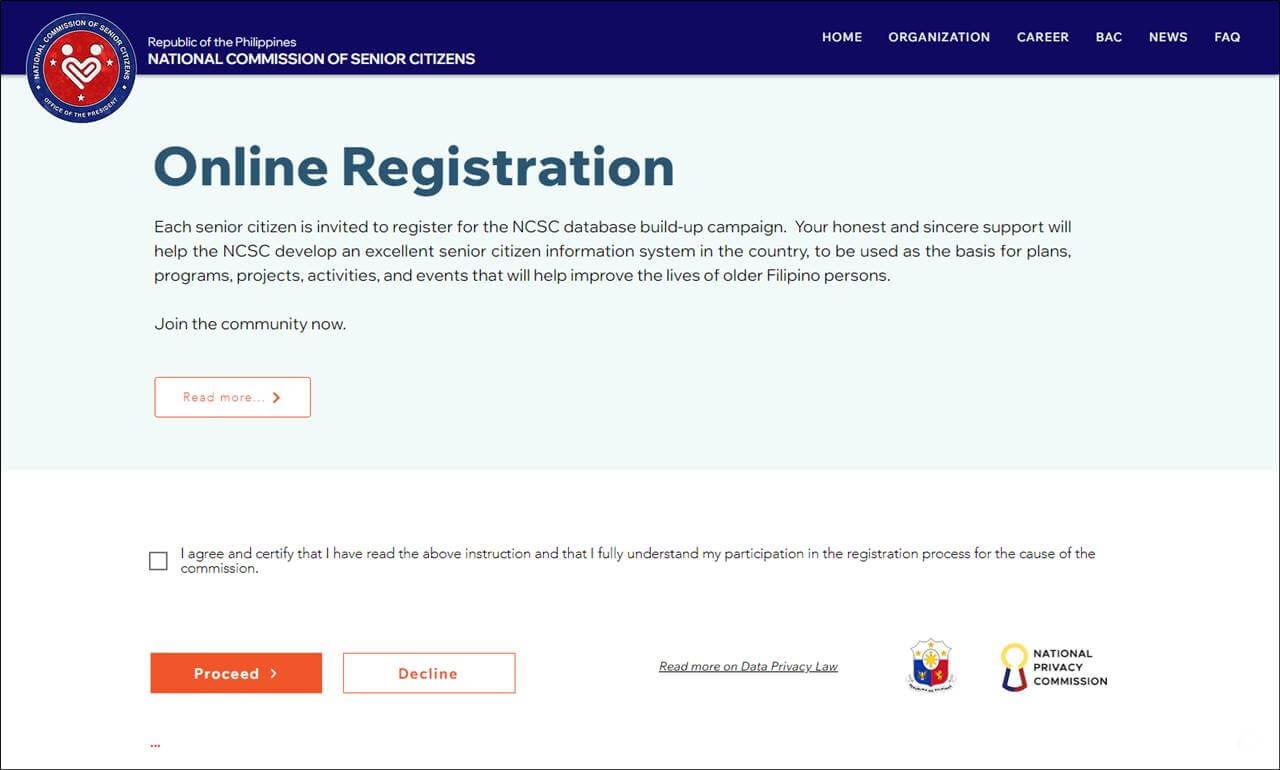 Step 3: To access the Online Senior Citizen Data Form, click on the next page. Make sure to carefully read the instructions and provide information on all the required fields marked with a red asterisk (*). Sections I to VI should be filled out.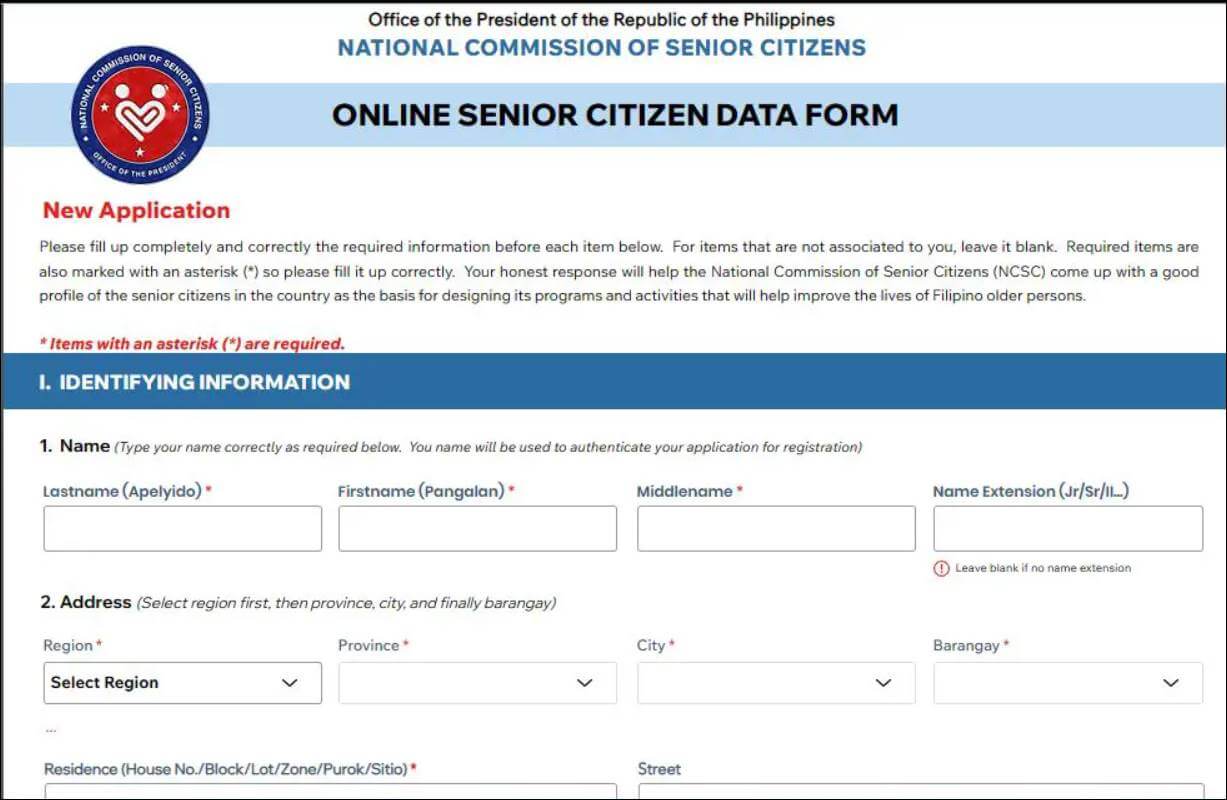 Step 4: Once you reach section VI, please upload an image of either your OSCA ID or a valid government ID. Simply click on the upload button.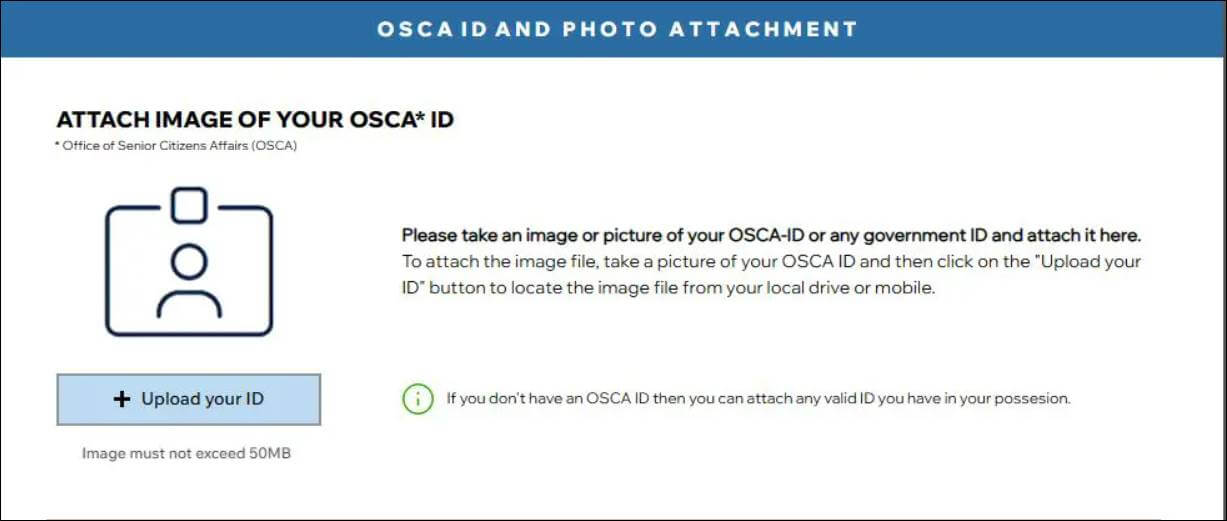 Step 5: Upload a recent close-up photo of yourself (selfie) that resembles a 2×2 shot. The photo must be in JPEG format and its file size should not exceed 50 MB. Alternatively, you can take a selfie directly from the page and upload it. Once you have uploaded the photo, please wait for a confirmation message.

Step 6: To access and verify your records later on, you must create a Pass Key Number (PKN) that is only 4 characters long. Remember it well.
Step 7: In order to personalize your record, please provide your digital signature. It's recommended that you use either a PC with a mouse or a digital pen.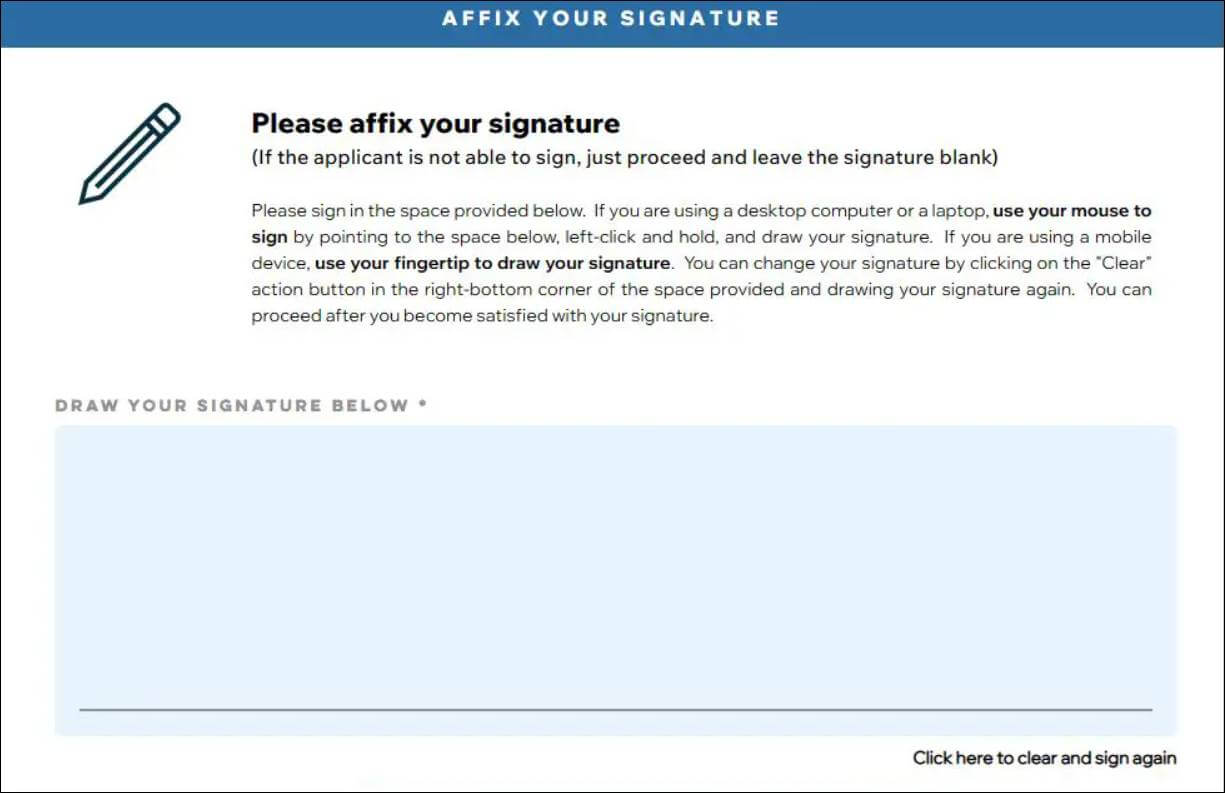 Step 9: To confirm that the information you have provided is truthful and precise, please check the boxes in this section. Additionally, provide the name and relationship of the person who aided you (if applicable).
Congratulations! You have successfully completed the registration process. Your information will now be stored in the system. You will receive notifications and updates from the NCSC regarding important activities and events that you may benefit from. Please note that the online registration form is used to verify your eligibility for benefits offered by the NCSC.
VIDEO: Senior Citizen Registration Guide Online
Please check out this guide for Filipinos about the NCSC Online Registration for Senior Citizens in the Philippines. This detailed tutorial will walk you through the process of creating your own account, providing all necessary information, uploading documents and other important steps. We hope this will help you get registered quickly and easily.
If you prefer filling out forms manually, you can follow these simple steps to register with the National Commission of Senior Citizens. Remember to complete all required details and ask for assistance if needed. You can submit the form at any time, but the sooner you do, the better. Registered senior citizens will have access to key programs, benefits, and services nationwide, so don't miss out on this opportunity.
Frequently Asked Questions
1. What is the NCSC?
The National Commission of Senior Citizens (NCSC) is an organization in the Philippines that provides services and benefits to senior citizens all over the country. It was established in 2002 under Republic Act 9994, also known as the Expanded Senior Citizens Act of 2010, to support elderly people in need of assistance.
2. Who is eligible for NCSC benefits?
To be eligible for NCSC benefits, a person must be at least 60 years old and must be a permanent resident or a citizen of the Philippines. They must not possess any form of income or resources equivalent to the amount needed to make them ineligible as stated by law.
3. What are some of the benefits offered by NCSC?
The NCSC offers several benefits for senior citizens including discounts on medicine and medical supplies, healthcare services such as hospitalization and laboratory tests, dental care, and other essential items like food and clothing. Senior citizens can also avail special privileges such as 20% discount on fare on public transportation vehicles; access to special lanes in government offices; priority in admission to hospitals; additional exemption from taxes; and priority in government programs related to education, livelihood, housing and employment.
4. How can I register for NCSC?
You can register for NCSC online through their website (www.ncscphilippines.org). Simply fill out the registration form with your valid personal details while taking note of all asterisked fields which are required information before you submit your application online. You will also need to upload documents such as your OSCA ID or any valid government ID you may have with you plus a recent photo of yourself before submitting your application form online .You can also do manual registration via downloading their registration form then submitting it via email (ph.ncsc@gmail.com).
5. How long does it take for my application to get processed?
It usually takes 5-7 business days after submission if you registered online or sent the documents via email before you will receive official confirmation from NCSC regarding your application status via email or post mail depending on your preference set during registration process . In case of delay or discrepancies on submitted information , they may contact you directly so please provide accurate data when registering online.
6. Is there a fee for NCSC registration?
No, the registration with NCSC is free of charge. However, you may need to pay additional fees or charges in cases when availing discounts or privileged rates from establishments and organizations that partner with NCSC such as restaurants, hospitals and government agencies. You may check out the list of their partners here: https://www.ncscphilippines.org/partners/.
7. How long does my senior citizen status last?
Your senior citizens status will remain valid as long as you meet the criteria (60 years old or above) set by law and have no form of income that makes you ineligible under Republic Act 9994 (Expanded Senior Citizens Act of 2010). It also implies that if your income exceeds what is required to be eligible, then your status will no longer be honored until it falls within the allowable limit again according to law.
Summary
The NCSC provides a variety of benefits and services to senior citizens in the Philippines. To be eligible for these privileges, individuals must meet certain criteria set by law and have no form of income that exceeds what is required by Republic Act 9994 (Expanded Senior Citizens Act of 2010).
Registration with NCSC is free and can either be done online or manually via email. Once registered, seniors can take advantage of discounts on medicine and medical supplies as well as other essential items like food and clothing. Moreover, they are also granted special privileges such as priority admission to hospitals and access to special lanes in government offices.