An NBI clearance is one of the most reliable identification documents in the Philippines. It is issued by the National Bureau of Investigation (NBI)—the government agency tasked to handle, detect, investigate, resolve, and clear individuals from involvement in any criminal case anywhere in the country.
With the recent development of the Internet and technology in the country, obtaining the NBI clearance has become simpler and more convenient than it used to be. In fact, it now only takes a lot less effort to get one than it used to. To learn how you can secure this all-important proof of clean record and identification without the hassle, you can keep reading this guide on the requirements and procedures on how to apply for an NBI clearance.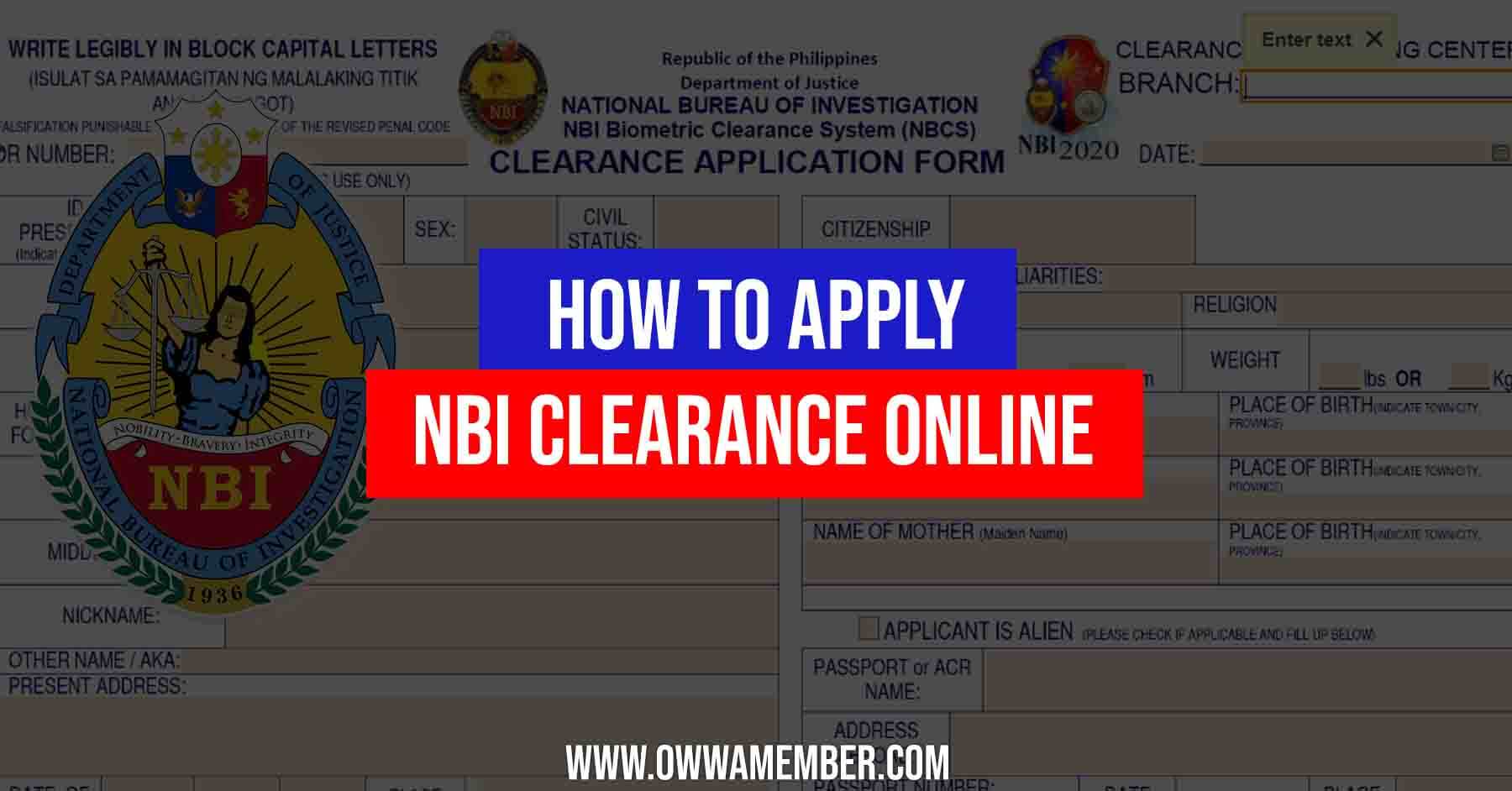 What is an NBI Clearance?
An NBI Clearance is a document that certifies that an individual has not engaged in any criminal activity and has no prior criminal record, illegal cases, or shady background in the past or at present. It also serves as an identification document or valid ID and is issued by the NBI to assure future organizations and employers that the bearer is who he claims to be and is a good and responsible citizen.
With the advanced digitization of most government agencies in the Philippines, the process for securing an NBI clearance has also gone digital. Gone are the days when people had to spend hours in queues, waiting for their turn to have their documentation processed and to get their checklists ticked. These days, all you need is Internet access and a computer or a mobile device, and you can get an NBI clearance issued to you. In fact, you only just need to visit a branch to get your biometrics and photo taken before going home with your NBI clearance on hand.
You can now also secure your NBI clearance regardless of your location , which means you can be in any city or even be abroad and still get the job done. Plus, the online NBI clearance application or renewal is a verified process and can be used in all sorts of processes, be it foreign or local job applications, visas, or other verifications.
What are the Requirements Needed When Applying for an NBI Clearance Online?
When securing your NBI clearance, you need to prepare the following:
Two (2) of any of the following valid ID cards

Passport
Voter's ID
PRC and Driver's License
Pag-IBIG ID
UMID (SSS plus GSIS)
Postal ID
Local Civil Registrar issued certificate
MARINA ID
School ID card
Seaman's book
Solo parent ID
Company ID( (only government servants)
Malacanang certificate for indigenous groups
Police clearance

Barangay certificate (if you're a first-time job applicant)
Oath of Undertaking (if you're a first-time job applicant)
Active and valid email address
₱130.00 (application fee)
How to Get an NBI Clearance Online
Getting a NBI clearance is much easier now that the process has become digitized. It only takes half an hour to an hour at most to get an NBI clearance online. To learn how to do so, you can follow these steps:
Step 1: Go to the NBI clearance website: https://clearance.nbi.gov.ph/.
Step 2: Click "I Agree" to agree to the terms of the Data Privacy Content of the site.
Step 3: When the pop-up changes to Advisory, click "Close" to proceed.
Step 4: Provide the details asked for.
If you have an existing account: Key in your email address and password and click "Sign In."
If it is your first time to use the NBI Clearance site:
Use the form on the right side to register for an account and key in the required details to proceed:
Full name (First and Last Name)
Birthdate
Mobile Number
NBI ID Number
Your answer to the question, "Do you have an NBI Clearance issued from 2014 to present?"
Read through the Terms of Condition, then click "Agree."
Click on the captcha box and on the "Sign up" button.
If you're a first-time job applicant:
Find the section that says NBI Clearance eServices and click the box that says, "First-time Jobseekers" to proceed.
Step 5: Enter the one-time password (OTP) sent to your registered email address to complete the initial dual verification process.
Step 6: Log into your account to complete the registration and for further processing.
Step 7: Enter your personal information in the form columns under the "applicant information."
Step 8: Confirm accuracy then click "Save Information" or "Submit" once done.
Step 9: Click "Apply for clearance."
Step 10: Update your identification information by uploading your ID type and valid ID card information, then click "I Agree."
Step 11: When you see the pop-up window with a reminder, click "Close."
Step 12: Choose your preferred or closest NBI clearance center.
Step 13: Choose your preferred time and date of appointment.
Step 14: Select your preferred payment method from the following, then click "Proceed."
Over-the-counter cash payment in any bank.
Online through BPI and Unionbank EON
Bayad Centre or Partner outlets like Villarica Pawnshop, SM Savemore, and MLhullier
Bayad Centre Mobile app
ECPay partners like Petron Corporation
All 7-eleven branches
Mastercard or VISA debit card
GCash app
Step 15: Pay your clearance dues amounting to ₱130.00 for the clearance and an additional ₱25.00 as the transaction fee, then click "Proceed to Payment."
Step 16: Take note of the reference number and the total amount you need to pay. You will receive an email confirmation after your payment has been made.
Step 17: On the selected appointment date and time, go to the NBI center and bring the reference number or application form along with your ID cards
Step 18: Get your biometric and photograph taken.
Step 19: Get your records checked. If your records are clear, you will receive your NBI Clearance immediately. if you get a "hit" you will have to wait for two (2) weeks before you can claim your NBI clearance.
How long does it take to process an NBI clearance application or renewal?
The processing time for an NBI clearance may vary depending on the type of application. If you have a hit or if you are filing for a renewal and you want it mailed to you, it could take up to 2-3 weeks including mailing period. For Fingerprint applications, it may take anywhere from 4 to 6 weeks including shipping/mailing period.
Important Reminders
When applying, you need to mention the IDs you will be using upon your personal visit to the NBI clearance center.
Non-government-issued IDs and certification are not acceptable when securing an NBI clearance.
The documents and identification you bring need to be legible, government-issued, and original (photocopies are not acceptable).
Applicants who need to renew their clearance (issued 2014 and beyond) may bring only one valid ID along with a copy of their old NBI clearance.
Make sure you apply in the right category and are punctual with your appointment and deadlines.
Bring all your valid and required documents and IDs with you on your appointment date to avoid delays.
There is no such thing as priority numbers, so if someone offers to get you one for a fee, it's likely a scam.
NBI will only entertain your clearance request if you have made an online appointment beforehand.
Physical appearance at the NBI clearance center is mandatory to completely process your application, except for foreign applications.
There is no age limit for NBI clearance applications for any Filipino.
For first-time job seekers, the First-Time Job Seekers Assistance Act of 2019 ensures that fresh graduates, especially first-time job seekers, can obtain their NBI clearance free of charge.
The updated NBI has been declared to be a multi-purpose one, removing the concept of the green NBI clearance. It is also universally valid for all local and foreign purposes.
The Barangay Certificate is a requirement exclusive to citizens who are applying for a job for the first time.
In addition to the Barangay certification, first-time applicants also need an Oath of Undertaking.
You can't change the time and date of your NBI appointment after making the payment, so make sure you pick a schedule convenient for you.
If you miss your appointment, you have up to fifteen (15) days to complete the application at the nominated NBI clearance center.
Video: How to Apply for an NBI Clearance
Learn more about the requirements and procedures in securing an NBI Clearance by watching this Youtube video from Byahe ni Keen:
Frequently Asked Questions
For your reference, here are some common questions and answers regarding the NBI Clearance application.
1. Can I walk in for NBI clearance?
No. Walk-in applications, whether first-time or not, are not accommodated. Applicants need an online appointment before they can proceed with their NBI clearance applications.
2. How much is the fee for NBI clearance?
The NBI clearance costs ₱130.00 (NBI Clearance fee) and ₱25.00 (transaction system fee for e-payment services) which puts the total cost to ₱155.00.
3. Do I need an online appointment for NBI?
Yes. You need to register then schedule an NBI appointment online before visiting your preferred NBI branch to process your NBI Clearance application.
4. Is the barangay ID an acceptable valid ID for NBI Clearance application?
No. Non-government-issued IDs like company IDs as well as Barangay Clearance are not accepted as valid IDs for NBI Clearance application.
5. How many IDs are needed for NBI Clearance application?
You will need two (2) valid government-issued IDs when applying for an NBI clearance online.
6. What picture size is required for NBI Clearance applications?
You need to attach a 2×2 ID picture with white background taken within the last three (3) months prior to application. This will be attached to the NBI Form along with a photocopy of your valid passport and valid IDs.
7. What should I wear to my NBI appointment?
As a general rule going to government offices, require wearing something smart but casual clothes.
8. Can I use an NSO or PSA birth certificate for NBI Clearance?
Technically, yes. Just like the Police clearance, NSO/PSA Birth Certificate are acceptable as valid ID requirements for NBI Clearance application.
9. How long does the entire NBI clearance process take?
When done online, the NBI clearance application only takes 30 to 45 minutes to complete. It involves checking your requirements and verification, before proceeding to the taking of biometrics, digital signature and photo.
10. How long is the NBI clearance valid?
The NBI clearance has a validity period of up to 12 months from the date of issue.
11. How can I renew my NBI clearance online?
To renew your NBI clearance, you can simply go to the NBI Clearance website and opt for "Quick renewal." The process is online and you can get your clearance within a few days even without visiting any NBI clearance center. You may also make an online appointment and visit your preferred NBI clearance center, where your biometrics, digital signatures, and photos will be taken.
12. Do I need a Barangay clearance to get an NBI clearance?
Yes, if you are a first-time job applicant attempting to get your clearance for free under the "First Time Jobseekers Assistance Act". Otherwise, no.
13. Can I still get an NBI clearance if I have a pending case?
Yes, if your criminal case is still pending. If the case is under scrutiny by the fiscal's office and has yet to reach the courts, an NBI clearance can be achieved easily.
14. Can I reschedule my NBI clearance appointment if I wasn't able to make it to the appointed schedule?
No. It isn't possible to change the date and time of your appointment once you have paid the fee. You may still visit the NBI Clearance center within fifteen (15) days of your scheduled appointment. However, if the payment hasn't been made yet, it is possible to schedule another appointment.
15. What is the difference between an NBI clearance and a police clearance?
Though the basic purposes of a police clearance and the NBI clearance is the same, the NBI clearance is much more vast and informative than a police clearance as it covers records from any city nationwide.
16. How can I check if my payment has been posted?
You may check the application status and the payment status by clicking on the "Transactions" option to see if the fee has been paid or is still pending.
Summary
Getting an NBI Clearance has become a simple process ever since the process has been digitized. There is no longer any need to visit an NBI Clearance center or wait in long queues just to get the process started.
Plus the cost is almost the same, with only an extra e-payment fee of ₱25.00 which doesn't really hurt the wallet all that much. If you need to secure one for your new job or to get an ID, then you can simply follow the steps listed in this guide.