The National Bureau of Investigation (NBI) is a Philippine government agency under the Department of Justice (DOJ) tasked with handling and solving major high-profile cases that are of interest to the country. The agency is modeled after the United States' Federal Bureau of Investigation (FBI) and was designed to offer investigative, legal, and forensic services to Filipinos.
Also Read: PRC – Philippine Red Cross – Purpose, Functions and Responsibilities
Since it was established in 1936, the National Bureau of Investigation (NBI) has been running stringent selection processes for its agents. The agency, along with its agents, has been standing by its motto by operating with nobility, bravery, and integrity. It has also continued to keep up with its mandate to efficiently enforce the law in pursuit of truth and justice in the country. In this article, you can learn more about the NBI, along with its programs and services, and the very reason for its existence.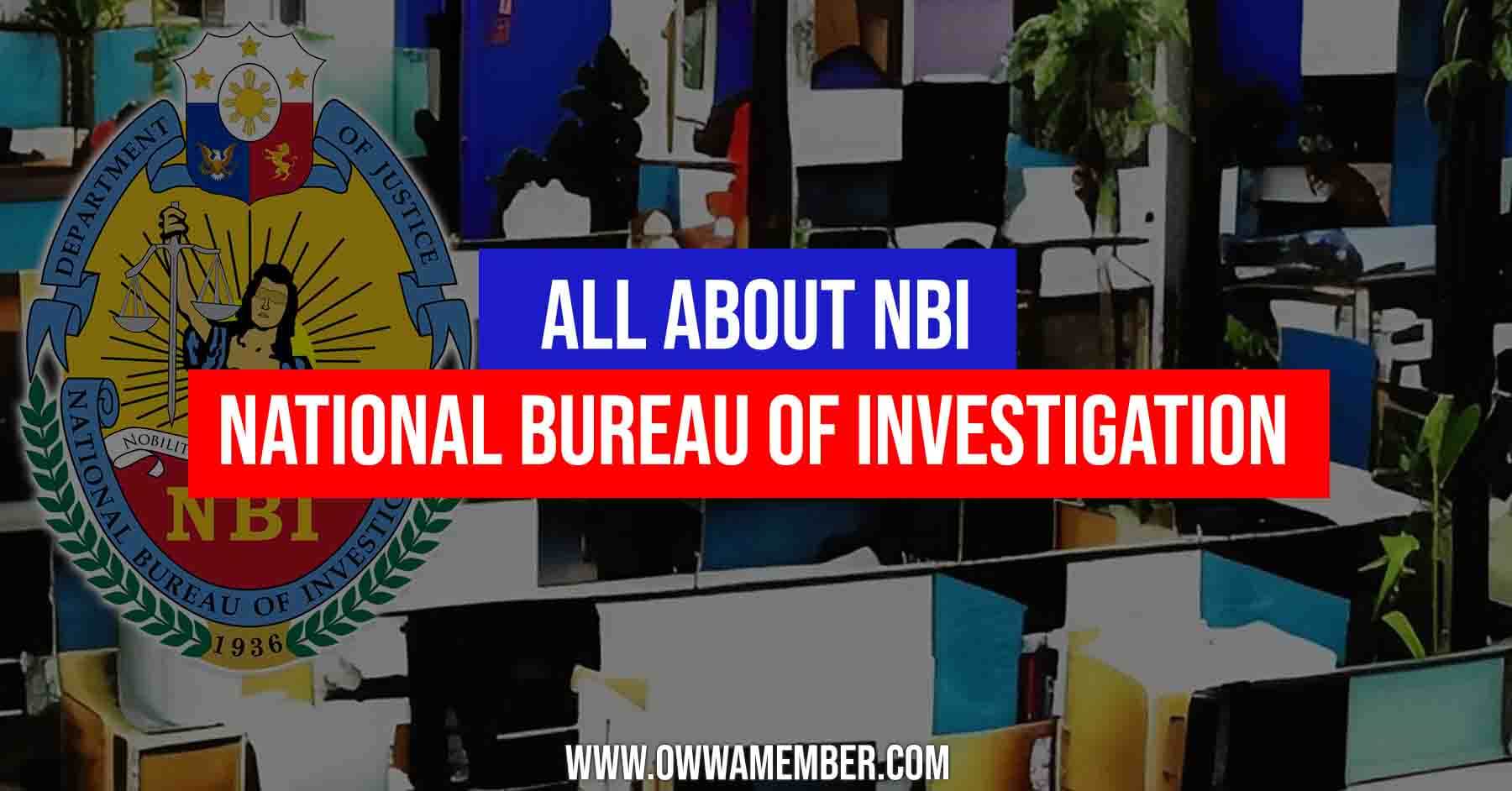 What is NBI?
NBI stands for the National Bureau of Investigation. It is a government agency managed by the Department of Justice (DOJ). Though it is civilian in nature, it is tasked to handle, detect, investigate, and resolve the country's major cases, especially those that attract public interest. The bureau has always acted as a guardian of law, and was originally a brainchild of the late President Manuel L. Quezon and Jose Yulo.
As an agency, the NBI also takes on the task of offering technical assistance to investigations and the detection of crimes. It also links the national and local police and offers services such as national clearing, law enforcement, and prosecution, as well as individual identification, identification of records of identifying marks and characteristics, identification of ownership or possession of all firearms, and testing of bullets fired therefrom through the scientific crime laboratory it maintains.
History of NBI
The National Bureau of Investigation (NBI) was established as a brainchild of the late President Manuel L. Quezon and Jose Yulo on November 13, 1936. It was originally tasked to organize the Division of Investigation (DI) in the Philippines. Later on, in 1947, the bureau was reorganized into the Bureau of Investigation, before it became the NBI as we know it today in 1949.
NBI Principles of Management: Mission, Vision, Powers, and Functions
The NBI operates under the following principles:
Mission
The bureau has always maintained quality investigative and forensic services using the advanced methods and equipment it has in the pursuit of truth and justice.
Vision
NBI also strives to keep observing its mission in an attempt to become a world-class investigative institution exhibiting dynamism, respect, and commitment to the high ideals of law and order.
Objectives
Though the bureau serves numerous functions, its main objective has always been to establish and maintain a modern, effective, and efficient investigative service and research agency to implement all the agency's functions as detailed by the Republic Act No. 157.
Values
The NBI as an agency observes the "Two Pillar- Rule", a standard of professional investigation of cases, requiring thorough and legal processes. This includes providing legal counsel, evaluating the investigative reports of the agents, and conducting legal researches and studies for the bureau's advancement.
Quality Policy
The NBI is dedicated to offering satisfactory services through:
Exemplary leadership;
Dedicated employees;
Timely delivery of service to our clients;
Assurance that requirements meet both local and international standards; and
Continuous innovation and enhancement of in-house quality system.
Powers and Functions
The NBI's enabling law, Republic Act 157, details the mandate or functions that the bureau is expected to fulfill. These functions include:
Investigating crimes and other offenses against Philippine laws;
Providing assistance when officially requested in the investigation or detection of crimes and other offenses;
Serving as national clearing house of criminal records and other information for use in prosecuting and law enforcement entities in the Philippines
Acting as national clearing house for identification records based on identifying marks and characteristics or ownership and possession of all firearms;
Give technical support to all prosecuting and law enforcement offices, government agencies, and courts, as needed;
Helping in the investigation of cases of interest to the government, regardless if it's administrative or civil in nature;
Establishment and maintenance of a highly updated scientific crime laboratory and conducting of researches to advance the scientific knowledge in criminal investigation;
Coordinating with other national or local agencies in the maintenance of peace and order;
Issuance of subpoena for the appearance of any person for investigation or production of documents;
Assistance in cases involving extradition and mutual legal assistance, as requested by the DOJ;
Establishment of NBI Academy responsible for the recruitment, training, and development of all NBI agents and personnel;
Establishment and maintenance of a Forensic and Scientific Research Center—the primary center for forensic and scientific research in criminal investigation, detection, evidence collection and preservation;
Establishment and maintenance of a Cyber Investigation and Assessment Center—the nerve center for computer information technologies, data on cybercrime cases, computer intrusion, threats, and other related crimes or activities;
Establishment and maintenance of an integrated, comprehensive, and state-of-the-art network of equipment and facilities;
Maintenance of relevant database of ballistic records of firearms including data on ownership, possession, and other related identifying circumstances; and Deoxyribonucleic Acid (DNA) databank;
Establishment of a modern NBI Clearance and Identification Center containing all derogatory and criminal records and civilian identification records;
Conduct of intelligence operations;
Entering into contract for the acquisition, ownership, possession, administration, lease, disposition or acceptance of real or personal property in its name, subject to the approval of the Justice Secretary; and
Undertaking the instruction and training of city and municipal peace officers as requested by their respective superiors to ensure greater efficiency in the discharge of their duties.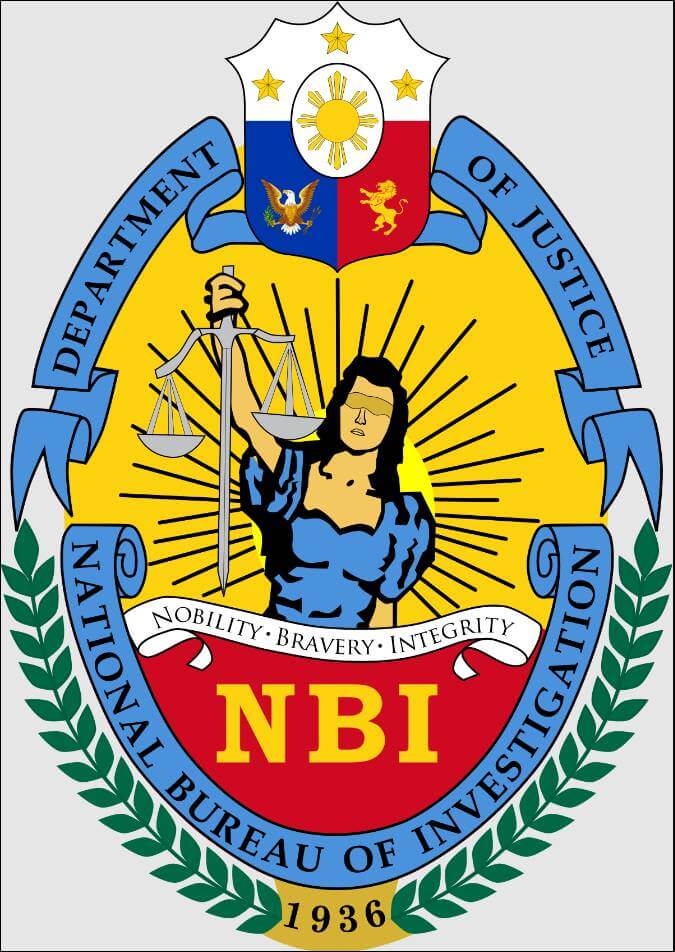 List of NBI Programs and Services
The NBI services is divided into seven (7) different categories, including:
Investigation Service
Intelligence Service
Human Resource and Management Service
Comptroller Service
Forensic and Scientific Research Service
Legal Service, and
Information and Communications Technology Service
Some specific services offered by the bureau include:
Complaints and Records
Anti-Fraud and Action
Anti-Graft and Corruption
Anti-Human Trafficking
Anti-Organized and Transnational Crime
Anti-Violence Against Women and Children
Cybercrime
Digital Forensic
Intellectual Property Rights
International Operations
Environmental Crime
Death Investigation
How to Contact the NBI for Assistance
When a crime has been committed or is about to be committed, any aggrieved person or person possessing useful information may seek NBI assistance if he is willing to furnish the Bureau with said information. Here are some guidelines on how to reach out to NBI for assistance:
If you are in Manila: You may go directly to the NBI Complaints and Recording Division (CRD) and file a complaint under oath.
If you are in other Philippine provinces: You need to visit the field offices and see the chief or any agent to file a complaint.
If you cannot make a personally visit: You may send a letter addressed to the NBI Director containing the said complaint.
If the case is already under investigation by the local police: You may still ask for assistance from NBI if you are willing to state in the complaint your dissatisfaction over the handling of the case, and/or upon directive from higher authorities.
Frequently Asked Questions
For your reference, here are some of the most common questions and answers related to NBI:
1. Are NBI services expensive?
No. It doesn't cost anything. All forms of assistance offered by the NBI, either to other government institutions or to the private sector, are absolutely free of charge.
2. What is NBI Quality Report?
An NBI Quality Report is a form released by the NBI quality control section containing the list of case/s considered as reasons why NBI held the release of your clearance.
3. How many types of NBI clearance are there?
There are several types of NBI Clearances, including local employment, overseas employment, travel abroad, and visa application.
4. What does it mean when it says No Criminal Record or No Case Pending in NBI?
If the clearance says No Criminal Record and No Case Pending, it means you're not in the NBI's database for a possible past offense or criminal case.
5. What does it mean to get a hit in NBI?
If your NBI clearance application has a "hit," then it means that either you or a namesake (if your first and last name is common then there is a higher probability that another person shares the same name as yours) has a criminal record or a past offense.
6. How do I report a scammer to NBI?
To report malicious messages from scammers or potential scammers, you may lodge a report to the NBI Anti-Fraud Division by calling (02) 8525-4093 or sending an email to afad@nbi.gov.ph. You may also send a message through the NBI's website at www.nbi.gov.ph or via their official Facebook account.
7. Do civil cases show up on NBI records?
No. Civil cases, including annulments, ejectments, and funds claims aren't covered by the NBI clearance and are therefore not contained in the database.
8. How can I check if someone has a criminal record in Philippines?
Criminal records search may involve checking the NBI database which is tantamount to running a nationwide search conducted through the Regional Trial Court (RTC), Municipal Trial Court (MTC), Municipal Trial Courts in Cities (MTCC), and Municipal Circuit Trial Courts (MCTC). These court records are also open to the public, so you can check directly, that is, except for cases involving family disputes.
9. Do criminal cases reflect in NBI clearance?
Yes. The NBI clearance tells if there have been criminal cases filed in any courts in the entire Philippines against an individual.
Summary
The National Bureau of Investigation (NBI) is a government agency primarily known for its role as a national clearinghouse for criminal cases in the country. That said, the bureau can tell if an individual has been involved in a criminal case, regardless of time frame. Likewise, it also clears up an individual's name, in cases when no criminal case has been filed or in cases when the individual shares the same first and last name with someone who has had a case filed against them.
Also Read: What is OWWA Philippines? Meaning of POLO-OWWA?
For more information on NBI services, you may reach out to:
Contact Information
National Bureau of Investigation (NBI)
Contact Number: (032) 8523 – 8231
Fax: (715) 835-1405
Email: director@nbi.gov.ph
Website: https://www.nbi.gov.ph/