Securing an Overseas Employment Certificate (OEC) is important and Overseas Filipino Workers (OFW) should be advised of that. Whether you're starting a job abroad or returning to the Philippines, it's hard to do any step without this document. Please follow the steps to apply for OEC in Australia via POLO-Canberra.
Also Read: How to Book OWWA Appointment in Australia
An OEC / Balik Manggagawa Certificate for OFWs in Australia is mandatory if you go for a vacation to the Philippines for leisure. The OEC is the document you need to get before going back abroad to continue your work. For those who haven't processed their OEC before, it's worth taking into account that you can't go back to Australia without obtaining it first.
This blog will go through the process, qualifications, and importance of obtaining an OEC. We want you to understand the things you might encounter while spending your leisure time in the Philippines and later on go back to your employer in Australia.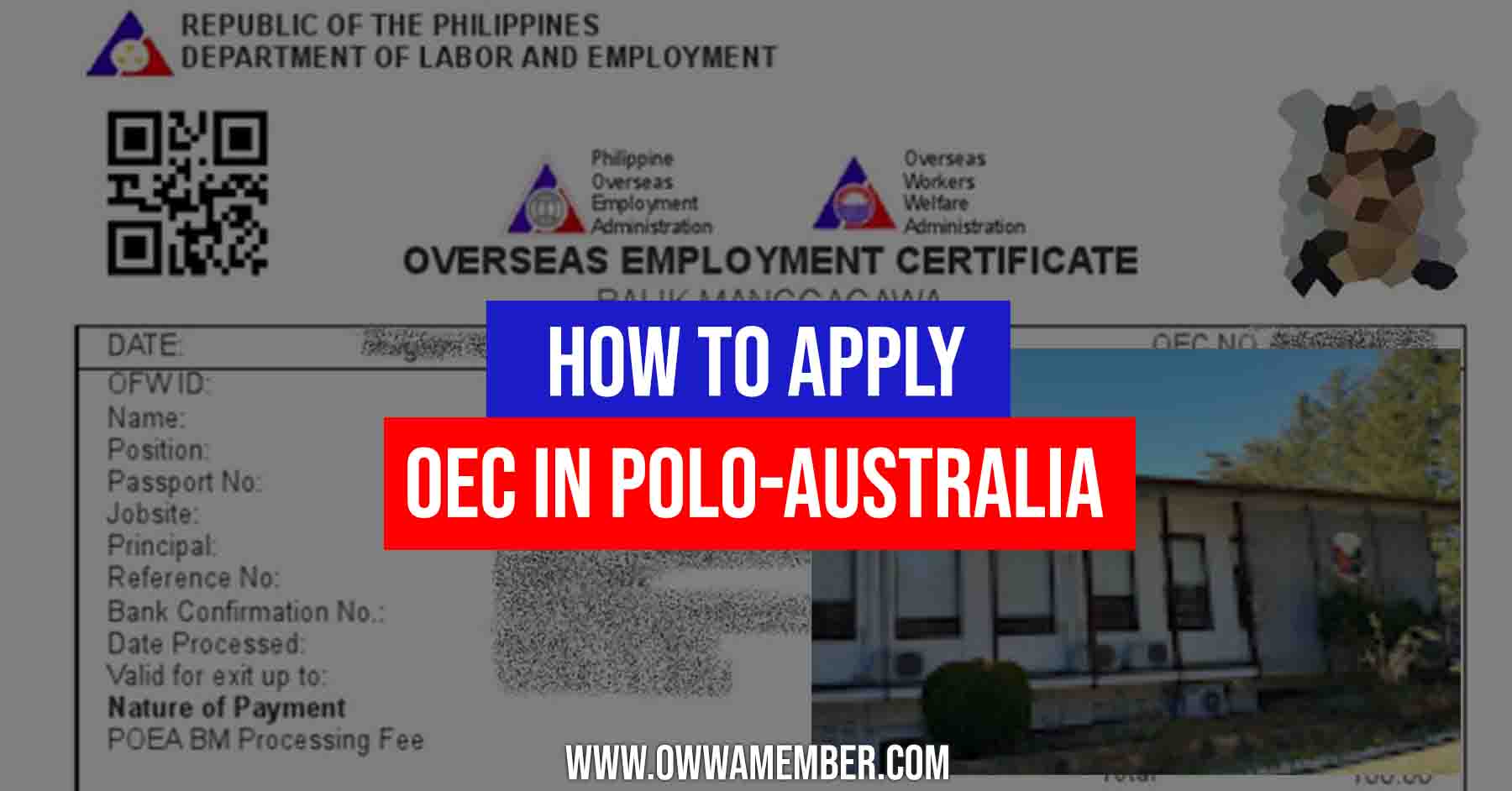 What is OEC (Balik Manggagawa) in Australia?
The Overseas Employment Certificate (OEC) is a requirement by the Philippine Overseas Employment Administration's (POEA) rules and regulations to ensure the protection and appropriate documentation of Overseas Filipino Workers (OFWs). The OEC, which is frequently referred to as an "exit permit," must be presented at international airports in the Philippines as verification that the bearer is a lawful OFW. OEC is necessary for every OFW who spends time in the Philippines and then returns abroad to continue work.
The Balik Manggagawa worker who secured OEC is exempt from airport terminal fees and travel taxes occurring in any of the Philippine airports.
The OEC may be obtained by contacting the POEA office closest to their place of employment or in the Philippines or by utilizing the OEC online processing platform or the POEA Online Processing System for Balik-Manggagawa (POPS-BaM).
OEC is valid for (60) sixty days.
Requirements
OFWs returning to the Philippines for vacation (whether contractually required or due to an emergency) and resuming employment with the same employer are eligible for certain benefits, including exemption from travel tax and airport terminal fee in Manila. To obtain those benefits, you need to complete and provide the following requirements for securing an OEC at POLO Canberra, Australia.
Employment Contract
Copy of Passport
Copy of working visa
Accomplished OFW Information Sheet
Self-addressed envelope, preferably Express Post
Note: The applicant will receive the following document in the mail:
Four (4) copies of OEC
Verified Contract (if applicable)
Official Receipt of the OEC
Official Receipt of the verification of contract (if applicable)
Qualifications
The OFW with the following qualification is entitled to get an OEC at POLO Canberra:
OFWs who are on leave or vacation and are returning to Australia to work for the same employer.
OFWs who will return/join the same employer and who have transferred to another job site.
Tourists, dependents, students, businessmen, and other undocumented OFWs who partially served their employers.
Cost of OEC in POLO-Canberra
The OFW must consider the following fees in obtaining OEC:
Money order in the name of the Philippine Embassy in Australia
$5 for OEC processing fee
$18 for verification of employment contract (if applicable)
Note: Please don't purchase a single $23 money order. These are two distinct government accounts that are not transferable.
How to Schedule OEC Online Appointment in POLO Australia
Online processing can simplify the application for OEC. You can get an OEC using the POEA Online Processing System for Balik Manggagawa (POPS-BaM).
If you have a past record on the POEA database, the system will determine if you are qualified to get an OEC. But first, you need an account to know if you are eligible for an OEC or OEC Exemption. Follow the provided steps below if you don't yet have an account and record in the POPS-BaM.
Go to your browser and type https://onlineservices.dmw.gov.ph/OnlineServices/POEAOnline.aspx in the URL
Click on Let's Go
Click on "Register" for new users ( just log in if you already have an account )
Then click "I accept the terms of use."
Fill out the required information and then click register. (a message will display indicating that your registration was "Successful")
Log in to the email address you provided when you registered (there is a message containing your "temporary password")
Return to the link provided in Step 1 and login using the registered email address, then click "next."
Use the temporary password sent to your email, then click "log in."
Set the password you want
Update your profile by clicking "My Profile," after completing your profile, click "Update Profile" on the upper right side of the page
Add your Identification and Beneficiary
Attach profile picture and passport
The steps provided below are the procedure to get an OEC (for those eligible) and an OFW Information / Appointment Sheet (for those who are not eligible) which is one of the listed requirements to accomplish and present to the POLO – Canberra.
Log in to your POPS-BaM account (onlineservices.dmw.gov.ph/OnlineServices/POEAOnline.aspx)
Click "Balik-Manggagawa," located at your top right-hand side.
Input your next flight date, and then click "next."
You will be asked if you are returning BM to the same employer (if yes, you can print your OEC, if no, proceed to step 5)
Accomplish your contract details with true and correct information to the best of your knowledge.
After clicking "Submit," select POLO.
Then choose an available Appointment Schedule.
You now have an Appointment with POLO. You can print or cancel your appointment.
How to Apply for OEC at POLO – Canberra?
For those OFWs who are not eligible to utilize the online processing system, provide the above-listed requirements together with the fees and send the documents by post addressed to:
Atty. Rodolfo M. Sabulao
Labor Attache II
Philippine Embassy, 1 Moonah Place, Yarralumla, ACT 2600, Australia
Wait for your OEC for about seven (7) working days from the time you sent it to them by post.
How to Get OEC Exemption in Australia
To determine if you are qualified for an OEC Exemption, you need to use the online facility or the POPS-BaM.
Login to your POPS-BaM account.
Input your most recent OEC number.
If record found, make necessary updates to your Personal Data, Beneficiaries, and Contract Particulars as needed.
To begin the online evaluation process, click Acquire OEC or Exemption. Enter the date of your travel and confirm that you are returning to the same company and job site.
If you return to the same job and workplace, the system will show a confirmation message stating that you are no longer required to secure the OEC or pay the processing cost. Otherwise, you will be taken to the Appointment Page. Choose your desired POEA office for the application of your OEC.
Frequently Asked Questions
Below are some commonly asked questions and answers regarding the POLO-Australia office for OEC Balik Manggagawa application:
1. Can OFW seek an OEC replacement if the OEC is lost?
No, there will be no re-issuance of OECs for those that have been lost. Instead, POLO-Canberra shall issue a certification of the OEC's particulars or a certified true duplicate thereof. For travel exit purposes, said certification shall be given to the Bureau of Immigration, the Philippine Tourism Authority, and the airport terminal fee counter. Simply send a letter to POLO-Canberra or email polocanberra@y7mail.com with your full name, employer's name, your Australian address, and contact numbers, as well as a prepaid, self-addressed envelope.
2. What can OFW do if his POEA exit clearance or OEC has expired prior to his departure date?
Replace an expired exit clearance by submitting all copies of the expired OEC and paying a service fee of Php 100. However, if the OEC has already been filed to the airline and the airline ticket contains the OEC numbers, the validity period shall be extended just up to the confirmed flight date.
3. Can dependents of OFWs avail of the travel tax exemptions?
Dependents of OFWs are only eligible for the Reduced Travel Tax if they are traveling to the OFW's place of employment. Dependents are eligible until they reach the age of 21.
4. What are the requirements to avail of the reduced travel tax for OFWs' dependents?
OEC certified true copy
Passport for dependents
Original marriage contract (for legitimate spouse)
Original birth certificate (for legitimate children)
Plane ticket
Summary
The processes and procedures outlined above are simple to follow and will allow you to save money from additional costs that may occur during your flight back to Australia. If you wish to enjoy the benefits of possessing an OEC, you may follow the directions in this blog and obtain one.
Spend time obtaining your OEC while in Australia and enjoy your trip in the Philippines with your family and relatives without having to worry about the process when returning to your employer.
Contact Information
Philippine Overseas Labor Office – Canberra, Australia
Address: Philippine Embassy, 1 Moonah Place, Yarralumla, ACT 2600, Australia
Contact Number: +61.262732535 / 36
Fax: +61.262733984
Email: poloaustralia@philembassy.org.au
Office hours: 10:00 am to 4:00 pm (closed on Philippine and Australian holidays)
Website: https://www.philembassy.org.au/
Facebook Page: https://www.facebook.com/PHinAustralia/
Google Map Location
You might need this guide map if you plan to go to the embassy for your OEC. However, note that the Philippine Embassy is not accepting walk-in applicants due to covid-19 guidance. For urgent concerns, please call (02) 6273 2535 Loc 231 or 0408 735 383.
Please check out the map guide to the location of the Philippine Embassy in Canberra, Australia below: