Filipinos who are based in Australia and want to renew their OWWA account can visit the Philippine Overseas Labor Office (POLO) located in Canberra. The POLO-Canberra office is located in the same building as the Philippine Embassy in Australia. Please be guided on the process for OWWA membership renewal below.
Also Read: How to Become an OWWA Member?
On May 22, 1946, the Philippines and Australia established diplomatic relations, and the Philippine government established its foreign post in Sydney in 1947. The main objective of OWWA-Canberra, Australia was to protect overseas Filipino workers' rights in Australia under Philippine and Australian labor laws, norms, and standards, as well as their employment contracts.
OFWs are entitled to OWWA benefits, which include emergency welfare benefits. OWWA membership fee will cost AUD 33.00 ($25.00 USD) and must be renewed every two years.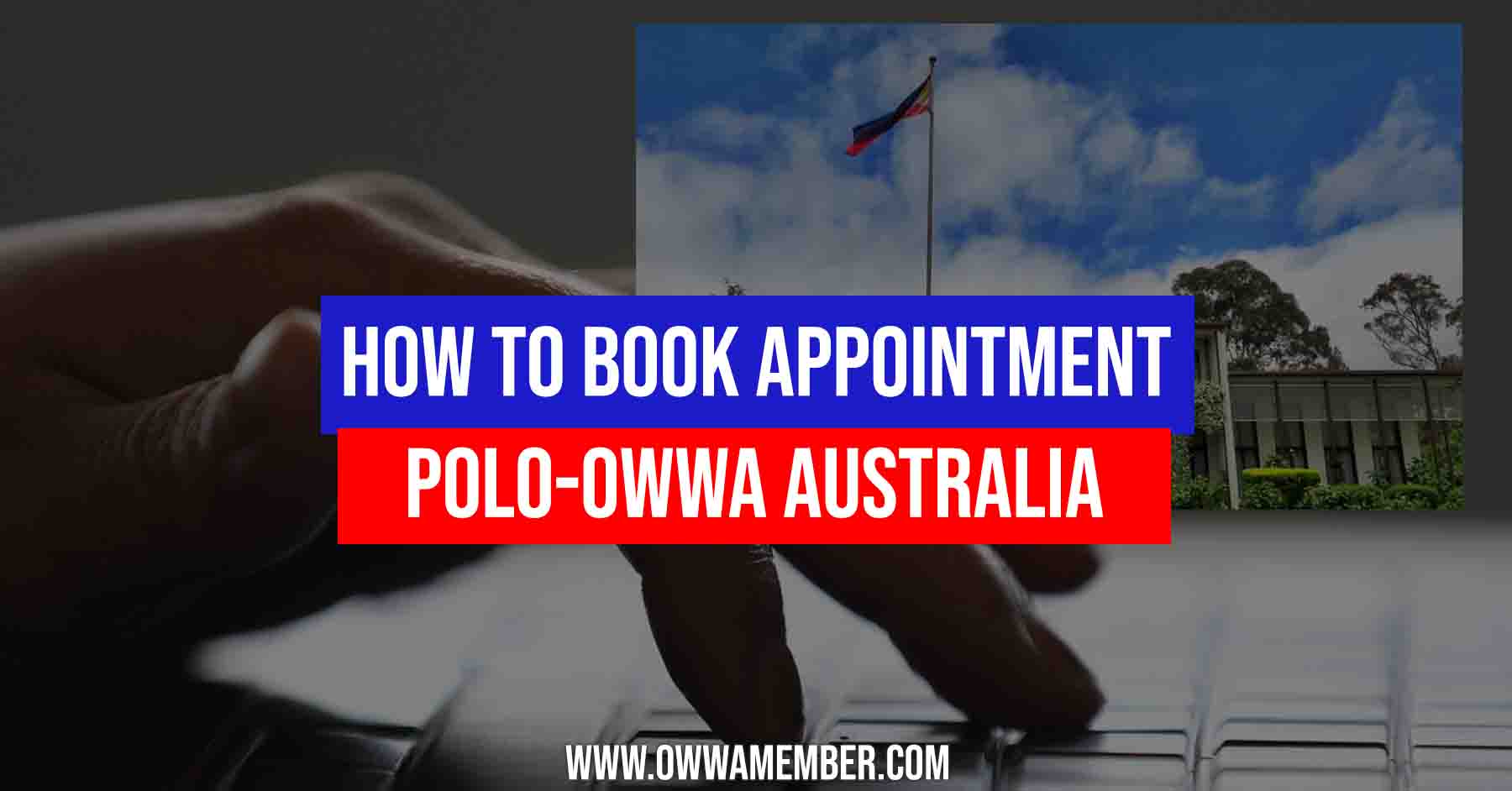 Amount of Contribution
The OWWA membership contribution is Twenty-Five US Dollars (US$25.00) estimate of AUD 33.00.
Membership Validity
For each contribution, membership is valid for two (2) years, regardless of the contract term, change of employer, job site, or recruitment agency. Then, if proof of active labor is provided, OWWA membership must be renewed.
OWWA Membership/Renewal Requirements in Canberra, Australia
Please see the following requirements in order to renew your OWWA in Australia:
Completed OWWA Information Sheet
Copy of a VALID employment contract
A copy of the passport page with the photo and personal data
A copy of your current work permit and visa
Copy of employment contract, or certificate of employment or payslip
OWWA membership fee
How to Schedule Appointment in POLO-Australia
Please check out the following steps in order for you to schedule an OWWA appointment before going to the POLO-Australia office.
Step 1: Send an e-mail to the POLO-Canberra, Australia office to verify the status of your OWWA membership.
Step 2: Schedule an appointment to pay the OWWA renewal fee.
Step 3: Download the OFW Information Sheet and fill it out.
How to Renew OWWA Membership in POLO-Australia
After you've verified that you need to renew your OWWA, you can bring your document requirements to the POLO office.
Step 1: Before visiting the POLO-Canberra, Australia office, double-check your appointment time.
Step 2: Present your completed documentation at the OWWA counter.
Step 3: Pay the membership fee to the OWWA.
Step 4: Receive your OWWA renewal receipt.
NOTE: Feel free to contact POLO Wellington at polo.newzealand@philembassy.org.nz if you are a worker in New Zealand, Marshall Islands, Samoa, Tonga, Fiji, Cook Island, French Polynesia, or Niue.
Consular Mobile Mission
Please be advised that the Philippine Overseas Labor Office – Canberra also conducts Mobile Missions wherein they go and visit other areas of Australia in order to reach out to Filipinos who wish to conduct POLO inquiries and services. During these mobile missions, you may go to the date and location of the said event so you can renew your OWWA membership.
So you need to stay updated by following the social media page (Facebook) of PH Embassy Canberra. Please be guided on the process.
Important Reminders
Here are some reminders and guidelines about the OWWA renewal process and what you should need to take note of when processing this OWWA in Australia:
Frequently Asked Questions
Here are some common questions and answers about renewing OWWA in Australia. Please take note of these questions and answers for your reference:
1. Can I directly go to the OWWA-Canberra, Australia Office?
No, walk-ins are not allowed in Canberra, Australia. You can send an email to poloaustralia@philembassy.org.au to make a transaction.
2. How much does the OWWA membership fee cost?
The OWWA membership contribution shall be Twenty-Five US Dollars (US$00).
3. Who should I contact if I have any additional questions?
You can contact the OWWA- Canberra, Australia office by sending an e-mail to poloaustralia@philembassy.org.au, or by sending a message or calling +61 2 6273 2535 / 36.
Summary
So this is the process of renewing OWWA at the POLO office in Australia. Please remember to ensure that you renew your OWWA so you can keep the maximum benefits you can get as a member
especially in these times of crisis. There is the DOLE-AKAP assistance, OWWA livelihood assistance programs, and reintegration programs, etc.
As an OFW based in Australia, please follow the rules and policies currently put in place about visiting the office. Or better yet, you can simply renew your OWWA account through the OWWA Mobile App.
Workers in Australia may also renew their OWWA membership by having their family members in the Philippines submit the document requirements to the nearest OWWA Regional Welfare office.
Contact Information
OWWA Canberra, Australia
Address: 1 Moonah Place, Yarralumla, ACT 2600, Australia
Telephone Number/s: +61 2 6273 2535 / 36
Email: poloaustralia@philembassy.org.au
Website: https://www.philembassy.org.au/
Facebook Page: https://www.facebook.com/PHinAustralia/
Google Map Address
Please check out the map guide to the location of the Philippine Embassy in Canberra, Australia below: