To Filipino overseas workers based in Dubai and the Northern Emirates and who plan to go home to the Philippines for a vacation, it is important that you apply for an Overseas Employment Certificate (OEC) as this is one of the requirements before you can return back Dubai, UAE. OFWs in Dubai and the UAE can get from the Philippine Overseas Labor Office (POLO) which is now called Migrant Workers Office (MWO) located at the Philippine Consulate General (PCG-Dubai) office in Al Qusais.
Also Read: List of POLO-OWWA Offices Abroad
W e will discuss some benefits, qualifications, and instructions that you can follow to obtain an OEC in POLO Dubai. We want you to know the process conveniently before going to the physical office just to know what to do such as how to book an online appointment and what requirements you should bring. We hope you will find this article helpful and easy to follow.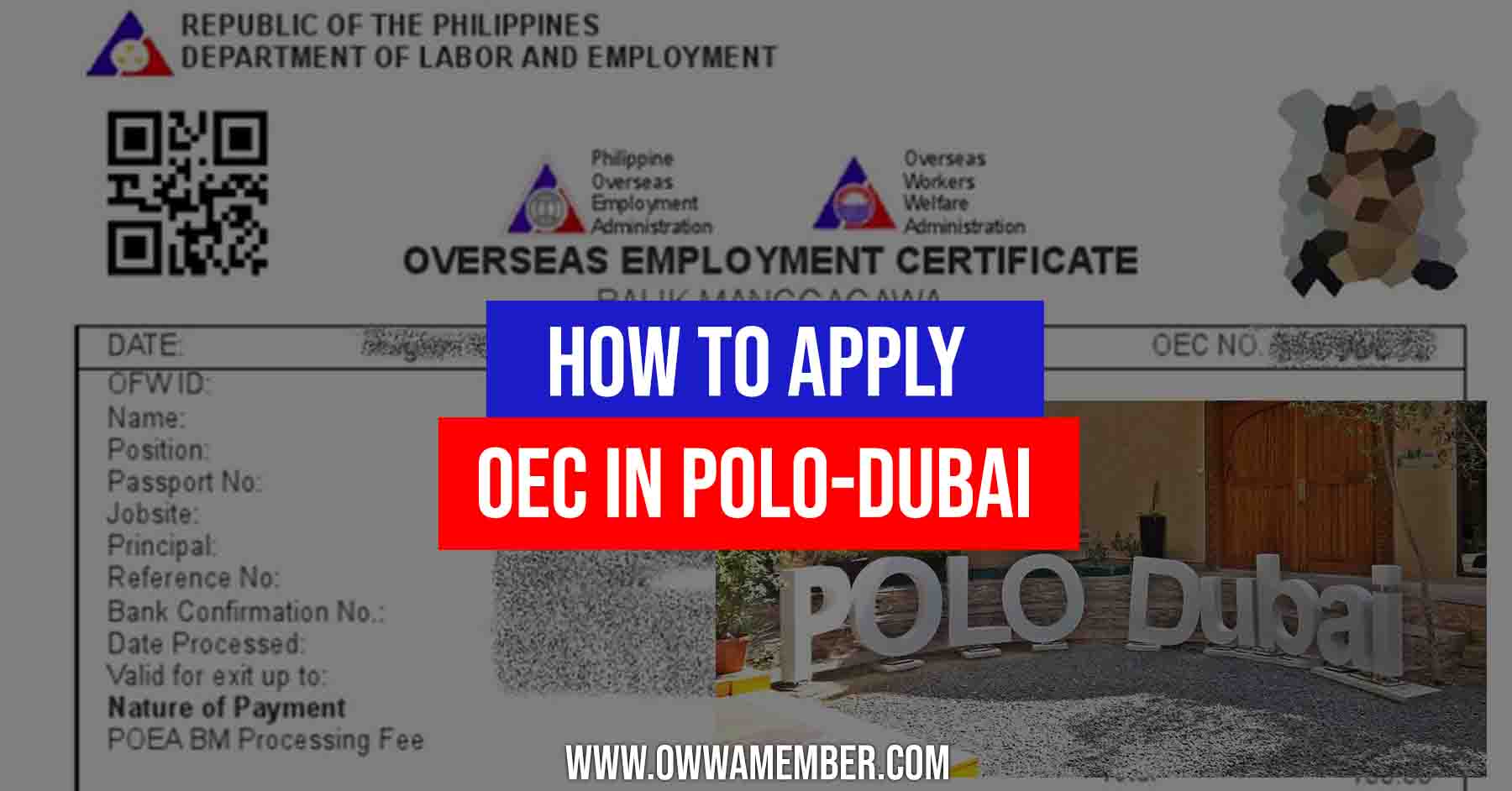 What is an OEC and why do you need one?
OEC, or the Overseas Employment Certificate, is a document that verifies the consistency of recruitment and validation of the OFW. It serves as evidence of their registration with the POEA.
All leaving OFWs must get an OEC because it is recognized as an exit pass/clearance.
Workers-on-Leave, also known as Balik Manggagawa (BM), may obtain their OECs in POLO before departing Dubai or in the POEA and other approved OEC processing facilities in the Philippines before the flight.
The document must be shown to the immigration office at the airport when you are about to exit the Philippines so it can help you avoid airport terminal charges and travel tax payments.
What are the requirements for getting OEC in POLO-Dubai?
Based on the official website of POLO Dubai, here are the documents you should secure for the OEC application:
You must have your Original Passport
Accomplished Printed BM Online Appointment / BM Information Sheet – at least three copies.
You should present your POLO Verified Contract as well to POLO
You are required to bring your Return Airline Ticket or any flight documents.
Old OEC copy or past and present visa copy when you are returning to the same employer if you didn't obtain OEC exemption.
The POLO Dubai official website noted that:
BM Online Appointment is essential for the OEC to be issued.
POLO would not grant OEC to workers that entered the UAE on a visitor/tourist visa and then changed to an employment visa. However, it can only confirm the labor contract as a prerequisite for obtaining OEC in the Philippines (POEA).
Returning workers who have already registered with the BM ONLINE PROCESSING SYSTEM and will return to the previous employer and workplace are eligible for the OEC EXEMPTION.
What are the qualifications, and who is required to get an OEC in PCG Dubai?
You are required to acquire an OEC if you are:
An Overseas Filipino Worker who is directly employed through a foreign employer
A Filipino worker employed by an agency
An OFW hired via GPB (Government Placement Branch) entity of POEA
Specifically, the POLO Dubai Office that the following may apply for OEC:
OWWA member with expired membership or you are a first-time OWWA applicant
OWWA member with valid unexpired membership
Household Service Worker
How much does it cost to get OEC in Dubai?
Here are the corresponding fees for the OEC application:
POEA Processing Fee amounting to AED 10  for every e-receipt
OWWA Membership Fee is USD 25 or 92 AED.
The agency will take the responsibility to charge your employer if a recruitment agency hires you. These are the expected amount to be paid by your employer:
POEA Processing Fee amounting to PHP 200.00
OWWA Membership Fee amounting to USD 25.00, its amount to Peso, or AED 92
Note that your agency is allowed to take your one-month salary equivalent to your placement fee, excluding countries that do not implement collection of fees from their workers. Always seek receipt from your agency because there are agencies that collect many fees without giving a receipt.
How to Schedule OEC Online Appointment in PCG Dubai
OFWs based in Dubai must secure an OEC online appointment online by going to the POLO-Dubai website. To make an appointment to get your OEC, you first must be registered with the BM online processing system. You can click the link here and start with the registration. Remember that your flight details are required.
You can follow these steps to register for the new POEA Online Processing System for Balik-Manggagawa (POPS-BaM).
Go to your browser and type https://onlineservices.dmw.gov.ph/OnlineServices/POEAOnline.aspx in the URL
Click on Let's Go
Click on "Register" for new users ( just log in if you already have an account )
Then click "I accept the terms of use."
Fill out the required information and then click register. (a message will display indicating that your registration was "Successful")
Log in to the email address you provided when you registered (there is a message containing your "temporary password")
Return to the link provided in Step 1 and log in using the registered email address, then click "next."
Use the temporary password sent to your email, then click "log in."
Set the password you want
Update your profile by clicking "My Profile," after completing your profile, click "Update Profile" on the upper right side of the page
Add your Identification and Beneficiary
Attach profile picture and passport
Congratulations! You are now registered to BM Online Processing System. You can now make an appointment at POLO Dubai.
How to set OEC appointment using POPS-BaM?
Go with this step-by-step procedure provided by the official website of POEA on how to set an appointment by using POPS-BaM.
Log in to your POPS-BaM account (onlineservices.dmw.gov.ph/OnlineServices/POEAOnline.aspx )
Click "Balik-Manggagawa," located at your top right-hand side.
Input your next flight date, then click "next."
You will be asked if you are returning BM to the same employer (if yes, you can print your OEC, if no, proceed to step 5)
Accomplish your contact details with true and correct information to the best of your knowledge.
After clicking "Submit," you can select your Process Location.
Then choose an available Appointment Schedule.
You now have an Appointment with POLO. You can print or cancel your appointment.
How to Apply OEC at POLO Dubai office?
After booking an appointment in Balik-Manggagawa online processing system, ensure you have the entire list of needed documents before heading to POLO.
Step 1: Make sure your membership with the Overseas Workers Welfare Administration (OWWA) is still active. If it has not expired or you are a first-time employee, you must obtain it by filling out the OWWA membership application form in POLO Dubai.
Step 2: To acquire your OEC in Dubai, you also need your OEC Balik Manggagawa form and the Pag-IBIG form on top of your application form. Both of these may be obtained from POLO or can be downloaded online and printed out, just get them from POLO's website. Other important supporting documents, which were previously specified as the requirements for getting an OEC, must be also be presented.
Step 3: Pay for the processing fee then Wait for the approval of your OEC.
That's how easy it is to apply for your OEC. Once you have booked your appointment, the process is smooth. Just make sure you have all the requirements and processing fees.
How to Get OEC Exemption in Dubai
OFWs can get an OEC exemption if they meet the following requirements:
Returning to the same employer
Going to the same job site
Already registered in POEA database
The process to get the OEC exemption are as follow.
Step 1: Log in to the BM Online System via bmonline.ph
Step 2: If you are a new user, register in the system using your email. Skip this step if you already have an account. Enter the last OEC number issued to you. If there is "no record found", set an online appointment. If there's a record, update your personal details, contract details, and beneficiary details.
Step 3: Click the "Acquire OEC or Exemption"  and enter the "Flight Date" and confirm if returning to the same employer and jobsite.
Step 4: A confirmation message will be displayed indicating that the worker is exempted from getting an OEC.
Video: Applying for an OEC in POLO Dubai
Check out this vlog below as an OFW in Dubai shares her experience getting the OEC before going to the Philippines for her vacation. In this video, you can jot down notes on how to get OEC at POLO Dubai. She went to the Philippine Consulate General office to get a POLO-verified contract.
Be advised that this video was taken last 2020 before safety restrictions were set in place. The process is more or less the same, but you need to have an appointment first before you can enter PCG Dubai and POLO-Dubai office. Please be informed about this!
Frequently Asked Questions
Please check out these frequently asked questions and answers about the process of getting the overseas employment certificate if you are based in the United Arab Emirates – Dubai and Northern Emirate.
1. Can I go directly to POLO Dubai without a booking?
No. POLO Dubai is explicit when it says that you have to do book online before you can physically apply for your OEC. You have to follow the online booking. No confirmed appointment, no entry at the office.
2. Is it okay to apply with incomplete requirements?
No. You have to make sure that your requirements are complete. Else, you will need to go back again when you have everything POLO needs.
3. Can I apply for an OEC if I have a tourist visa?
POLO Dubai said that they don't issue OEC to OFWs who converted from a tourist visa to an employment visa. What POLO can do is issue a labor contract, which you can use to get an OEC from the POEA in the Philippines.
4. Is it required to pay the OWWA membership fee?
Ideally, yes, as part of the process. You have to pay OWWA membership fee on top of the processing fee. Also, the OWWA renewal/payment is your form of insurance as an OFW working overseas.
Summary
Are you an OFW working in Dubai? Do you want to know how to get OEC in UAE? OFWs can acquire their Overseas Employment Certificate (OEC) from the Philippine Overseas Labor Offices (POLO) in PCG Dubai. Please follow the steps above for assistance.
To those OFW that do not yet have their OEC, you may want to give yourself time to obtain it. Having this document will support you in case you return abroad and work again. The process of getting one is pretty simple since most of the processes involve online booking. Once you've secured a schedule, your application is just a few steps away.
Contact Information
POLO-Dubai / MWO Dubai
Address: Street # 2C, Beirut St., Near Al Qusais Police Station، Al Qusais 3 – Dubai, UAE
Telephone Number: +971 50 652 6626
Website: http://www.polodubaiportal.org/
Email: polodubai@ymail.com or polodubai.info@gmail.com
Opening Hours: Sunday to Thursday – 8:00 am to 5:00 pm
Facebook Page: https://www.facebook.com/polodubaiandnorthernemirates/
Google Map Location
OFWs in Dubai can visit Philippine Overseas Labor Office in Dubai at the PCG Dubai office in Al Qusais. There is a separate gate for the POLO-Dubai office located on the right side. The nearest metro station is Al Qusais metro station (Green line).
Disclaimer: Information shared here is only a guide and may change without prior notice. Please visit the official website of POLO-Dubai should you require further assistance.