For Filipinos who are working in Dubai and the Northern Emirates and need to renew their OWWA membership, it is important to make an appointment beforehand at the Philippine Overseas Labor Office which is now been converted to Migrant Workers office (MWO) located in Al Qusais, Dubai. We have posted this guide on how to schedule an appointment in POLO Dubai online.
Also Read: For OFWs in the UAE based in Abu Dhabi, here's another guide – How to Book OWWA Appointment in Abu Dhabi, UAE
OFWs are reminded to keep their OWWA membership active. With the strict safety guidelines implemented, it is important to have a pre-arranged appointment on this day. Filipinos living in Dubai, UAE must schedule an appointment in advance to visit the POLO-OWWA office, whether to inquire about OWWA events and services or to renew their membership.
It is required to make a reservation since admission to the POLO-OWWA office may be denied if you do not have an appointment confirmation. The process will proceed more swiftly and safely if you arrange an appointment. Here are the steps: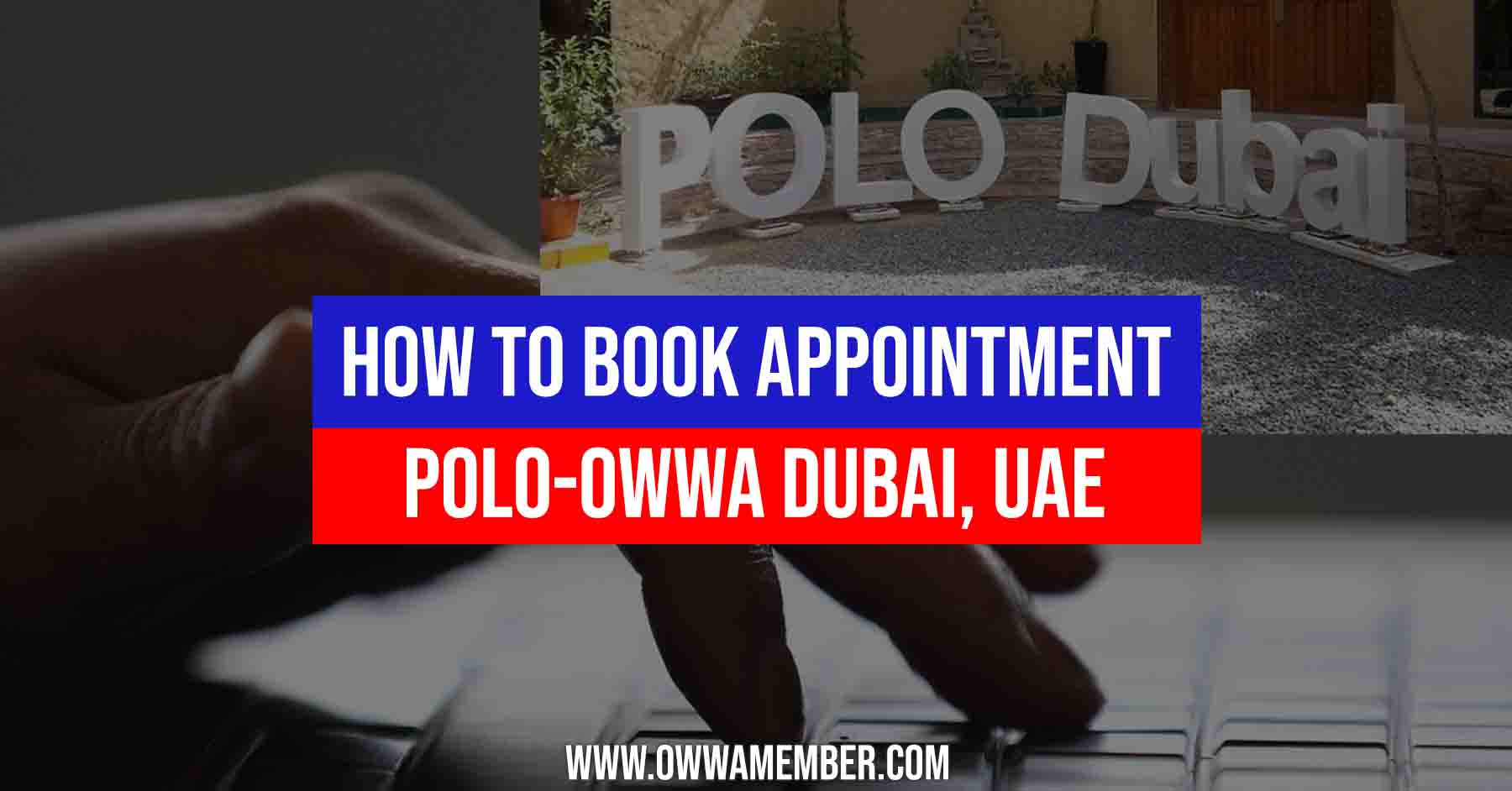 Amount of Contribution Payment
The OWWA membership payment is Ninety-Two United Arab Emirates Dirham (AED 92).
Membership Validity
For each contribution, membership is valid for two (2) years, regardless of the contract term, change of employer, jobsite, or recruitment agency. Following that, if proof of active work is shown, OWWA membership must be renewed.
OWWA Dubai Requirements for Membership Renewal
Here's a list of OWWA membership requirements in Dubai.
Original Passport Page (2 copies)
Valid UAE Visa (2 copies)- The validity of the visa should be more than 90 days, and the OFW must be working actively and continuously.
MOHRE Contract (2 copies) – This is the MOHRE (Ministry of Human Resources and Emiratisation) employment contract to be verified by POLO on the day of appearance.
Any proof of employment (2 copies) – Employment ID, Labour Card, Certificate of Employment)
Membership Fee (ranging from Php1,000- Php1,500 or AED 92)
How to Schedule a POLO-OWWA Appointment Online in Dubai
If you want to renew your OWWA membership you can go to POLO-OWWA Dubai on your days off. But you need to have the appointment first before you can enter the POLO office. Here are the steps for making an appointment online:
Steps on Booking Appointment via POLO-OWWA Dubai
STEP 1: Open the link to book an appointment here – http://www.polodubaiportal.org/appointments/
STEP 2: Choose a Service from the list of options.
OWWA MEMBERSHIP (NEW & RENEWAL)
PAG-IBIG FUND MEMBERSHIP
SSS SERVICES
VERIFICATION OF EMPLOYMENT DOCUMENTS (INDIVIDUAL)
STEP 3: On the calendar, choose your selected date. To avoid clogging the system, each person should only have one schedule.
STEP 4: Fill up the details with your:
FULL NAME
EMAIL ADDRESS
MOBILE NUMBER
STEP 5: Take a snapshot of the page to prove you've made a reservation. This will serve as confirmation for you.
STEP 6: Submit the form.
STEP 7: You will receive the scheduled appointment via e-mail and text message after submitting the form.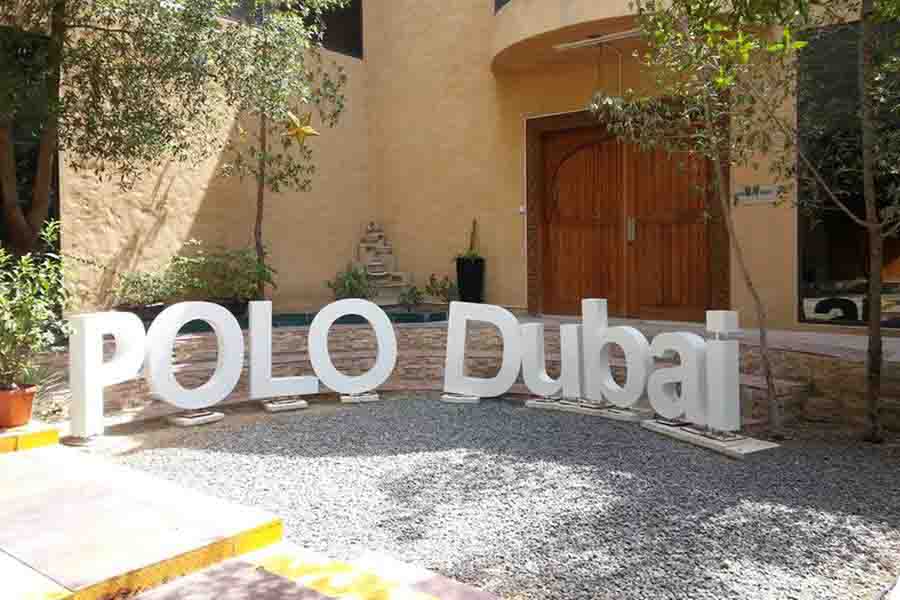 How to Pay OWWA Membership in Dubai
After you have made your appointment, the membership payment renewal is done when you visit the POLO-Dubai office in Al Qusais. Please be guided on the steps below on the process during your scheduled appearance:
Step 1: Go to the POLO Dubai gate at the Philippine Consulate General office in Al Qusais.
Step 2: Bring a printed copy of your OWWA appointment so you can enter the office. You need to provide this as you will not be allowed entry if you do not have a confirmed appointment proof.
Step 3: Present your MOHRE Employment contract for verification. MOHRE stands for Ministry of Human Resources and Emiratisation and this is the UAE government handling the labour contracts. You need to present this in Room Number 10. You will pay AED 40 for the contract verification.
Step 4: Proceed to Room 12 for the OWWA renewal. Prepare all document requirements and pay the OWWA renewal fee of AED 92.
Step 5: After paying all the fees for your OWWA membership renewal you can now get your receipt after the payment.
Important Reminders in OWWA Dubai During Day of Appearance
Here are some reminders during the appointment or appearance date at the PCG Dubai / POLO Dubai office:
Before you go to POLO Dubai for your appointment, be sure to read and complete the requirements.
Requirements that are not complete will not be handled so please double check that everything is complete.
Bring a ballpen when you need to fill out your details on the application forms.
Please wear proper attire when visiting the POLO Dubai office. No spaghetti/straps, tank tops, sleeveless, short skirts, shorts, sando, slippers. This is a government office so please wear proper clothes.
You may call the OWWA Hotline in Dubai for more details here: +971 50 5585536
Filipinos based in the northern emirates like Sharjah, Fujairah, Ajman, Ras Al Khaimah, and Umm Al Quwain, you may also set up an appointment here at the Al Qusais office in Dubai. However, if you are based in Abu Dhabi, you may visit the Philippine Embassy in UAE where the POLO-Abu Dhabi office is located. Here's a guide on how to book and renew OWWA in Abu Dhabi.
Video: Appointment Portal in Migrant Workers Office Dubai
Please check out this video clip tutorial about the process of MWO appointment for OWWA services at the MWO office in Dubai:
Check out this video shared by a Filipina if you're wondering how to renew your OWWA membership in Dubai, UAE. Simply Jeanette Official shared this video to show how she secured an appointment and what she did on the day of her appearance at the POLO OWWA office.
How to Get to POLO-Dubai via Public Transport
Be advised that the office is in Al Qusais and while it may be located in the city, it is a bit far from the regular areas where Filipinos live. You have to still take a taxi after riding the metro public transport. Here's a guide shared by another OFW on how to get to the PH Consulate and OWWA office in Dubai the cheapest way possible:
1. Ride the Dubai Metro station and stop at Al Qusais metro station (Green Line)
2. Ride a Dubai Taxi to take you to the POLO-Dubai office. The fare is AED 12 (minimum fare).
Check out the video below:
Frequently Asked Questions
Here are some common questions and answers about the process of renewal of your OWWA membership and making a schedule
1. Is it possible to schedule an appointment when I have work?
Yes, you can book an appointment but you should allot a day off when you visit the POLO Dubai office. You can book an appointment via this link – http://www.polodubaiportal.org/appointments/
2. I do not have time to visit the POLO office, are there other methods to pay my OWWA?
Yes, you can still renew your membership by downloading the OWWA mobile app, then you can have your family/relatives in the Philippines pay for the fee via accredited payment centers or by visiting the OWWA regional welfare office.
3. How long does it take to become a member of the OWWA?
After payment, your membership will be active immediately and will be good for two (2) years.
4. How much does the OWWA membership fee cost?
The OWWA membership contribution shall be Ninety-two United Arab Emirates Dirham (AED 92).
5. Where can I make my payment?
After processing your OWWA membership renewal, you can pay your OWWA membership in the OWWA Dubai, UAE office.
6. What if I am not an OFW in Dubai?
There are other POLO-OWWA offices located in other countries. You can check this list of POLO-OWWA offices abroad and make an appointment in the country where you are based.
7. Can I renew my passport in OWWA Dubai?
No, the renewal of the passport is done at the PCG Dubai office (in the same building/area). It is a different department that will handle Philippine passport renewal. The POLO-OWWA office takes care of worker's welfare and OWWA benefits/inquiries.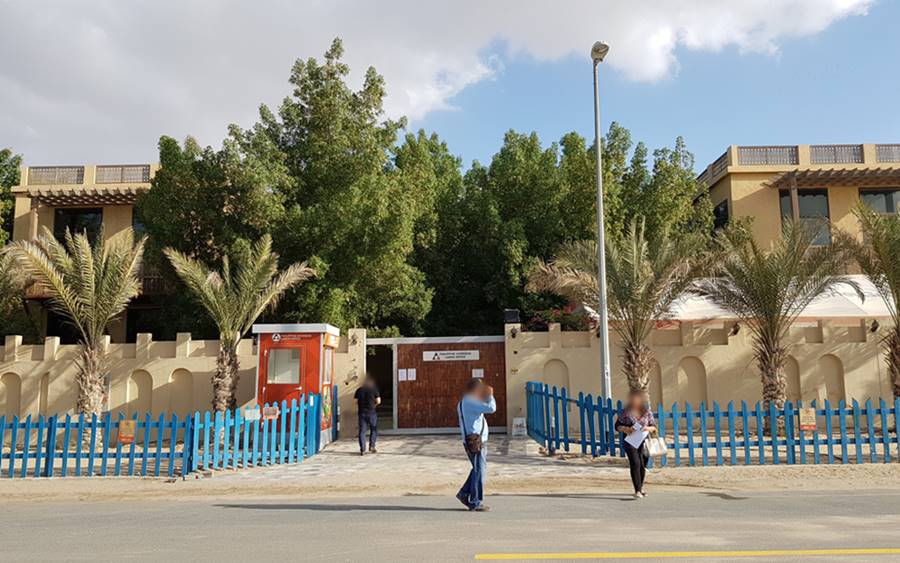 Summary
So this is the process of getting an appointment and also renewing your OWWA membership in Dubai and the Northern Emirates. We hope you are guided accordingly on the steps and procedures. While renewing your OWWA membership at the Dubai office may require you to take a time off from your weekly schedule, remember that the validity is good for 2 years.
Especially these times of crisis, there are many projects that are offered to OFWs by this agency such as the DOLE-AKAP assistance, Project EASE & Tabang OFW scholarship assistance. Currently, there is also a repatriation program available where OFWs will be given assistance. Did you know that when you return to the Philippines, OWWA has this coverage where you will be given free hotel quarantine? These are just some of the special programs being made available to OFWs so don't forget to just renew the membership account with a minimal amount.
You can also renew your OWWA account by downloading the OWWA mobile app. Do not forget to renew your membership to avail yourself of the many benefits like insurance, social, health, education, and welfare assistance.
Contact Information
POLO-OWWA Dubai
Address: Street Number 2C, Beirut St., Near Al Qusais Police Station، Al Qusais 3 – Dubai, United Arab Emirates
Website: https://www.polodubaiportal.org/
POLO Dubai Email: polodubai@ymail.com or polodubai.info@gmail.com
OWWA Dubai Email: dubai@owwa.gov.ph
OWWA Dubai Hotline: +971 50 5585536
Facebook Page: https://www.facebook.com/polodubaiandnorthernemirates/
Opening Hours: 8am to 5pm
Google Map Location
Below is a map guide to the location of the POLO office in Dubai to renew your OWWA membership. The POLO office is just beside the Philippine Consulate General (PCG) Dubai office: