Filipinos who are in Malaysia and need to secure a Balik Manggagawa OEC certificate can process it at the POLO office located at the Philippine Embassy in Kuala Lumpur. Please follow the steps below in applying for this OEC.
The significance of having an OEC (Overseas Employment Certificate) should not be overlooked by our kababayans. If you know someone who is not familiar with the process yet, don't hesitate to inform the OFW about the process especially if he/she is visiting the Philippines and going back to Malaysia after.
Also Read: How to Renew OWWA Membership in Kuala Lumpur, Malaysia
In this post, we will discuss the essential guidelines on how you can get your OEC if you are currently working in Malaysia. You will also find helpful information here that are based on the official website of POLO Malaysia. We hope you can get the information you need as you finish this article.
But first, let's define what OEC is.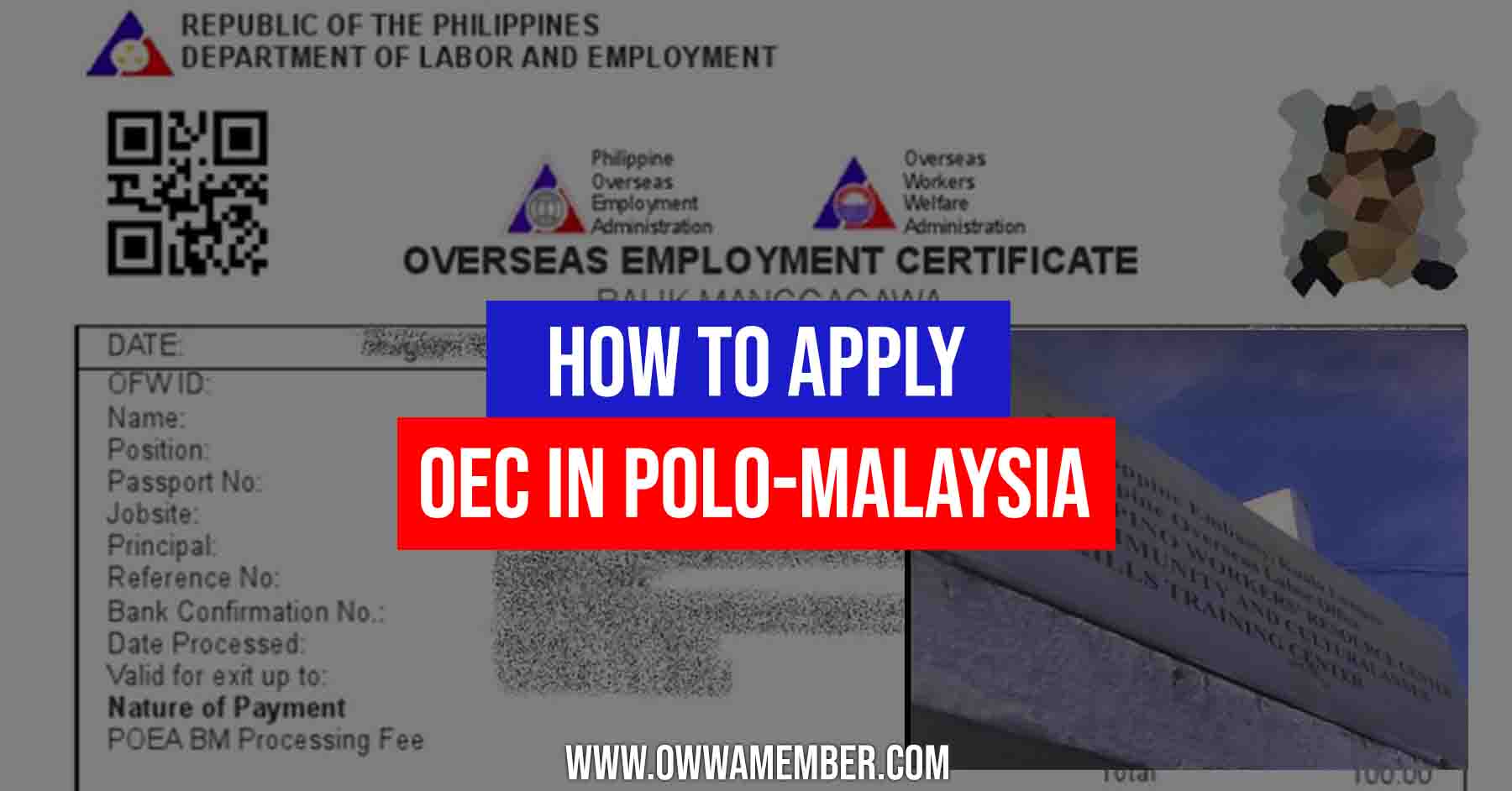 What is OEC – Balik Manggagawa Certificate?
According to the rules and regulations of the Philippine Overseas Employment Administration (POEA), obtaining an overseas employment certificate (OEC) is a requirement in order to ensure that overseas Filipino workers (OFWs) are well-protected and appropriately documented. The OEC, also known as an "exit pass," is required to be presented at international airports in the Philippines as proof that the bearer is a legally employed overseas Filipino worker (OFW). It is necessary to have an OEC if a Household Service Worker (HSW) or other OFW travels to the Philippines for a short period of time before returning to Malaysia.
The airport terminal fee and travel tax are not required to be paid by the Balik Manggagawa employee who obtained the OEC. This is a unique privilege if you have an OEC as you depart the country.
Obtaining an OEC can be done through the POEA office closest to your place of employment abroad and in the Philippines, or through the online processing platform, also known as the POEA Online Processing System Balik-Manggagawa (POPS-BaM).
OECs are valid for (60) sixty days from the date of issuance unless otherwise stated.
OEC Requirements in Malaysia
These requirements are for those who are unfamiliar with the process of obtaining an OEC in POLO Malaysia. When visiting the POLO physical office, you should be aware of what you should bring with you.
Provide the original and at least two copies of the following:
OFW/Online Appointment Information Sheet
Valid Passport
Valid work visa/employment or any equivalent document
Valid verified employment contract
Employment Contract Verification, as one of the primary requirements of the Philippine Overseas Labor Office (POLO) for the issuance of an OEC, refers to the procedure followed or applied by the Labor Attaché to ensure that all employment rights, benefits, and welfare of Filipino migrant workers in the workplace are adequately protected.
The Labor Attaché ensures that the employment contracts of Filipino migrant workers comply with applicable employment laws, standards, and practices in both the Philippines and the host country, as well as with the Philippine Overseas Employment Administration's (POEA) documentary requirements for overseas employment.
The employment contract you have with your employer needs to be verified in order for you to get your OEC. Else, you will have to get it verified first as part of the process.
Qualifications
OECs are given to new hires and Workers-on-Leave/Balik Manggagawa.
The POEA has released specific guidelines on processing OECs for returning workers following the POEA Governing Board Resolution No. 4, Series of 2018 amending Section 22 of the Revised POEA Rules and Regulations Governing the Recruitment and Employment of Land-based OFWs of 2016. The guidelines were issued in response to the POEA Governing Board Resolution No. 4, Series of 2018, amending Section 22 of the Revised POEA Rules and Regulations.
The guidelines apply to the following:
returning documented OFWs;
workers who have not previously registered with the POEA or workers who do not have a record of deployment with the POEA or POLO; and
Workers who changed employment on-site or workers who transferred or entered into a new employment contract from one employer to another, according to the POEA website.
If you are one of those mentioned, you need to apply for your OEC before you can get back to Malaysia to continue working.
Cost of OEC in Malaysia
POLO Malaysia prescribed fees:
OEC processing fee – RM 11.30
Employment contract verification fee – RM 48.00 per document (if ever the employment contract is not yet verified by the POLO)
OWWA Membership/Renewal fee – RM 120.00 (if ever the OWWA membership is expired)
How to Schedule OEC online appointment in POLO – Malaysia
Vacationing Filipino workers in Malaysia can make an appointment with the POLO to have their OECs. Workers may apply for their OEC at any time of day, on any day of the week, and at any of the authorized POLO locations of their choice as long as chosen schedule is within the working hours of the POLO branch.
The worker may schedule an appointment at POLO Malaysia by logging in to the POEA Online Processing System for Balik-Manggagawa (POPS-BaM), which is accessible through the internet. The steps outlined below may serve as a guide.
If you don't have an account, registration takes first. You can follow the guide below:
Go to your browser and type https://onlineservices.dmw.gov.ph/OnlineServices/POEAOnline.aspx n the URL
Click on Let's Go
Click on "Register" for new users ( just log in if you already have an account )
Then click "I accept the terms of use."
Fill out the required information and then click register. (a message will display indicating that your registration was "Successful")
Log in to the email address you provided when you registered (there is a message containing your "temporary password")
Return to the link provided in Step 1 and log in using the registered email address, then click "next."
Use the temporary password sent to your email, then click "log in."
Set the password you want
Update your profile by clicking "My Profile," after completing your profile, click "Update Profile" on the upper right side of the page
Add your Identification and Beneficiary
Attach profile picture and passport.
After registration, you can now set an appointment for securing an OEC at the POLO. You can follow the steps provided below.
Log in to your POPS-BaM account (onlineservices.dmw.gov.ph/OnlineServices/POEAOnline.aspx )
Click "Balik-Manggagawa," located at your top right-hand side.
Input your next flight date, and then click "next."
You will be asked if you are returning BM to the same employer (if yes, you can print your OEC, if no, proceed to step 5)
Accomplish your contact details with true and correct information to the best of your knowledge.
After clicking "Submit," select POLO location near your workplace.
Then, choose an available Appointment Schedule.
You now have an Appointment with POLO. You can print or cancel your appointment.
How to Process OEC Balik Manggagawa Certificate at POLO – Malaysia
Like other POLOs worldwide, you need to log in and set an appointment to POLO located near your workplace.
Bring all the listed requirements above and present them to the POLO administrative officer for evaluation.
After evaluation, the POLO administrative officer will guide you to pay for the necessary fees that occur upon the evaluation of your documents.
Pay all the fees to the counter and get your receipt together with your OEC.
How to get OEC Exemption
OEC exemption qualifies all OFWs returning to the same employer and workplace that has already been recorded in the POEA database. It also exempts OFWs that are deployed by the POEA Government Placement Branch (GPB).
Log in to your POPS-BaM account before the date of departure to return to your employer abroad for the system to determine if you have a record or else, you are not exempted.
The exempted worker will not be required to get an OEC and pay the processing fee. Just present the OEC exemption number and other required documents to the Bureau of Immigration counter 3 hours or more before the flight.
If not exempted, register/login to your POPS-BaM account and set an appointment for the regular processing of your OEC at the POEA/POLO offices.
Video: Applying for Balik Manggagawa OEC at the Embassy of the Philippines (Malaysia)
This is a video you can watch to gain more insights about getting your OEC from POLO abroad. Check out this vlog below about a Filipino overseas worker in Malaysia who went to the Philippine Embassy in Kuala Lumpur and headed to the POLO office in order to apply for a Balik Manggagawa OEC certificate. Please be guided accordingly.
Frequently Asked Questions
Below are some commonly asked questions and answers regarding the POLO-Malaysia office for OEC Balik Manggagawa application:
1. How can I get an OEC exemption if I change my employer?
If you are not returning to the same job or employer, you will not be eligible to get an OEC Exemption since you will not be qualified. You must set an appointment and go to the POLO closest to your location to get your OEC.
2. Do I need to fully verify my employment contract?
Yes, as it is one of the important requirements for issuance of an OEC.
3. Can I verify my employment contract in the Philippines?
If you are a worker based in Malaysia, then your employment contract must be verified and authenticated by POLO Malaysia.
4. How can I verify my contract if I am in the Philippines?
You can ask your employer or other authorized personnel to verify your contract there. Just provide the needed requirements for verification of your employment contract and the authorization letter.
Summary
Obtaining OEC is not a tough process. You just have to know the ins and outs of the procedure so that the next time you apply for it, you don't have to read the guidelines again. Remember that the OEC will act as your legal documentation for returning to and working in another country. You have to devote your time to obtain this document.
For your information, POLO has a special lane for the OEC. According to the Philippine Overseas Labor Office (POLO), this is part of the Embassy's ongoing efforts to improve its services. The POLO has designated a computer accessible in its office to serve as a "special lane" for those who are required to get Overseas Employment Certificates (OECs) but do not have sufficient IT skills. This can be likewise used by those who need the document for emergency travel.
Contact Information
Philippine Overseas Labor Office – Malaysia
Address: Philippine Embassy, No. 1 Changkat Kia Peng, 50450 Kuala Lumpur, Malaysia
Office Hours: Monday to Friday (9:00 am – 4:00 pm) except Philippine and Malaysian holidays
Telephone Nos. : +(603) 2148 4233
Emergency No. : +(6017) 347 5487 (for non-office hours, weekends, and holidays)
Fax No. : +(603) 2148 3576
Website: http://www.philembassykl.org.my/
Facebook Page: https://www.facebook.com/PHinMalaysia
Google Map
If you are going to POLO Malaysia, here's a map guide that you can use. The POLO-OWWA is located at the Philippine Embassy in Kuala Lumpur, Malaysia.