Overseas Filipino Workers in Macau who wish to take a holiday in the Philippines for whatever reason must first get an Overseas Employment Certificate (OEC) at the POLO office or other accredited POEA processing center. You must have your OEC with you at all times if you want to return to Macau for work purposes after your vacation. Please be advised on the process for Filipinos abroad on getting the Balik Manggagawa Certificate.
Also Read: How to Book OWWA Appointment in Macau
This post will assist you in obtaining your OEC if you are planning to take a vacation in the Philippines and then return to Macau to resume your job. We discussed here the qualifications and requirements, as well the online process of appointment setting.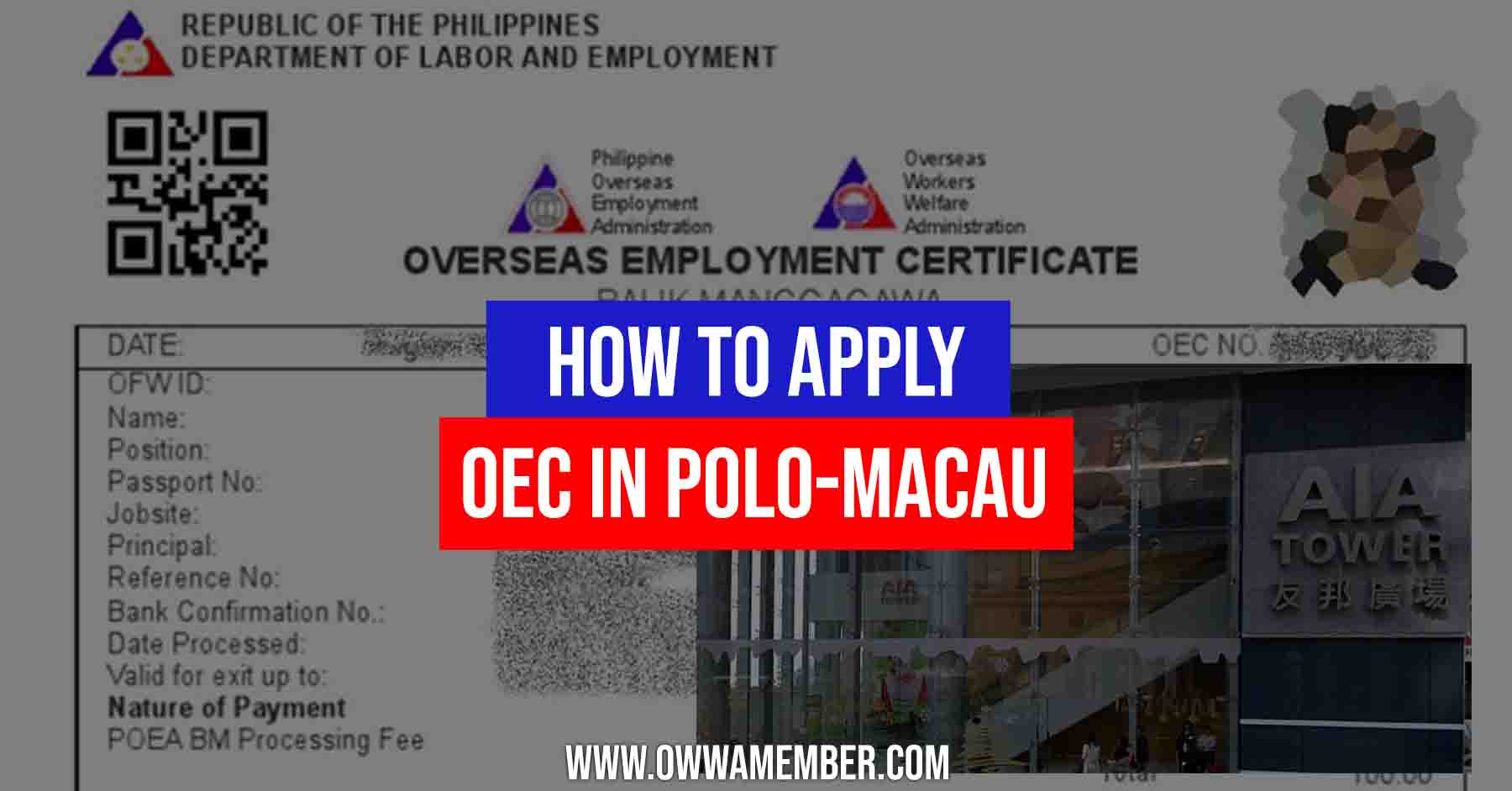 What is OEC Balik Manggagawa Certificate?
The OEC is a certificate given to OFWs who are leaving the country (new hires and Balik Manggagawa or worker-on-leave). You can get OEC at regional and satellite offices abroad where there are no capabilities for generating an e-receipt yet and when the computer system in the main office is not functioning properly.
As additional information, an OEC is an electronic-generated receipt sent to departing OFWs (new hires/BM) when they pay the required fees of the POEA. It integrates the collection of the POEA processing fee, OWWA membership insurance, and Philhealth premium into a single document.
When you have your OEC, it exempts you from paying the airport terminal fees and travel tax. This is a huge saving, especially for those who are tight on budget. Your OEC serves as an e-receipt so that you don't have to pay the fees and impliedly let the immigration know that you are legally documented. With this document, you are assured that you are covered by the government whatever happens.
Also, OEC is valid for only sixty (60) days from the date of its issuance.
Requirements
These are the requirements that the OFW/BM shall provide:
Original valid passport
OWWA membership payment official receipt
Valid work permit, re-entry visa, or other likewise document
Copy of printed e-ticket or plane ticket
Others, as may be required – any documentation demonstrating that the OFW is returning to the same employer such as company ID, employment certificate, payslip, etc. for WOL/BMs who have just received their documents and visas, or if the OFW does not have a record on file with the POEA.
Qualifications
These are the qualifications of an OFW who needs an OEC from POLO Macau:
OFWs on leave/vacation or returning to the same employer after a set period of contract or to the same employer who has moved to a different worksite
OFWs who have partly served their current employer
Undocumented OFWs such as tourists, dependents, students, or businessmen who became OFWs and have served the same employer
Cost of OEC in Macau
The amount of an OEC is:
P100.00 POEA processing fee
US$25.00 or it's equivalent to the OWWA membership fee
P900.00 Philhealth premium
A worker on leave or BM who has a valid OWWA membership and Philhealth coverage will only be required to pay a P100.00 processing fee to the POEA/POLO.
How to Schedule OEC online appointment in POLO – Macau?
In general, all OFWs who do not have a record yet in the POEA database will be required to register at the POEA Online Processing System for Balik-Manggagawa, also known as POPS-BaM, and schedule a one-time appointment to obtain their Overseas Employment Certificates.
OECs can be processed at the POLO offices that are closest to your location. OFWs who already processed their OECs once can re-apply for OEC or get an exemption online for their next planned vacation instead of having to go through the process the second time.
How to register an account at POPS-BaM?
Follow these steps to register.
Go to your browser and type https://onlineservices.dmw.gov.ph/OnlineServices/POEAOnline.aspx in the URL
Click on "Let's Go"
Click on "Register" for new users (log in if you already have an account )
Then click "I accept the terms of use."
Fill out the required information and then click register. (a message will display indicating that your registration was "Successful").
Log in to the email address you provided when you registered (there is a message containing your "temporary password" ")
Return to the link provided in Step 1 and log in using the registered email address, then click "next."
Use the temporary password sent to your email, then click "log in."
Set the password you want.
Update your profile by clicking "My Profile," after completing your profile, click "Update Profile" on the upper right side of the page
Add your Identification and Beneficiary
Attach profile picture and passport
How to set an appointment at POPS-BaM?
Follow these steps for setting an appointment
Log in to your POPS-BaM account (onlineservices.dmw.gov.ph/OnlineServices/POEAOnline.aspx)
Click "Balik-Manggagawa," located at your top right-hand side.
Input your next flight date, then click "next."
You will be asked if you are returning BM to the same employer (if yes, you can print your OEC, if no, proceed to step 5)
Accomplish your contact details with true and correct information to the best of your knowledge.
After clicking "Submit," you can select your desired POLO location near your place.
Then, choose an available Appointment Schedule.
You now have an Appointment with POLO. You can print or cancel your appointment.
After completing an appointment at POLO Macau for the purpose of obtaining an OEC, you can proceed to the Philippine Consulate in Macau SAR on the same day and at the same time as the date and time specified on your online appointment sheet.
How to Apply for OEC at POLO-Macau
Visit POLO Macau on the day and at the time specified in your appointment schedule.
Please make sure to bring the important documents listed above and submit them to the POLO Macau reception desk where you will then present the documents that have been requested.
Following that, the receptionist will hand you forms to complete and will walk you through the rest of the process.
Pay all of the required fees and wait for the processor's approval of your OEC, which can also be printed online using the POPS-BaM application.
For more updates regarding this process, you may visit the official website of POLO Macau.
How to Apply for OEC Exemption in Macau
An OFW who qualifies for OEC Exemption is exempt from obtaining an OEC. If you are exempted, you can simply print off or take a screenshot of the OEC exemption number and submit it to a Bureau of Immigration officer at the Philippine airport where you will be assisted. As a result, the worker is exempt from paying the OEC processing fee, airport terminal fees, and travel tax, among other things.
The BM employee must log in to their POPS-BaM account at least 24 hours before the scheduled return date to the employer. Once this is confirmed, the system will determine whether or not the employee is already excluded from getting OEC. The system will let you know if there's still a need for you to obtain the document.
The OEC exemption is not suitable for first-time vacationers to the Philippines who wish to have a holiday. Balik-Manggawa employees who have previously obtained an OEC and who want to return to the same country and with the same employer/company are eligible for this program.
Video: Going to Philippine Consulate in Macau
Check out this video as shared by a fellow kabayan where he shows how to get to the Philippine Consulate in Macau. The POLO and OWWA office is located in the same building as the PCG Macau:
Frequently Asked Questions
Below are some commonly asked questions and answers regarding the POLO-Macau office for OEC Balik Manggagawa application:
1. What happens if the bm e-receipt/OEC is lost?
Another e-receipt / OEC will not replace a BM e-receipt / OEC that has been lost. Upon filing an Affidavit of Loss, a worker who has misplaced his or her BM e-receipt/OEC will be granted a certification stating the particulars of the e-receipt/OEC that was previously issued to him or her, based on the information available in the POEA/POLO records.
However, unless otherwise permitted by the concerned offices/entities, this certification shall serve as travel exit clearance for the worker's departure to return to his/her job site in lieu of the lost e-receipt/OEC. This certification shall not be honored for the purpose of travel tax and airport terminal fee exemption unless otherwise permitted by the concerned offices/entities.
2. What happens if the BM e-receipt/OEC expires before it can be used?
BM electronic receipts/operational exit clearances that have expired are only replaceable upon submission of all original and copies of the expired exit clearance, together with payment of the mandatory BM processing charge of PHp100.00.
In the event that the worker's PhilHealth and OWWA memberships have already expired at the time of replacement, payment for the renewal of OWWA and PhilHealth memberships will also be needed. Requests for replacement of expired e-receipts/OECs will only be accepted if submitted within one (1) month of the date of expiration. The application will be regarded as a new request for processing if it does not meet all of the conditions for processing and issuing of BM e-receipt/OEC, in which case it will be rejected.
3. What about working vacationers who left as tourists and whose contracts were not subsequently verified and registered with the polo on the job site?
Undocumented/irregular employees will be documented as Balik-Manggagawa if they return to the same employer and meet all of the required documentation criteria and pay the required costs for Balik Manggagawa processing, which the government sets. They will be noted as (BM) New Hire if they do not comply.
4. What about vacationing workers who changed employers on-site?
If their employment contracts with their new employers were not later verified and recorded with the POLO on-site, vacationing employees who changed employment would not be reported as Balik-Manggagawa. They need to verify their employment contract at the POLO on-site first.
Summary
As an OFW in Macau, you need to know that OEC is important as part of your documents while working. OEC can help you reduce your expenses while returning to your job abroad. Also, it serves as the legal way of documenting your work abroad. Without your OEC, it would be a hassle for you to move around countries. So, to make your OFW life more convenient, comply with the guidelines.
Contact Information
Philippine Overseas Labor Office – Macau
Address: Units 1404-1406, 14/F AIA Tower Avenida Comercial de Macau SAR China
Office hours: SUNDAY-THURSDAY (except holidays), 9:00AM-*5:00PM *Processing cut-off time until 4:00 pm only
Telephone: (+853) 2875-7111 | (+853) 6698-1900 (Emergency Hotline)
Duty Officer/OWWA/OEC Hotline: (+853)62587887
E-mail Address: polomacau@yahoo.com
Website: https://macaupcg.dfa.gov.ph/
Facebook Pages: https://www.facebook.com/PoloOwwaPhilcongenMacau/, https://www.facebook.com/PHinMacau
Google Map Location
In case you need to go to POLO-Macau, here's a map guide you can follow. The POLO office is also in the PCG Macau office: