To all Filipinos based in Malaysia who plan to keep their OWWA membership active can visit the Philippine Overseas Labor Office (POLO) in Kuala Lumpur to renew their account. The process of renewing OWWA account can be done by scheduling an appointment for OEC. Once you are at the POLO-office for the OEC application, you may also renew your OWWA. Please follow the guidelines below on how to schedule an appointment and also renew OWWA membership in Malaysia.
The Overseas Workers Welfare Administration (OWWA) works to protect and promote the well-being of all overseas Filipino workers (OFWs) and their families both at work and at home in the Philippines. The agency's dual responsibility is to deliver important social services and benefits while also ensuring capital development and fund viability. The membership fee charge is RM 120.00, and you must renew your membership every two years.
Members of OWWA should keep their status active. Renew your OWWA membership as soon as possible to prevent losing your benefits. As an OFW, you will enjoy many benefits as an active member.  OFWs can renew their membership in the OWWA by scheduling an appointment. Due to the pandemic, it is necessary to make an appointment before visiting the OWWA office.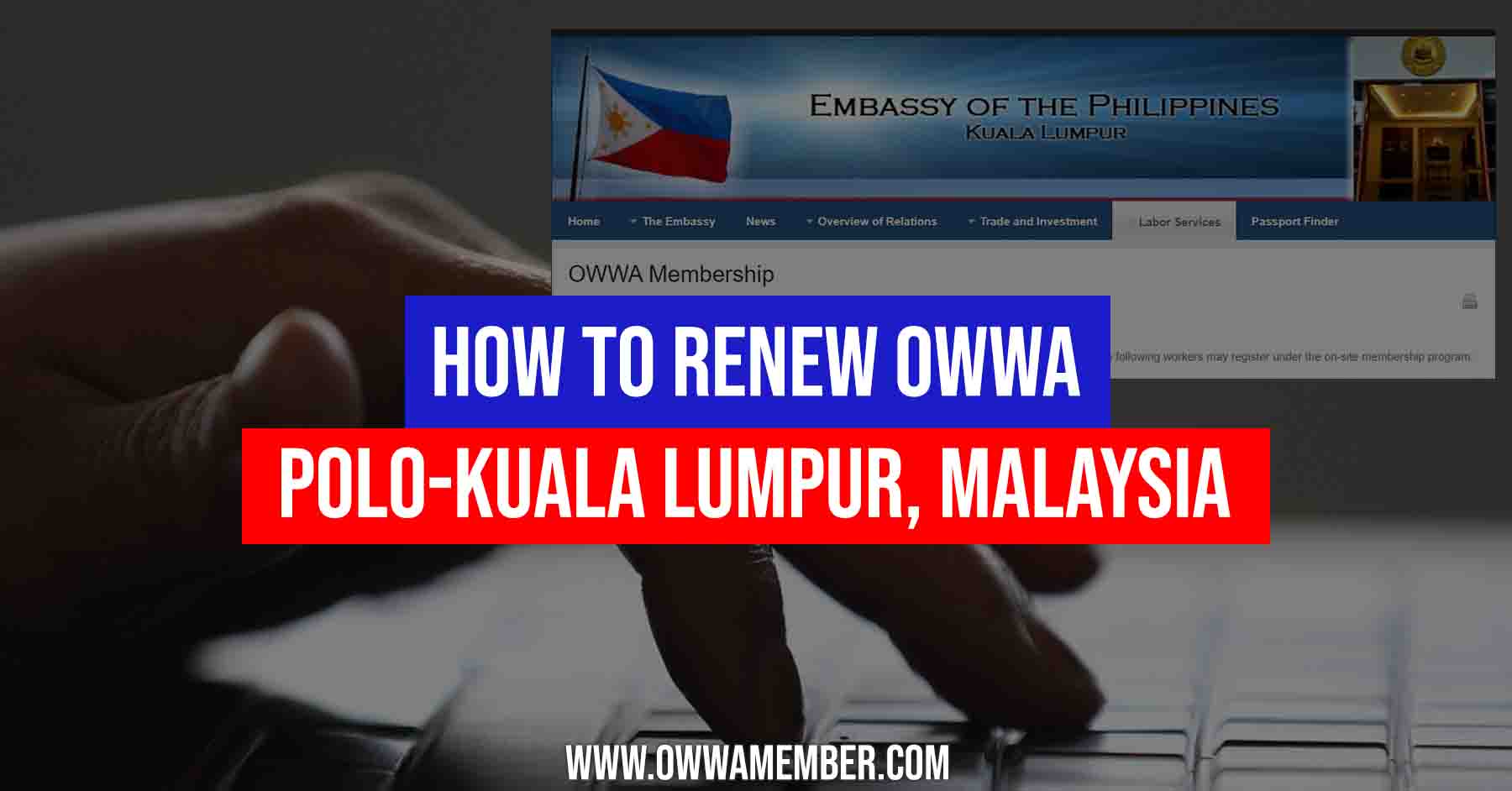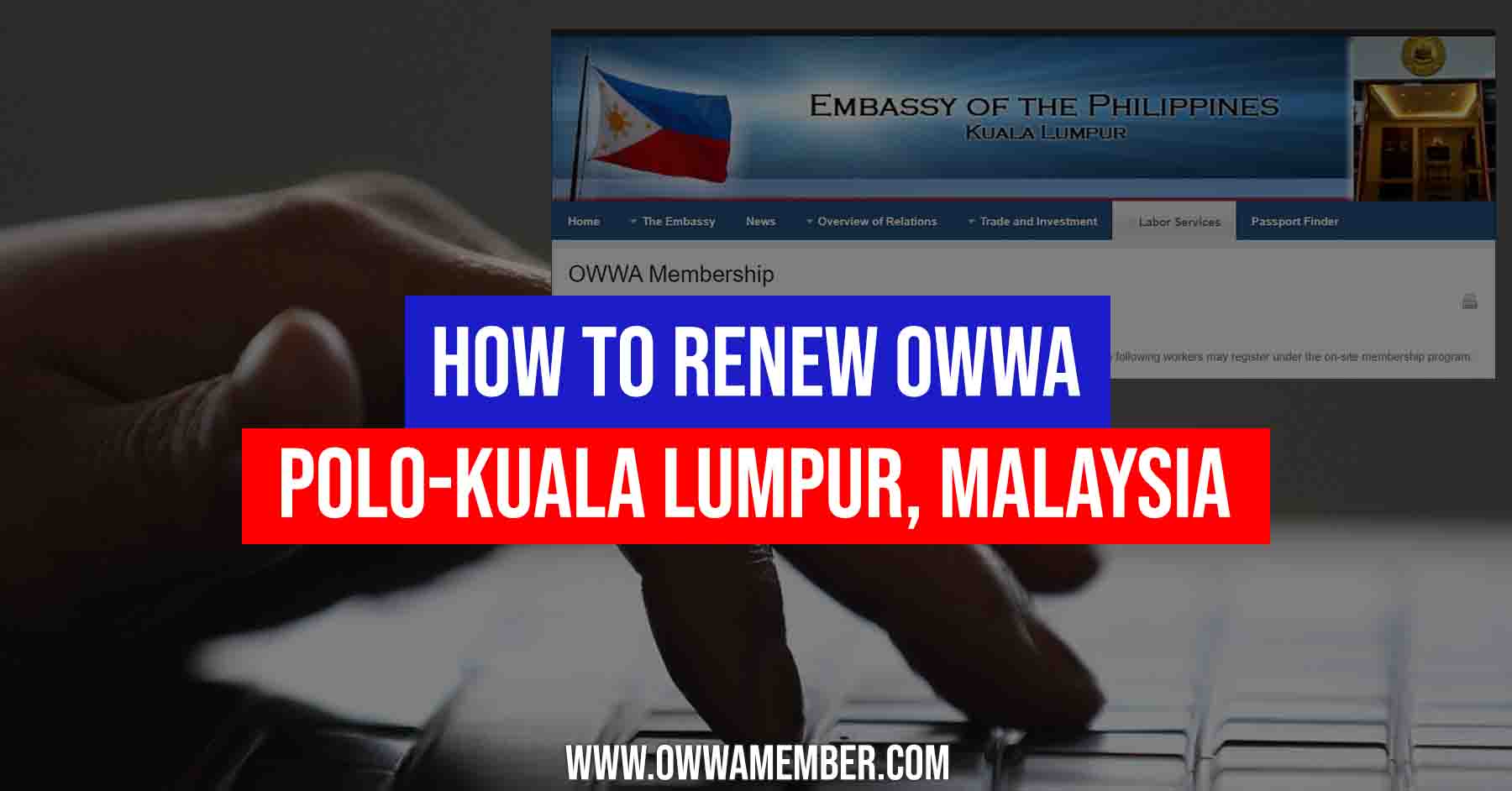 Amount of Contribution
OWWA membership dues will be RM 120.00 or less, based on a monthly average equivalent rate of 25 US Dollars.
Membership Validity
Regardless of the length of the contract, the change in employer, location of employment, or recruitment agency, each contribution is valid for two (2) years. After that, OWWA membership must be renewed if proof of work is supplied.
Requirements in POLO-OWWA Kuala Lumpur, Malaysia
Please see the following requirements for OWWA membership in Malaysia:
Completed OWWA OFW Information Sheet
Complete declaration of intent to join OWWA.
Valid passport
Work permit
Any document that proves employment, such as a signed employment contract, a certificate of employment, a company ID, a paystub, and so on.
Valid Philippine passport or sworn citizenship re-acquisition petition with oath of loyalty certified by the Philippine Embassy/Consulate (for natural born citizens who acquired dual citizenship).
Reminder After you receive your Overseas Employment Certificate (OEC), you can renew your OWWA membership.
How to Schedule OWWA Appointment in Malaysia
Please be advised that you can renew your OWWA membership after you have made an appointment for OEC application. You may book an appointment for OEC and then process the OWWA when you are at the PH Embassy in Kuala Lumpur. Here are the steps for OWWA appointment in Malaysia:
Step 1: Visit the website of Kuala Lumpur, Malaysia.
Step 2: Select the "Click here to schedule an appointment" option from the "OFW Corner" area.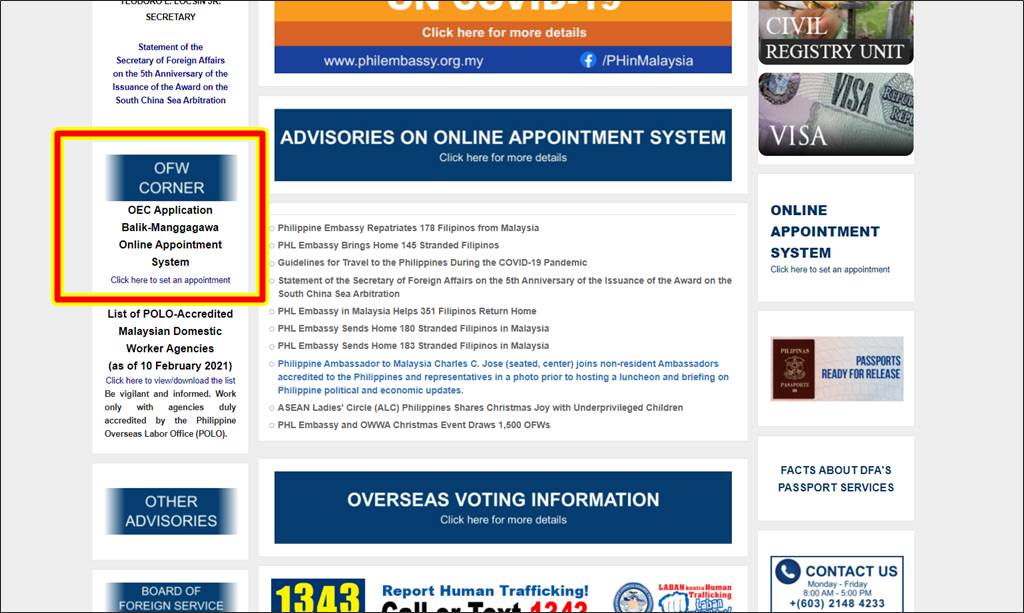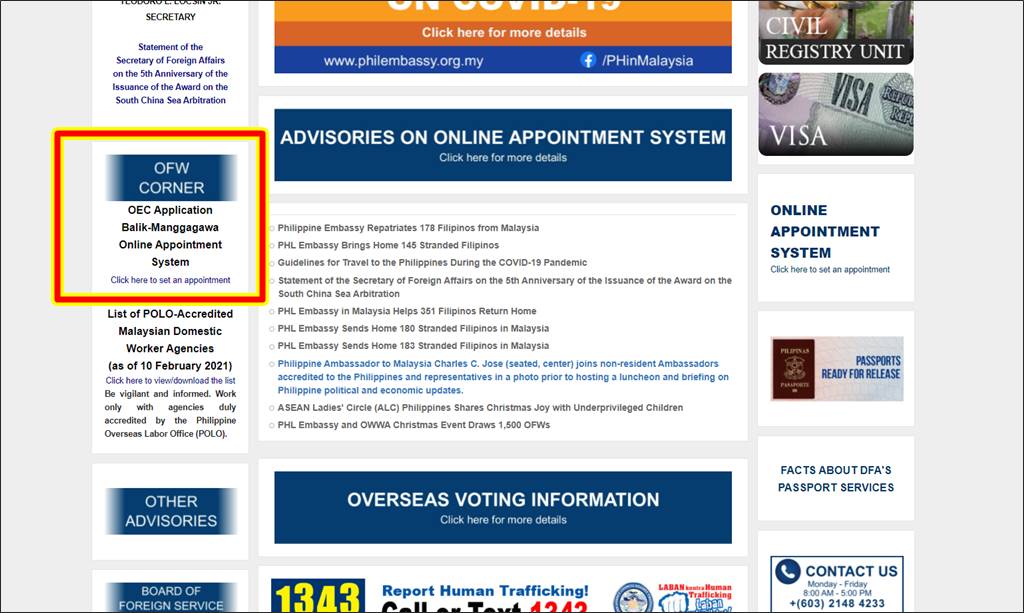 Step 3: If you're a new user, log in with your personal email address and click the Sign Me Up button. To confirm your registration, go to your email account and click the confirmation link.
Step 4: Log in as a person who has already registered. Fill in your most recent OEC number. Set an Online Appointment if no record is found.
Step 5: Update your Personal Data, Contract Particulars, and Beneficiaries as needed if a record is identified.
Step 6: For an online assessment, click Acquire OEC or Exemption. Enter the date of your travel and check that you are returning to the same company and jobsite.
Step 7: If you return to the same employer and jobsite, the system will display a notification confirming that you are exempt from obtaining an OEC and paying the processing cost.
Step 8: If you don't, you'll be taken to the Appointment Page. Choose your preferred POEA office and set up a time for the OEC and payment to be processed.
Step 9: You will receive an email confirmation after checking your appointment date. On the day of your appointment, print the appointment date confirmation and bring it to the OWWA office.
How to Renew OWWA Membership in Malaysia
During the day of your OEC appointment or in case the walk-in process is available at the OWWA on-site, please follow the simple steps to get your OWWA active at the POLO office:
Step 1: Present your appointment for entry (as applicable).
Step 2: Present your documents to the OWWA counter.
Step 3: Pay the OWWA fee.
Step 4: Collect your receipt. Your membership is valid for 2 years.
Important Reminders
Please do follow these important guidelines and reminders when you visit the POLO-Malaysia office when you renew your membership:
Please double-check that your requirements are accurate and complete. Requirements that are not full will not be handled.
For more information, see the Kuala Lumpur, Malaysia Embassy and Facebook pages.
Only applicants who have pre-booked an appointment are permitted in the embassy.
All applicants who have scheduled an appointment are encouraged to arrive at the embassy well dressed. Shorts, transparent clothing, or slippers are not recommended.
Video: Kuala Lumpur OWWA Membership Application
Please check out this video sharing details about the importance for OFWs to have life and health insurance policies through OWWA and other government agencies. In this video, they also share details about other Philippine government insurance agencies such as Philhealth. Please check out the video below:
Video: Filipino Renews OWWA Membership after getting OEC Appointment in Malaysia
Check out this video of an OFW working in Malaysia who shares his experience renewing his OWWA membership after making an OEC appointment. He renewed the OWWA together with his overseas employment certificate. Take note that this video was taken before pandemic time so policies may have changed given the health crisis:
Frequently Asked Questions
Here are some common questions and answers about renewing OWWA in Japan. Please be guided accordingly:
1. How much does the OWWA membership fee cost?
OWWA membership dues will be RM 120.00 or less, based on a monthly average equivalent rate of 25 US Dollars.
2. I have a few more questions; who should I contact?
You can contact the OWWA-Kuala Lumpur, Malaysia by sending an email or calling them at +(603) 9202 3756.
3. Can I directly go to the OWWA- Kuala Lumpur, Malaysia Office?
Based on the website of the PH Embassy in KL, the Embassy will only accept applicants who have scheduled an appointment so please be advised of this current process. In case they will open the walk-in process, you may apply for membership by then. Always stay updated with the FB page of the Embassy for more updates.
Contact Information
OWWA Kuala Lumpur
Address: 1, Jalan Changkat Kia Peng, Kuala Lumpur, 50450 Kuala Lumpur, Wilayah Persekutuan Kuala Lumpur, Malaysia
Telephone Number/s: OWWA: +(603) 9202 3756, +(6017) 347 5487 (for non-office hours, weekends and holidays)
Email: malaysia@owwa.gov.ph (OWWA), polo_kualalumpur@yahoo.com (POLO)
Website: http://www.philembassykl.org.my/
Facebook Page: https://www.facebook.com/PHinMalaysia
Google Map Location
Below is a map to the location of the POLO-OWWA office in Malaysia. The POLO-OWWA is located at the Philippine Embassy in Kuala Lumpur, Malaysia.