OFWs who are in New Zealand should be familiar with OECs. This legal document is needed when traveling back to the country where the OFW is working after a period of vacation in the Philippines. Without the OEC, you will not be permitted to depart the Philippines and fly back to New Zealand. Please follow the steps to apply for OEC in New Zealand via POLO-Wellington.
Also Read: How to Book OWWA Appointment in New Zealand
Whether this is your first time getting an OEC in POLO New Zealand or not, this guide can help you identify the right process, fees, and frequently asked questions. We hope this helps in making the process more convenient as you plan to go back to your employer in New Zealand.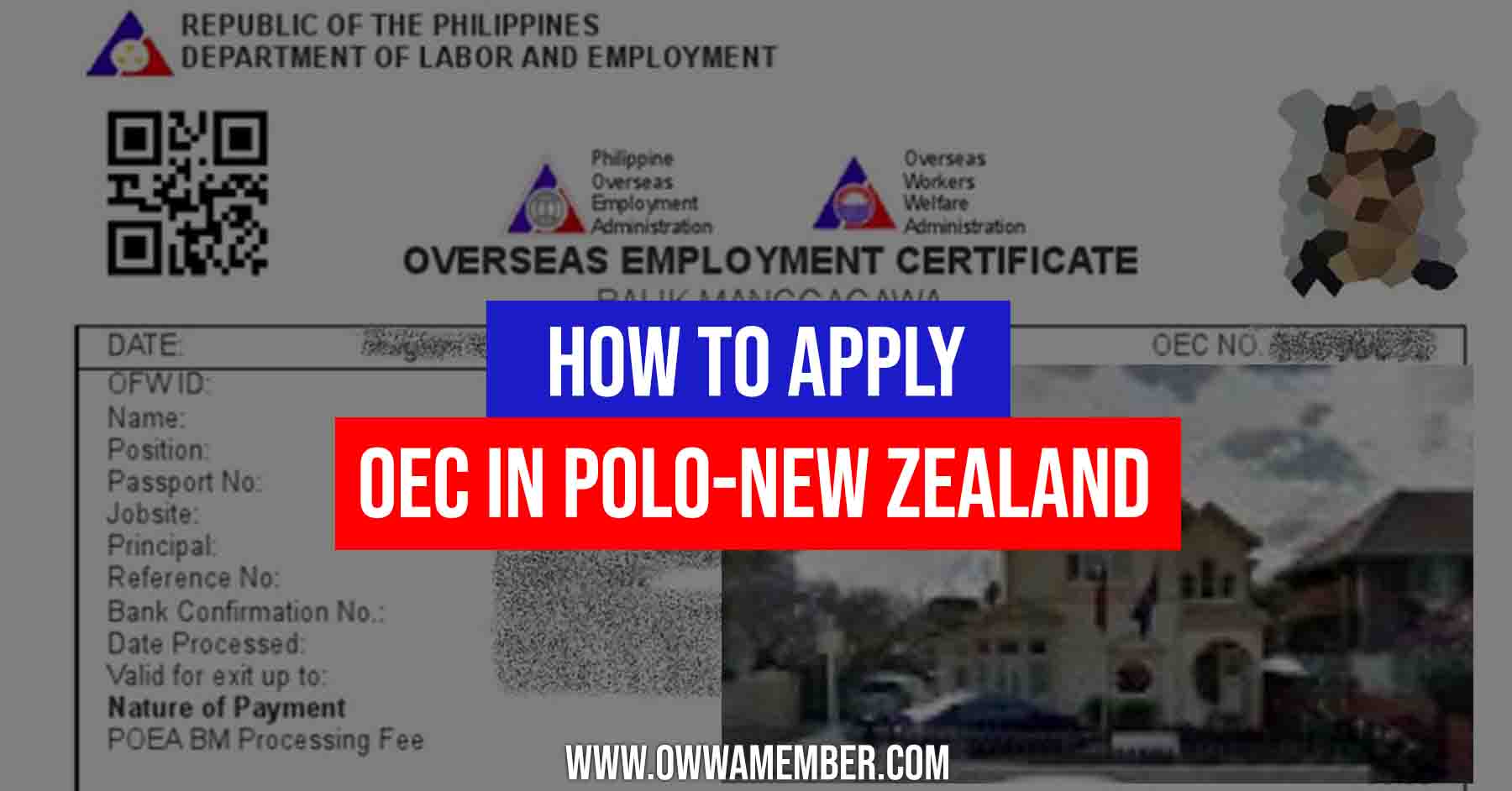 What is OEC (Balik Manggagawa) in New Zealand?
All OFWs are required to secure one OEC when returning to their work overseas. Issuance of OEC is under the Philippine Overseas Employment Administration's (POEA) rules and guidelines to properly document and protect Filipino workers abroad. The OEC is a document that proves the regularity of the recruitment and documentation of an OFW. It is also evidence that the OFW is also registered as a legal Filipino worker in the POEA database.
The OEC serves as the "exit clearance/pass" that must be presented or shown to the Bureau of Immigration (BI) officer at the Philippine airports. The OEC should not exceed the validity period of sixty (60) days from the issuance date. Failure to secure an OEC would be impossible for you to exit the Philippines and return to your employer abroad.
You will get the following benefits if you obtain your OEC:
No travel tax
Exempt from airport terminal fee
Spouse and dependents can avail of reduced travel tax
Requirements
You must obtain an Overseas Employment Certificate (OEC) from the Philippine Overseas Employment Administration (POEA) and show it at the immigration booth on the day of departure.
You must submit the following documents to POLO Wellington for verification before your OEC can be issued:
Your original Employment Contract in hard copy (signed by both employee and employer)
A printed copy of the Contract Addendum signed
If your employer refuses to sign the Addendum, you must produce proof of insurance covering repatriation and medical evacuation to the Philippines in the event of a worker's death or serious sickness.
A copy of a valid Work Visa
A copy of your passport that is valid for at least six (6) months prior to the date of travel
Most recent payslip
Sworn A brief statement describing how you were hired by your current company, the name of your previous employer, and whether your visa status has changed (for example, from visitor or student visa to work visa). [there is no requirement for notarial/notarization]
If you are sending the above documents via regular mail, you must include a pre-paid self-addressed return mail envelope with a signature required sticker. This address will be used to return the documents to you.
You may send the following documents to the following address:
Level 1, 286 Thorndon Quay, Pipitea, Wellington 6011, Philippines Overseas Labor Office (POLO Wellington).
Qualifications
Filipino workers in New Zealand, Samoa, Cook Islands, Fiji, and Tonga who are on vacation or are vacationing already in the Philippines should meet the following criteria to be eligible for an OEC:
Have an existing POEA record and are returning to the same employer, have changed employers on-site, or who came from another country.
Exit the Philippines on a non-working visa and find a job in their current place.
Cost of OEC in POLO-Wellington
There are fees when you get your OEC from POLO. The following are the costs of getting this certificate in New Zealand.
There is a verification fee of NZD 16.00
The OEC processing fee is PHP 100.00
How to Schedule OEC Online Appointment in POLO New Zealand
You must register to the POEA Online Processing System for Balik Manggagawa (POPs-BaM) https://onlineservices.dmw.gov.ph/onlineservices/poeaonline.aspx to set an appointment to secure your OEC at POLO or other POEA accredited branches.
If you have a previous POEA record, the system determines if you are eligible for an OEC. But first, you'll need to create an account to see if you qualify for an OEC or an OEC Exemption. If you don't already have a record and an account in the POPS-BaM, follow the instructions below.
Go to your browser and type https://onlineservices.dmw.gov.ph/OnlineServices/POEAOnline.aspx in the URL
Click on Let's Go
Click on "Register" for new users ( just log in if you already have an account )
Then click "I accept the terms of use."
Fill out the required information and then click register. (a message will display indicating that your registration was "Successful")
Log in to the email address you provided when you registered (there is a message containing your "temporary password")
Return to the link provided in Step 1 and login using the registered email address, then click "next."
Use the temporary password sent to your email, then click "log in."
Set the password you want
Update your profile by clicking "My Profile," after completing your profile, click "Update Profile" on the upper right side of the page
Add your Identification and Beneficiary
Attach profile picture and passport
The next step after registration is setting an appointment at any POLO place near you
Log in to your POPS-BaM account (https://onlineservices.dmw.gov.ph/OnlineServices/POEAOnline.aspx)
Click "Balik-Manggagawa," located at your top right-hand side.
Input your next flight date, and then click "next."
You will be asked if you are returning BM to the same employer (if yes, you can print your OEC, if no, proceed to step 5)
Accomplish your contract details with true and correct information to the best of your knowledge.
After clicking "Submit," select POLO.
Then choose an available Appointment Schedule.
You now have an Appointment with POLO. You can print or cancel your appointment.
How to Apply for OEC in New Zealand
Like the other POLO branches in the world, you need to set an appointment first using the POPS-BaM systems. This is one of the most convenient ways to process your OEC. After booking an appointment, you must go to the POLO on the date and time indicated at your scheduled appointment. But, make sure to check on the official website of POLO New Zealand if they accept face-to-face applications.
Once you're at POLO, direct to the reception desk and complete all the forms and requirements needed.
Pay for the fees. And wait for your OEC.
You can also use the POPS-BaM to get your OEC if you already have an existing record. This means that you don't have to go to POLO New Zealand anymore.
How to get OEC exemption?
If you are returning to the same workplace and employer, you are qualified to OEC Exemption. OEC exemption can prevent you from paying the processing fee for obtaining an OEC.
Log in to your POPS-BaM account and update your personal data, contract details and beneficiaries.  If you return to the same job and workplace, the system will display a message confirming that you are no longer needed to obtain an OEC at the POLO and pay the processing fee. If not, you will be directed to the Appointment Page. Select the POEA office where you want to process your OEC application.
This video gives helpful tips to Filipinos working abroad. You might want to check it out to gain more ideas on how you can obtain your OEC, requirements, and application steps in POLO-Wellington:
Frequently Asked Questions
Below are some commonly asked questions and answers regarding the POLO-New Zealand office for OEC Balik Manggagawa application:
1. Can I obtain OEC without an appointment?
If you are not eligible for online OEC exemption and processing, you will be required to utilize POPS-BaM. This is where you will schedule regular OEC processing on the date, time, and POEA branch or Philippine Overseas Labor Office of your choice (POLO).
2. Can I obtain OEC at the airport?
Only OFWs on a five-day or less emergency leave with a confirmed flight booking are eligible for an OEC at the airport on their departure date. If this is the case, you obtain an OEC at the NAIA, Cebu-Mactan, or Davao International Airports' Labor Assistance Centers (LACs).
3. Can I process OEC in the Philippines?
Overseas Filipino Workers (OFWs) currently staying in the Philippines can now process their OEC application online from the comfort of their homes, provided they have access to a personal computer or laptop with an internet connection. POEA has soft-launched a system known as the POPS-BaM or the POEA Online Processing System for Balik Manggagawa.
4. My OEC exemption expired, what will I do?
Replacement of expired OEC is permitted only within one (1) month of the date of expiration. Otherwise, the application will be treated as a new request for application and must comply with all processing and issuance requirements for OEC.
Summary
It's plain and easy to get your OEC if you are working in New Zealand. If you are qualified and have the requirements listed above with you, you won't have any problem obtaining your OEC. Don't forget to share this information with your family and friends who are in New Zealand too!
Contact Information
Philippine Overseas Labor Office – Wellington, New Zealand
Address: Level 1, 286 Thorndon Quay, Pipitea, Wellington 6011, New Zealand
Contact Number:  (00644) 260 1161
Email: polo.newzealand@philembassy.org.nz
Office Hours: 10:00 am to 3:00 pm Monday to Friday
1:00 pm to 4:00 pm on certain Sundays
Website: https://www.philembassy.org.nz/
Facebook Page: https://www.facebook.com/PHLinNZ
Closed during New Zealand and Philippine declared holidays. Please view the link https://booking.philembassy.org.nz to see which Sundays are open.
Google Map Location
Please check out the map guide to the location of the POLO-OWWA office in New Zealand below: