As an Overseas Filipino Worker in Qatar, you may be aware that possessing an Overseas Employment Certificate, or OEC, is important. It is a document you present to immigration authorities when you leave the Philippine airport. You will not be allowed to travel back to Doha if you do not have it. Please be guided on the details on how to get the OEC Balik Manggagawa certificate in POLO-Doha office.
The Philippine Overseas Labor Office in Doha is located on the 1st Floor of Al Jazeera Tower, just across City Centre Mall. Please be advised that an OEC appointment is required if you wish to process your OEC (Balik Manggagawa) as well as other services such as Individual Contract Verification, and OWWA Membership renewal.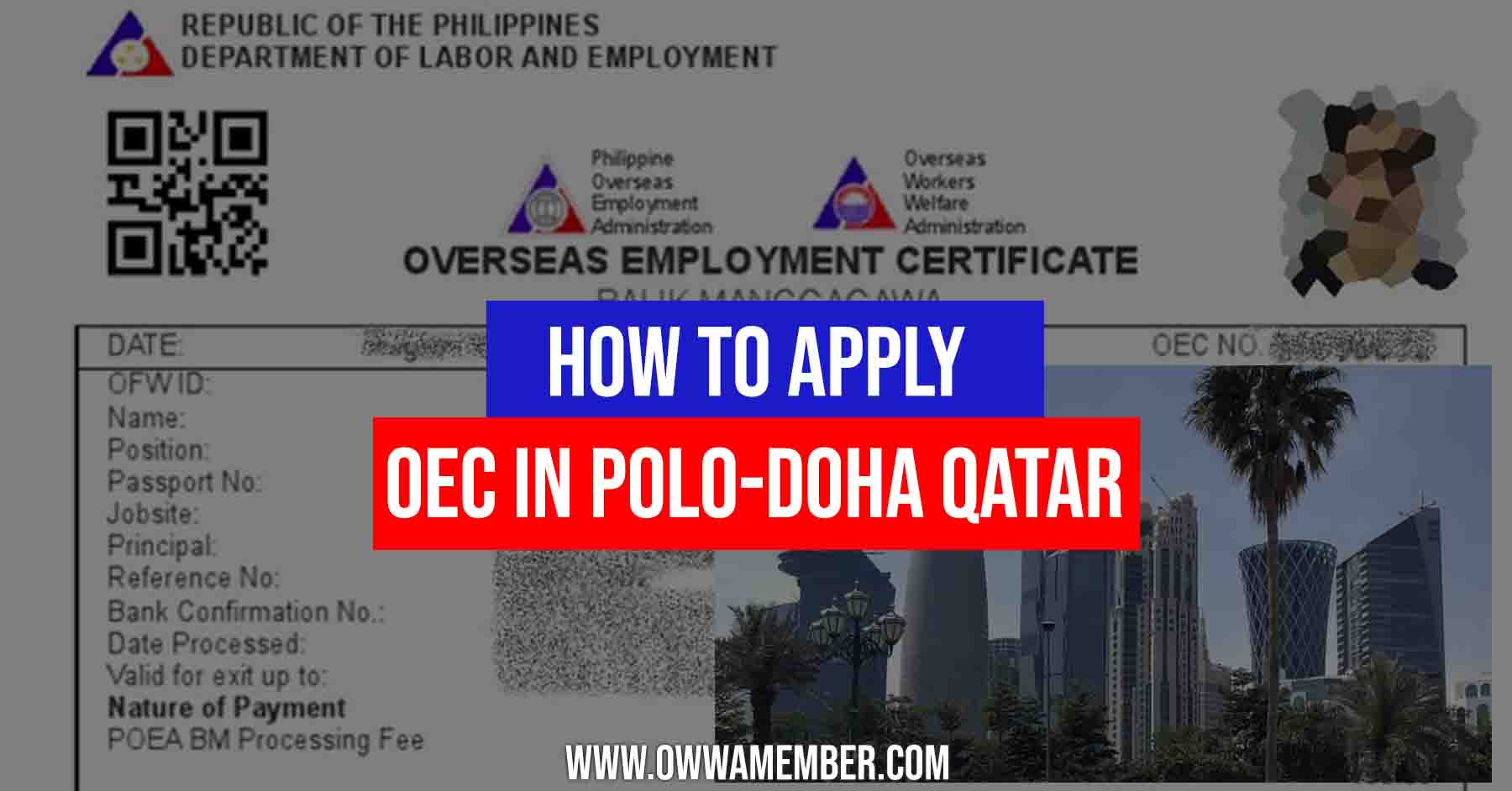 What is OEC (Balik Manggagawa)?
OEC or Overseas Employment Certificate (Balik Manggagawa) serves as the legal evidence to exit the Philippines. It is indicated in the rules and regulations of the Philippine Overseas Employment Administration (POEA).
OEC is a requirement to work abroad legally and to have a record with POEA that proves you are a bonafide OFW. OEC also prevents OFW from charges like travel taxes and airport terminal fees.
Requirements
For new applicants of OEC in Polo-Doha, Qatar, these are the requirements you need to prepare:
Original Passport and two (2) photocopies
Employer/Sponsor's Qatar ID – two (2) photocopies
POPS-BaM Online printed document/information – two (2) photocopies
Qatar ID (pataka) / Visa Stamp – two (2) photocopies
Validated Employment Contract – two (2) photocopies
Qualifications
The basic qualification or requirement needed when obtaining an OEC in POLO-Doha is if this is your first time working in the country and you haven't obtained an OEC before.
Also, if you are changing employers, you need to get your new OEC from the POLO-Doha office.
If you are returning worker abroad but with another employer and country, you need to possess a new OEC based on the rules of POEA. You can get your OEC through appointing online and schedule to the nearest Philippine consulate.
Another requirement is for OFWs deciding to work again abroad but in a different country and employer. The workers must obtain their OEC, but they are not exempted.
Cost of OEC-Balik Manggagawa
Also, consider these fees that you may encounter while processing your OEC at Doha, Qatar.
OEC (Balik Manggagawa) Fee – QAR 9 valid for 60 days
Other Fees
Contract Verification Fee – QAR 40
OWWA Membership Fee – QAR 93 valid for three years
PAG-IBIG Membership Fee – QAR 30 for three months premium/QAR 120 for 12 months premium
Please bring the exact amount for a faster transaction.
And, before going to Philippine Overseas Labor and Office in Doha, Qatar, make sure that you have your POPS-BaM appointment and arrived at the scheduled date.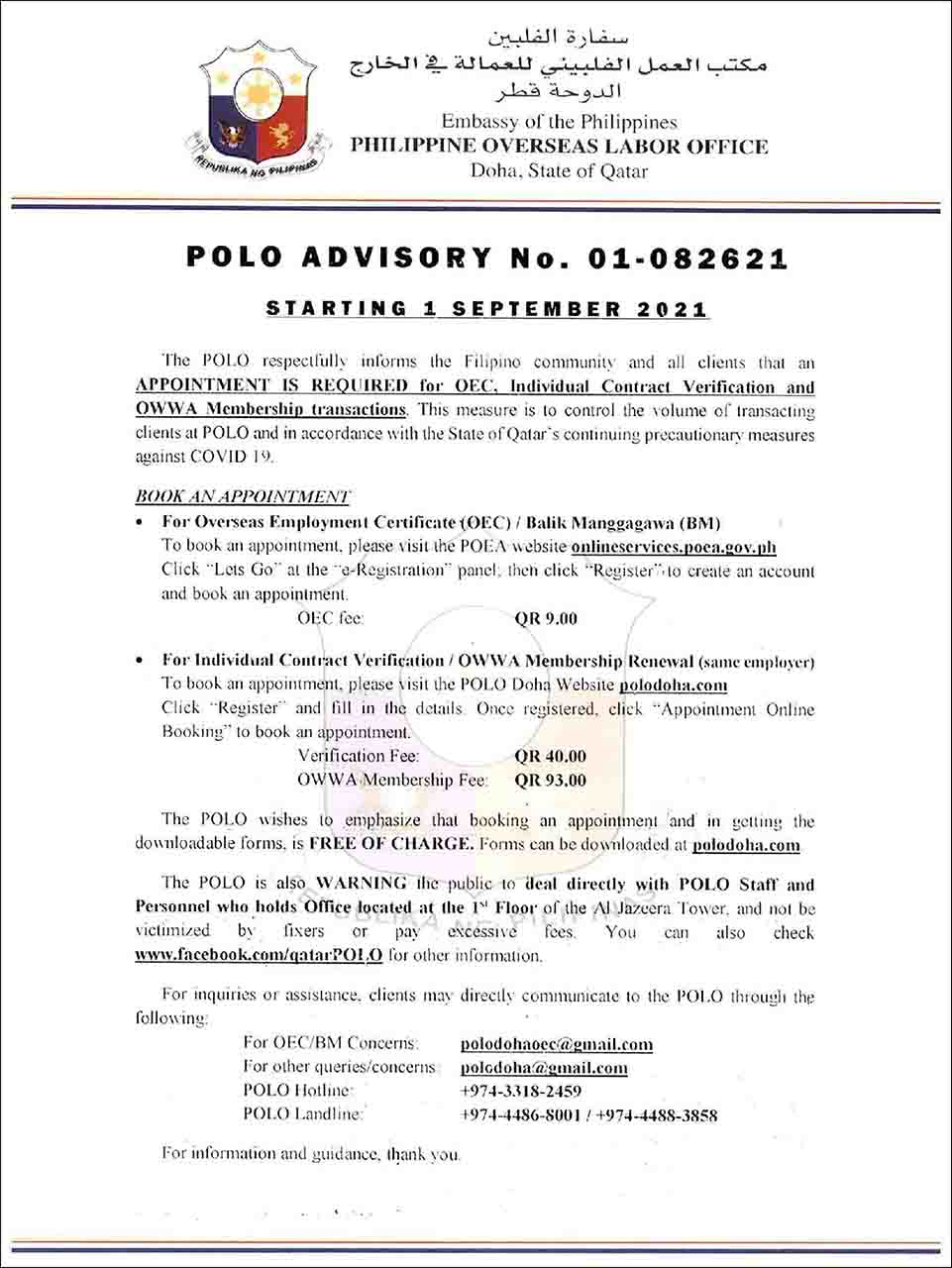 How to Register at POPS-BaM Online (For First Time Users)
If you do not have your POPS-BaM account yet, just follow the following steps to register and set an appointment.
Go to POEA Online Processing System for Balik-Manggagawa website or type https://onlineservices.dmw.gov.ph/OnlineServices/POEAOnline.aspx in the URL box of your browser.
Click "Let's Go."
Click "Register"
Click "I Accept Terms of Use"
Fill out all needed information, then click "Register" (a message notification should appear saying your registration was "Successful")
Open the email used in registration (look for the email containing your "Temporary Password")
Go back to the homepage and log in using the registered email.
Use the temporary password.
Set password
Update your profile (click "Update Profile," which can find on the upper right side of the page)
Add Identification and Beneficiary
Upload Profile Picture and Passport
How to Schedule an OEC Online Appointment in POLO-Qatar
After successful registration, set an appointment using POPS-BaM. These are the steps on how to set an appointment in POEA Online Processing System for Balik-Manggagawa:
Go to the POPS-BaM website and log in.
Click "Balik-Manggagawa" on the upper right side of the page.
Fill out the next flight date, click "next."
Returning Balik-Manggagawa to the same employer and workplace should click "yes" and print our OEC; if not, go to step 5.
Complete the information with correct details
Click "Submit"
Choose POLO Middle East, then Qatar, Doha, and select the available slot for the Appointment Schedule.
Print out (you can also cancel your appointment)
After setting an appointment on POPS-BaM, you can now go to the POLO Doha. Please ensure all the requirements above are completed and valid.
How to apply for OEC at POLO Doha, Qatar Office?
Please be guided on the steps and process when you already have an appointment and then you need to pay the OEC fee at the POLO Qatar office:
Present your Original Passport at the reception desk. The receptionist will provide you with the required forms to fill out, the list of requirements, and instructions on how to get to your room and how to proceed.
For contract verification, proceed to room number 1. Get a queue number and wait for your turn in the line to be called. While waiting, prepare needed requirements on the list. Pay QAR 40 as a Contract Verification Fee.
Proceed to the 2nd floor and go to the room for OWWA membership. Fill out the form and pay QAR 93 for the OWWA membership fee.
Your actual passport must be submitted with the completed documents from Step 1 at the reception desk. They charge QAR 9 for the OEC fee, and occasionally they don't give change for QR 10, so you can bring the exact amount only.
Proceed to the office of SSS/Pag-Ibig on the ground floor and fill out the needed form for Pag-Ibig Application/Verification. A minimum of one-quarter (3 months premium) will be required (QR 30); also, you can choose to pay a premium amount for one year (minimum of QAR 120 for 12 months).
You can now have your OEC if you follow those simple steps. Note that the OWWA membership is only valid for two years, and the OEC is for only 60 days.
How to get OEC Exemption in Doha, Qatar?
To process your OEC Exemption, it's easy if you are in Doha, Qatar, and you have an account with POPS-BaM already.
Overseas Filipino Workers going back to the same employer and workplace after vacation or leisure can use the so-called OEC exemption.
For Filipino workers returning to their same workplace and employer, you can get your OEC exemption online through POPS-BaM.
Video: Applying for an OEC in POLO Doha
Please follow the guide below as shared by the OFW on how you can apply for OEC Balik Manggagawa process in Doha, Qatar.
Frequently Asked Questions
Please check out these frequently asked questions and answers about the process of getting the overseas employment certificate if you are based in Doha, Qatar:
1. What if I entered Qatar using a tourist visa?
If you used Tourist, Family, or Business visa in entering Qatar, the office would give you an OFW Information sheet, and you are required to sign an affidavit. However, you won't be able to get an OEC yet.
2. How about if my contract is not yet verified?
The POLO would not grant an OEC unless your contract is verified, as it is one of the requirements to acquire an OEC. The office will guide and give you some information on how to verify your contract. Then, they will tell you to go back for contract verification.
3. Do I need to appoint online if I am going to POLO to verify my contract?
No. You can go through the POLO without an appointment online; just bring all the requirements for contract verification. Note that contract verification is needed for your OEC.
4. What if I am a BM who has an urgency to return abroad, but my OEC is over the 60 days validity?
You can't pass the Immigration officer at the airport unless you have a valid OEC. But you can use the POPS-BaM to get a new OEC for free.
5. What if I am an OFW not based in Qatar?
If you are based in other countries, please check the nearest POLO-OWWA office abroad for assistance.
Summary
For Filipino workers deciding to work abroad or first-time work abroad, Overseas Employment Certificate is a mandatory requirement that must be presented to the Bureau of Immigration inside the Philippine Airports. If an agency hires you, they will issue you an OEC as they are responsible for your work abroad. If you are still in the Philippines and going to Doha, Qatar, your OEC can be obtained from the POLO office in our country.
As easy as the steps above, you can enjoy more time with your family with the online process of getting your OEC if you are in the Philippines. OFWs in Doha, please allocate time to register and get an OEC because this certificate can free you from taxes and fees. Also, don't forget that you are registered to the Philippine government as a legal OFW. You should comply with the rules and regulations.
Contact Information
POLO-Doha, Qatar
Address: Ground Floor, Bldg. No. 24 Jawaan St. 808 Region 39 Al Saad, Doha, Qatar (Located behind the Al Saad Family Court and Al Saad Police Station)
Official website:  https://polodoha.com.ph
Contact number/s: (+974) 4488-3858 | 4486 8001 | 4486 1220 | 5054 0707 | 3003 2248 | 3030 4778 | 3160 4400
Office Hours: 8:00am – 5:00pm (no lunch breaks).
Facebook Page: https://facebook.com/qatarPOLO/
Google Map Location
To visit Polo in Doha, Qatar, you may follow the directions below. Take note they POLO Qatar has moved to a new office location: