To overseas Filipino workers working and living in Qatar, in order for you to renew your OWWA membership, you can visit the POLO-OWWA office located at Al Jazeera Tower in West Bay, Doha. Before heading to the office though, it is important that you can set up an appointment beforehand.
With the safety guidelines being strictly implemented, having a pre-booked appointment before going to the OWWA office is very important. For the Pinoys based in Qatar who wish to visit POLO-OWWA, whether to ask about OWWA programs and services or to renew their membership, must make an appointment in advance.
It is necessary to make a reservation because if you do not have an appointment confirmation, you may be refused admission to the POLO-OWWA in Qatar. Making an appointment will make the process go more smoothly and safely. Here we share the steps on how to make a booking appointment in the Doha POLO-OWWA office.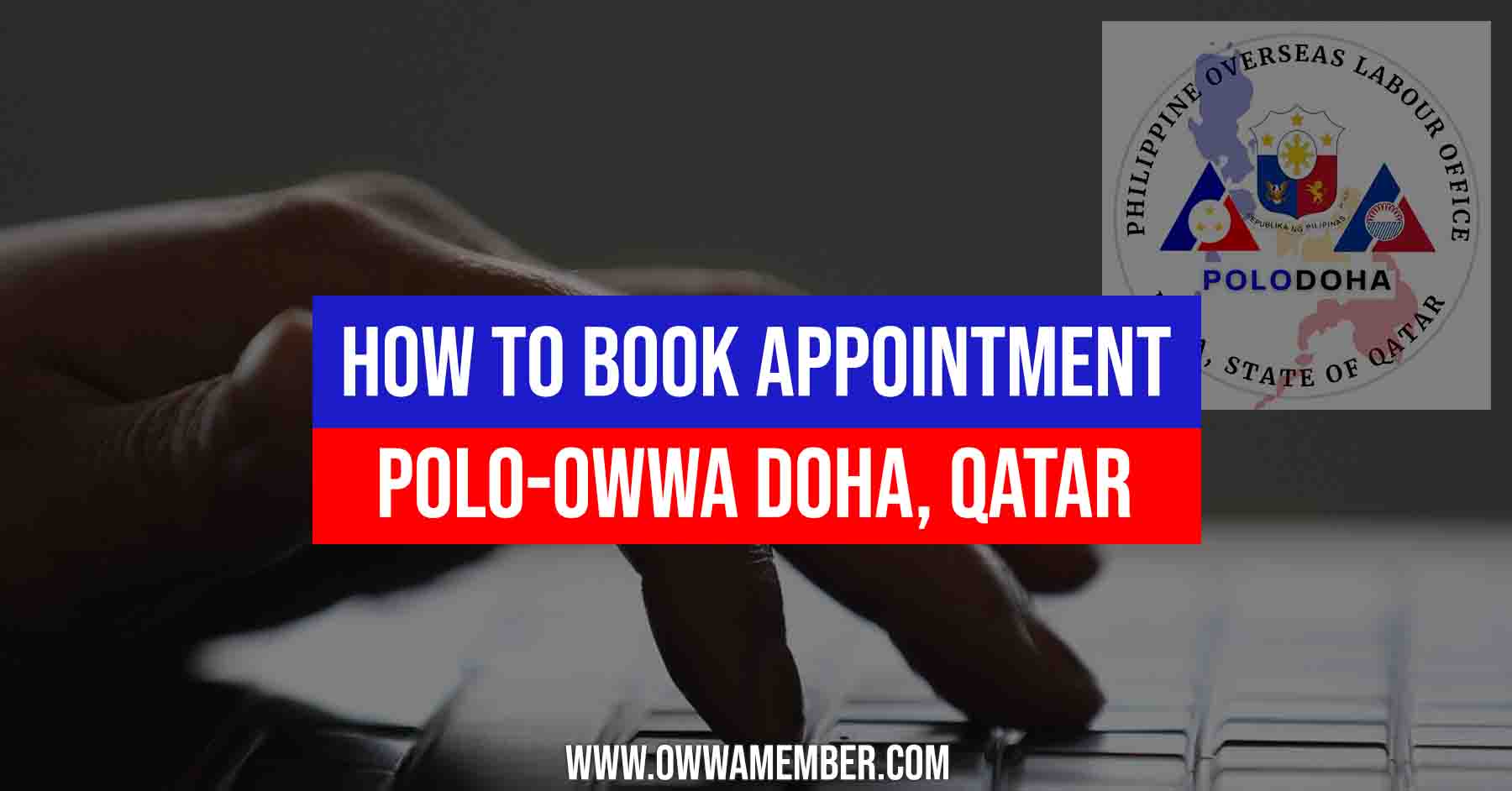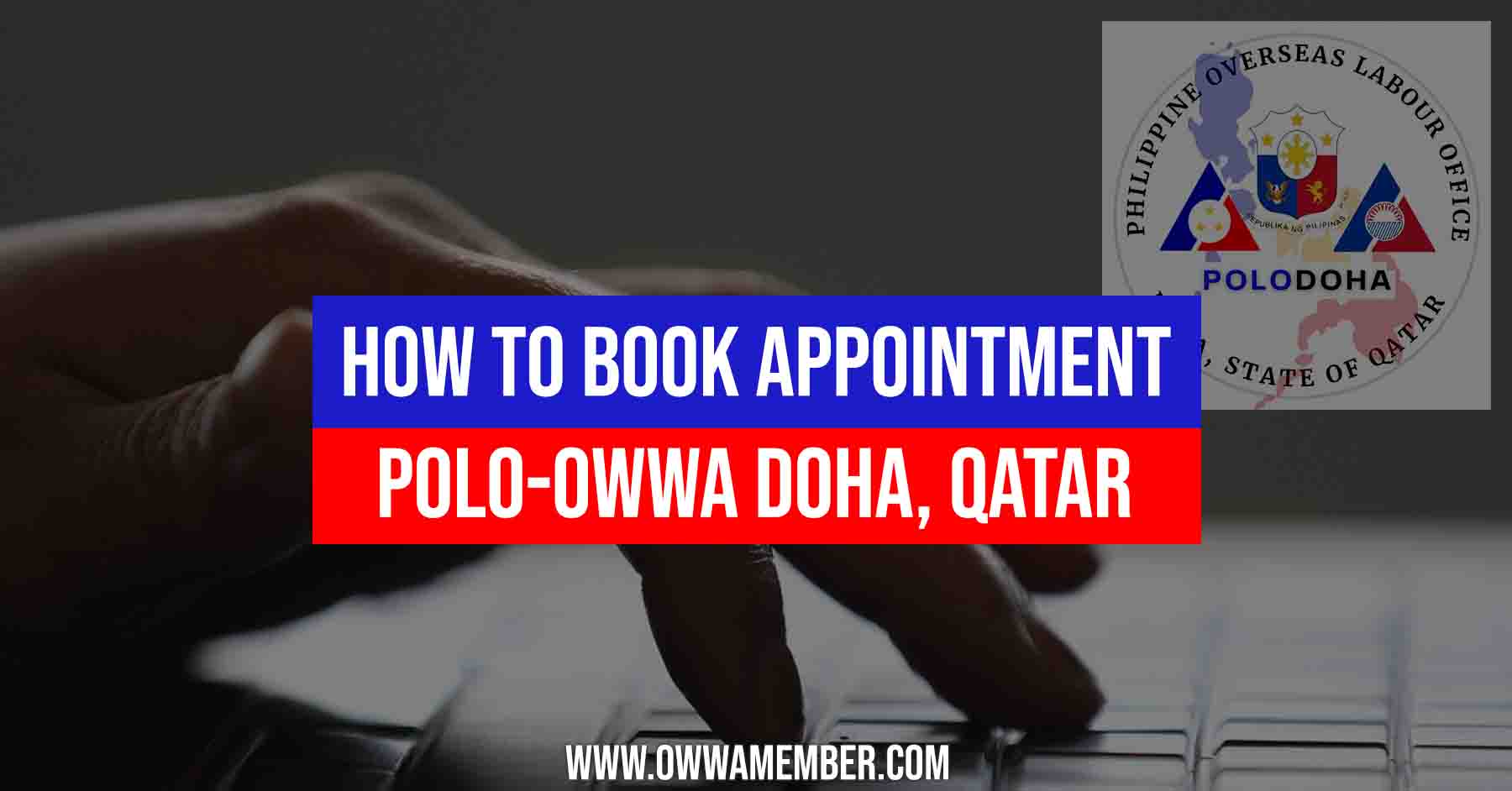 Amount of Contribution
The OWWA membership contribution costs Ninety Three Qatar Riyal (QAR 93).
Membership Validity
Membership is valid for two (2) years for each contribution, regardless of contract length, change of employer, job site, or recruitment agency. Following that, OWWA membership must be renewed if proof of active employment is presented.
Membership/Renewal Requirements
Here's a list of requirements needed if you are to renew your OWWA account:
2 copies of passport
2 copies of Qatar ID
2 copies of Contract with QR Code and Letter Head of the Company
2 copies of latest payslip
QR 40 for Contract Verification Fee
QR 93 for OWWA Membership Renewal Fee
How to Schedule POLO OWWA Appointment Online in Doha, Qatar
If you want to renew your OWWA membership while working (on your days off) you can go to POLO-OWWA Qatar. Here are the steps in order to get a scheduled appointment:
STEP 1: Open the link to book an appointment for Verification of Employment Contract for BM (Balik Manggagawa / Returning Workers) here – https://polodoha.com/index.php/register
STEP 2: Fill up all the needed personal information to register for Verification of Employment Contract for BM (Balik Manggagawa / Returning Workers)
Complete Name (First Name, Middle Name, Surname)
Username
Mobile Number
E-mail Address
Passport Number or QID
Password – Your password must be valid, with at least 6 characters containing lower and upper case letters, numbers, and special signs, and must have no spaces.
STEP 3: Click the "Sign Up" button after filling out all of the required personal information.
STEP 4: Check your e-mail inbox after signing up and open the message from the site to activate your account.
STEP 5: After you've activated your account, go to the URL and log in with your username and password. Login via https://polodoha.com/index.php/component/comprofiler/login
STEP 6: To continue, click the "Log in" option.
STEP 7: After logging in, select the contract verification option from the resource button.
STEP 8: After you've selected the contract verification option, go to "Services" and select whether you're a Company/Skilled Worker or a Household Worker (HSW).
STEP 9: Choose a date after you've decided on one of the services you'd like to book. To move to the following day/month, scroll right on the arrow. Green indicates that the slot is not full, while red indicates that the slot is completely full.
STEP 10: After you've filled in all of the required fields, click the "Submit" button.
STEP 11: The confirmation of your scheduled appointment will be sent to your e-mail address.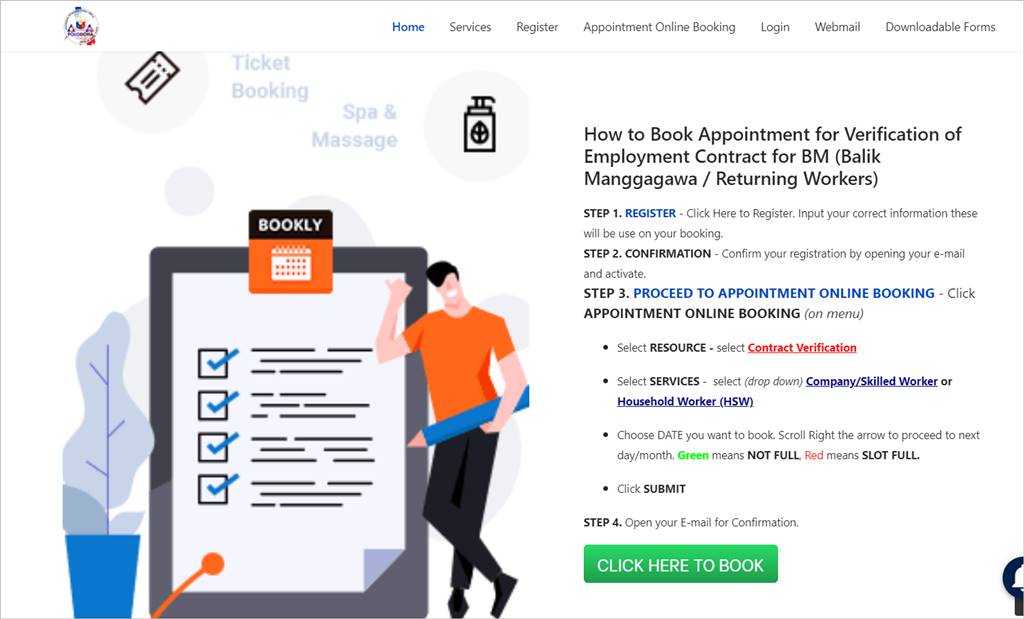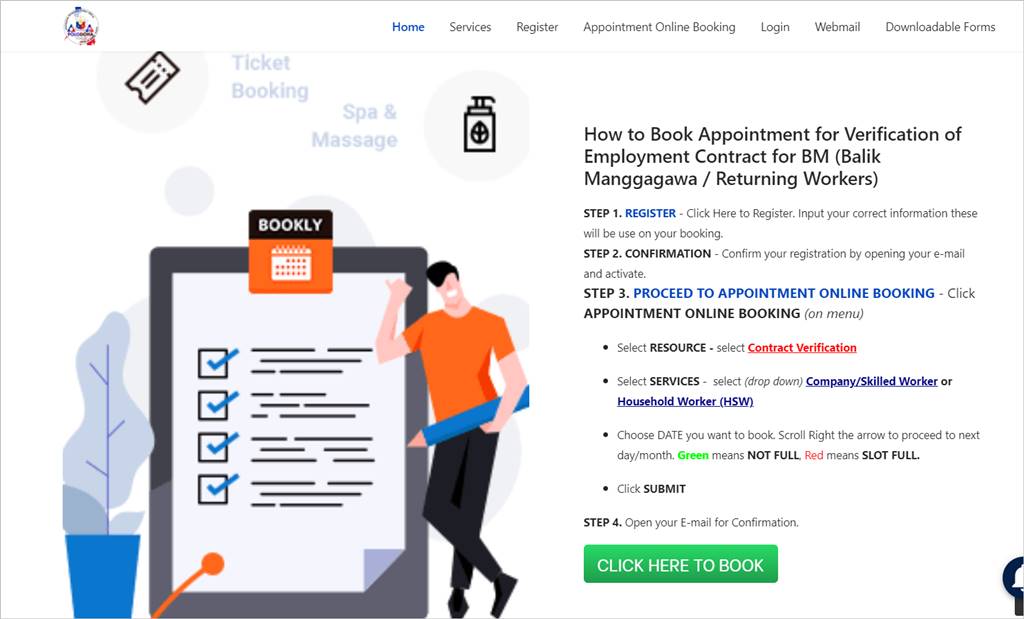 How to Pay OWWA Membership at POLO-Doha
After booking your appointment, you can then go to the POLO Doha office. Below are the steps on what you need to do during the day of your appointment.
Step 1. Take a screenshot of the scheduled confirmed appointment. Present it to the guard on duty at POLO-Doha office. Be advised that you will not be allowed entry without the booking.
Step 2. Bring your documents to the counter. Make sure they are complete.
Step 3. Pay the fees for the OWWA renewal. You will be given receipts of your payments.
Important Reminders in POLO Qatar
Please be guided on these important reminders on the day of your visit to POLO-OWWA in the Qatar office.
Please double-check that your requirements are accurate and full. Requirements that are not full will not be handled.
Before you go to POLO Qatar for your appointment, be sure to read and complete the requirements.
Please wear proper and decent attire when visiting the office. No sando, shorts, sleeveless, slippers, etc.
A reminder to Filipinos to try to go to the office earlier to avoid inconvenience. This is especially true for those who have cars so you can find a parking space during your visit.
Frequently Asked Questions
Here are some common questions and answers about the OWWA appointment process in POLO-OWWA office Doha, Qatar:
1. Is it possible to schedule an appointment if I am at work?
Yes, you can book an appointment and register via this link: https://polodoha.com/index.php/register
2. How much is the OWWA membership fee?
The OWWA membership contribution shall be Ninety-two Qatari Riyal (QAR 93). But there is also a payment for contract verification worth QAR 40.
3. Where is the location of POLO-OWWA Doha Qatar?
POLO-OWWA office is located on the 1st Floor of Al Jazeera Tower, Al Furat Street, Westbay Area. Just across City Centre Mall.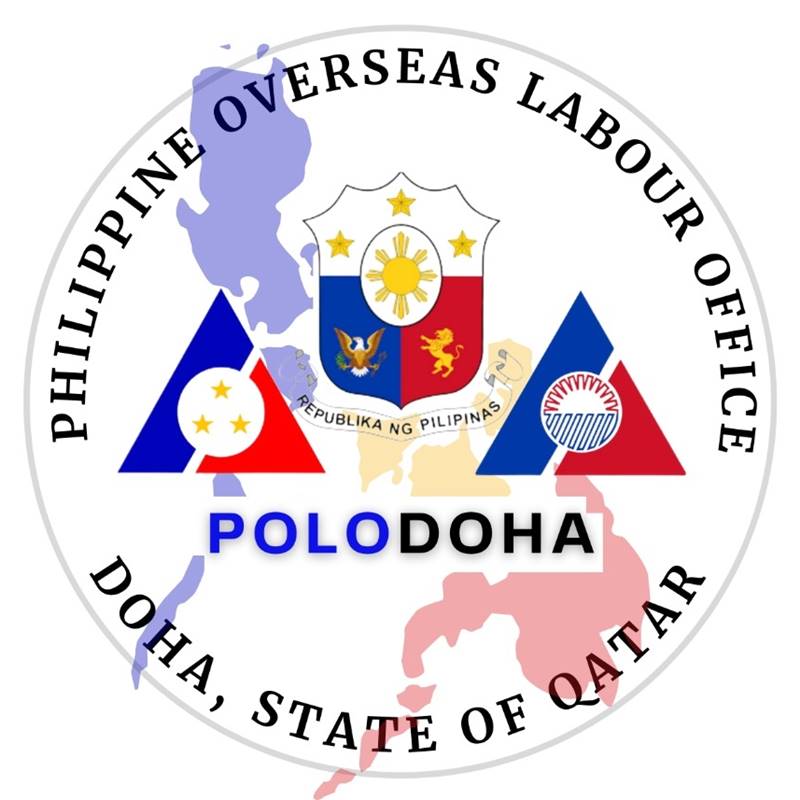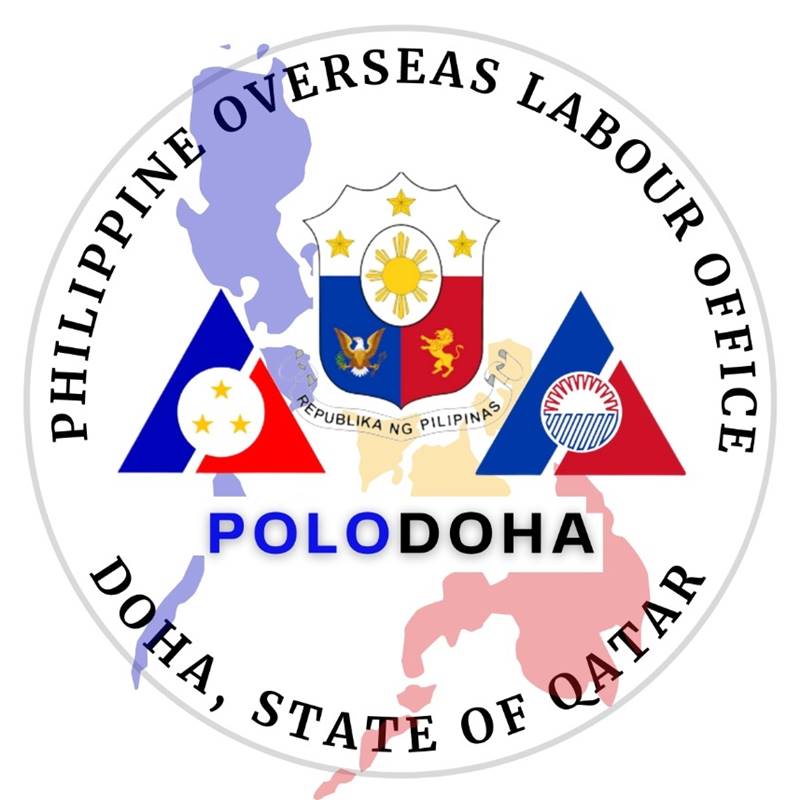 Video: How to Process Employment Contract Verification and OWWA Membership in Doha, Qatar
Check out this video made by a Filipina OFW on how she was able to have her OWWA verification and also renew her membership at the POLO Doha Office:
Video: OWWA Renewal in Doha with the Same Employer
Here's another video of another Filipina who shared her experience renewing her OWWA membership after 2 years but still working with the same employer. Based on this domestic worker's information, the requirements needed to get the OWWA renewal are the employment contract, passport, Qatar ID Residency Permit, Sponsor ID, Health Card, and Qatar Insurance. Take note that the process may be different for other employees in other industries.
Here's another recent video as shared by another OFW who shared his experience with the contract verification. He shares important details as well as how they waited for almost 2 hours at the office. So bring a lot of patience too!
Summary
As a reminder to everyone, it is very important to keep your OWWA account active to take advantage of the projects available. There are programs like livelihood programs, educational scholarship programs, and other forms of assistance that you can get in times of need. As an OFW, this is one of the welfare programs that you can utilize especially in these challenging times.
As an OFW in Qatar, please be guided on the process of OWWA renewal and activation. You may also download the OWWA mobile app, or just visit the OWWA membership website for more updates.
Also Read: How to Apply OWWA Tabang OFW Program
Contact Information
POLO Qatar
Office Hours: 8:00am – 5:00pm (no lunch breaks)
Address: Ground Floor, Bldg. No. 24 Jawaan St. 808 Region 39 Al Saad, Doha, Qatar (Located behind the Al Saad Family Court and Al Saad Police Station)
Telephone Number: +974 4486 1220
OWWA Hotline: 33182459 (for urgent concerns)
Email: polodoha@gmail.com
Website: https://polodoha.com/
Facebook Page: facebook.com/qatarPOLO
Google Map Location
To visit Polo in Doha, Qatar, you may follow the directions below. Take note they POLO Qatar has moved to a new office location: