For Filipinos working in Riyadh, Saudi Arabia, an OEC or Overseas Employment Certificate / Balik Manggagawa certificate is required if you go for a vacation in the Philippines. This is a document you need to present before going back to work abroad. You will not be permitted to travel if you do not possess this document. Here we share the details on how to get an OEC and OEC exemption for those based in this part of the Kingdom.
Also Read: How to Book OWWA Appointment in Riyadh, Saudi Arabia
The Philippine Overseas Labor Office aims to protect the rights and promote the welfare of Overseas Filipino Worker (OFW). While there is an online OEC application and application for OEC exemption, POLO-Riyadh can also help you with the process of OEC as well.
As an OFW, you must understand the importance of securing this document. This article will go through the requirements, qualifications, and benefits of obtaining this OEC in Saudi Arabia. We want you to know what to expect while visiting the Philippines and going back to Riyadh again to continue work.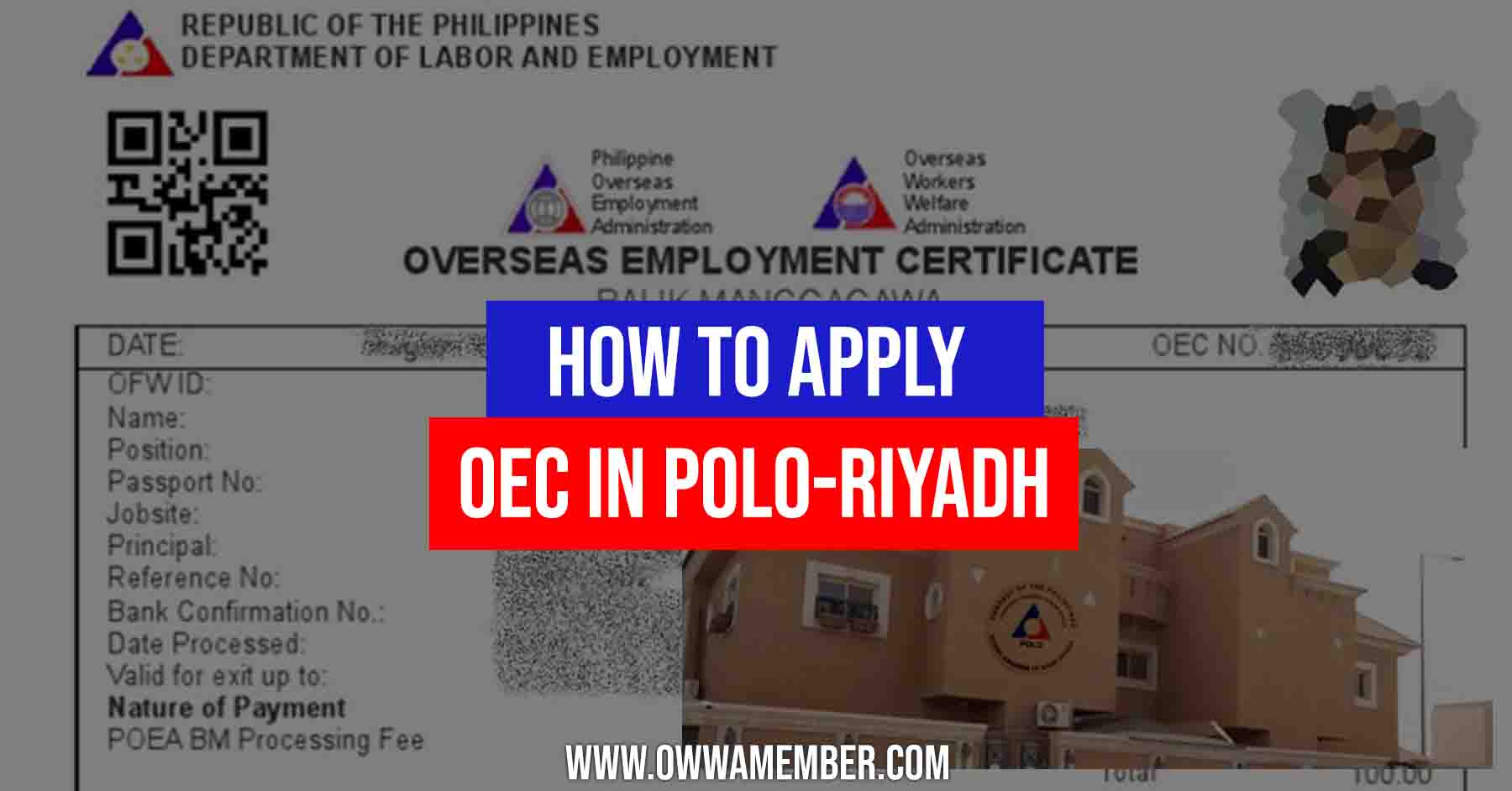 Purpose of OEC / Balik Manggagawa Certificate
Overseas Employment Certificate (OEC) is an exit clearance certificate required for Overseas Filipino Workers (OFWs), including both domestic workers and skilled professional workers. This document is needed, so they leave the Philippines and work again overseas. It not only serves as a record of departing OFWs and certifies them as legal overseas Filipino workers, but it also exempts them from paying the terminal fees and travel tax at the airport. This reduces the expenses of finding work for them.
OEC is under the Philippine Overseas Employment Administration (POEA) rules and regulations pursuant to Governing Board Resolution No. 12, Series of 2016, mandating all OFWs to get OEC when returning to work abroad.
The worker should get OEC before departure. OEC is valid sixty (60) days from the date of issuance.
Requirements
After identifying OEC, let's look at the requirements you must meet to obtain OEC at POLO Riyadh.
Based on the official website of POLO Riyadh, all Filipino workers who leave the Philippines for work following their vacation must get an OEC. Bring the original and two (2) copies of the following:
• POLO Verified employment contract
• Appointment sheet
• Work visa
• Philippine passport
• IQAMA
• OWWA Membership official receipt
Workers without POLO verified employment contract must bring the original and at least three (3) copies of the following for verification of contract:
• Passport
• Employment contract (with the sign of the employer and employee on every page)
• Documentation of existing employment (certificate of employment, payslip, company I.D., e.g.)
• Sworn Statement explaining how was employed by the new employer (for workers who changed employer on-site)
• Letter from the employer stating that the worker is transferring to another job site (for workers who are returning to the same employer but in a different country)
Qualifications
What are the qualifications, and who is required to get an OEC in POLO-Riyadh? The following are the qualification and required to get an OEC in POLO Riyadh.
• Workers with POEA database record who are on their first-time vacation and returning to the same firm and workplace to maintain or extend an existing employment contract
• Workers with an existing POEA database record who are returning to the same employer but in a different country
• Workers who have no record with the Administration or who change employers on the job-site
Cost of OEC in Riyadh, Saudi
How much does it cost to get an OEC from POLO-Riyadh? There are expenses associated with acquiring an OEC, and you must determine how much they are so that they don't become a burden while you are inside POLO Riyadh and organizing your OEC. Here are the fees:
SAR 9.00 for the OEC processing fee;
SAR 94.00 for the payment of OWWA Membership;
SAR 10.00 for PAG-IBIG Monthly savings fee.
Also, take note of this if you don't have a verified contract yet:
• SAR 40.00 for verification of contract and SAR 100.00 for the notarial fee per contract.
How to schedule OEC online appointment in POLO-Riyadh?
Appointment online can simplify the process of your OEC. You can just set an appointment using the POEA Online Processing System for Balik-Manggagawa. If you don't have registered yet, the below procedures can guide you.
Follow these steps for registration of the account.
1. Go to your browser and type https://onlineservices.dmw.gov.ph/OnlineServices/POEAOnline.aspx in the URL
2. Click on "Let's Go"
3. Click on "Register" for new users ( just log in if you already have an account )
4. Then click "I accept the terms of use."
5. Fill out the required information and then click register. (a message will display indicating that your registration was "Successful")
6. Log in to the email address you provided when you registered (there is a message containing your "temporary password" ")
7. Return to the link provided in Step 1 and login using the registered email address, then click "next."
8. Use the temporary password sent to your email, then click "log in."
9. Set the password you want
10. Update your profile by clicking "My Profile," after completing your profile, click "Update Profile" on the upper right side of the page
11. Add your Identification and Beneficiary
12. Attach profile picture and passport
After registration, you can set an appointment now by following these steps.
1. Log in to your POPS-BaM account (https://onlineservices.dmw.gov.ph/OnlineServices/POEAOnline.aspx)
2. Click "Balik-Manggagawa," located at your top right-hand side.
3. Input your next flight date, then click "next."
4. You will be asked if you are returning B.M. to the same employer (if yes, you can print your OEC, if no, proceed to step 5)
5. Accomplish your contact details with true and correct information to the best of your knowledge.
6. After clicking "Submit," you can select POLO Middle East, then Kuwait.
7. Then choose an available Appointment Schedule.
8. You now have an Appointment with POLO. You can print or cancel your appointment.
How to get OEC at POLO- Riyadh?
After setting an appointment, you must go to the physical office of the POLO Riyadh at the date and time scheduled in your online appointment.
Step 1. Go ahead to the reception desk and present your complete requirements.
Step 2. Then go to the counter, get a queue number and wait for your number to be called.
Step 3. Pay all the processing fees and wait for the approval and verification of your OEC.
Please note to bring extra copies of your documents and bring your ballpen to fill the given forms.
How to get OEC Exemption in POLO- Riyadh?
OEC exemption is granted to B.M. workers who return to the same employer and workplace and have an existing record in the POEA database.
B.M. workers employed through the Government Placement Branch (GPB) are likewise exempt.
The OEC Exemption requires that the B.M. worker use the web-based processing system before his/her travel. The worker must be registered in the system with his or her qualifications and job data in order to determine whether or not he or she is exempt from obtaining an OEC. His/her personal information will be stored in the POEA database and electronically sent to the Bureau of Immigration to be used as evidence by the Immigration Officer in determining the B.M. worker's exemption during his/her departure.
If the worker is qualified in OEC Exemption, he/she is not required to get an OEC at the office. All he/she needs to do is print out the OEC exemption number and present it to the Bureau of Immigration (B.I.) at the Philippine airport. The worker is free from paying the processing fee of OEC and from airport terminal charges and travel tax.
Frequently Asked Questions
Please check out these frequently asked questions and answers about the process of getting the overseas employment certificate if you are based in Riyadh, Saudi Arabia:
1. Can I get my OEC in the Philippines?
Yes, if you have your POLO verified contract authenticated by the POLO Labor Attache in the country where you work.
2. Can someone get an OEC for me?
No. POLO needs your physical appearance in securing your own OEC. You can only use someone to verify the contract at POLO; just give them an authorization letter to get your contract verified.
3. How long is the expiration of OEC?
OEC is valid for sixty (60) days. The worker should get an OEC or OEC Exemption before his/her flight abroad.
4. How many times can I use my OEC?
B.M. can't use OEC again once it is presented and evaluated by the Bureau of Immigration (B.I.) at the airport. OEC is for single-use only.
Summary
The above procedures demonstrate how simple the processes for obtaining an OEC are. You are eligible for an OEC if you meet the criteria listed above. Hopefully, this article will assist you in learning more about obtaining OEC in POLO Riyadh. Whether you are the OFW who needs this information or you have family or relatives in Riyadh, you can share this with them.
Contact Information
The Philippine Overseas Labor Office is located at the following address and can contact at the following numbers:
POLO-Riyadh
Address : 3267 Makkah Al Mukarramah Branch Road, Al Mutamarat, Riyadh 12711 8103
POLO Hotline Riyadh: +966 50 285 0944
Website: https://poloksa-ph.com/, https://riyadhpe.dfa.gov.ph/
Email Address: riyadh@owwa.gov.ph
Facebook Page: https://www.facebook.com/Polo-Owwa-Riyadh-2021-103598298509929/
Google Map Location
Here is the location of the new POLO-OWWA office in Riyadh.