To all Overseas Filipino Workers in Jeddah, please be informed that when you go home to the Philippines for your vacation leave, it is a must to secure an Overseas Employment Certificate (OEC) which is also known as the Balik Manggagawa certificate before you goin back to Saudi. We are sharing this detailed guide on how you can obtaining an OEC or request an OEC exemption from the Philippine Overseas Labor Office in Jeddah.
The Philippine Overseas Employment Administration (POEA) has encouraged all OFWs planning a vacation or holiday visit in the Philippines to apply for an Overseas Employment Certificate (OEC) if they plan to go back to Jeddah to continue their work. It's normal for OFWs to have their leaves spent in the Philippines. If you are the same as these overseas workers, you need this guide to apply for an OEC.
Also read: How to Book OWWA Appointment in Jeddah, Saudi Arabia
An OFW doesn't just need a passport and visa to go abroad. He/she also needs an employment certificate to certify that he/she is indeed a legal worker from the Philippines. This is what you need to remember whenever you decide to work abroad for the first time or go back to your employer in Jeddah. Let's take a look at the process of getting OEC.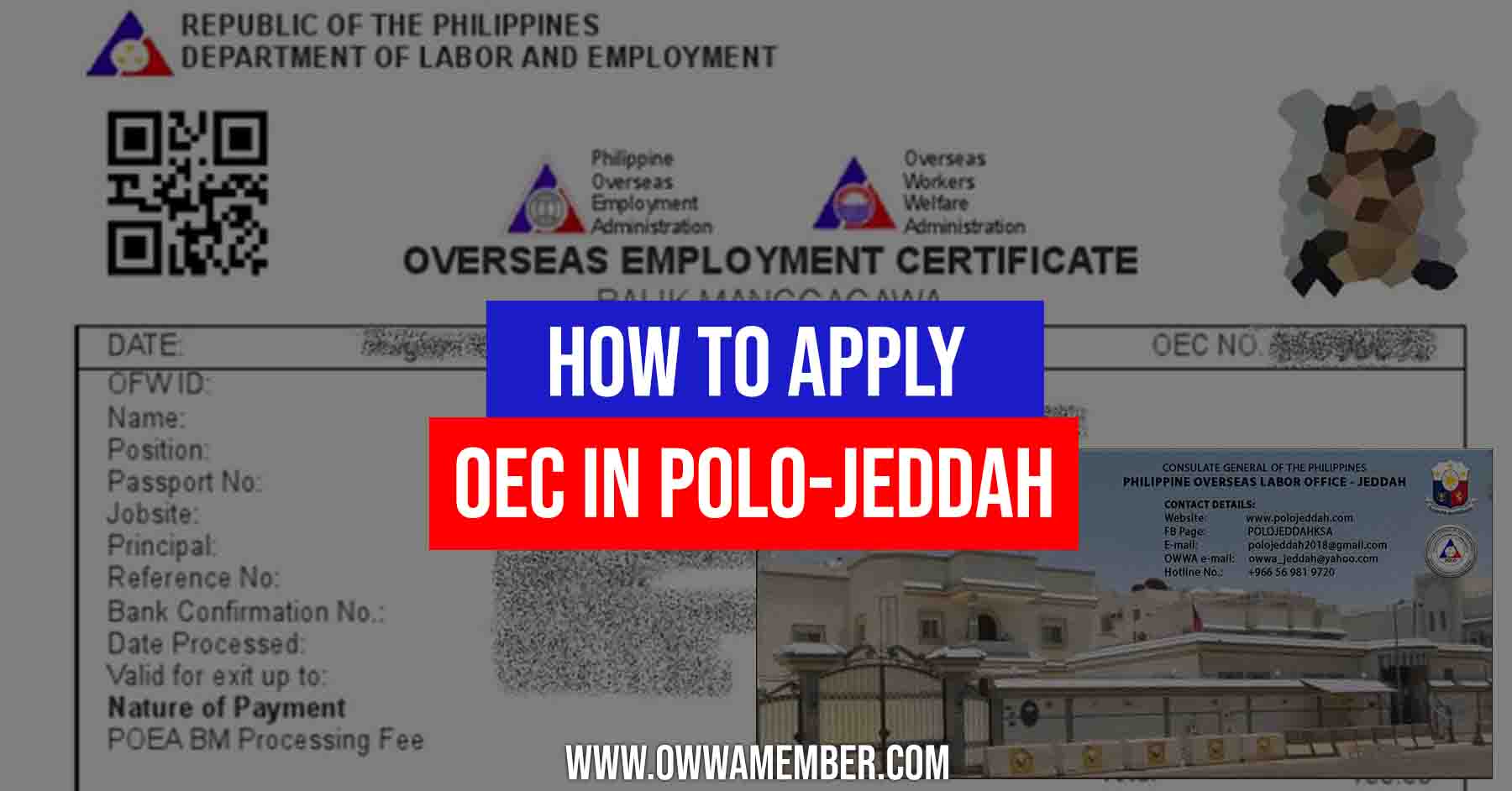 What is OEC Balik Manggagawa?
Overseas Employment Certificate or OECs serve as "exit clearance" at the Philippine airports to prove that Overseas Filipino Workers (OFW) leaving the country have been properly processed and documented by the Philippine Overseas Employment Administration (POEA). OFWs are free from paying the travel tax and airport terminal fee with the help of OECs.
Opposite to some gossips, it is not true that OFWs are needed to present their OECs when entering the Philippines. Thus, OFWs whose job sites are far from the POLO offices in KSA or those who don't have enough time to book an appointment before their departure may be mandated to set their appointment online and process their OECs at the nearest POEA office in the Philippines.
OEC is valid for sixty (60) days.
Requirements
Obtaining an OEC is a requirement for OFWs who are returning abroad. It also includes benefits offered by the government to help OFWs travel more easily by exempting them from some fees and travel taxes. Before having your appointment at POLO Jeddah to apply for an OEC, Filipinos must provide the following requirements:
Appointment Information Sheet
Passport
Exit/Re-Entry Visa
Iqama
POLO verified contract
Keep in mind that you must have a fully authenticated employment contract from POLO. POLO will not issue OEC if the worker's contract has not been verified or authenticated. If you are applying for an OEC at POLO Jeddah, you must first verify your contract.
In order for OECs to be given, the verified employment contract must also be presented to POEA POLO centers across the world, especially where the OFW is working. Philippine Immigration Officers may require it in the Philippines hours before the flight.
Qualifications
What are the qualifications, and who are required to get an OEC in POLO-Jeddah? You are qualified and required to get an OEC if you are one of the following guidelines:
Workers with a POEA record who are vacationing for the first time and returning to the same company and workplace to continue or extend an existing employment contract·
Workers with an existing POEA record who are returning to the same company but in another country·
Workers who have no record on the Administration or who change employers on-site
Cost of OEC in Jeddah
How much does it cost to get an OEC from POLO-Jeddah? Overseas Employment Certificate (OEC) is not free for a worker who is a first-timer to secure it. The worker shall pay the following fee in applying OEC at POLO Jeddah:
SR 9.00 for OEC processing fee
SR 94.00 for OWWA membership fee
SR 10.00 for PAG-IBIG monthly savings fee
SR 40.00 for verification of ContractContract
How to schedule OEC online appointment in POLO-Jeddah?
According to the Philippine Overseas Employment Administration (POEA), all OFWs planning a vacation in the Philippines should register online through POEA Online Processing System for Balik-Manggagawa (POPS-BaM) for their Overseas Employment Certificate (OEC) application.
The POPS-BaM is a web-based service that allows on-leave OFWs with an existing record in the POEA database to apply for OECs online and print their copies without traveling to POLO offices at Philippine embassies and consulates around the world or POEA offices in the Philippines.
OFWs with no record in the POEA database, on the other hand, will be required to register at POPS-BaM and go through a one-time appointment to acquire their OECs, either at the nearest POLO offices or the POEA Central Office or various Regional satellites, and local processing offices throughout the Philippines. OFWs who have already gone through the appointment system can apply for OECs online for their next scheduled vacation to the Philippines without going through the appointment process again.
This part provides a simple guide about the registration of an account in POPS-BaM.
Go to your browser and type https://onlineservices.dmw.gov.ph/OnlineServices/POEAOnline.aspx in the URL
Click on "Let's Go"
Click on "Register" for new users ( just log in if you already have an account )
Then click "I accept the terms of use."
Fill out the required information and then click register. (a message will display indicating that your registration was "Successful")
Log in to the email address you provided when you registered (there is a message containing your "temporary password" ")
Return to the link provided in Step 1 and login using the registered email address, then click "next."
Use the temporary password sent to your email, then click "log in."
Set the password you want.
Update your profile by clicking "My Profile," after completing your profile, click "Update Profile" on the upper right side of the page
Add your Identification and Beneficiary
Attach profile picture and passport
After creating an account, or if you have already registered before, you can follow the following step to set an appointment at POLO Jeddah.
Log in to your POPS-BaM account (https://onlineservices.dmw.gov.ph/OnlineServices/POEAOnline.aspx )
Click "Balik-Manggagawa," located at your top right-hand side.
Input your next flight date, then click "next."
You will be asked if you are returning BM to the same employer (if yes, you can print your OEC, if no, proceed to step 5)
Accomplish your contact details with true and correct information to the best of your knowledge.
After clicking "Submit," you can select POLO Middle East, then Kuwait.
Then choose an available Appointment Schedule.
You now have an Appointment with POLO. You can print or cancel your appointment.
How to get OEC at POLO- Jeddah?
Like other POLO branches around the world, the first thing to do is to set an appointment online and get to the POLO Jeddah located at 4663 Ash Sharqi, AR Rihab District, Jeddah 23345 9296 Saudi Arabia, on the scheduled date and time of your appointment. Do the following steps so you can obtain your OEC easily. Remember that having an online appointment makes everything easier as the government staff can verify your information right away.
Present your documents to the reception desk. The reception desk officer will provide the forms to be filled out and the next procedure to do.
Pay all the fees.
Wait for the advice of the OEC processor to print out your OEC in POPS-BaM.
Please ensure that all the details and information written in your OEC are correct and match your credentials.
How to get OEC Exemption in POLO- Jeddah?
If a worker qualifies for OEC Exemption, he or she is exempt from obtaining an OEC at the office. All you have to do is print out the OEC exemption number and show it to the Philippine airport's Bureau of Immigration (BI). The worker is exempt from the OEC processing cost and airport terminal fees, and travel tax.
OEC exemption is not for first-timer BM. It is applicable for BM that has already had a previous OEC before. If you are a returning OFW to the same employer and same job site, you may qualify for an exemption.
Before the scheduled date of return to the employer, the BM worker must log into his or her BM Online account. It would be up to the system to assess whether or not the worker is already exempt from obtaining OEC.
Frequently Asked Questions
Please check out these frequently asked questions and answers about the process of getting the overseas employment certificate if you are based in Jeddah, Saudi Arabia:
1. Will I be excused from OEC if I received an OEC at the POLO and an E-Receipt at the POEA main office during my previous vacation but did not register with the POPS-BaM?
Workers who have a record in the POEA database but have not yet registered in the system must register as new users. They will be led through the registration procedure by the system. Users who have registered must log in using their email address and password. The system will check if the worker is exempt from getting OEC if they return to the same company and workplace.
2. Who is eligible for the Balik Manggagawa (BM) OEC Exemption under GBR No. 12, S 2016?
A Balik Manggagawa with a valid work visa or permit who has completed or is completing his or her employment contract and is:
returning to the same employer;
returning to the same job site, and
has been recorded in the POEA database.
3. What do you mean by "has a record in the POEA Database"?
These are OFWs who have already received an OEC from the POEA at any of its offices or centers (POEA Main Office, Regional Offices, Extension Units, BM Mall Processing Centers, POLO offices overseas).
4. How can I determine whether I'm already exempt from obtaining OEC?
Before the scheduled date of return to the employer abroad, the BM worker must log into his or her POPS-BaM account. The system will assess if the worker is already exempt from obtaining OEC.
Summary
All Filipino workers overseas need time to rest and enjoy bonding with their families and loved ones in the Philippines, then return to their work abroad without worrying about the process and the expenses they might encounter at the airport when departing.
Don't waste time going back and forth to the Philippine consulate or POLO offices because of a lack of information on what to bring and do. In just a couple of easy steps, you can secure OEC without problems. Share this blog with your family and friends who are in Jeddah!
Contact Information
POLO Jeddah
Address: Building no. 5 of PCG at 4663 Fajr St., Al Rehab District 6, Jeddah, Kingdom of Saudi Arabia
Office hours: 8:00 am to 5:00 pm Sunday to Thursday (except holidays)
Contact Number: +966 56 981 9720
Website: http://www.polojeddah.com/
Email address: philippinelaboroffice.jeddah@gmail.com; owwa_jeddah@yahoo.com
Google Map Location
Please check out this map of the POLO office in Jeddah. The POLO office is located at the Philippine Consulate General office in Jeddah.