As time passes by, Overseas Filipino Workers finish their contracts and want to have their break or vacation in the Philippines. Some Filipino migrant workers also desire to have a quick visit to the Philippines to check on their families and friends and return to Rome after. Fortunately, you can accomplish your plan of going to the Philippines and returning to Rome with the help of OEC, if you have.
Also Read: How to get OEC in POLO-Milan Online
But what is OEC? What are the things you should know about obtaining OEC at POLO Rome? Today, we summarized everything you need to know about OEC and its role in your life as an OFW in Rome.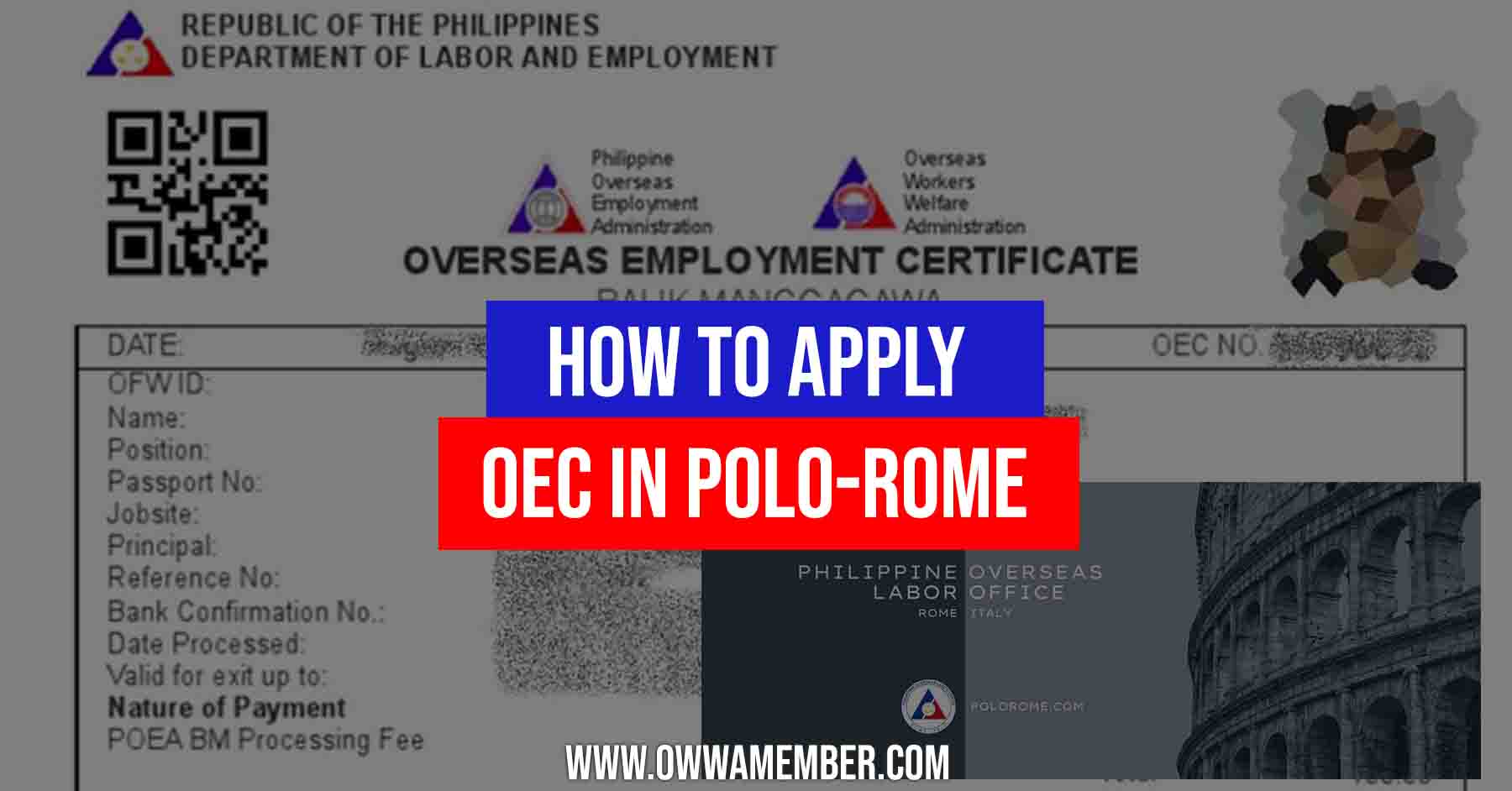 What is OEC Balik Manggagawa Certificate?
The Overseas Employment Certificate, or OEC for short, is known as an exit clearance/pass and a document that certifies the regularity of an Overseas Filipino Worker's (OFW) recruitment and documentation. It is going to be present to an immigration official at the Philippine departure airport. It is a requirement under the Philippine Overseas Employment Administration (POEA) regulation to ensure that all Filipino workers overseas are recorded in their database.
The OEC exempts the OFW, or what they called Balik-Manggagawa (BM) workers, for paying the charges that may occur when leaving the Philippine airports, which includes the travel tax and airport terminal fee. They also have the privileges that reduce the tax and fees for their dependents and spouse.
OFWs can obtain the OEC by scheduling an appointment online with any of the Philippine Overseas Labor Office (POLO) and POEA BM centers worldwide.
The OEC expires after sixty (60) days from the date of issuance.
Requirements
According to the Philippine government-based website of POLO Rome, you have to bring the following requirements in your OEC appointment at POLO Rome.
Accomplished BM Appointment Sheet
Valid Passport (with at least six (6) months validity)
Work Permit/Valid Residence
Contract verified by POLO
Payslips or insurance coverage
As additional information for those who have not yet verified their contract, POLO Rome may verify employment contracts for workers on the job site to acquire the Overseas Employment Certificate (OEC) from the POLO Rome or at the POEA Balik-Manggagawa Centers in the Philippines before you go back to Rome after your vacation.
The Labor Attaché will evaluate and confirm that the contracts' provisions are in standards with the Philippine and host country laws. The verified contract shall also be presented to the POLO branches around the world for the acquisition of OECs.
OFW with an unverified contract must provide the following at POLO Rome for verification of contract:
Employment Contract
Valid Passport of worker
Valid Work Permit of the worker
Identification Card of the employer's authorized signatory
Authorization of the authorized signatory
Business Registration of the employer
Latest payslips
Signed Undertaking
For Filipino migrants working abroad without POEA records and those who transferred job sites with a new employer, you also need to provide the following:
Narrative (OFW must present a notarized affidavit of all the circumstances regarding the recruitment and employment with the employer)
Employer Declaration (Employer must present a matrix of all recruited Filipino workers and a declaration that they should hire more Filipino workers in the future following the POEA/Philippine processes)
Qualifications
OECs are issue to new hires prior to their deployment and Workers on leave/Balik Manggagawa. Those who are qualified to avail of their OECs include the following:
OFWs who are having their vacation leave or emergency leave from a legitimate and existing job;
OFWs who finished their contract and taking a break in the Philippines and rehired to return to the same employer;
Undocumented/illegal employees who left the Philippines as tourists, dependents, students, or businessmen and hired overseas and registered with POLO to be included in the POEA database and returned to the same employer.
Cost of OEC in POLO-Rome, Italy
The fee for verification of the contract is € 9.00. The fee for the processing of OEC is € 2.00.
Also, make sure you have your updated OWWA and Pag-IBIGmembership. If not, you need to also consider the payments for updating them. Refer to romepe.dfa.gov.ph for membership fees.
How to schedule OEC online appointment in POLO-Rome?
Vacationing workers can schedule an appointment with the POEA to have their processing of exit clearance or overseas employment certificate (OEC). Workers may choose the available time, date, and the designated places to apply for their OECs, which they can process at their convenience with the help of the internet.
Any worker can use the online facility or the POEA Online Processing System for Balik-Manggagawa (POPS-BaM) to set an appointment at POLO Rome. You can be guided by the steps below.
Steps for registration
Go to your browser and type https://onlineservices.dmw.gov.ph/OnlineServices/POEAOnline.aspx the URL
Click on Let's Go
Click on "Register" for new users ( just log in if you already have an account )
Then click "I accept the terms of use."
Fill out the required information and then click register. (a message will display indicating that your registration was "Successful")
Log in to the email address you provided when you registered (there is a message containing your "temporary password")
Return to the link provided in Step 1 and login using the registered email address, then click "next."
Use the temporary password sent to your email, then click "log in."
Set the password you want
Update your profile by clicking "My Profile," after completing your profile, click "Update Profile" on the upper right side of the page
Add your Identification and Beneficiary
Attach profile picture and passport
Steps for setting an appointment
Log in to your POPS-BaM account (onlineservices.dmw.gov.ph/OnlineServices/POEAOnline.aspx)
Click "Balik-Manggagawa," located at your top right-hand side.
Input your next flight date, and then click "next."
You will be asked if you are returning BM to the same employer (if yes, you can print your OEC, if no, proceed to step 5)
Accomplish your contact details with true and correct information to the best of your knowledge.
After clicking "Submit," select POLO location near your workplace.
Then choose an available Appointment Schedule.
You now have an Appointment with POLO. You can print or cancel your appointment.
How to get OEC at POLO Rome
Fill up BM Information Sheet given by the POLO Administrative staff or refer to your OEC appointment via the POPS-BaM system.
Present the requirements above to the POLO staff
Then the POLO Administrative staff will check if the documents presented are acceptable and complete and if you are qualified to secure an OEC.
If qualified, you need to pay the OEC processing fee.
Wait for the official receipt and the original copy together with three (3) photocopies of your OEC with the sign of Labor Attaché.
Note: Please also bring other related work documents if there are questions pertaining to the qualification and status of work.
How to get OEC Exemption in Rome, Italy?
You don't need to make an appointment with POLO Rome to get an OEC Exemption if you secured OEC before and returning to the same employer and job site.
Instead, simply sign in to your POPS-BaM account and make the necessary changes. If you qualify for OEC Exemption, the online system will notify you, and then you can print your OEC online without paying the processing fee and be exempt from paying the travel and airport terminal cost.
Frequently Asked Questions
Below are some commonly asked questions and answers regarding the POLO-Rome office for OEC Balik Manggagawa application:
1. What if I lost and forget my OEC number?
You will not be required to obtain a new OEC to replace the one you have lost. However, if you received your most recent OEC through a walk-in application, you must file a notarized Affidavit of Loss to the POLO in your host country together with your documents detailed in your last OEC.
2. What if I lost my POPS-BaM account?
You won't be able to get it on your own. But, according to POEA, forgotten email addresses and passwords of BM account holders can reach out to System Administrator at telephone numbers 02-7219496 / 02-7277778 / 02-7210785 / 09173257397 or through email gvpictpoea@gmail.com or bm_oec@yahoo.com
3. How to print OEC online?
To print your OEC, log into your BM account and click "My Transactions"> OEC Requests tab > Print your OEC or Exemption button.
4. What should I do with my expired OEC?
OFWs can now renew expired Overseas Employment Certificates (OEC) at international airports in the Philippines. As a result, overseas Filipino workers (OFW) will be able to revalidate or renew their expiring Overseas Employment Certificates (OEC).
5. How can I get OEC exemption?
If you're not returning to the same employer, you are not qualified to secure an OEC Exemption. Instead, you need to obtain your OEC at the nearest POLO of your place.
Summary
Getting OEC isn't difficult. OEC would serve as your legal paper to return and work abroad. You just need to spend at least a little time getting your OEC. If you consider the instructions above, it would be quite easy for you to get your employment certification.
Contact Information
POLO Rome
Address: Via Aurelia 290 / A, 00165 Rome, Italy
Office hours: Monday to Friday, 9:00 a.m. to 5:00 p.m.
Closed during Philippine and Italian declared holidays
Tel. no.: 06 39746621 / 06 39746621 loc. 226
Website: https://www.polorome.com/
Email Address:  polo_rome@yahoo.it
Facebook Page: https://facebook.com/POLORomeIT/
Google Map Location
Here's a map of POLO-Rome. Please be advised that they recently transferred to a new location in Via Aurelia: