In order to protect and promote the welfare of overseas Filipino workers (OFWs) and their families, the Overseas Workers Welfare Administration (OWWA) was established. It offers benefits above and above the terms of the job contract. The annual membership price is £23.00, and it is renewed every two years.
OWWA membership should be appreciated by Filipinos abroad. In order to avoid losing your benefits, renew your OWWA membership as soon as possible. While it helps you get OWWA compensation, having this insurance policy also protects you from harm as an OFW. Due to the pandemic, it's important that all financial transactions be completed online.
In the POLO-London office, there are two options to send the document requirements. You may send an email to london@owwa.gov.ph or message them via their official Facebook Page, POLO-OWWA LONDON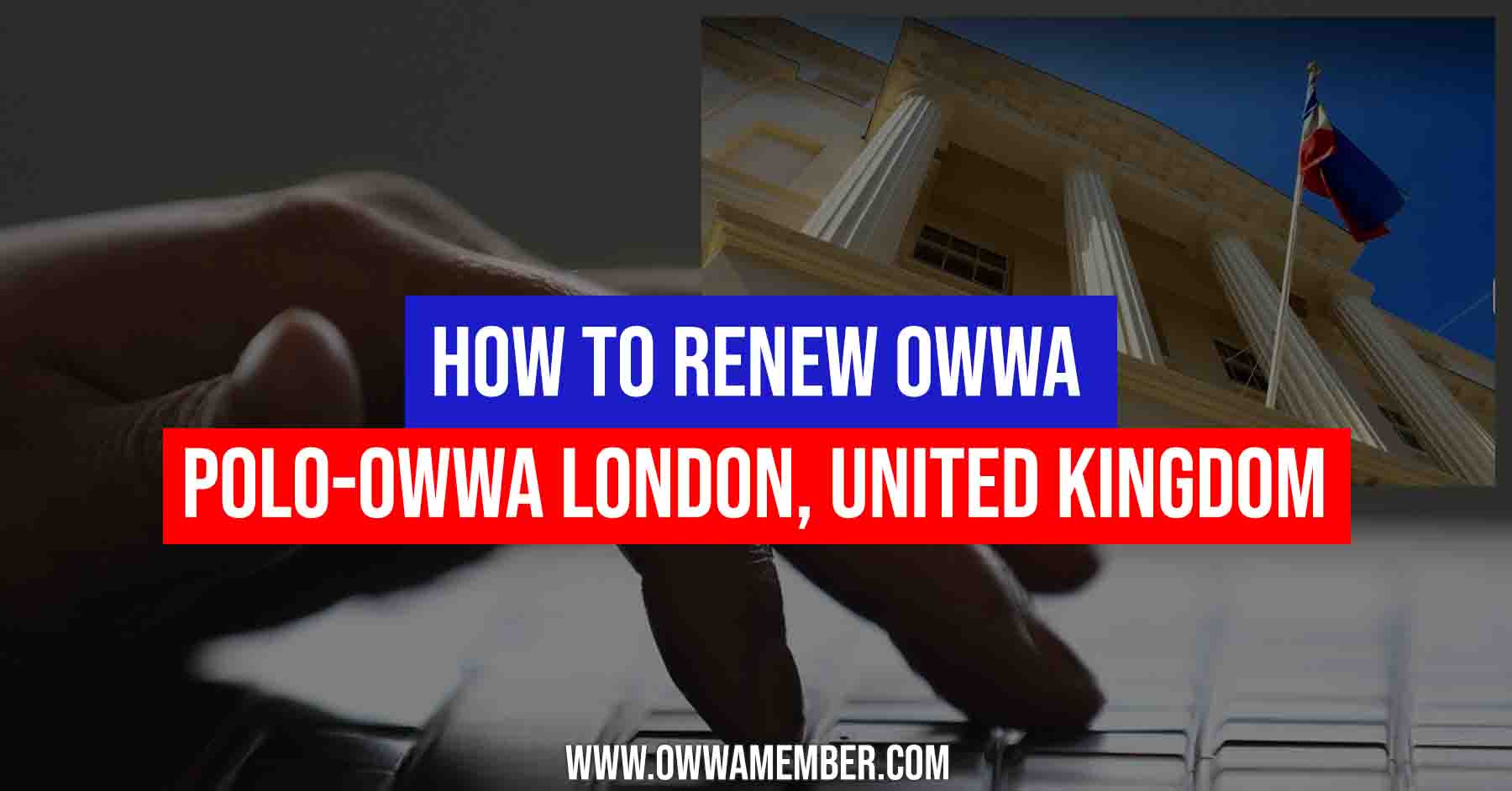 Amount of Contribution
The OWWA membership contribution shall be Twenty-Three Pounds (£ 23.00).
Membership Validity
Regardless of the length of the contract, the change in employer, location of employment, or recruitment agency, membership is valid for two (2) years for each contribution. After then, OWWA membership will need to be renewed if proof of employment is provided.
OWWA Membership/Renewal Requirements in POLO-London
Copy of a VALID employment contract
A copy of the passport page with the photo and personal data
A copy of your current work permit and visa
OWWA OFW Information Sheet completed
How to Apply for OWWA Membership in POLO-London
Step 1: Download the OWWA/OFW Information Sheet and fill it out.
Step 2: Scan your completed OWWA/OFW Information Sheet, your valid Philippine passport, your residence/work permit, and your Proof of Employment (Employment Contract/Last Pay Slip/Certificate of Employment) together.
Step 3: Send a copy of your Certificate of Oath and the Identification page if you're a dual citizen. Please double-check that the scanned document is crystal clear before sending it in.
Step 4: Send your OWWA/OFW Information Sheet, valid Philippine passport, Proof of Employment and residence/work permission, or Certificate of Oath and its Identification Page to london@owwa.gov.ph or via their official Facebook Page, POLO-OWWA LONDON.
Step 5: You will be notified through email if your request has been approved and how to proceed with the payment. Please be aware that you will not be able to pay the £23.00 OWWA membership fee until you get notification from OWWA.
Step 6: You can now pay the £23.00 OWWA Membership Fee using the BCRemit App after you receive a payment reminder.
Use your smartphone to download the BCRemit app.
Select the BCRemit-Pay button in the app's lower-right corner to initiate the transaction.
Go to OWWA UK and click on it.
Include your full name, company name, and job title.
Select the Collection at the Embassy button-£23.00.
Confirm your payment by clicking the button.
Take a picture of the confirmation screen showing that the transaction was accomplished.
Step 7: Email or message the POLO-OWWA LONDON for payment of OWWA Membership Fees from workers in Ireland, Denmark, Sweden, Finland, Norway, and Iceland.
Step 8: Send a screenshot of the payment receipt to OWWA's email or Facebook page.
Step 9: Your Official Receipt will be sent to you via email after they have received a copy of the screenshot of your payment.
Step 10: The original OWWA Official Receipt is available at the Philippine Embassy in London. Just let the OWWA know in advance so that they can schedule an appointment for you.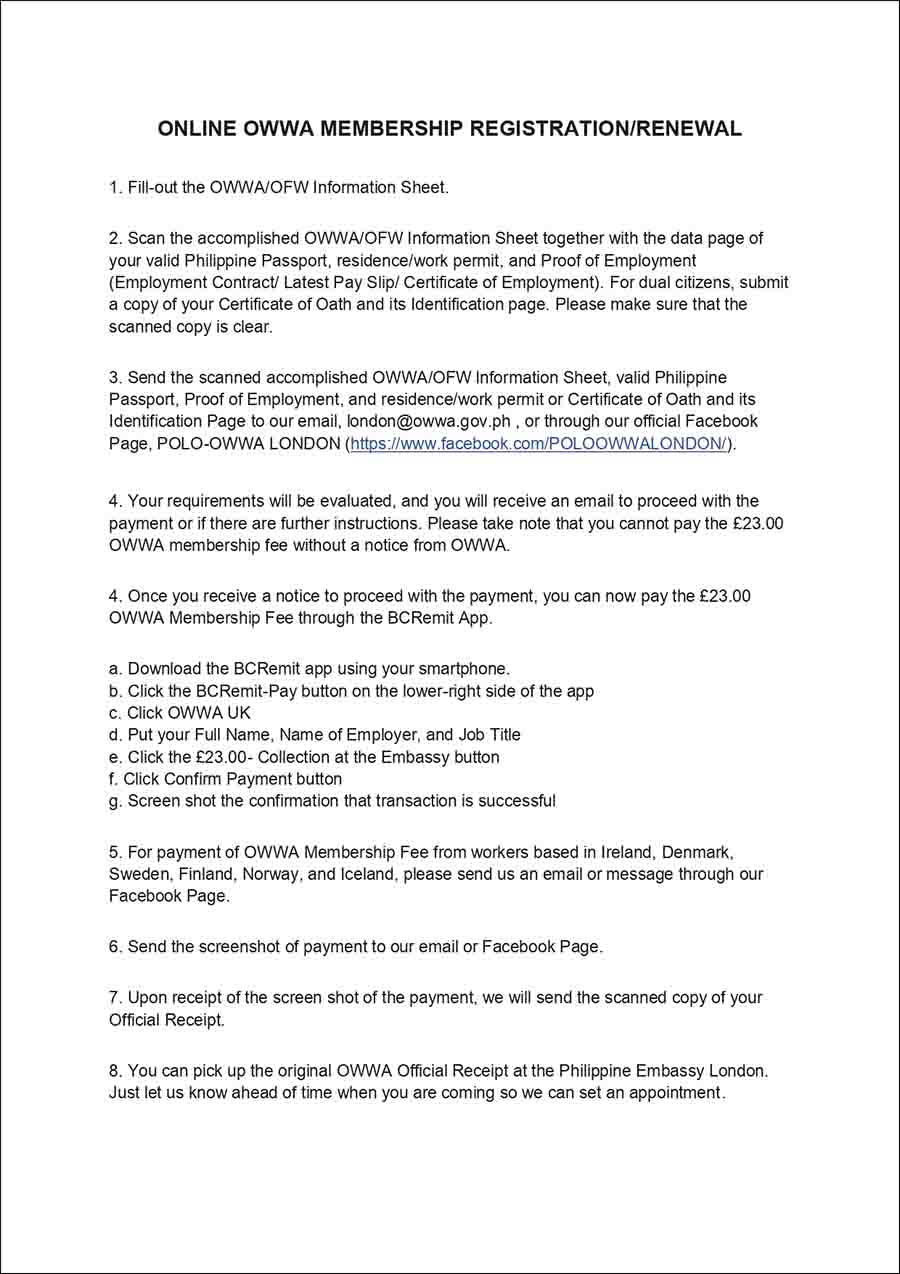 Important Reminders
Here are some guidelines and tips about the process of OWWA renewal in London.
Please double-check that your requirements are accurate and full. Requirements that are not complete will not be handled.
For more information, see the London, United Kingdom POLO Facebook Page.
After three (3) months of membership, new OWWA members are entitled to participate in OWWA's regular activities and services, as well as special programs.
Frequently Asked Questions
Here are some common questions and answers when you process your OWWA account membership at POLO-London.
1. Can I directly go to the POLO-London Office?
Due to the current situation, it is advised that OFWs will simply send an email to the POLO-London office to make a renewal of the OWWA transaction.
2. How much does the OWWA membership fee cost?
The OWWA membership contribution shall be Twenty-Three Pound (£ 23).
3. I am outside the UK, can I still process OWWA membership in POLO-London?
Based on the update from POLO-OWWA London office, there are countries outside the UK that are also being managed by the London branch. If you are an OFW based in Norway, Ireland, Sweden, Denmark, Finland, Norway, Iceland, and other off-site Jurisdictions, please check first with your nearest Philippine Embassy or Philippine Consulate. If there is no POLO office there, then you may need to direct your OWWA requests via POLO London.
Check out this video below which showcases a Filipina sharing her experience on how she processed an Overseas Employment Certificate (OEC) and also processing an OWWA membership renewal.
Based on her statement, she said that she was not able to walk in to the POLO-London because she's far from the office. She had to send the document requirements via courier mail.
Summary
As an OFW based in the United Kingdom, please follow the guidelines currently put in place on how you can keep your OWWA membership active. You may also renew your OWWA by registering in the OWWA Mobile App.
Workers in the UK may also renew their OWWA membership by having their family members in the Philippines submit the document requirements to the nearest OWWA Regional Welfare office.
Contact Information
POLO-OWWA London, United Kingdom
Address: 6-11 Suffolk St. (10,745.52 km) SW1Y 4HG London, UK
Email: OWWA: london@owwa.gov.ph,
Telephone Number/s: +44 20 7839 8078, (+44) 78 0279 0695
Website: https://londonpe.dfa.gov.ph/
Facebook Page: https://www.facebook.com/POLOOWWALONDON/
Google Map Location
Below is the map guide location of the POLO-OWWA office in London, the UK for your reference. This is also the location of the Embassy of the Philippines in the United Kingdom.