Being a member of the Overseas Workers Welfare Administration (OWWA), you are entitled to various programs and services, one of which is the Balik Pinas! Balik Hanapbuhay! Program (BPBH). The program is the government's initiative for Overseas Filipino Workers (OFWs) by giving them support and protection and providing immediate relief with the amount of Php 20,000.00 for your start-up or additional capital livelihood project.
Also Read: What is the OWWA Reintegration Program for OFWs?
We all know that in cases of crisis, thousands of OFWs are affected. That's why if you are interested in applying to the Php 20K OWWA Balik Pinas! Balik Hanapbuhay! Program but do not know if you're qualified or how you will use, or if you are wondering where the Balik Pinas application form is, then this article is ideally made just for you.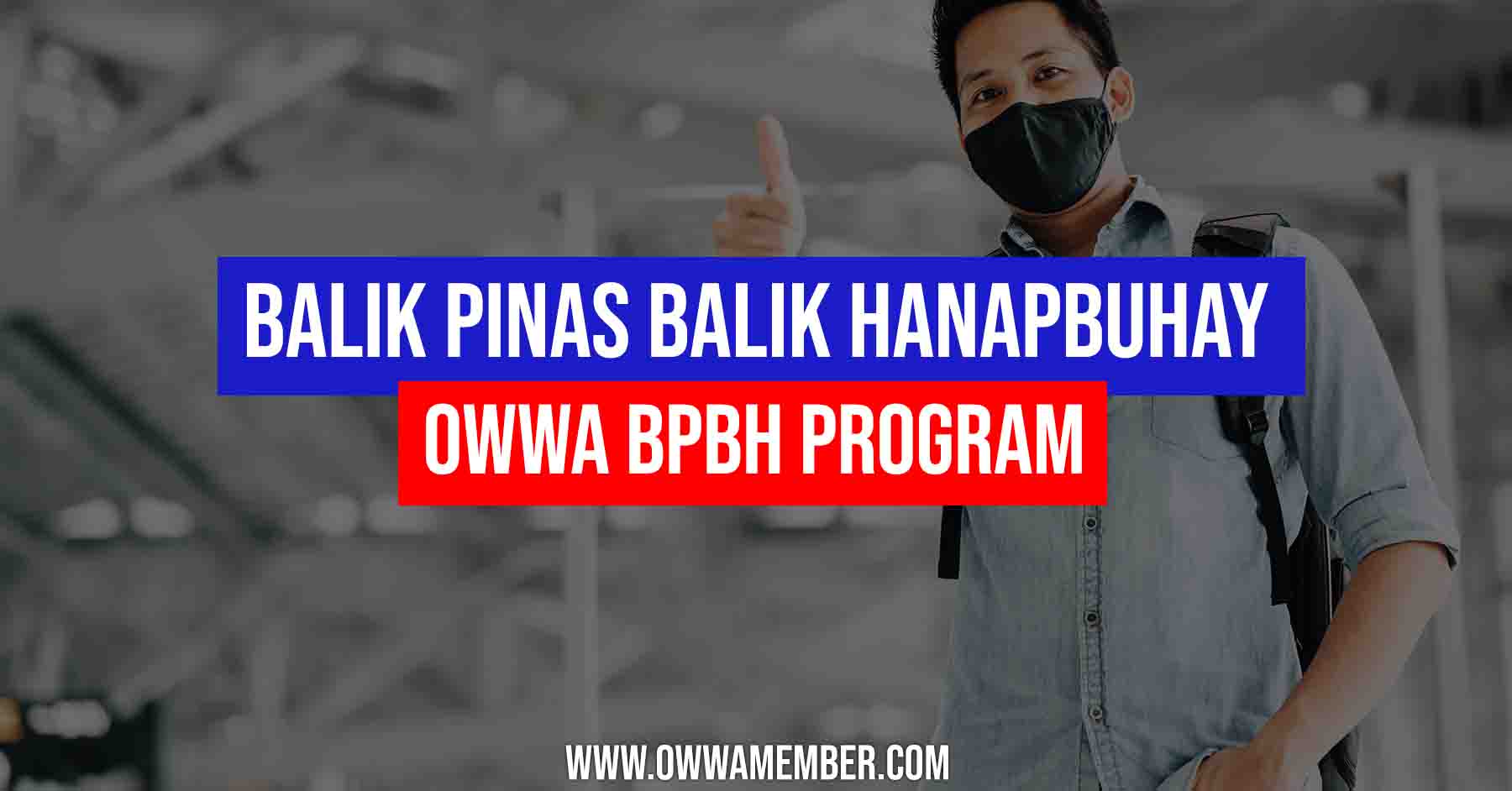 What is this OFW Balik Pinas Program ?
The Balik Pinas! Balik Hanapbuhay! Program is a livelihood support package and assistance for returning Overseas Filipino Workers (OFWs) who are distressed or displaced. Whether you're an active or inactive member of OWWA, you are unquestionably qualified for the said program as long as you belong to any of the categories.
Yes, you read it right; even if you are an inactive OWWA Member, as long as you qualify for any of the situations below, you are eligible to apply or avail of the Livelihood Assistance Program.
OFWs who are displaced due to political chaos, war, or economic problems which resulted in overall and immediate changes in their destination country;
OFWs who became victims of illegal recruitment, human trafficking, and other tragic situations such as maltreatment or verbal/sexual abuses;
Distressed OFWs who are temporarily in the care of the Migrant Workers and Overseas Filipinos Resource Centers while waiting to be sent home to the Philippines; and
OWWA members who are forced to stop working due to financial problems faced by their employers.
Cash Assistance for Livelihood Use
There will be cash assistance given to approved applicants depending on the status of your OWWA membership. Be advised that the money is to be used for livelihood.
ACTIVE OWWA members can get a maximum of PHP 20,000.
For INACTIVE OWWA Members, but MORE THAN 1 contribution, you can get a maximum of PHP 10,000.
For INACTIVE OWWA Members, but only 1 contribution, you can get a maximum of PHP 5,000.
Document Requirements
Before you take the steps in applying to the Balik Pinas! Balik Hanapbuhay! In the program, you must duly accomplish the requirements you will need before using. The conditions you will need for the application are below:
2×2 ID picture – 1 piece
Proof of OWWA Membership – OFW Verification Sheet issued by OWWA
Duly filled-up application form
Duly filled-up Simple Business Plan
Sketch of home and business site
Barangay Clearance / Certficate
Bring an Original copy and Photocopy of the following:
Passport (1st page with name and picture)
– Last Departure in the Philippines,
– Last Arrival in the Philippines and
– Visa Stamp Page of Country Abroad
Airline Ticket
Travel Documents
Referral Letter from POLO or Philippine Embassy
Termination Letter / Notice from Employer
Medical Records (if OFW is medically displaced / repatriated)
Certificate of Training Attended
– Entrepreneurial Development Training
– Skills Training
Balik Pinas! Balik Hanapbuhay! Application Form
Secure and fill out the Balik Pinas Balik Hanapbuhay Application Form (with an Undertaking that the Cash Assistance will solely be used for self-employment or for starting a new or expanding livelihood project or business)
This Application Form is distributed by OWWA Regional Welfare Offices (RWO). You may need to coordinate with your respective region where the OWWA Office is located.
Here is a Sample Application Form for the Balik Pinas! Balik Hanapbuhay! Program.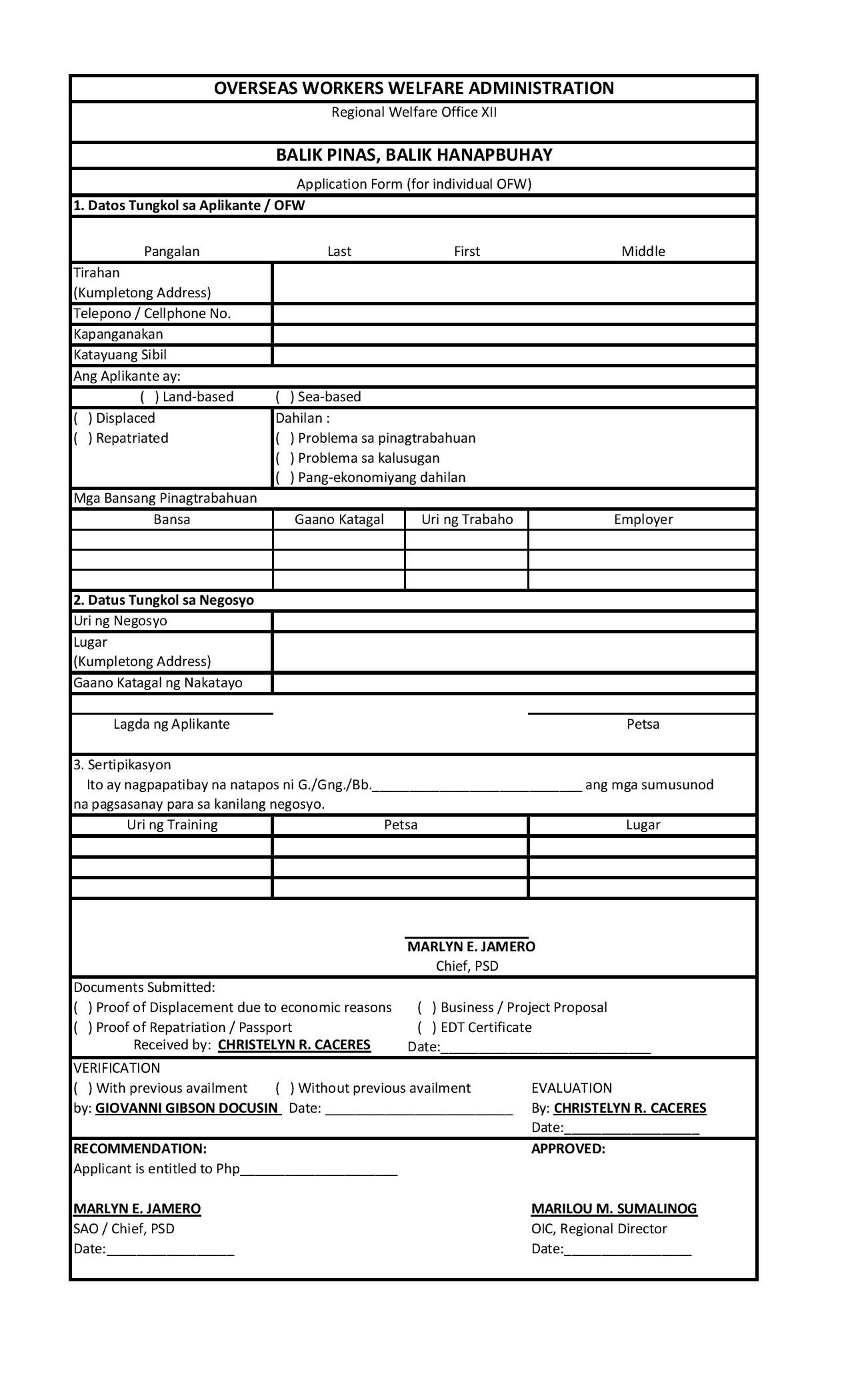 Certificate of Entrepreneurial Development Training
Business Plan/ Business Proposal approved by your respective RWO Director with an indication of sustainability/ feasibility of the chosen livelihood undertaking
Proof of Repatriation or Return to the Philippines (e.g., passport, travel documents, airline ticket)
OWWA Step by Step Application Process
After making sure that you qualify and are eligible for the package, you can easily apply and avail yourself of the Balik Pinas! Balik Hanapbuhay! Program by following the steps provided below:
Apply at any OWWA Regional Office nearest to your Residence. They will provide the Application Form for the Livelihood Assistance Program.
Prepare the requirements needed for the application. You can check out the list of document requirements in the summary we posted above.
Get your schedule for the Entrepreneurial Development Training seminar.
Fill out business plan and submit your requirements to the OWWA regional office.
Frequently Asked Questions
Here are some frequently asked questions and answers about this OWWA program. Please be guided accordingly.
1. What consists of the Php 20,000.00 worth of Livelihood Assistance?
Aside from Cash Assistance, The Balik Pinas! Balik Hanapbuhay! Program Package includes:
Techno-Skills or Entrepreneurial Training
Starter Kits/ Goods
Services that can help the beneficiaries to start a livelihood project through self-employment immediately
2. How many times can you avail of the Balik Pinas! Balik Hanapbuhay! Program?
You can only avail of the Livelihood Assistance Program once.
3. When can we avail the Balik Pinas! Balik Hanapbuhay! Program?
OFWs who are interested in availing of the Livelihood Assistance Program are encouraged to avail of the Livelihood Assistance Program within one (1) year after their return to the country.
4. Who is not eligible for the Livelihood Assistance Program?
The ones who are not eligible for the said Balik Pinas! Balik Hanapbuhay! Program is the OWWA Members-OFW whose employment contracts are already finished. This is only available to those who did not complete their contracts due to the reasons mentioned above.
5. When we went to our respective Regional Welfare Office (RWO) RWO, they sent us back home because we needed to set an appointment. How can we inquire or arrange an appointment?
Just in case you need to set an appointment, you can select one by using the OWWA Mobile Application. If you already have an account on the mobile application, proceed to the steps in inquiring. For those who do not have an account yet, sign up for the mobile application.
Steps in Setting an Appointment using your OWWA Mobile Application:
Install the Mobile Application on your mobile phones. (Google PlayStore for Android Users; App Store for Apple Users)
Open your OWWA Mobile Application, and below you will see the tab for E-Services. Click that tab.
After opening the E-Services tab, you will see a tab for Program Offers.
Click the Overseas Filipino Workers – Enterprise Development.
Click Inquire button.
Select your respective region.
After confirming your selected region, an alert will appear, notifying you that an email for your copy was sent to you.
Check your email account, and from there on, wait for the instructions you will follow.
You can also email back to ask when and what time can you go to your RWO.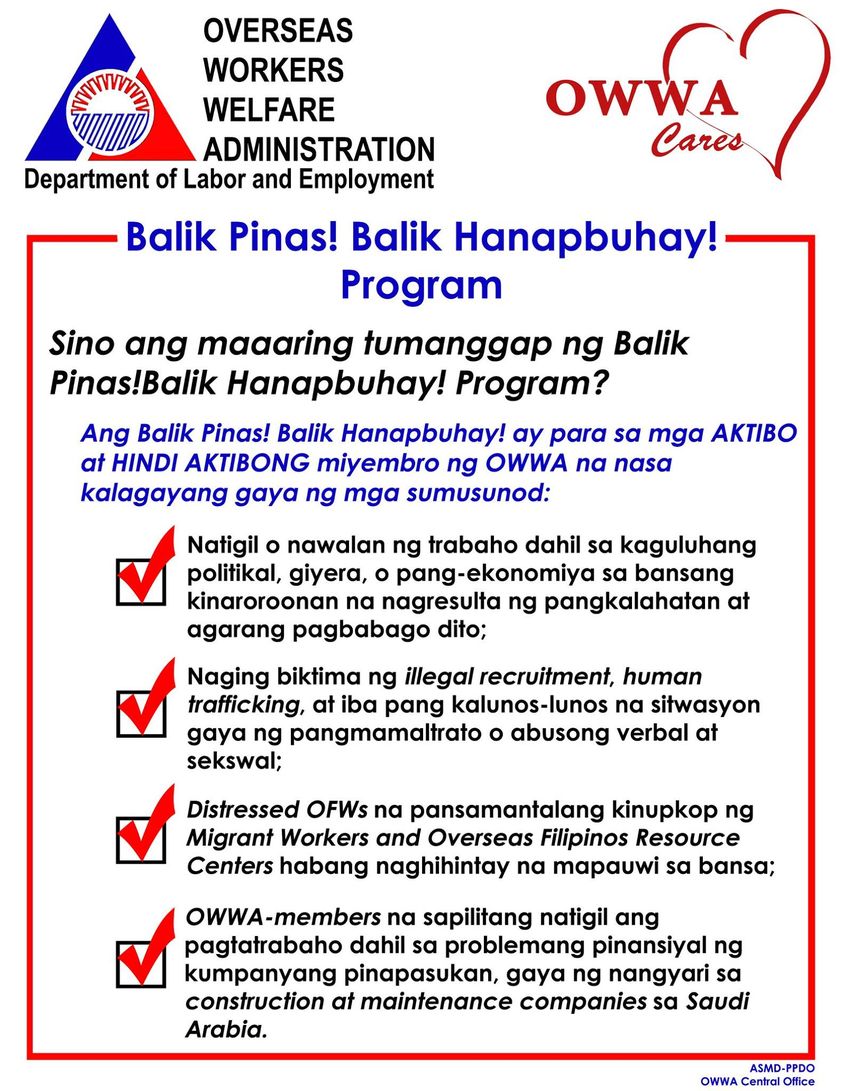 Video: Application for Balik Pinas Balik Hanapbuhay by OWWA
In case you are wondering how you can apply for this program, you may check out this video guide below. We hope you can get more details about how to apply through this tutorial:
Reminders
If you might notice, there are a number of steps that you need to complete and this is true, especially for the document requirements and seminar. While this may be a bit tedious to some, it is still important to have patience and create a plan for your new business. Also, never forget to keep your membership active to get the maximum benefits of this livelihood program.
Some people nowadays might think that PHP 20,000 is small. But when you try to analyze again, you cannot easily get this amount anywhere, especially with the pandemic situation and people being strapped for cash.
So we are still thankful that this project is available. Who knows, your business might succeed and you don't have to work again as an OFW because you already have an income-generating project that has worked well because of this OFW cash aid.
Contact Information
For more inquiries regarding the OWWA Programs and Services, you can call their OWWA Hotline 1348.
For more contact details:
OWWA OPCEN Mobile Numbers: (+63) 917-898-6992 or (+63) 917-590-8654
OWWA Line: 891-7601 to 24  Local:    5217
FAX Number: (+632) 804-06-38
OWWA OPCEN E-mail: owwa_opcenter247@yahoo.com
Website: https://www.owwa.gov.ph