For Overseas Filipino Workers (OFWs), sending a balikbayan cargo box to their family in the Philippines, you should know which items you can or cannot pack inside your cargo. Although there's no limit on splurging for your loved ones, there are some items you cannot pack in a balikbayan box. Aside from illegal products, some goods are prohibited or restricted by law.
Sending a balikbayan box is one of the common traditions in the Philippines for families with OFW and migrant worker relatives. Whether it's the Yuletide season or an OFW vacationing in the Philippines, many families feel delighted when a balikbayan box arrives on their doorstep.
A balikbayan box is a way for OFWs and migrant workers to express their love to their families while being away. However, you cannot pack any goods in a balikbayan box since prohibited items may cause a hold on your package.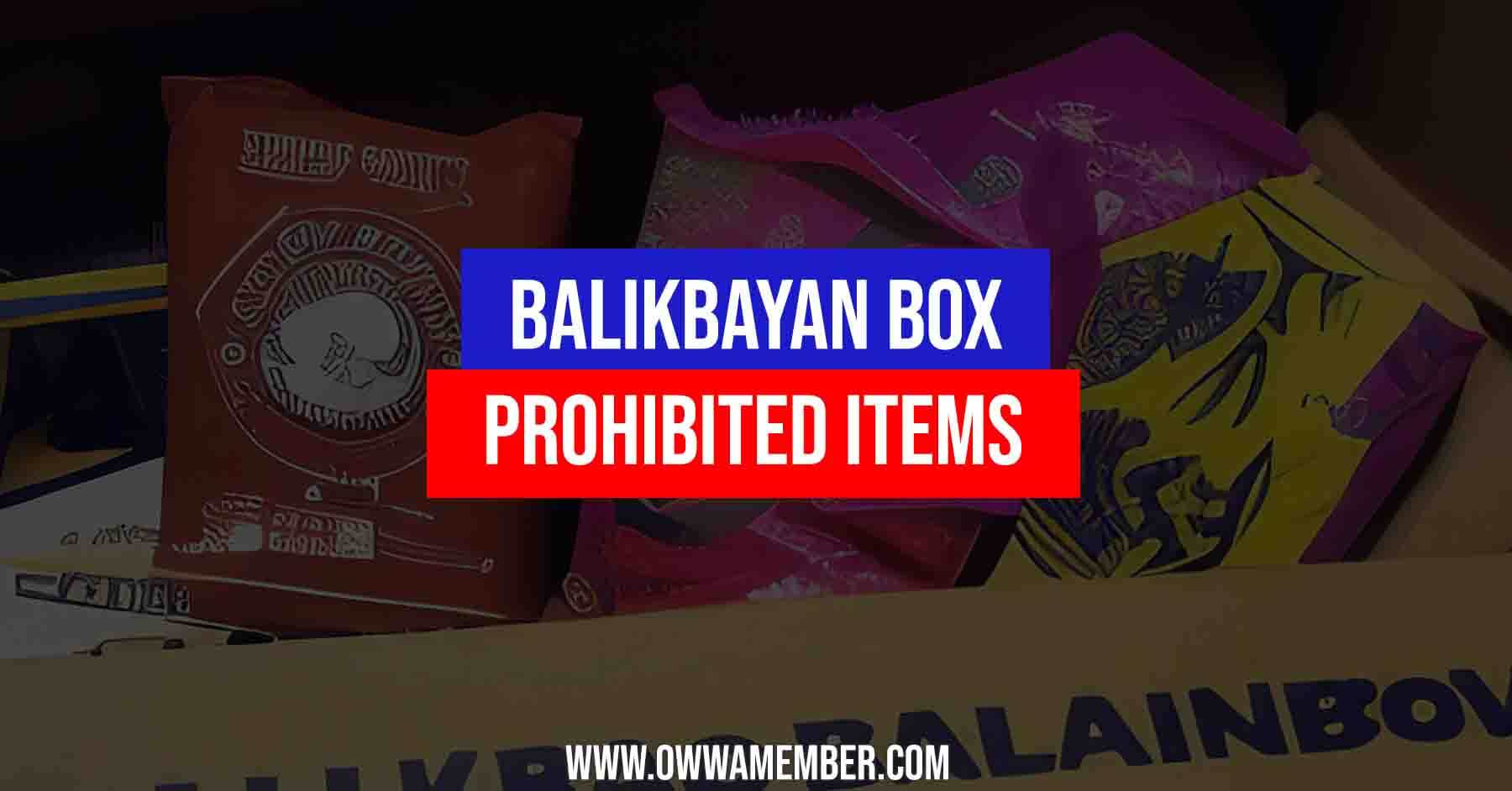 Prohibited Items
Here is the list of prohibited items that you should not pack when sending balikbayan boxes:
Any drugs, substances, or instruments used for illegal abortion
Any printed or written materials that promote illegal abortion
Printed or written pornographic materials, including lithographs, paintings, engravings, cinematographic or negative films, or any immoral or obscene character representation
Jewelry or any goods made of precious metals, as a whole or part, that consist of alloys, gold, silver, and other metals, such as gold-plated bracelets and brands or stamps that do not indicate the actual quality of the metal
Any goods that promote or incite rebellion against the Philippine government and its law
Any goods that can cause harm or threaten any individual
Flammable materials, such as batteries, chargers, lighter, firecrackers, fireworks, and fire extinguishers
Any mislabelled or adulterated drugs, food, or any item intended for human consumption that infringe the laws
Infringing goods as per the Intellectual Property code
Any other item or parts of it that are unlawful
Restricted Items
Aside from prohibited items, here is the list of restricted goods that should not pack in a balikbayan box to prevent problems with customs:
Drugs and Narcotics – Any compound or drug used to manufacture or prepare it, except for items prescribed for medical use
Any goods or devices used for gambling or game of chance, such as loaded dice, marked cards, or roulette wheels
Firearms or Weapons – any goods or parts of it used as a weapon of war, like ammunition, dynamite, or gunpowder
Any weapon of mass destruction and items in the Strategic Trade Management Act (STMA) or the National Strategic Goods List (NSGL)
Other restricted items such as automobile parts, ceramic tableware, lubricants, plants, soil, seeds, and perishable goods not canned, like fruits, meats, cheese, or rice
Opium and its paraphernalia
Animals or Animal Parts
Restricted imported goods
Sweepstakes and lottery tickets, aside from advertisements and drawing lists
Toxic and hazardous substances under the Toxic Substances and Hazardous and Nuclear Wastes Control Act of 1990
Note that it's not allowed to put money in balikbayan boxes since you should transfer it to your families via reliable remittance centers in the Philippines.
Penalties
According to Philippine law, sending prohibited items in balikbayan boxes can be a criminal offense that is punishable by law. Violations may result in fines, imprisonment, or both.
If caught, the sender may face legal charges, and if convicted may be subject to imprisonment or heavy fines as determined by the courts. The sender may also face consequences such as a criminal record, which can affect future travel, employment prospects, and other aspects of their life.
Furthermore, the receiver of such a package may also face legal repercussions if caught in possession of prohibited items.
It is important for anyone sending a balikbayan box to take care of and ensure that the contents of the box adhere to customs regulations and restrictions. They can contact the shipping company or relevant authorities for guidance and advice on sending packages devoid of prohibited items to avoid possible legal penalties.
What OFWs can pack in a Balikbayan box?
Now that you know what restricted and prohibited items you should not put in a balikbayan box, let's talk about the goods you can send to surprise your family and loved ones. First off, here is the list of allowed items for personal use that you can send in limited quantities without securing a clearance from the Food and Drug Administration (FDA) of the Philippines:
Childcare items not over 5kg
Toys not over 10kg
Perfumes 5 pieces or less
Lipstick not over 10 pieces
Assorted cosmetics not over 1kg
Processed food not over 10kg
Vitamins and supplements not over 10kg
Lotion, shampoo, and bar soaps not over 2kg each
Hazardous household products not over 5kg
Liquor and wine not over 1.5L each and not more than 2 bottles
Here's the list of items you can shop and pack to fill your balikbayan boxes:
Chocolates and Confectionery – Sweet treats are probably one of the top goods everyone looks for when they see a balikbayan box. It's a must when packing a balikbayan box since chocolates are expensive in the Philippines.
Food Items & Canned Goods- Other items to put in a balikbayan box are food and canned goods. Level up your balikbayan box with imported spreads, corned beef, luncheon meat, sausages, and more.
Shoes & Apparel- Since some popular brands don't have stores in the Philippines, shoes and apparel are the most requested pasalubong from OFWs and migrant workers. Also, stores abroad have the latest designs, so shopping abroad is better.
Toys- Apart from chocolates, toy items will bring joy to kids, from plushies and interactive toys to robots and remote-controlled cars. So don't forget to pack one for your children, nephews, and nieces.
Personal care items – such as soaps, lotions, and creams.
Kitchenware and home items – such as pots, pans, bed linens, and blankets
Device accessories – such as phone covers, wireless earphones, fitness trackers, and other gadgets.
Books – including textbooks, novels, magazines, comic books, and more.
Appliances, Gadgets & Electronics- You can also put the latest gadgets, electronics, and appliances in a balikbayan box. But don't forget to cover these electronics with bubble wrap to ensure they will arrive safely.
Food Supplements & Medicine- Make your loved ones feel cared for by sending them medicines, vitamins, and other food supplements that benefit their health.
Miscellaneous Goods- The thing with packing a balikbayan box is you can put almost all necessary stuff, from bath to skin care products to kitchen utensils and shoe racks.
Common Bureau of Customs Restrictions and Factors
Customs restrictions regarding balikbayan boxes vary depending on the country's regulations, but some common restrictions include:
Prohibited items: There are items that are not allowed to be shipped in balikbayan boxes such as firearms, drugs and other illegal substances, pornographic materials, and hazardous materials.
Quantity restrictions: Depending on the country's customs regulations, there may be limits on how many of a particular item can be shipped. This is to prevent excessive commercial shipments and ensure the boxes are used for personal gifts and goods.
Weight and size restrictions: Balikbayan boxes have weight and size restrictions that vary depending on the shipping company and the country's customs regulations. The weight limit is usually between 20-70 pounds, while the size limit is typically around 24x18x18 inches.
Taxation: Depending on the contents of the box, they may be subject to customs duties and taxes. The amount levied depends on the value and quantity of the items inside the box.
It is important to check with the shipping company and the customs department of the country of origin and destination before packing the balikbayan box to ensure that all rules and regulations are followed.
Tax Rules on Goods inside a Cargo Box
The regulations on taxes associated with sending a balikbayan box can vary depending on the country where it is being sent from and where it is being sent to.
In some countries, such as the United States and Canada, there is a tax exemption for balikbayan boxes. This means that the items inside the box, as long as they are intended for personal use and not for resale, will not be subject to customs duties or taxes. However, this exemption may apply only to specific items or up to a certain value, so it is important to consult with local customs regulations to ensure that the contents of the box are eligible for the exemption.
In other countries, taxes may be levied on the contents of the balikbayan box if they exceed a certain threshold or if the customs officials determine that they are intended for commercial purposes. Taxes are usually based on the value of the goods inside and can be paid by the sender or the recipient, depending on the arrangement with the shipping company.
However, there are some exceptions or limitations to the tax exemption. For example, in some countries, taxes may apply in the following situations:
Commercial quantity or value: If the contents of the balikbayan box exceed a certain threshold, customs officials may view it as a commercial shipment and may subject it to taxes and duties.
Prohibited or restricted items: If the balikbayan box contains items that are prohibited or restricted by customs regulations, it may be subject to penalties or taxes.
Incomplete or incorrect documentation: If the paperwork or documentation for the balikbayan box is incomplete or incorrect, customs may hold the shipment and may charge taxes before releasing it.
It is important to check with the shipping company and the local customs agency for specific regulations and any associated taxes before sending a balikbayan box to ensure a hassle-free transaction.
How to Declare Contents of a Balikbayan Box
Preparing and declaring the contents of a balikbayan box for shipment can help ensure that it passes smoothly through customs and avoid any taxes, duties or other fees. Here are some general steps on how to prepare and declare the contents of your balikbayan box:
Sort and pack your items: Sort the items you want to send and pack them securely in the balikbayan box. Note the weight and dimensions of the box as some shipping companies apply weight and size limits.
Prepare the necessary paperwork: Check with the shipping company and the customs department for the specific declaration forms needed. You may be required to fill out a customs declaration form or a packing list, among others.
Declare the contents of the box: Declare each item and its value on the proper forms, including a description and the quantity. Do not undervalue the contents of the box to avoid taxes, as this is considered smuggling and can result in penalties and fines.
Secure the forms and attachments to the box: Affix the completed forms and supporting documents to the box, usually outside and clearly visible. Ensure that the details match the contents of the box.
Ship the balikbayan box: Once the box is sealed and the forms are attached, ship the box through the chosen shipping company. Keep the receipt and tracking number for reference.
Video: Banned Items in Your Cargo Box
Please check out this quick video guide on the items that are prohibited or restricted from placing inside a balikbayan box. Knowing what not to include can help avoid delays in customs and any penalties that may be imposed as a result of sending prohibited items.
This video aims to provide tips and advice on how to send balikbayan boxes safely and efficiently. Please also refer to local customs regulations before sending a cargo box, particularly when shipping internationally and across borders. Keeping up-to-date with the rules and regulations will ensure the smooth delivery of your precious cargo boxes while avoiding unnecessary taxes.
Frequently Asked Questions
1. Can I pack perfume in a balikbayan box?
Yes, you can pack perfume in a balikbayan box. But only up to 5 pieces for personal use. If it's over the limit number, you must obtain clearance from the Food and Drug Administration (FDA).
2. Are cell phones allowed in a balikbayan box?
Yes, it is allowed, but it's highly recommended not to pack cell phones in a balikbayan box since their batteries are prone to explosion and fire.
3. Can I pack liquid items in the balikbayan box?
Yes, you can pack liquid items in a balikbayan box. However, ensure to seal them with sturdy plastic in case it spills.
4. Are balikbayan boxes inspected?
Yes, they are. All balikbayan boxes are required to undergo x-ray scanning. However, 100% physical inspection is performed with the presence of the consignee if the balikbayan box was tagged as suspected by the x-ray scanner.
5. How to make sure my items will arrive safely in the Philippines?
To ensure that your balikbayan box arrives safely, wrap all fragile items with bubble wrap and pack them as tight as possible. Also, check prohibited and restricted items to avoid confiscation and delay of delivery. Moreover, always use trusted cargo services when sending your balikbayan boxes. This way, you can be sure that your items will arrive safely and securely in the Philippines.
6. Is there a weight limit for balikbayan boxes?
Yes, the Food and Drug Administration (FDA) of the Philippines has designated weight limits for certain items in balikbayan boxes. Childcare items should not weigh more than 5kg, while toys should not exceed 10kg. Processed food must be below 10kg and perfumes can only contain 5 pieces or less. Lastly, hazardous household products should not exceed 5 kg. You may check with FDA guidelines for other specific item restrictions.
7. How much is the amount of tax to prepare when sending balikbayan box?
The amount of taxes that could be charged on a balikbayan box would depend on various factors such as the country of origin, the contents of the box, the declared value of its contents, customs duties, and taxes, among others. There's been a new Philippine rule where Filipinos can send items worth up to PHP 150,000 per year. But depending on the item, the tax rates and associated fees can vary greatly depending on the destination country's customs regulations and tax laws, and can change over time. I recommend consulting with the relevant authorities or the shipping company for specific information on taxes or duties that may be charged for specific items or values.
Summary
Although balikbayan boxes are not mandatory, OFWs and migrant workers often send them to their families in the Philippines, especially during Christmas. In addition, you can fill up balikbayan boxes based on your budget, so you don't have to overspend.
Nonetheless, it's essential to be cautious when packing balikbayan boxes and avoid prohibited items that can cause delay in your cargo. So if you're sending a balikbayan box soon, refer to this guide while packing.