The DOLE Tupad Program is a government initiative headed by the Department of Labor and Employment (DOLE) and provides emergency employment opportunities for those affected by the pandemic. This program offers short-term jobs with wages paid directly into bank accounts or through cash cards, allowing workers to support their families while they look for more permanent work.
Many people in the Philippines are struggling to make ends meet due to the current economic crisis. With no source of income, it can be hard for individuals and families to pay for basic necessities such as food and shelter.
Different beneficiaries have received financial assistance from the Labor Department, particularly those who were forced to relocate and resign due to the COVID-19 pandemic as well as other calamities. Continue reading the article to learn more about TUPAD, the requirements, the qualifications, and how to apply.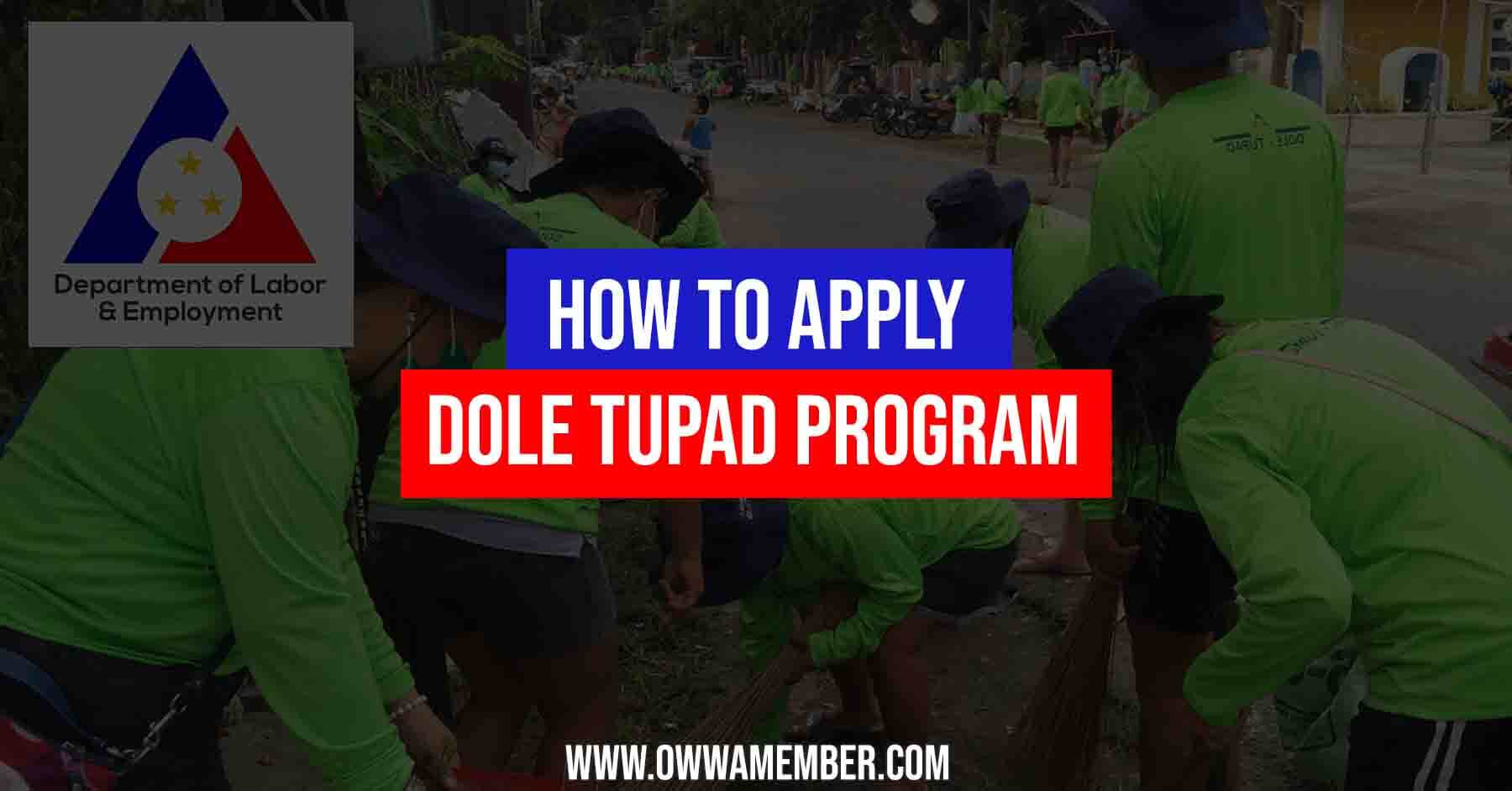 What is TUPAD Program Philippines?
"Tulong Panghanapbuhay sa Ating Disadvantaged/Displaced Workers," or TUPAD, is a community-based program or assistance that offers temporary employment for workers from the informal sector who are displaced and affected by the COVID-19 pandemic.
Depending on the type of work to be done, this program provided emergency employment for displaced workers, the underemployed, and seasonal workers for a minimum of 10 days and a maximum of 30 days.
Also Read: How to Apply DOLE-AKAP Online for OFWs (Php 10,000 COVID-19 Cash Assistance)
What is the meaning of the TUPAD Program by DOLE?
TUPAD is an acronym that stands for Tulong Panghanapbuhay sa Ating Disadvantaged/Displaced Workers (Employment Help to Disadvantaged/Displaced Workers).
Requirements
There are initially NO requirements when adding your name to the TUPAD beneficiary list. Once you have been approved, the designated Barangay or LGU will submit the listed document to the DOLE office.
Letter of Intent
List of beneficiaries
Memorandum of Agreement (MOA) or Contract of Service between DOLE and the Barangay or LGU.
TUPAD Work Program
Qualifications
The following are the eligible beneficiaries:
Underemployed
Workers who have been dismissed or laid off because a business has permanently closed or undergone retrenchment
Self-employed workers who have lost their livelihoods due to natural disasters or calamities, economic downturns, armed conflicts, or the seasonal nature of their jobs, including farmers and fishermen
Please take note that each household can only receive benefits from the program ONCE per calendar year. However, if a beneficiary suffers from a calamity or disaster, they may apply once more.
The Following, however, DO NOT Qualify For the TUPAD Program:
Age 17 and below
Agriculturists who received financial assistance from the Department of Agriculture
Individuals who received financial assistance from the Department of Social Welfare and Development
Government workers
Recipients of Local Government Unit benefits of Php 8,000 and or above
Those who got financial assistance from DOLE CAMP of PHP 5,000.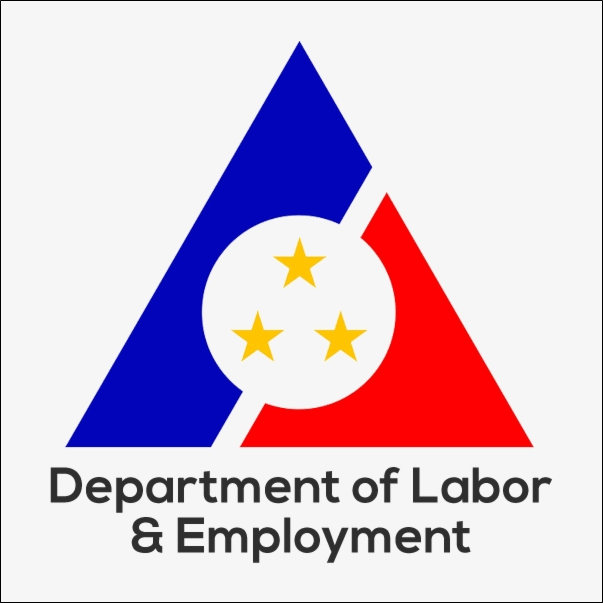 Benefits
The following are some benefits of working at TUPAD, aside from the beneficiary having a temporary job:
Beneficiaries will receive employment for 4 hours per day for 10 days.
After working a full day, they will be paid the minimum wage in their town. Additionally, this is a one-time grant, and DOLE may suggest that they contact DSWD if they need more assistance.
A group micro-insurance policy that DOLE will be responsible for paying for during the term of the work contract
Hard hats, work gloves, masks, rubber boots, and long-sleeved TUPAD t-shirts, all of which must be worn while performing high-risk and hazardous types of work
Basic safety and health orientation – Free skill training that workers can choose to participate in to get ready for self- or wage-employment
Personal accident coverage, a manual for health and safety, and supplies for cleaning and disinfecting for barangay work.
Projects under Tupad Benefits
Only the projects that fall under the following categories may receive such assistance from TUPAD workers:
Community agroforestry developments like tree planting, seedling development, and reforestation.
Economic community developments like the repairs, maintenance, and/or repair of farm-to-market roads, bridges, post-harvest facilities, open-air markets, and common service facilities like fish ports and production and display facilities.
Social community projects like debris removal, canal de-clogging, debris segregation, materials recovery, stockpiling, and clearing, as well as the repair, maintenance, and/or improvement of common public facilities and infrastructure like schools and health centers.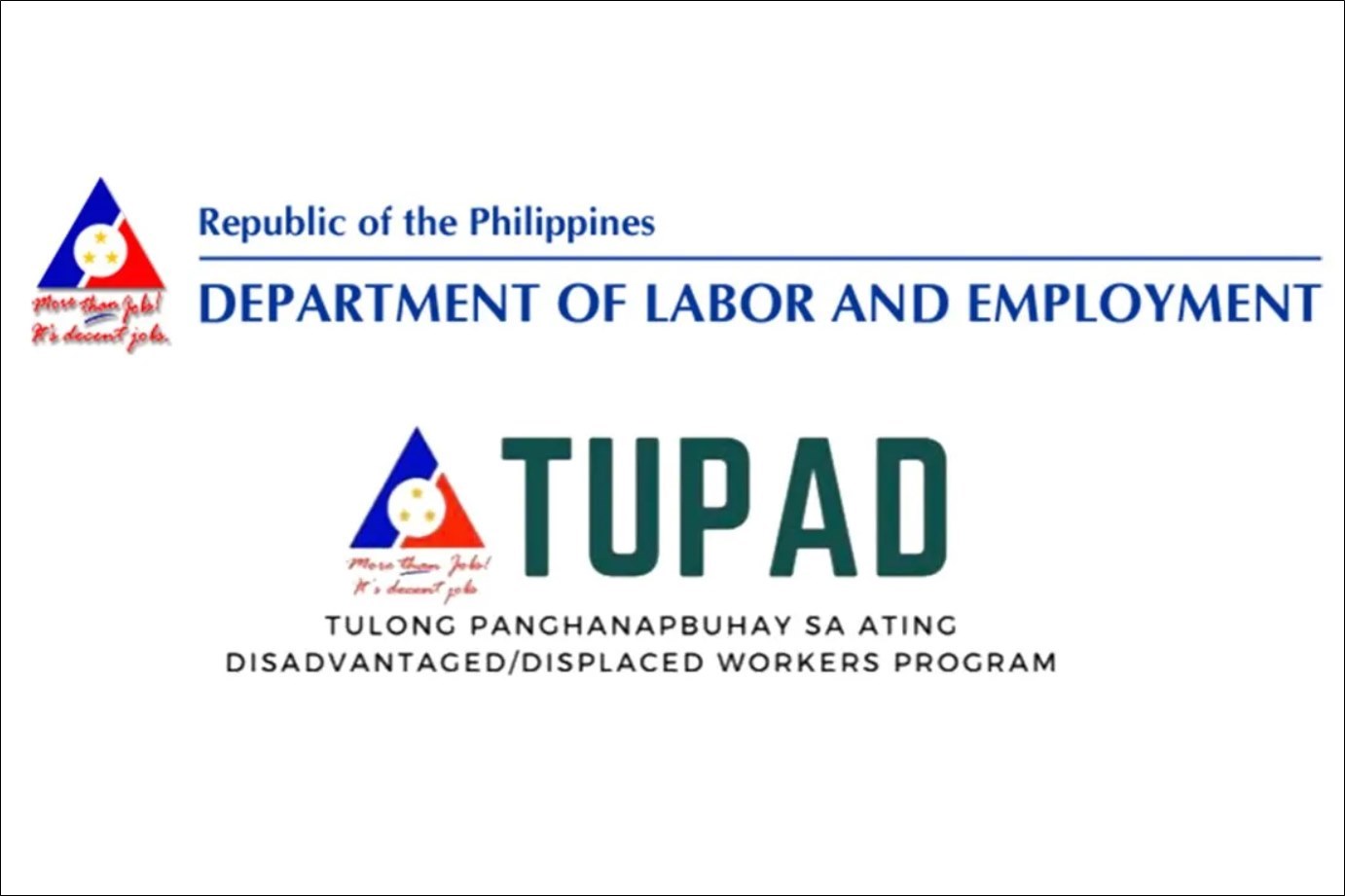 How to Get DOLE Tupad Assistance?
If you are an individual or an OFW who was forced to relocate or resign because of the COVID-19 pandemic, you can apply to the TUPAD program by following the steps below:
Step 1: Visit the DOLE Public Employment Office of your municipality or barangay to have your name added to the beneficiaries list. For groups, DOLE suggests that a group representative complete the listing.
Additionally, you can send an email to your local DOLE office with your name, address, and phone number, along with a note that you're applying for the TUPAD program.
Step 2: DOLE will quickly validate your data with your LGU.
Step 3: Wait for a response from the LGUs.
Step 4: At this point, you can enjoy working in TUPAD.
Video: Higit 22,000 manggagawa sa Surigao, beneficiaries sa TUPAD Program
Watch the video below to see some beneficiaries who got the job and got paid through the TUPAD program. For more information about the TUPAD Program, keep watching the video.
Frequently Asked Questions
If you have any further questions regarding "How to Apply for DOLE Tupad Program" see the list of frequently asked questions and answers below.
1.   What is TUPAD Program?
It is a community-based safety net program that will offer temporary employment to workers from the informal sectors who are underemployed, self-employed, or displaced marginalized workers whose earnings are affected by the ECQ and COVID-19 pandemic.
This may include but is not restricted to, Kasambahays, Angkas Drivers, Grab Drivers, Jeepney and other PUV Drivers, Carinderia Owners, Vendors, Dishwashers, Retired, Senior Citizens Fit to Work, and Independent Contractors. However, under the Anti-Child Labor Law, applicants must be 18 years of age or older.
2. What is provided to workers at TUPAD?
You'll receive a basic orientation on safety and health, personal protective equipment (PPE) in the form of a T-shirt and hat, and enrollment in group micro-insurance, to be paid for as part of the project's overall cost or as the LGU's counterpart, and a TUPAD ID.
3. How will the workers be paid?
Your LGU or barangay will arrange for the money remittance (Palawan Express) to send the salary. The first 50% of the payment will be made on the fifth day of work, and the final 50% will be made at the end of the 10-day working period. Your local government can work with DOLE to arrange a cash payout for regions where there is no means of money remittance.
4.   Who is going to submit the application?
The applications should be made possible by barangay captains, mayors, or other LGUs and submitted to the DOLE Regional Office, Provincial Office, or Field Office that is closest to them.
You can call the DOLE-1349 hotline if the barangay or local government unit (LGU) is not knowledgeable about the procedure.
5.   Can senior citizens and retired workers apply for the TUPAD program?
Yes, as long as they are physically fit to work.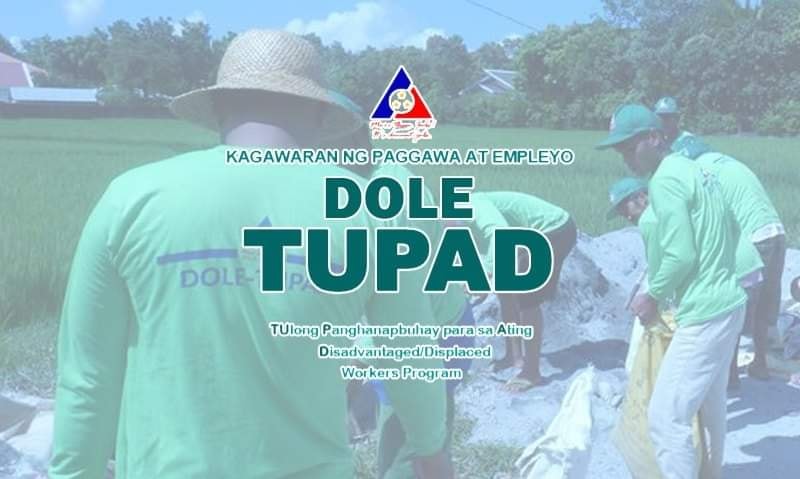 Summary
One of the Department of Labor and Employment's (DOLE) programs, Tulong Panghanapbuhay sa Ating Displaced/Disadvantaged Workers Program (TUPAD), aims to promote inclusive growth and poverty reduction.
Anyone who has had their job affected by the ECQ and COVID-19 pandemic is eligible to apply for this program. Remember that each household is only eligible to receive benefits from the program ONE TIME each calendar year.