The Department of Education (DepEd) offers a variety of scholarships to qualified Filipino students in need of financial assistance. These scholarships are available for both college and technical-vocational education, making it possible for many aspiring learners to pursue their dreams regardless of their economic background.
Also Read: List of DepEd Programs, Projects and Activities
With DepEd's help, these scholars can gain access to quality education that will enable them to become productive members of society and fulfill their potential. Moreover, the scholarship programs provide an avenue by which our government invests in the future generation through educational opportunities. This gives hope and inspiration to those who strive hard despite their limited resources – inspiring them not just with words but also with tangible actions from our government.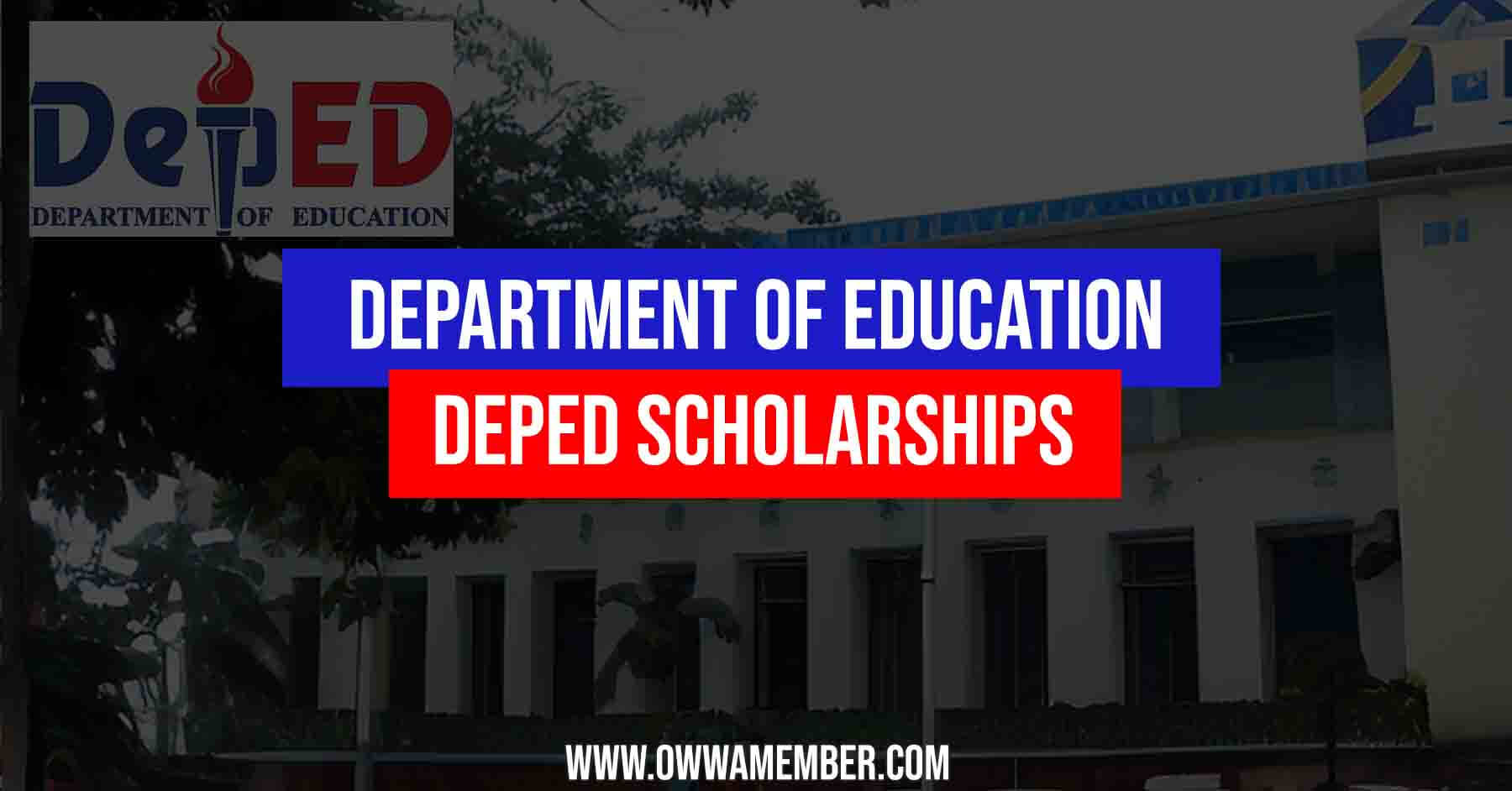 Overview
Every single student has a unique story to tell. For those who have been given the possibility to obtain scholarships, it should go without saying that the opportunity to pursue a higher education is given not only to talented and bright students, but also, and especially, to those who are poor and marginalized.
Scholarships provide students with the support they need to complete their education and eventually enter the workforce. It is claimed that education is the greatest equalizer. It is alarming that the number of young people who dropped out of school last year increased significantly, and it should be emphasized that this was attributed to both the pandemic's problems and the high cost of schooling.
The different scholarship programs offered by the Department of Education aim to provide an opportunity financial support for students (and teachers as well) to enable them to get the education they cannot afford. The diversity among students in the Philippines is a big challenge for the department.
Without the assistance from generous benefactors, it would be very impossible for some students to get an opportunity to study and create a better future for them. Many Filipinos view education as their best option to escape poverty, and it is a national ideal. Financial difficulties are one of the biggest causes of Filipino children not receiving a quality education, hence student scholarships have a profoundly positive impact.
Gokongwei Brothers Foundation
As per DedEd Advisory no. 32, s. 2022, DepEd supports the Gokongwei Brothers Foundation's vision to create a lasting impact on one million learners and ten thousand educators by 2025. The Gokongwei Brothers Foundation (GBF) and the Department of Education (DepEd) have collaborated on a memorandum titled "Gokongwei Brothers Foundation TeachSTEM for College Degree and Master's Degree Scholarship Program" that echoes their shared vision for effective and high-quality STEM education for new and experienced K–12 STEM teachers.
Both college and master's degree scholarships provide high-quality instruction from renowned centers of excellence and/or development across the nation, fixed yearly grants that can be applied to tuition, books, supplies, living expenses, and research expenses, as well as programs for students' development like training webinars, psychosocial support, and other things. The TeachSTEM Master's Research Grant Program will give money to qualified STEM teachers who are finishing their master's thesis as the last step in their master's degree program at one of GBF's partner universities. On the other side, the Teacher Certificate Program will assist public K–12 STEM instructors who are not majoring in education in completing a Teacher Certificate Program at any of GBF's partner universities this year.
DepEd Integrated Short-Term Scholarship Program (DISP)
In support of the thrust of the Department of Education to upgrade its human resource capabilities, the Department shall strengthen the implementation of the DepEd Integrated Short-Term Scholarship Program (DISP). This is a teacher scholarship program designed for elementary and secondary school teachers to upgrade and improve their teaching skills and competencies in a face-to-face scenario. The scholarship program provides special financial assistance to highly qualified teachers who will undergo academic studies in an educational institution of higher learning contracted by DepEd for a period of 22 contract days.
Scholars of DISP are entitled to their salaries, course tuition fees, and a subsidy of Five Thousand Pesos (P5,000.00) for living allowance for the duration of the scholarship. The Department will also provide for the travel expenses and per diem for 2 days going to and from Manila at the most economical mode of transportation.
DepEd Scholarship Program for Non-Teaching Personnel
The non-teaching personnel of the Department plays an integral role in the bureau as part of the human resources. In line with the thrust of capacitating these non-teaching personnel, DepEd offers scholarship program for baccalaureate and master's degrees to qualified personnel.
Geared towards the professional development of the personnel, the program includes competency-based training to upgrade, strengthen, and facilitate efficient and effective service delivery.
"One Town, One Scholar" Scholarship Program
This One Town, One Scholar scholarship initiative of DepEd intends to award four or five-year scholarship to incoming freshman who has been selected by his/her municipality as its "Town Scholar". This scholarship program ensures that deserving public high school graduates from all towns, specifically those from families who are financially incapacitated, will receive a college education in a state university of college.
All public secondary schools will choose from the interested top ten graduating students. Screening and selection process shall follow the Implementing Guidelines of the Commission on Higher Education (CHED).
Senior High School Voucher Program
The Senior High School Voucher Program (SHS VP) is an aid to help junior high school graduates study in a senior high school program of their choice. It allows them to enroll in any SHS at any school with a lesser burden on the steep costs of school fees and other miscellaneous expenses. This voucher lets students get first-rate teaching in accordance with their needs at a marked-down rate. The students will not get any cash but a voucher certificate for DepEd to remit the payment right to the chosen institution.
This program gives financial assistance wherein subsidies are given to qualified Senior High School students in participating private and non-DepEd public Senior High Schools. Schools must give assistance and guidance to uphold student preference. In this way, documents must be processed accordingly as requested by the learners and career guidance programs must be provided to facilitate voucher application.
Summary
The effects of poverty on learners can lead to lifelong struggles not only in life but also in their education. Poverty and education cannot be separated. They are linked because students living below poverty line may stop going to school so they can work. DepEd's aim to make schooling accessible to all has created programs and scholarships so that no learner is left behind.
It is very hard to see young students stating their defiance by not going to school. Considering the millions of young minds who are unable to enroll, the chances for these learners to create a better future for them cannot only be very alarming but also very disturbing. DepEd believes that education is for all, and different programs, projects, and scholarships are offered just to make sure not a single youth is deprived of education.