The DepEd Gokongwei Brothers Foundation Scholarship is a generous program that provides financial assistance to public high school students, who come from economically challenged backgrounds yet show outstanding academic performance and leadership potential. This partnership between the Department of Education (DepEd) and Gokongwei Brothers Foundation (GBF) not only acknowledges the commitment GBF has dedicated towards improving Filipino children's lives through educational opportunities but also honors it.
We are instilled with the value of education at an early age. We have the advantages and possibilities of growing up in a good learning environment that can help us achieve a better future. It's encouraging to realize that learning even during the pandemic has useful advantages, despite the current global scenario.
Also Read: List of DepEd Scholarship Training Programs
Many people have the chance to pursue their education because of scholarships. Without outside help, learners could struggle to pay for the education they need to enter the workforce and contribute to society.
Scholarships offer financial assistance to learners to help them pay for a higher education. These subsidies give learners access to education that they cannot have because of financial incapabilities. Scholarships go further than simply financial aid for many students. They give deserving learners the means to pay for further education as a reward. This might encourage them to pursue a college education.
They raise the learners' awareness of the sponsoring companies to help them launch their careers. Learners may be drawn to the sponsoring businesses by them in search of potential jobs. Scholarships build community support and connect brands with more consumers who may not otherwise be interested in them.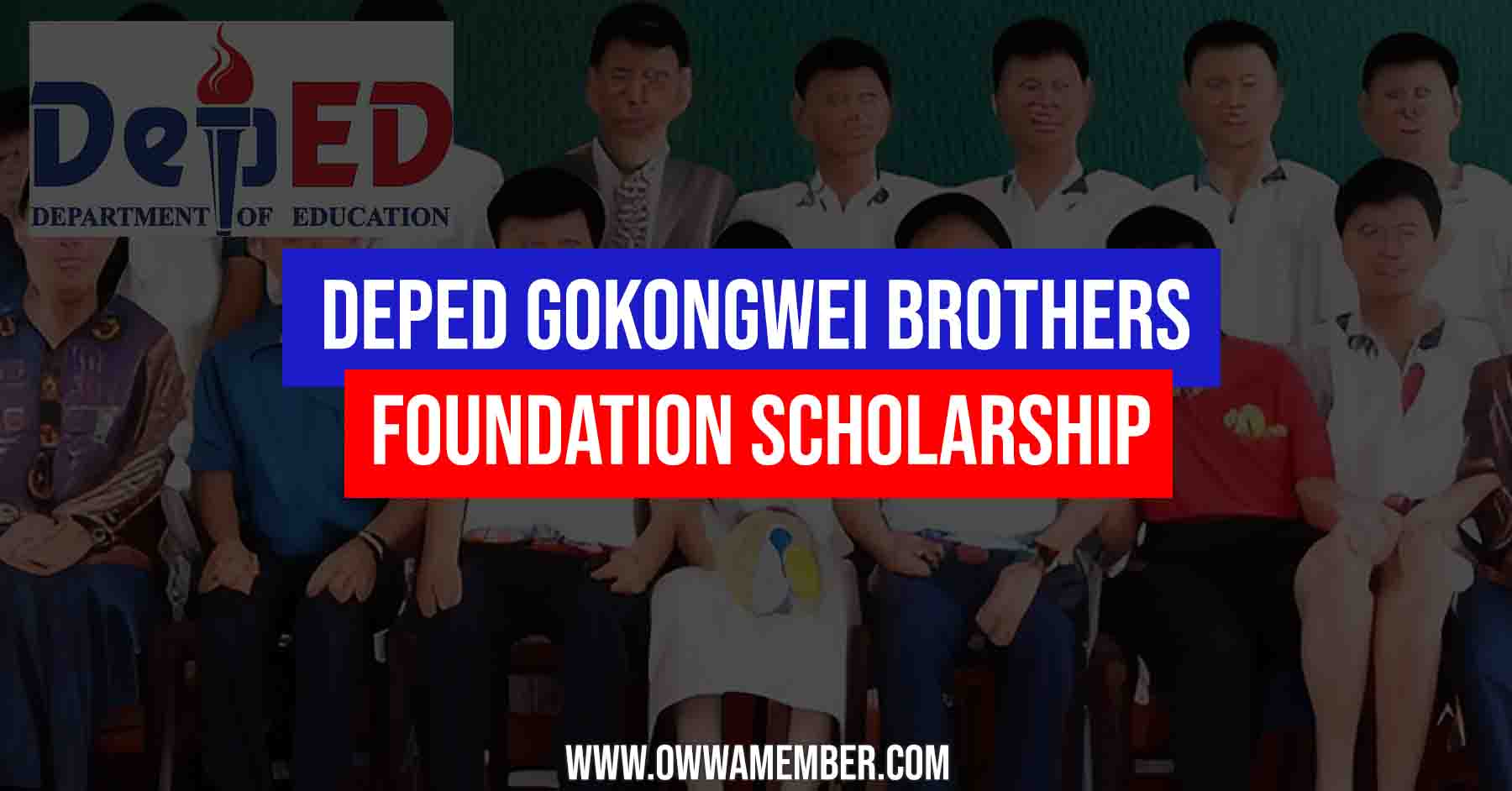 What is Gokongwei Brothers Foundation Scholarship?
John, Johnson, Henry, and James Gokongwei founded the Gokongwei Brothers Foundation in 1992 with the intention of making a significant contribution to Philippine education. The Gokongwei Brothers Foundation has committed itself to advancing the nation by supplying its future workforce with high-quality education, particularly in the fields of science, technology, engineering, and mathematics (STEM).
The foundation works toward the advancement of Science, Technology, Engineering, and Mathematics (STEM) education, believing that this is the driving force for sustainable national development.
The mission of the Gokongwei Brothers Foundation Scholarship is to build the future through education. Its vision is to make every Filipino have access to education that enables them to work and contribute to family and the country. The foundation gives greater weight to initiatives that are measurable, scalable, and sustainable.
It considers values to be equally significant as competencies. Excellence is defined by the foundation as a combination of tenacity, diligence, perseverance, creativity, and service to others. The Gokongwei Brothers Foundation prefers helping those who are also helping other.
Qualifications
In order to qualify for the scholarship program, the applicant must possess the following eligibility requirements:
Must have no failed, dropped, or incomplete grades in the previous school year.
Must have a general average of at least eighty-five percent (85%) or its equivalent.
Must have enrolled the minimum academic load prescribed within the recommended period.
Must be in good health.
Must possess good moral character.
Must be teaching STEM in any K to 12 public institution or any public or private tertiary school (except college degree).
At least garnered a 'Satisfactory' rating in teaching performance from previous academic year (except college degree).
In need of financial assistance to finish their education.
Preferably not a scholarship recipient of another kind.
Requirements
To be qualified for the Gokongwei Brothers Foundation Scholarship, the following requirements must be submitted:
Proof of Enrollment/Admission
Certified True Copy of Grades that reflect the General Weighted Average (GWA) from the previous school year
Proof of household income (ITR), Certificate of Indigency, Certificate of Low Income, 2 recent payslips)
Certificate of Good Moral Character
Philosophy of teaching essay
Recommendation form
Consent from parent or legal guardian for applicants below 18 years old
ID picture
Medical certificate (to be submitted after passing the essay)
How to Apply for the Gokongwei Brothers Foundation Scholarship
The TeachSTEM Degree Scholarship Program seeks to cultivate and support qualified STEM educators who will promote STEM in their communities and prepare incoming students to subsequently aid in nation-building. The program also intends to develop 21st Century learners and create a STEM-oriented culture among Filipino students and educational stakeholders by equipping educators with deep content knowledge, strong teaching proficiencies, and pertinent values.
The TeachSTEM Scholarship for Educators provides scholarships for (!) aspiring teachers through a College Degree scholarship, (2) current teachers through a Master's Degree scholarship, (3) teachers taking up their Master's Degree through the Master's Thesis Grant and, (4) STEM professionals who wish to teach through Teacher's Certification scholarship.
Below are the steps on how to apply for the TeachSTEM Scholarship Program.
STEP 1: Eligibility Screening
The accomplishment of Application Form
Submission of Documentary Requirements
STEP 2 Live Online Examination
Competency Test
Essay Test
STEP 3: Panel Interview
Submission of Medical Certificate
Panel Interview
Frequently Asked Questions
The following are some of the common questions asked about the Gokongwei Brothers Foundation Scholarship.
1. If the university I am enrolled in is not among the list of partner institutions, may I still apply?
Only students from GBF partner universities qualify for the scholarship.
2. I am not enrolled. May I still apply?
Yes, you may so long as you have passed the university admission process. You must submit Proof of Admission and Letter of Intent to enroll.
3. Do I need to present any medical certification during the application process?
All applicants who passed the essay must submit a medical certificate to prove that they are in good health.
4. What is the minimum general average to qualify for the scholarship?
All applicants must have a general average of at least 85% or its equivalent.
5. Is the exam done face-to-face?
All examinations (Competency Test and Essay) are done live online.
Summary
We have always believed that the best equalizer is education, and scholarships provide students with the support they need to get a degree and subsequently find employment. For many Filipinos, receiving an education represents their best hope of escaping poverty. Financial difficulties are one of the main causes of Filipino children's lack of access to a quality education, and the influence of student scholarships can change a person's life.
Since it is the road that leads to empowerment and employment, education is an investment itself. When examining how education benefits our learners, it is important to remember that it is a service sector whose primary objective is to generate educated people who will significantly boost the nation's economy.
Education is also greatly responsible for the growth of our nation's human resources. So, it comes as no surprise that both the public and private sectors actively participate in providing scholarships for Filipino learners, as both are aware of the need of a decent education for the development of a skilled labor force.