The Department of Labor and Employment (DOLE) has launched the "DOLE-AKAP for OFWs," which aims to provide financial assistance to displaced land-based and sea-based Filipino workers due to coronavirus diseases (COVID-19). DOLE will grant a one-time financial assistance (DOLE-AKAP) of PHP 10,000.00 or its equivalent in the local currency of the host country to help Filipinos who lost their jobs or who have not received their salaries due to COVID-19.
Also Read: How to Get an Overseas Employment Certificate (OEC) for OFWs
Overseas Filipino Workers who are regular or registered and have a valid passport, a valid visa or permit to stay and work in the receiving country, and a POEA or POLO-processed contract of employment are eligible for the said assistance. In case you are wondering how to claim the said cash benefit, you may check out this article to learn how to claim the DOLE-AKAP money.
Many that have lost their jobs as a result of the receiving country's lockout or population quarantine may be liable for the said cash assistance. In this post, we share the details about this special OWWA project in times of the pandemic, the requirements needed for those who want to claim this PHP 10,000, and what are the steps in order to get process it.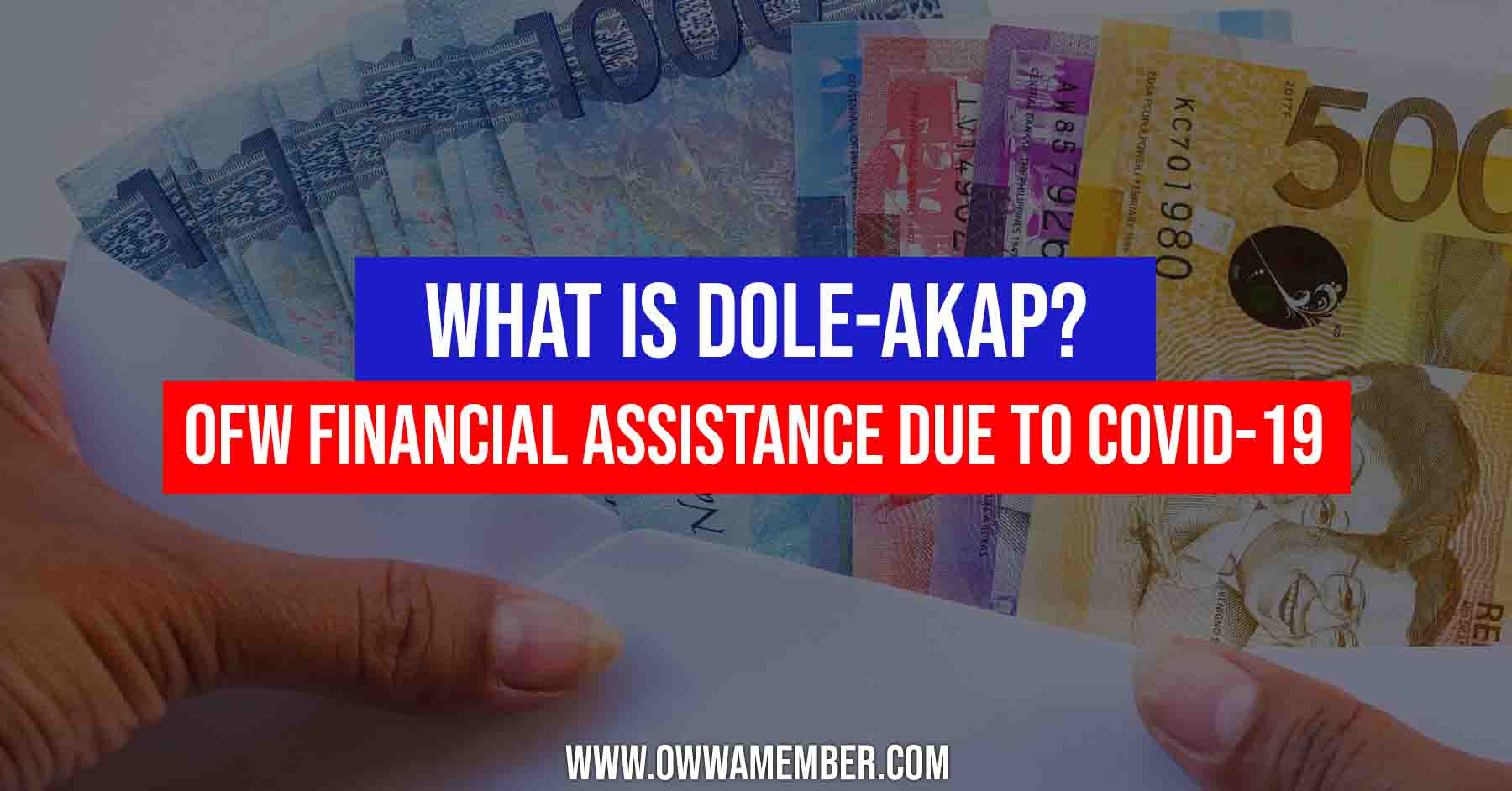 What is DOLE-AKAP Program?
The Philippine Department of Labor and Employment (DOLE) launched the DOLE-AKAP Financial Assistance Program for Overseas Filipino Employees (OFWs) who have already lost their jobs due to COVID-19. This is a one time financial assistance given to OFWs and seafarers worth PHP 10,000.00.
This is also commonly called an "Ayuda" which means help. This OWWA DOLE AKAP 'ayuda' project intends to help OFWs have some additional funds especially for those who have lost their jobs which means they are not able to get a salary income.
Note: The DOLE-AKAP is NOT a loan program. You do not have to pay any amount back when you receive the PHP 10,000 assistance. There are also no FEES to be paid when you apply for this fee.
The DOLE-AKAP Program is in line with our government's Bayanihan to Heal as One-Act. Its main aim is to support OFWs in different countries who have lost their jobs as a result of COVID-19. Priority will be provided to OFWs who are in urgent need of assistance due to a shortage of support from their employer or the government of the country where they work.
Also Read: How to Apply DOLE Tupad Program
Qualifications
Who is eligible for the DOLE-AKAP program? In case you are wondering who is qualified to get the OFW AKAP project, please check the qualifications below:
Regular / Recorded OFWs, as described in the 2016 Revised POEA Rules and Regulations, are those who:
Have a valid passport and an appropriate visa or permit to stay and work in the receiving country;
Have had their contract of employment processed by the POEA or the POLO.
Eligible Undocumented OFWs:
Who were once regular or documented employees but have since lost their regular or documented status due to some reason or cause;
Who have not yet registered with the POEA or whose contracts have not yet been processed by the POEA or the POLO, but have taken measures to rectify their contracts or status;
Who are active Overseas Workers Welfare Administration (OWWA) members at the time of availment but are not registered with the POEA or whose contracts were not processed by the POEA or the POLO.
Balik-Manggagawa who are unable to return to their home country due to COVID19's host country lockdown.
Note: This assistance is intended for displaced or distressed OFW workers affected (those who lost their jobs or who have no source of income due to the health crisis. If you have not experienced any loss of job/income due to the crisis, it's much better to please give this assistance to those who need it the most.
Requirements
Both land-based OFWs and seafarers who have been affected by the pandemic are qualified to get DOLE-AKAP assistance. Please see the document requirements below:
Photocopy of passport
Copy of airline ticket
the boarding pass or arrival stamp in the Philippines
valid OEC certificate
active contract or visa
proof of active work contract
or proof of loss of employment (if no termination letter, summary letter with cause of loss of employment due to COVID-19
What countries will benefit from DOLE-AKAP?
Priority Countries / Territories for Onsite OFWs include:
1. Australia
2. Brunei
3. Canada
4. Cyprus
5. Germany
6. Greece
7. Hong Kong
8. Israel
9. Italy
10. Japan
11. Jordan
12. Korea
13. Kuwait
14. Lebanon
15. Libya
16. Macau
17. Malaysia
18. New Zealand
19. Oman
20. Qatar
21. Saudi Arabia, Kingdom of
22. Singapore
23. Spain
24. Switzerland
25. Taiwan
26. United Arab Emirates
27. United Kingdom of Great Britain
28. United States of America
Step-by-Step Guide: Apply for DOLE-AKAP Online
Below is the procedure how you can apply for the DOLE-AKAP for OFWs cash assistance:
For OFWs who have returned to their home country / Balik-Manggagawa OFWs who have been repatriated to the Philippines and Balik-Manggagawa can apply online using the following steps:
Go to http://dole-akap.owwa.gov.ph in your browser and fill out all of the appropriate details before pressing the "NEXT" button;
Use the required button to upload the following requirements:

A photocopy of your passport or other travel documents
A copy of your flight ticket or boarding pass confirming your return to the Philippines, or a copy of your passport's arrival stamp/sticker.
Evidence of overseas employment, such as a legitimate confirmed overseas work, an OEC, a residency I.D., a visa/re-entry visa, or a permit to remain in the receiving country, among other items.
Evidence of job loss as a consequence of COVID19, or proof that the host country are on the list of those who are adversely impacted by COVID-19 (For example, a notice of work termination or business closure issued by a Foreign Recruitment Agency or the principal/employer, incident report on job termination submitted by the employer to the POLO in question, Philippine Embassy/Consulate/POLO/OWWA certification/referral of displacement due to COVID-19, and so on.)

DOLE OWWA will review the documents submitted in the OWWA application form for financial assistance online so you have to wait for feedback.
Once all documents are complete, DOLE OWWA will provide you details of how to pick up your PHP 10,000 cash assistance.
For Eligible Undocumented Workers: evidence that he/she and the employer have completed the requisite paperwork to regularize her stay in the host country, such as copies of job contracts, payslips, work permits, or other proof of employment.
After you've submitted all of the required specifications, press the "SUBMIT" button to see a confirmation prompt. A confirmation receipt produced by the system will also be sent to your e-mail.
Validation/evaluation of received applications with complete documentary criteria will be performed by the concerned OWWA Regional Office via its OWWA Officers, and the application will be accepted or rejected, as required. Our OWWA Officers can contact you via the given contact information or Facebook account during the validation or verification of your documents. If possible, cooperate and be prepared to show the actual records.
Within five (5) working days of approval, your documents will be sent to the concerned DOLE Regional Office for funding through money transfer or PESO Net.
For Onsite OFWs
OFWs must send the following documents to POLOs:

Completed Special Cash Assistance Application Form, which can be accessed from the POLOs' website/social media account.
Passport or travel document photocopy
Proof of overseas employment (e.g., legitimate checked overseas employment, OEC, residency I.D.s, visa/re-entry visa, or permit to remain in the receiving country, among others).
Documentation of work loss as a result of COVID19.
Evidence that the OFW is actually interested in an ongoing lawsuit for OFWs who are undocumented through no fault of their own (e.g. case reference number, case endorsement stamped by POLO, among others).

Within 5 working days of obtaining complete documentation, POLOs will review the application and notify OFWs about the status of their application.
If accepted, the concerned POLO will submit the USD 200.00 via bank transfer or money transfer.
OWWA AKAP Hotline – 1348
For OFWs who want to inquire about the OWWA AKAP 'ayuda' program, you may direct your questions by calling the OWWA AKAP hotline at 1348.
You may also call the following contact details:
OWWA-NCR Hotline – 09666250016
OWWA Reintegration Unit – 8834-0719
DOLE AKAP Application Form
The DOLE-AKAP online application form is filled out via https://dole-akap.owwa.gov.ph. There is NO need to download any form and submit it to the office because you only need to access the website portal and enter your details for it to be processed by the OWWA agency. Below is a screenshot sample of the DOLE AKAP application form online: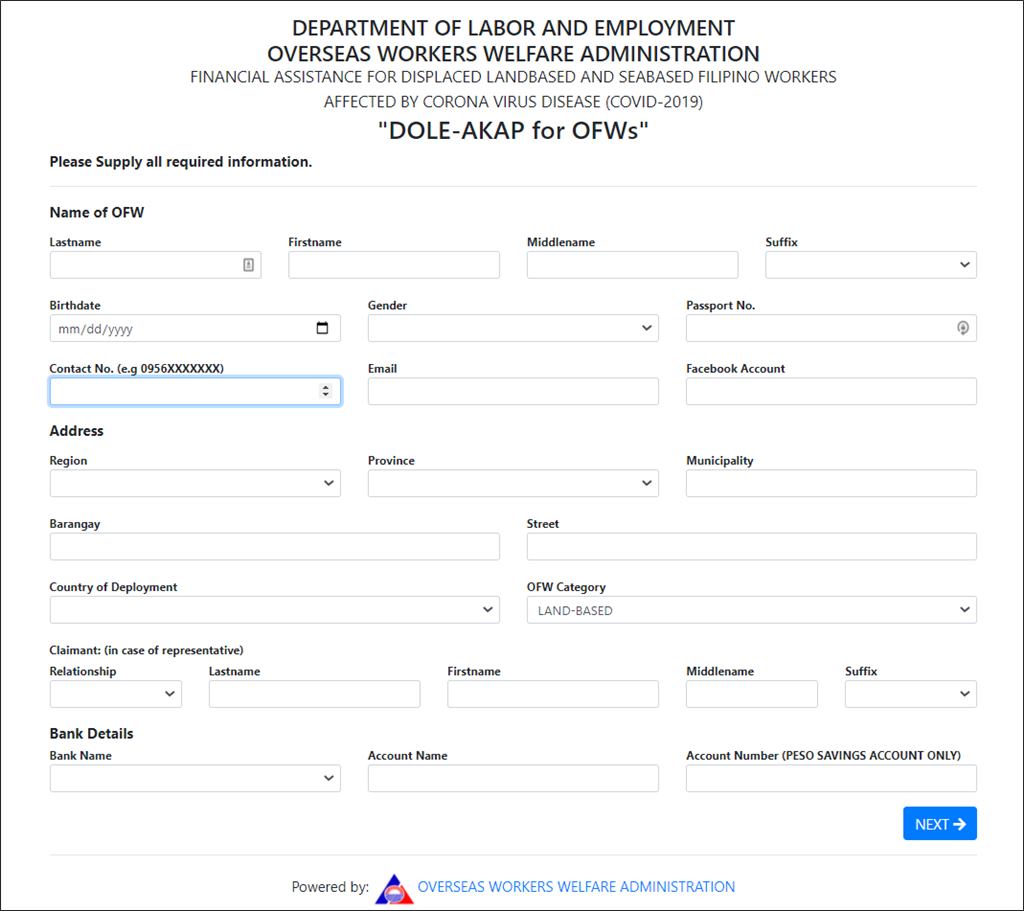 Stranded Balik-Manggagawa or Re-engaged Seafarers whose deployment were suspended due to COVID-19
Completed online application via https://dole-akap.owwa.gov.ph
Travel document or visa
Evidence of overseas employment (e.g., legitimate checked overseas employment, OEC, residency I.D., visa/re-entry visa, or permit to remain in the receiving country, among others)
Evidence of work loss due to COVID-19, or certification from the Local Manning Agency of suspension of deployment or undertaking/salaysay.
Paperwork proving your return to the Philippines (Boarding Pass or Air Ticket or Stamp of Arrival)
NOTE: To receive an e-mail confirmation of receipt of your application and other communication about the status of your application, make sure you type a valid email address on the application form.
DOLE AKAP for Seafarers
Many of our seafarers (seaman and seawoman workers) have definitely been affected by the pandemic. After all, the travel industry has been greatly impacted with the tourism industry having to go on a complete stop at a certain point when the virus was at its peak. Right now, we are still experiencing a grave loss in the tourism industry and seafarers are one of the worker jobs that have experienced job losses.
Seafarers can also apply for DOLE AKAP assistance. They simply need to also follow the steps mentioned such as securing the DOLE AKAP form and the other documents they need to present when applying for financial aid.
Also Read: How to Apply OWWA Seafarer's Upgrading Program (SUP)
When will the applicant be informed that POLO has received their application?
POLO-OWWA will send you an email stating that they have received your application and will begin the process of verifying the documents you have sent. To receive acknowledgment of receipt of the email and other messages about your state submission, make sure the email address is correct and entered on the application form.
When will the financial aid be allocated to the qualifiers?
The funds will be transferred via bank transfer or through Service Providers. Make sure it's right and that your written remittance information is accurate. If the DOLE has already sent the funds to POLO, financial assistance can be given.
In the Philippines, the Service Providers include Palawan Express or MLhuillier. In countries abroad, you may receive it via the country's preferred Service Provider – usually through Money Exchange Centers.
Is it possible that all applicants will receive financial assistance of PHP 10,000?
Only OFWs that are insured and qualified will be eligible for financial assistance. Overall, financial aid is dependent on the availability of funds. So it is good that while funds are still available, you can apply for the AKAP 'ayuda' cash aid.
How to Check the Status of my DOLE-AKAP application?
For OFWs who applied for the DOLE-AKAP program and want to know the status of the application, there is an online platform called DOLE-AKAP Tracker Status Inquiry where you can check online. You can enter your details and see the status of your request. Please check this guide for a step-by-step process – How to Check DOLE-AKAP Tracker Status Inquiry
When will I receive AKAP OWWA Assistance from the time of application?
In case you are wondering how long it takes to process the PHP 10,000 AKAP assistance, the process varies because DOLE & OWWA are handling the bulk of the applications. Take note that there are millions of Filipinos abroad and these applications go through the POLO offices abroad, and Regional Welfare Offices in the Philippines.
So there is no definite time frame on how fast they will issue the cash aid. Some OFWs have received the assistance within 2-3 months. It is advised for OFWs to be patient in waiting for the update and the money to be handed over to them.
Video: AKAP PHP 10,000 Cash Aid Updates from OWWA
Here is another video below which showcases the latest updates from OWWA at Your Service regarding the DOLE-AKAP ayuda project.
As you might notice towards the end of the video, there are some testimonials from Filipinos who have applied for the program and they share their experience how they waited for the money to arrive.
One OFW mentions that it is definitely a 'waiting game' because you will wait for OWWA to send the money.
Video: DOLE AKAP for OFW Application Tutorial
Check out this video tutorial on how you can apply for the DOLE-AKAP project for OFWs. This was uploaded by another vlogger who shared the experience about the procedures:
Reminders
Please be reminded of these points in order to get the assistance. DOLE-AKAP applicants need to meet the following:
Must lose their job as a result of COViD-19-related lockdowns, neighborhood quarantines, or other measures.
Must be on the job site, or in the Philippines as a worker who was never returned to the job site because of COVID-19, or repatriated to the Philippines because of COVID-19.
Must not accept a salary or financial benefit from an employer, or be unable to receive assistance from the government of the country of employment because of COViD-19.
If you tested positive for COVID-19, you should not have received OWWA financial assistance.
Summary
So for DOLE-AKAP beneficiaries, they must either be working abroad, or in the Philippines as Balik-Manggagawa, or have already returned to the Philippines; and they have not received any salary from their employers. On-site OFWs must go to their host country's Philippine Overseas Labor Office. OFWs and Balik Manggagawa who have been repatriated must apply at an OWWA Regional Welfare Office (RWOs).
POLOs and OWWA, as well as DOLE offices, will post specific details about the OFW cash assistance program. The DOLE-AKAP funds, as well as other administrative expenses of central and regional operations incurred in implementing this program, will come from the DOLE COVID-19 Adjustment Measures Program (DOLE-CAMP) amounting to 1.5 billion pesos.
We want to advise everyone who will apply for this to be patient for this OWWA financial assistance to be processed. You may call the OWWA hotline 1348 for assistance as well.