The DSWD provides financial assistance to the most vulnerable members of society through its Assistance to Individuals in Crisis Situations (AICS) program. This aid is available to individuals who are experiencing a crisis, such as an illness, calamities, or a loss of a loved one. Burial costs in the Philippines can be very high, and the DSWD provides financial assistance to bereaved families, especially those who are financially incapable. The DSWD also provides aid for victims of natural disasters such as typhoons, earthquakes, and floods.
Aksi Read: How to Get Cash Aid in DSWD Transportation Assistance Program
Four types of financial aid are available through the AICS program, namely: medical assistance, transportation assistance, educational assistance, and death/burial assistance. In this article, you will learn about the various requirements and procedures involved in applying for burial assistance.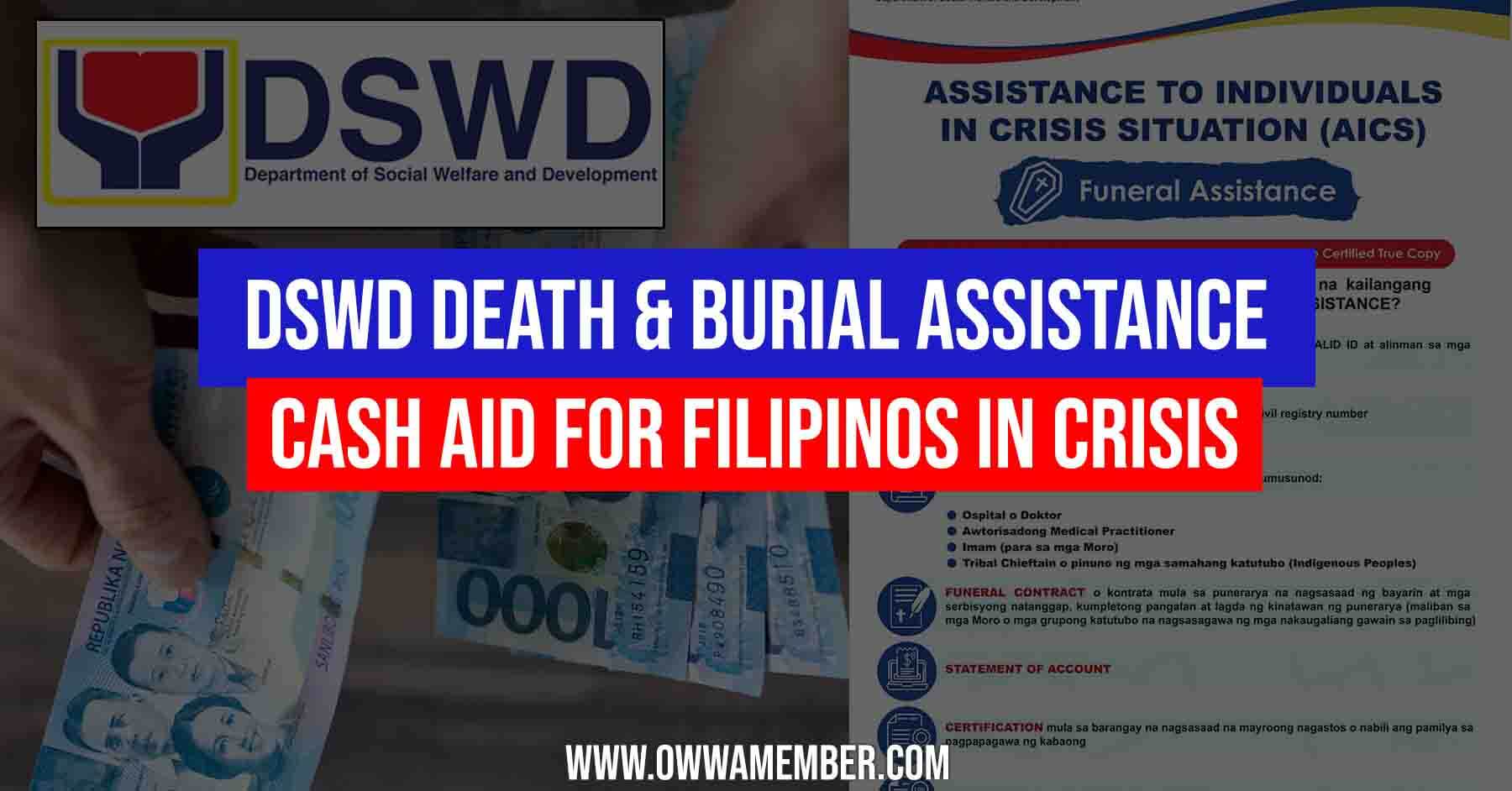 What is AICS Death/Burial Assistance?
This type of aid is usually given to the families of the most vulnerable individuals and groups who have just lost a loved one. Through the AICS program, the DSWD can help them with the funeral expenses.
This covers the costs of the burial and funeral services and other related expenses, such as medical help, transportation assistance, educational assistance, etc. However, only families who cannot afford these expenses on their own can apply for financial aid through this program.
Benefits
Filipinos who avail of the DSWD burial assistance program can receive up to PHP 10,000 worth of benefits. This amount can be used to cover the following expenses: Casket and funeral services. Wake, Burial plot or interment fees, or Transportation of the deceased's remains.
Requirements
To apply for death/burial assistance due to the death of a family member, you'll need to prepare a Valid ID (i.e. government-issued) and ANY of the following documents:
Death Certificate (may or may not have civil registry number);
Certification from Hospital, Doctor, Authorized Medical Practitioner, Imam (for Muslims), or Tribal Chieftain (for indigenous peoples);
Funeral Contract (stating the cost and services rendered, full name, and signature of the funeral service provider — except for Muslims and indigenous peoples who may have their own funeral practices);
Statement of Account;
Certificate from Barangay (stating expenses made by the family in buying a casket); or
Transfer Permit / Quarantine Permit (if the deceased needs to be transported to another place).
Additional Requirements
Aside from the above requirements, the following additional documents must also be presented for certain cases:
Certificate of Balance / Promissory Note (in case there are any remaining expenses that must be fulfilled); or
Social Case Study Report / Case Summary (in case the financial assistance to be given is more than PHP 10,000.00).
Note: A Social Case Study Report is a form filled out by the authorized social worker of the Department of Social Welfare and Development (DSWD) to assess the living condition of a family. It is used to determine whether or not they are qualified to receive financial assistance from the government.
For Transfer of Cadaver Requirements:
Basic Requirements plus the Transfer of the Cadaver Permit
Barangay Certificate/ Certificate of Indigency/Certificate of the Client in need of assistance as may be required
For further information:
It is the assistance to defray funeral and related expenses, including but not limited to expenses in bringing the remains to the residence of the deceased and burial site in accordance with existing customary practices of the family, especially among Indigenous Peoples and Moros.
Due to a disaster/calamity/critical events or circumstances similar to this where there are casualties in the family, the surviving family shall be given outright cash in the amount of PI0,000 for each casualty without the need for a case study report.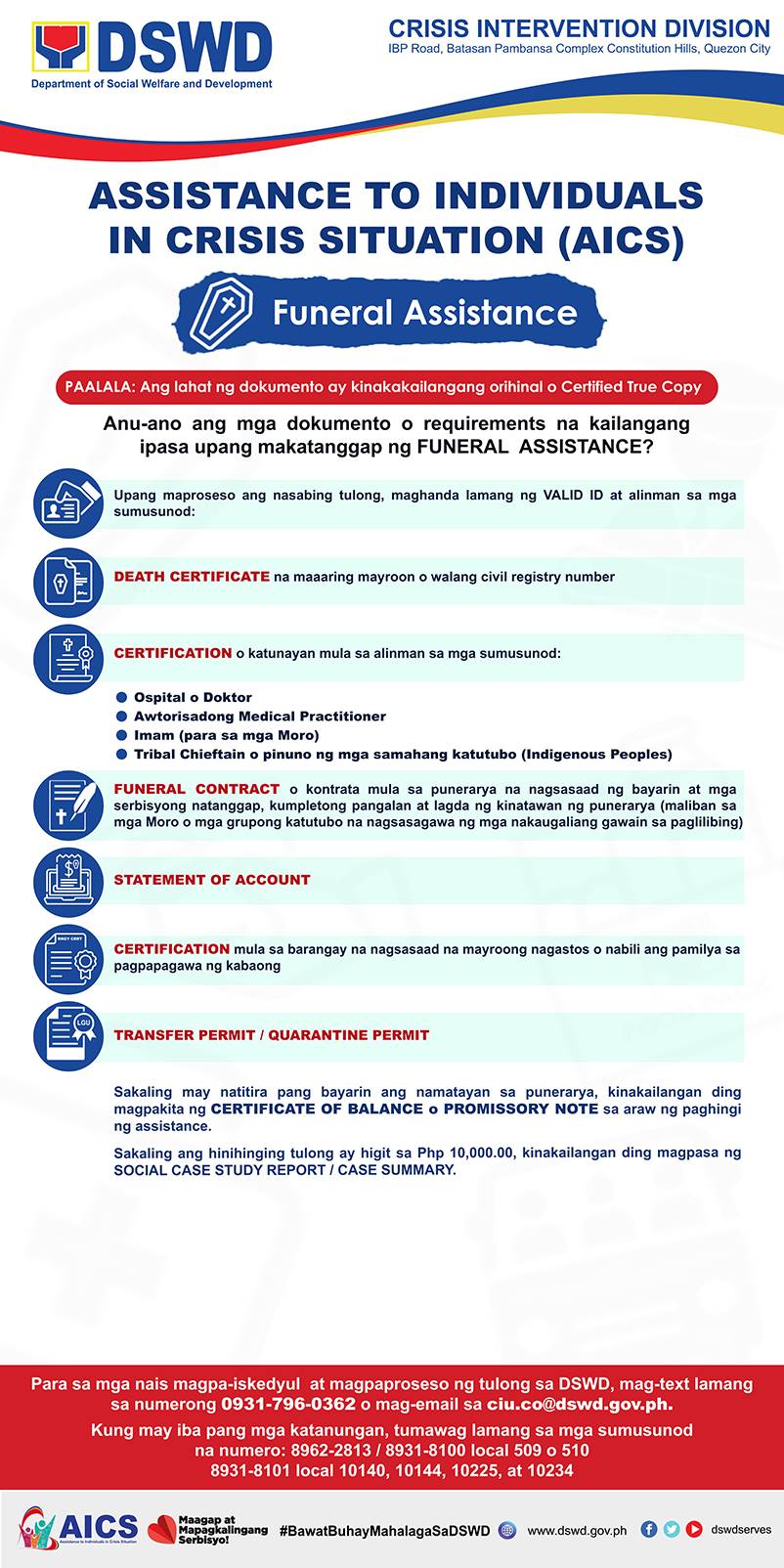 How to Apply for the DSWD Death/Burial Assistance Program
If you have to apply for death or burial assistance due to the sudden death of a loved one, you can go to the DSWD's nearest office. For instance, those residing in the NCR can go to the agency's central office in Quezon City, while those in the provinces can visit its field offices. You can also visit a satellite office of the DSWD in your local government unit.
The DSWD's local office can provide you with the necessary details about how to apply for burial or death assistance. The process usually involves three major steps.
Screening. This involves the submission of documentary requirements.
Assessment. Before you can start the process of applying for death or burial assistance, a social welfare officer will interview you and gather information about your case.
Payout. Upon approval of your application, the financial assistance will be released.
Video: DSWD Gives Aid to Victims of Earthquake
In July 2022, a powerful earthquake hit Northern Luzon. In a report aired by PTV News, the agency revealed how it came to aid the region's earthquake victims. One of the ways the agency came to the aid of the survivors was by providing burial assistance to the families of the deceased:
Frequently Asked Questions
Please check out these FAQs about the Death / Funeral Assistance from DSWD:
1. What is DSWD's AICS program?
The AICS program is a regular program of the DSWD that provides financial assistance to individuals in crisis. It offers various types of aid, such as medical assistance, transportation assistance, burial assistance, and educational assistance.
2. How can I avail of financial assistance from DWSD?
To apply for financial assistance, individuals should visit the nearest DSWD office. These are located in different areas across the country, such as the central office in Quezon City and DSWD field offices in different regions.
The DSWD will also give instructions on how to apply for various types of financial assistance. However, there are usually three basic steps involved in this process.
Step One. The first step in the process is to submit the necessary documents. These documents are usually taken during the screening process.
Step Two. After interviewing you, a Social Worker will then determine the type of financial assistance that's available to you. Based on your needs, the worker will also determine the appropriate level of support.
Step Three. After completing the application, the DSWD will then review the documents related to the application and determine the appropriate payment for the financial assistance.
3. What are the required documents?
The documents that you will need for burial or death assistance will depend on your situation. For instance, if you have to provide a death certificate, you'll need to bring the necessary documents such as a doctor's certification or a funeral contract.
4. When will I receive the financial assistance?
The DSWD can generally release financial aid worth less than PHP 10,000 within one working day. On the other hand, aid worth over PHP 10,000 can be issued within three to five days, depending on the approval of upper management. In funeral and medical assistance cases, a guarantee letter may also be issued.
5. Who can I call to ask about DSWD's financial assistance programs?
To discuss or ask about the AICS program or other DSWD services, individuals can call its Agency Operations Center. This can be reached by calling its 24-hour hotline number.
Smart — 0943 464 8026 / 0943 464 8086 / 0932 933 3251
Globe — 0995 715 3926 / 0995 715 3934
NOTE: The above mentioned numbers are also available to answer inquiries from 8:00 am to 6:00 pm every working day, excluding holidays. These can be reached from 8:00 am to 5:00 pm during weekends and holidays.
6. What other programs or services similar to the AICS are offered by the DSWD?
The DSWD also has the Assistance to Communities in Need Program and Malasakit Centers, wherein recipients can avail of the department's aid.
7. What is the DSWD Assistance to Communities in Need Program?
The DSWD provides financial and other support to communities in need, those affected by natural or human-induced disasters. These include individuals who have been displaced or are experiencing a crisis due to the demolition or eviction of their homes.
8. What are DSWD Malasakit Centers?
The Malasakit Center is a one-stop shop for various government agencies that provide financial and medical assistance to the poor. It is located in different public hospitals across the country.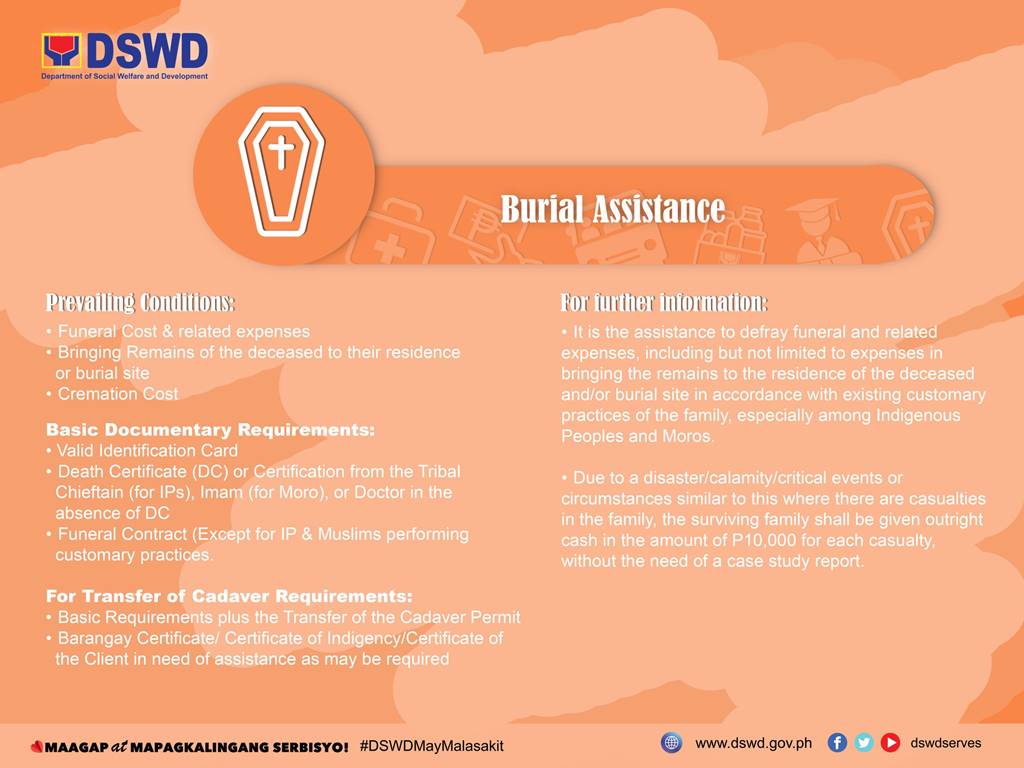 Summary
It's hard for the members of Philippine society who are vulnerable and poor to lose a loved one suddenly. Aside from the emotional toll of the loss, there's also the matter of burial and funeral expenses. Having to find money for these expenses can be very distressing, especially for those who are already struggling with financial issues. To help alleviate the burden of these expenses, the DSWD provides financial assistance through its AICS program.
We hope this guide has somewhat shed lighton the program, and we hope that it will help you make an informed decision if ever you need to avail of its assistance.
For more information, feel free to contact the DSWDdirectly or visit the website of the agency. The department's contact information are as follows:
Contact Information: DSWD Central Office
If you are based in the NCR and would like to contact the DSWD Central Office regarding the AICS program, please contact the following contact details. The program's management team will then address your concerns.
Address: Batasang Pambansa Complex, Constitution Hills, Quezon City, Philippines, 1126
Telephone: (02) 8931 8101
Email: inquiry@dswd.gov.ph
Website: https://www.dswd.gov.ph/
NOTE: Aside from its central office in Quezon City, the DSWD also has field offices across the country. These can be found in the agency's website and its contact details here: https://www.dswd.gov.ph/directory-of-officials-field-office/.
DISCLAIMER: This guide is intended to help people seeking information about the DSWD's financial assistance program. However, it should also be noted that this information is only presented for general purposes. To learn more about the agency's AICS program, individuals can visit its official website or its Facebook page.