To live a peaceful life is what everyone dreams of, but the reality is that not everyone gets to live it. In the Philippines, violence against women and children has been a major problem. The most common forms of violence are physical abuse and sexual abuse, but there are also emotional, verbal, and financial abuses that take place too.
Also Read: DSWD Home for Girls Facility for Underaged Women
In order to help protect women and children from these abuses, the Department of Social Welfare and Development (DSWD) has established havens for both women and children. Continue reading to learn more about the DSWD Haven for Women and Children.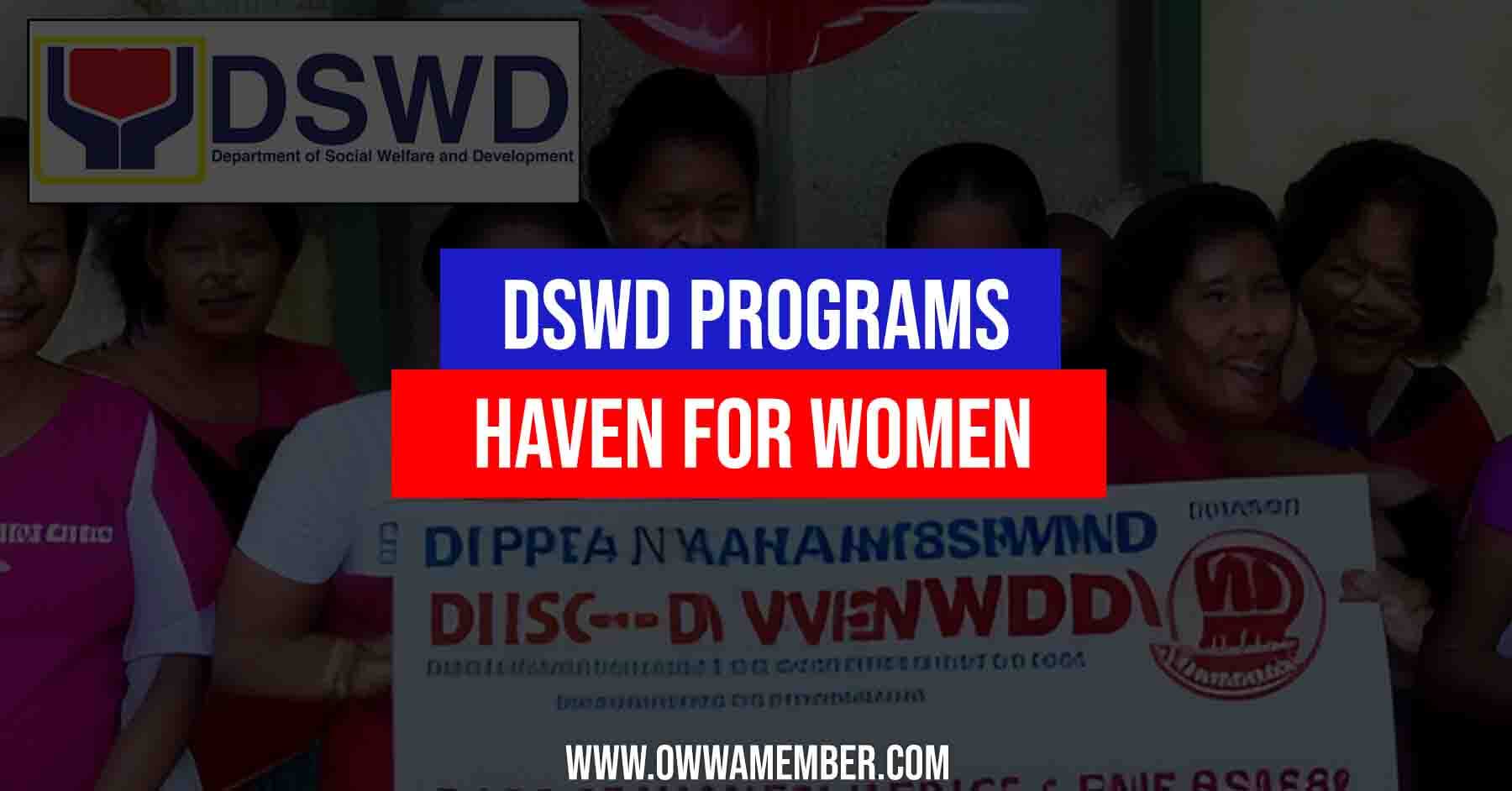 What is the DSWD Haven for Women and Children?
The havens for women and children are two separate facilities run by the DSWD that coordinate with the community and respond to issues related to women and children. The Haven for Women is a residential care institution that houses women survivors of abuse, as well as their dependents, who require interim protective custody and other support for their healing and recovery.
The overall goal of this haven is to help women overcome their difficulties and reestablish normal social functioning, allowing them to reclaim their self-worth and dignity through the provision of protection and rehabilitative services.
On the other hand, the Haven for Children is a care facility established specifically for Children in Need of Special Protection (CNSP). These children have experienced various forms of abuse, neglect, exploitation, and other social issues that require special focus. This facility provides a safe and secure environment for the children. Some havens for children only caters to either male or female children, depending on the need of the community. Holistic interventions are provided to children to help them become self-sufficient and independent individuals.
Benefits of DSWD Haven for Women and Children
The havens for both women and children offer several benefits that will help these vulnerable individuals overcome the issues that they are facing.
Here are the benefits of Haven for Women:
Social Services – to improve social functioning for center residents so that they can be discharged and prepared for community reintegration or alternative family placement if necessary.
Group Living Services – provision of food, clothing, and other basic needs are provided to all women at the centers. Their children are also provided with the things that they need to support their development.
Medical Services – to help address any medical issues that the women may be experiencing. Physical examinations and dental check-ups will be provided, as well as any necessary prescriptions.
Psychological/Psychiatric Services – administration of psychological tests and treatment to evaluate the victims' state of mental health to identify the most appropriate intervention for their healing and recovery.
Legal Services – refer to the provision of legal aid to female victim-survivors through referrals in the event that a female victim-survivor initiates a court case against her attacker.
Educational Services – this refers to the provision of opportunity to pursue/improve the educational status, either through formal schooling scholarships or non-formal education.
Counseling Services – the process or activity undertaken by a counselor and client to help the latter overcome obstacles or solve their own problem.
Practical Skills Development – provision of opportunity to learn life skills such as processing of food, meat, or fish, baking, and vocational craft that can be used for profitable work, such as small-scale piggery, chicken or duck keeping, and vegetable/fruit propagation.
After Care Services – ensure that residents maintain their ties with the center by continuing to engage in program activities for the continuity of their recovery.
For Haven for Children, these include:
Social Services – the restoration and development of children's social functioning from admission through discharge, as well as the preparation for family reunification, community reintegration, and alternative family placement if necessary.
Medical Service – maintaining the children's physical and mental well-being. It includes consultation, physical examination, dental check-up, and psychosocial assessment.
Educational Services – the provision of essential educational needs, such as formal schooling or non-formal education, to address any gaps in their primary-level education
Dietary Service –  provision of food and nutritional needs to meet the requirements of a child. Nutritionists plan monthly menus to ensure that the children get all their daily nutritional needs.
Psychological Service – provision of psychological intervention for children, such as individual counseling or group therapy. Psychological assessments are also conducted to determine the needs of each child.
Homelife Service – exposure to a home-like environment where they will learn basic homemaking skills that are necessary for their development as adults.
Educational Service – provision of opportunities to pursue education either through formal schooling or non-formal education. Children with special needs are identified and referred to the Department of Education for special education.
Creative Arts, Sports, and Recreational Activities – provision of several activities to improve and discover the children's talents, as well as provide them with the physical and emotional outlet to release their stress.
Values Formation and Spiritual Services – emphasis on the importance of good values formation to instill in the children their self-worth, as well as strengthen their relationship with God.
Skills Training Service – equipping the children with technical skills that will ensure their future employment.
Behavior Modification –  provision of behavior modification and anger management program for children whose conduct has been affected by their experiences in the past.
After Care Services – provision of continued engagement in program activities until they have fully recovered.
Qualifications
The target beneficiaries of Haven for Women are women survivors ages 18 to 59 years old. The provision of temporary custody and shelter is for those who are victims of violence, sexual abuse, exploitation, forced or involuntary prostitution, and abandonment. Moreover, the haven for children has separate facilities for boys and girls of ages below 18 years old.
Requirements
Here are the requirements that you must fulfill before you're allowed to enter the DSWD Haven for Women and Children.
For Haven for Women:
Referral letters from LGU, NGOs, and other organizations
Initial Case Study Report
Medical Certificate
Negative result of RT-PCR test
Birth Certificate or Baptismal Certificate
School record (F-138 and/or Certificate of Good Moral Character)
Court-related documents
Women and Children's Desk Police/Investigation Report
Other requirements (psychological evaluation)
Latest whole body 3R size picture (upon referral)
For Haven for Children:
Referral letter from Municipal or City Social Welfare and Development Office
Social Case Study Report
Medical Certificate
Birth Certificate
Police Blotter / Report (if necessary)
School Records (if necessary)
Video: Star Cinema Cares: Haven For Children
Here is the video of an outreach program organized by Star Cinema in one of the DSWD Haven for Children facilities in the country.
In the video, this Haven for Children institution gives protection and a home-like environment to boys. It provides various programs and services to address the needs of troubled boys and adolescents. One of the activities often held in the facility is outreach programs conducted by different groups to socialize with the boys and bond with them.
These activities are designed to help improve the condition of these children in a holistic way. The group prepared films to watch, games, sports, and food to encourage the growth and development of these children. The video highlights how important it is to provide a safe and comfortable environment for children who are going through difficult times.
Video: Haven for Women – Work Immersion
Here is the video of a work immersion organized by a group of people in one of the Haven for Women facilities in the country.
The video is about a group of people who chose to spend their work immersion at Haven for Women. They socialized with the victim-survivors during Valentine's Day which helped ease their suffering and give them a sense of hope. During the immersion, they performed various activities that helped uplift the spirits of the women staying in the facility. This video is a testament to how important it is for us to provide support and care for those who are going through difficult times.
Frequently Asked Questions
1. How to Avail the Services of Haven for Women and Children?
The victims can avail of the services of these facilities through walk-in to their regional field office or extension offices. Also, victims can be referred to DSWD by the LGU, NGOs, and other organizations.
2. What are the Rights of the Victim-Survivors of Violence Against Women and Children?
The mother who has been a victim of violence is entitled to custody and care of her child or children. Unless the court finds valid reasons to order otherwise, children under the age of seven (7) years old or older living with mental or physical disability are automatically given to the mother, with the right to support.
3. What Law Protects the Victims of Violence Against Women and Children?
Republic Act 9262 or the Anti-Violence Against Women and their Children Act of 2004 is a law that provides protection orders for victims of violence to ensure their safety and security against perpetrators of the crime.
4. Are the Programs and Services of Haven for Women and Children Free?
Yes, these programs and services are free. The victims do not need to pay anything when they avail themselves of assistance from these facilities.
5. What Happens After Victims Get Help from These Facilities?
After the victims get help from Haven for Women and Children, they may be referred to other appropriate agencies or organizations if necessary. Also, a case may be filed against the offender or perpetrator to provide him/her with due process under the law.
Summary
Ensuring that women and children remain safe from abuse, the DSWD has been working on providing shelters for these victims. Also, it has been at the forefront of protecting women and children from abuse, by providing critical support services.
The Haven for Women and Children is a safe home for these victims that aims to help them in their recovery.