DSWD Social Amelioration Program is a government initiative that provides financial assistance to low-income households in order to help them cope with the impacts of the economic crisis. The program aims to provide temporary relief to those who are most vulnerable to the effects of the crisis, such as those who have lost their jobs or have had their incomes reduced.
DSWD Social Amelioration Program is a human development measure of the national government that provides conditional cash transfers to the poorest of the poor in order to improve their health, nutrition, and education.
Also Read: DSWD AICS Cash Assistance Programs
Income and employment are just two areas of society that have been severely impacted by the current public health crisis brought on by the COVID-19 epidemic. In April, the unemployed rate in the Philippines reached 17.7 percent, affecting 7.3 million people. The World Bank estimates that the Philippines' poverty rate could rise by 3.3 percentage points due to the two-month income loss.
The Philippines, like many other nations, has established cash transfer programs to aid the homeless and the poor. In response to the public health emergency, the government swiftly passed a law to address the problem. One of the most notable aspects of the Bayanihan to Heal as One Act was the provision of P199.975 billion to the Department of Social Welfare and Development (DSWD) to finance the latter's Social Amelioration Program (SAP).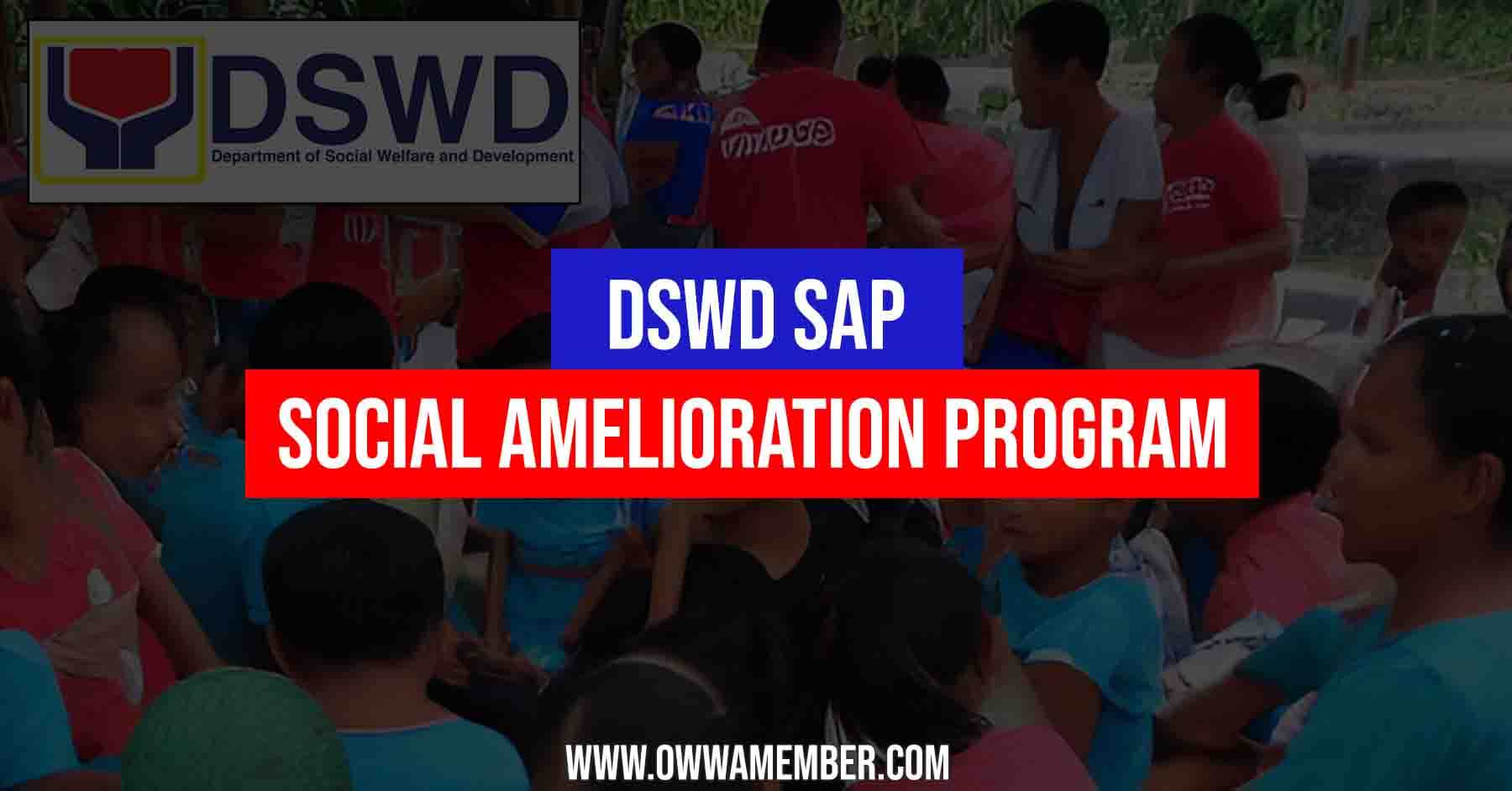 What is DSWD Social Amelioration Program (SAP)?
In the Philippines, low-income families can receive a cash subsidy of between P5,000 and P8,000 per month from the Social Amelioration Program for a total of two months. During the pandemic, the subsidized groups will be able to buy necessities they might not have been able to otherwise afford.
The introduction of SAP has not gone without its share of hiccups, much like the introduction of any new application. Because of a lack of resources or an absence of suitable distribution infrastructure, many LGUs have experienced difficulties in determining who should get the cash subsidy and transfer the funds. Some have also voiced concern over the rapidity with which the subsidies are being distributed and the lack of clarity over who would receive them and how much they will be.
Meaning of Amelioration
The word "amelioration" is defined as the action of making something better or the process of improving. Social amelioration, then, refers to the act or process of making social conditions better. It is often used in relation to poverty and poor living conditions.
SAP is one type of social amelioration program. Other examples include but are not limited to:
free education
healthcare
housing assistance
food security programs
unemployment benefits
social security
Benefits Of Social Amelioration Program (SAP)
Each qualified household can get at least Php5,000 to Php8,000 monthly for two months for food, medicine, and toiletries. The DSWD determines the amount by examining the prevailing regional minimum wage rates and any other cash or in-kind assistance programs in place.
One region where this is the case is the National Capital Region (NCR), where the maximum annual payout to a household is Php8,000. It's Php5,500 in the CAR (Cordillera Administrative Region). If you live in CALABARZON or Region IV-A, you may be eligible for a Php6,500 grant. The maximum amount a family can receive in Region 5, often known as the Bicol Region, is Php5,000.
It is important to keep in mind that SAP is distributed on a per-household basis rather than per person. For example, just though your household meets the criteria for two different cash aid programs (you have a senior person and a pregnant member) does not indicate that you will receive both. Families who share a home or apartment may submit individual applications.
Qualifications
The government emphasized that informal sector families whose livelihoods have been severely impacted by the ECQ are SAP's top concern. In addition to the federal government's database, the DSWD also provided the following list of household eligibility requirements.
Either you or a member of your family is 60 years of age or older.
Is a member of your family, or even yourself, disabled? (PWD).
You or a member of your family is currently expecting or is nursing.
You, or someone in your family, are single parents.
You or a loved one may be an OFW who is in trouble.
Since January 2020, when the COVID-19 global health crisis began, many overseas Filipino workers have been returned or have had their travel privileges revoked.
Your ancestors are poor and/or native people. National Household Targeting System for Poverty Reduction field offices have identified these people groups as low-income (NHTS-PR). Families who forage, hunt, and gather or are part of the informal workforce and whose status has been certified by the National Commission on Indigenous Peoples (NCIP) or a tribe chieftain/council of elders are also included.
If your family is like most others, they've probably been homeless or live among the worst of the poor. In other words, their income is below the official poverty line established by the National Economic and Development Authority (NEDA). Homeless families, including those who have resorted to living in vehicles or other improvised shelters, are featured.
You or someone you know is likely involved in some aspect of the informal sector, such as the production or distribution of goods or services on a small or medium-sized scale (scroll down for more details).
You'll need to provide identification documents, termination paperwork, and other paperwork to prove your eligibility.
Informal Economy Workers
regular workers with predetermined pay and hours. Temporary workers whose pay depends on their work (e.g., plumber, laundry maid, etc.)
subcontracted Articles 106 and 107 Labor Code workers.
house helpers or kasambahays, as defined in the Kasambahay Law or the Domestic Workers Act of 2013, who are not receiving salaries or cannot report to work due to the quarantine; public transportation drivers or pedicabs; and anyone else who performs his job, in whole or in part, at home, which is purchased by an employer (for example, a family business involving craft-making or food production and processing).
Public transit vehicle owners might still receive perks.
Micro-entrepreneurs, producers, and distributors have less than Php100,000 in assets (land). (sari shop owners)
Family businesses in retail, food production and vending include carinderia owners, fruit and vegetable vendors, and street vendors.
"Sub-minimum wage owners" have monthly incomes below the federal poverty limit.
Farmers, fishers, agricultural laborers, and those in farm services and secondary processing are included. Employees who are subject to the "no-work, no-pay" policy or quarantined and unable to report to work yet are not included in the DOL's COVID-19 Adjustment Measures Program
Pantawid Pamilyang Pilipino Program (4Ps) families are immediately qualified and are priority beneficiaries of SAP. To better their health, nutrition, and education, low-income families can get a conditional cash transfer from 4Ps.
These 4Ps recipients meet SAP requirements. Farmers, fishermen, the homeless, indigenous peoples, those working in the underground economy, those living in remote places without access to power, and others fall into this category. The DSWD revalidates the eligibility of 4Ps families every year.
How to Process DSWD Social Amelioration Program
To compile the SAP recipient list, the DSWD and other organizations involved in the program will use their existing data. Since the prolonged ECQ has a major impact on the local communities, those governments will also submit a list of families in need of financial aid.
Local government units (LGUs) operate through the barangays to provide families with Social Amelioration Cards (SAC). The DSWD will use this to determine if an ineligible family needs SAP assistance.
Your local municipality or barangay will announce whose households have been authorized for SAP and when they will get it. The DSWD posts distribution schedules on its website after local governments receive cash aid.
Step 1: Secure the Social Amelioration Card (SAC) Form
Distribution of Social Amelioration Card (SAC) applications will be handled locally by authorized government workers. Each household will receive an equal share.
Again, we ask that you refrain from leaving your home until the appropriate authorities have delivered the necessary paperwork to your door.
Step 2: Complete The application form
The family's breadwinner will be the one to fill out the SAC form with his or her details. All necessary information should be written in ALL CAPS.
The SAC application form will be provided in duplicate.
Step 3: Submit the form to the designated staff.
Upon completion, please return one copy to the designated government officials who will be collecting the forms. The other copy, meantime, is for the family's records and use in keeping tabs on things.
Step 4: Wait for approval
If you qualify for aid from the Department of Social and Welfare Services (DSWD) and other federal agencies, such as the Department of Agriculture or the Department of Labor and Employment (DOLE), that aid will be distributed through your county or city government.
This is a reminder that the SAC form is a validation tool meant to examine urgent aid recipients' households.
For the most part, the organization will focus on helping families, which fall under the vulnerable sector's umbrella.
The agency's goal is to enroll as many Filipino households as possible in the Social Amelioration program. However, the allocation is based on the specific requirements of each family.
What is DSWD Emergency Subsidy Program (ESP)?
The Department of Social Welfare and Development's (DSWD) Emergency Subsidy Program (ESP) is a financial assistance given to low-income households that have been displaced due to the crisis. The program provides a flat rate of Php 5,000 per eligible household.
ESP is a cash subsidy granted under R.A. No 11469, with a minimum amount of PHP 5000 to a maximum amount of PHP 8000, based on the prevailing minimum wage rates in every region, for every month for two months. The ESP is implemented through the Social Amelioration Programs (SAP) of the concerned agencies.
The SAP is a government initiative that provides temporary financial assistance to low-income households who are most affected by the crisis. The program aims to help these households cope with the increased costs of living, as well as the loss of income due to the crisis.
Who is eligible for ESP?
To be eligible for ESP, a household must:
1. Be a low-income household;
2. Be displaced due to the crisis; and
3. Not be receiving any other form of government financial assistance during the month when they will receive ESP.
Video: PH Social Welfare Department: Have Enough Funds For Social Amelioration Program (SAP)
Here's the video news about the SAP program.
According to the video, poor families would have a harder time making finances meet because the Luzon lockdown has been extended. But Social Welfare Department official Irene Dumlao believes the Philippines has enough money for its social amelioration program through May 15, 2020.
Frequently Asked Questions
1. Who Will Make the List Of Emergency Subsidy Program (ESP) Beneficiaries?
The LGUs will create the list of beneficiaries based on their assessment of families eligible for the program. Although the DSWD provides a list of the poor based on the list of Homes in Need or Listahanan database of the agency, this is only the basis of the possible beneficiaries that will still be subject to a separate analysis by the LGUs (MC 7, Series of 2020, Section C and MC 8, Series of 2020).
2. How Can I Receive the Cash Aid?
LGUs can choose two methods: first the Direct Pay-out or House-to-house and distribution point pay-out scheme. If Direct Pay-out, stay at your home because the designated leader, recorder, or distribution team will come to you. If it's a distribution point, stay home until the leader, recorder, or distribution crew tells you to leave. Early arrival is prohibited. Any violation of social distancing will cause SAP-ESP distribution to stop (MC 9 Series of 2020, Section VIII).
3. How And Where Will SAP-ESP Be Distributed To Those Who Do Not Belong To The 4Ps?
1. For non-4Ps families, DSWD's implementation of SAP-ESP is through LGUs;
2. Partner LGUs will provide Social Amelioration Program Cash grants to qualified families;
3. This is through house-to-house or the local government's strategy, with additional compliance with the rules regarding wearing a mask, using alcohol, and observing the prescribed social distancing.
4. Can SAP-ESP Fund Security Guards, Barangay Health Workers, Barangay Nutrition Scholars, And Day Care Workers?
They may be considered by the local government for financial assistance if they are:
1. Belonging to the poor or informal sector;
2. There is no other source of livelihood other than being a volunteer worker of the barangay or local government, and;
3. They are the sole breadwinners of the family.
5. Why Are Private Sector Employees Or Those In The Formal Economy Included In The 'Excluded' SAP-ESP Even Though No work, No Pay?
They are not included since the Department of Labor and Employment (DOLE) has a program called the COVID-19 Adjustment Measures Program to help private sector workers who lost income due to ECQ ( DOLE Department Order No. 209 Series of 2020 and MC 9, Series of 2020, Section VII).
On the other hand, SAP-ESP aims to help those in the informal sector and considered the poorest of the poor (MC 9 Series of 2020, Section VI-A).
Summary
The Social Amelioration Program or SAP is the Philippine government's response to the COVID-19 pandemic. The program provides financial assistance to 18 million low-income households in the form of a cash grant. The grant can be used to cover basic needs such as food, medicine, and transportation. The program is implemented by the Department of Social Welfare and Development (DSWD) and is funded by the national government.
The SAP is different from the CAMP or COVID-19 Adjustment Measures Program, which is a program of the Department of Labor and Employment (DOLE) that provides financial assistance to private sector employees with reduced or no income due to ECQ.