In 2000, the government enacted Republic Act 8972, which provides for the privileges of single parents. This included providing them with various benefits such as discounts on school supplies and medicines. The Department of Social Welfare and Development (DSWD) has set up an assistance for single parents to assist them with their expenses.
Also Read: How to Get Cash Aid in DSWD Educational Assistance Program
The number of solo parents in the Philippines reached about 14 million in 2007. However, after several years, it has been estimated that the number has risen to 20 million.
A few years back, the DSWD submitted an amendment to the legislation that would allow them to receive additional benefits. Who then are qualified as solo parents? Continue reading below: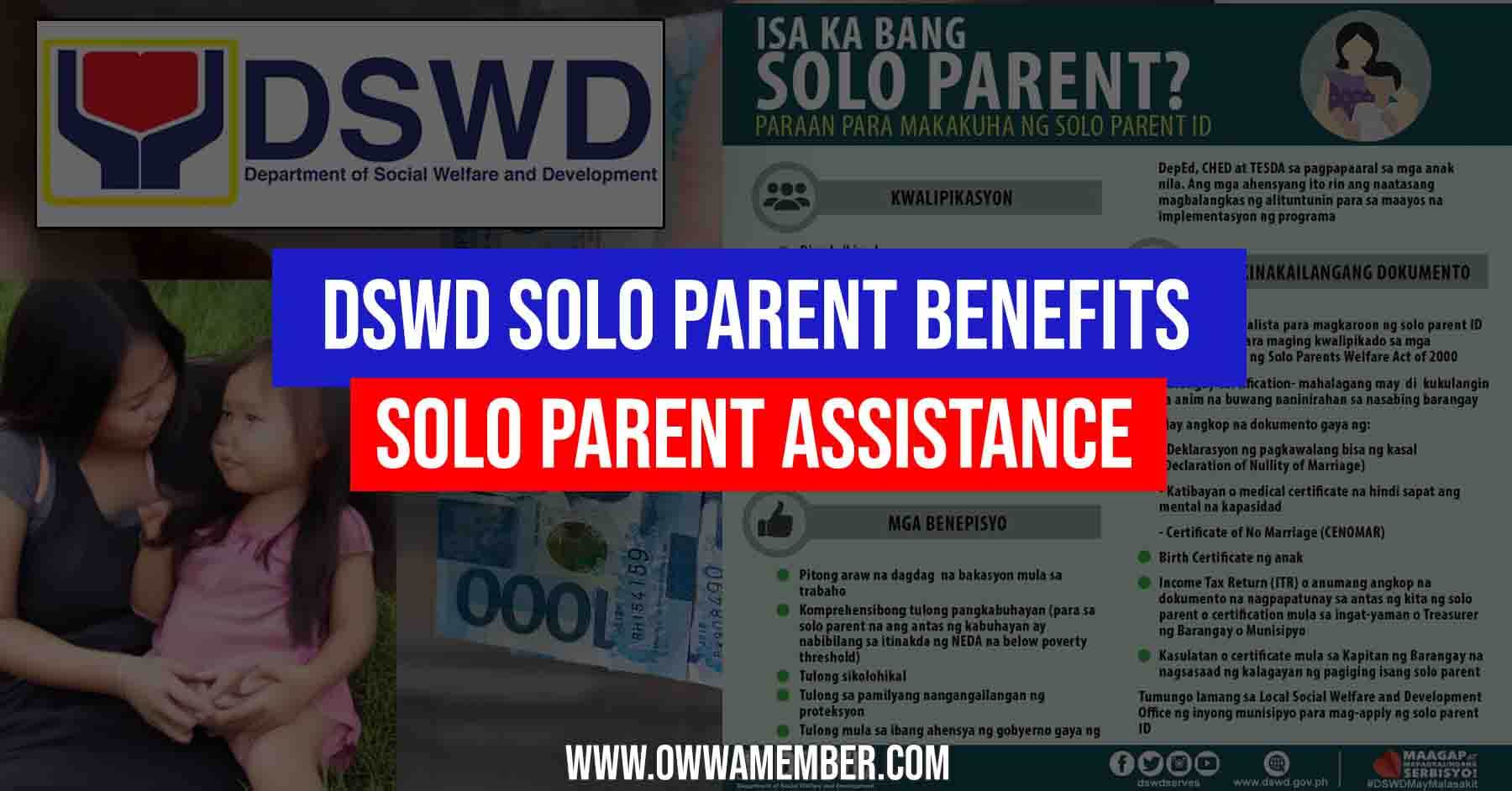 What is DSWD Solo Parent Cash Assistance?
The DSWD Solo Parent Cash Assistance is a form of social protection that provides cash grants to qualified solo parents and their children. The program aims to provide financial assistance to help solo parents cope with the daily needs of their families.
It also seeks to promote the well-being of children in solo-parent households by providing them with access to basic social services.
Qualifications
According to the law, a solo parent is a:
Parent left solo or alone with the responsibility of parenthood due to the following circumstances:
Due to death of spouse
Spouse is detained or is serving sentence for a criminal conviction for at least one (1) year
Physical and/or mental incapacity of spouse as certified by a public medical practitioner
Legal separation or de facto separation from spouse for at least one (1) year, as long as he/she is entrusted with the custody of the children
Declaration of nullity or annulment of marriage as decreed by a court or by a church as long as he/she is entrusted with the custody of the children
Unmarried mother/father who has preferred to keep and rear her/his child/children
A woman who gives birth as a result of rape and other crimes against chastity even without a final conviction of the offender, provided that mother keeps and raises the child
Any other person who solely provides parental care and support to a child or children
Any family member who assumes the responsibility of head of family as a result of the death, abandonment, disappearance or prolonged absence of the parents or solo parent
Note: If a parent's spouse is an overseas Filipino worker (OFW) and has not been in touch with the family for more than a year, then their spouse is considered a solo parent.
Benefits for SOLO Parents
New legislation provides more benefits to solo parents. These include additional work leave, scholarships, and cash subsidy of PHP 1000 per month if they belong to a category where they are not receiving other Philippine government assistance.
The legislation, enacted through RA 11861, allowed for expanded privileges for solo parents in the Philippines. Read the list of the full benefits below.
1. No work discrimination
Due to their status as solo parents, employers are not allowed to discriminate against them. They can also establish flexible working arrangements for these employees.
2. Parental leave
In addition, solo parents can also take advantage of non-cumulative and forfeitable parental leave. These leave can be given to them regardless of their employment status.
3. Education benefits
Various agencies, such as the Department of Education and the Commission on Higher Education, provide educational assistance to solo parents. They can also provide full scholarships for their children in technical, higher, and basic education. Although solo parents can also benefit from the educational assistance programs of the government, they should meet the requirements of the programs.
4. Child minding centers
The Civil Service Commission and the Department of Labor are also tasked with promoting the establishment of child minding centers in workplaces.
5. Breastfeeding in the workplace
While breastfeeding is allowed in the workplace for both working mothers and solo parents, it's also encouraged for both mothers to do so.
6. Cash subsidy
For solo parents who earn a minimum wage, they can receive a cash subsidy of P1,000 a month. This can be provided if the parent is not receiving other government assistance.
7. Discount and VAT exemption on baby products
For solo parents who earn less than P250,000 annually, they can also get a 10% discount on certain baby products. They can also avoid paying taxes on purchasing medicines, vaccines, and food and micronutrient supplements for their children.
8. Automatic PhilHealth coverage
The new law provides automatic coverage for health insurance for solo parents. Premium contributions will be made by the national government, with the same distribution to both the employer and the government.
9. Prioritization and allocation in housing projects
The law also provides for the allocation of housing projects for solo parents. These families should be prioritized based on their income and need.
How to avail of benefits?
To get the most out of their benefits, solo parents should first present their individual solo parent identification cards and, in some instances, the solo parent booklet.
Requirements for Solo Parents ID in the Philippines
Barangay Certificate
Proof of financial status

For working solo parents, you can request an ITR from your company.
For self-employed and home-based working solo parents, a replacement for the ITR can be provided as a source of financial capacity per approval of DSWD).

Proof of your solo parent status

For widows, the death certificate of the deceased spouse should be provided. In some cases, declaration of nullity of marriage or a medical certificate certifying that the spouse is incapacitated is to be submitted.
If you are separated de facto from your spouse, meaning your separation was not recognized by the court, you may submit a certificate issued by your Barangay Captain indicating your circumstances as a solo parent, according to the Philippine Statistics Authority (PSA).

Birth certificate/s of your child/children
Filled up Solo Parent ID application form
Note: Validity of the Solo Parent ID is for one year and is renewable every year.
How to Process DSWD Solo Parent Cash Assistance
Please check the following steps below for the procedure to avail the single parent cash aid:
Step 1: To avail of the solo parent cash subsidy, you will need to visit your nearest DSWD office and request to be assessed for eligibility for the program. 
Step 2: Make sure to bring all the requirements, including your PWD ID and booklet, as well as other supporting documents that may be asked of you so that they can readily file your request. 
Step 3: If approved, they will inform you when and where you may claim the monthly cash benefit of P1,000.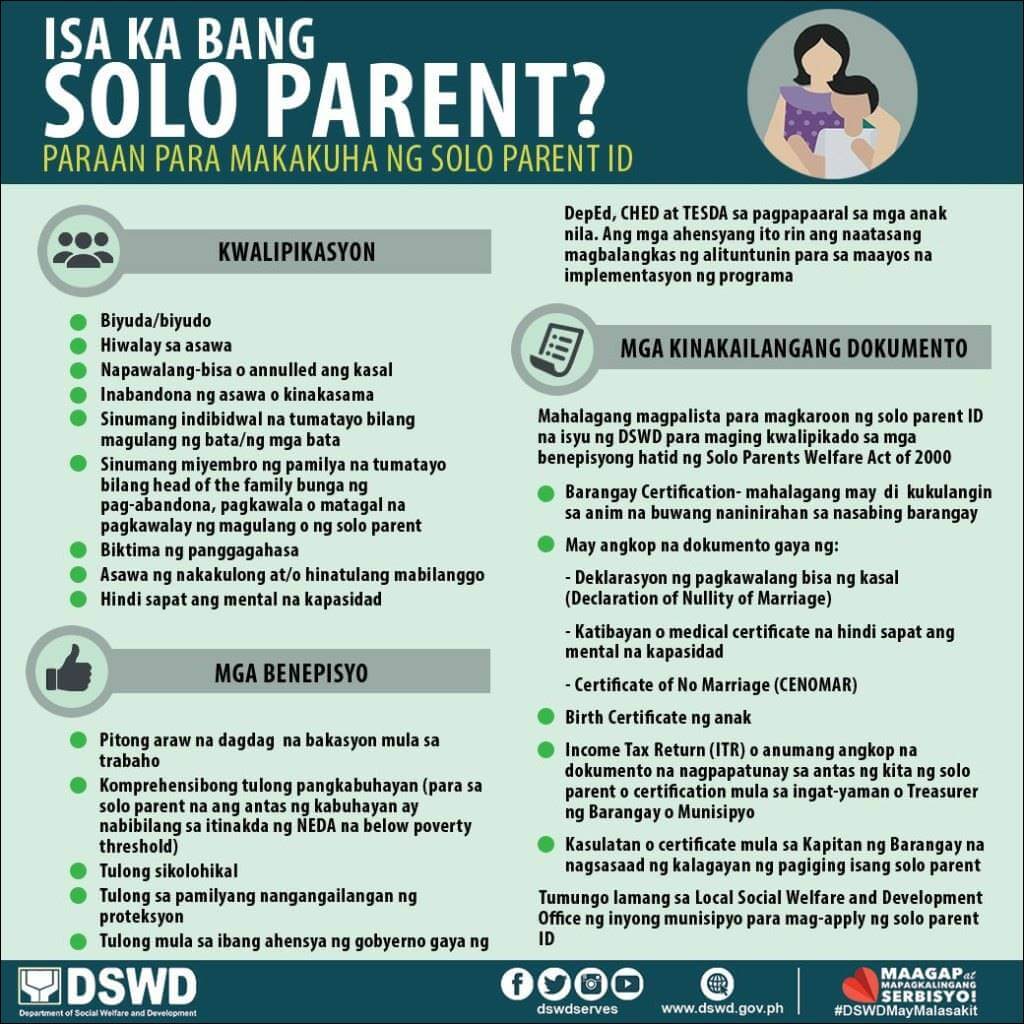 PDF Copy of RA 11861: Expanded Solo Parent Welfare Act
Here is a PDF copy of RA 11861, or the Expanded Solo Welfare Act of 2020 – https://drive.google.com/file/d/1cIdQns2u0jcAmyyiKjkS1QFUH17sjGMe/view
On June 4, 2022, the Republic Act 11861, also known as the expanded solo parents welfare act, came into law. It amends various provisions of RA 8972.
The law provides that the third week in April of each year and the third Saturday in the following year are designated National Solo Parents Week and Solo Parents Day, respectively.
Video: Bill granting more benefits to solo parents lapses into law
On June 4, 2022, the Republic Act 11861, also known as the expanded solo parents welfare act, went into effect. This video explains the key provisions of the new law and how it will benefit eligible parents.
Frequently Asked Questions
Please check out the following FAQs for DSWD Solo Parent Program:
1. What document/proof will a solo parent present if he/she has child or is de facto separated from husband/wife?
A certificate from the local barangay captain indicates the circumstances under which a person is a solo parent.
2. If a solo parent files the application, can an ID be secured right away?
The Social Worker must complete the evaluation and assessment of the solo parent situation before issuing an ID (after 30 days of the application). The validity of the ID is one year and must be renewed thereafter.
3. What is parental leave?
In 2004, the Civil Service Commission allowed solo parents to take leave benefits to enable them to perform their parental duties. This benefit can be provided through a memorandum circular issued by the agency.
4. Is parental leave retroactive since the law took effect last november 2000?
Parental leave can only be availed during the current year. It can only be availed of after the parent has been issued a Solo Parent ID.
5. Is the 7-day parental leave in addition to the existing 3-day special leave privilege?
The 7-day parental leave is on top of the 3-day special leave and other mandatory leave benefits.
6.Can a solo parent apply for parental leave for any child?
If a child is living with his or her parents, and they are incapable of supporting themselves, then they should be considered disabled. This includes individuals with mental or physical disabilities.
7. Can a solo parent avail of the maternity leave?
No specific law provides for maternity leave for solo parents. However, other laws can be applied to this situation.
Summary
As the number of solo parents continues to rise in the Philippines, it's important for them to know their rights. Most importantly, they should know that they are entitled to special leave benefits from work and other allowances if they have a child with a disability or if they are single parents.
While it can be difficult for solo parents to raise children on their own, it is important for them to seek help from their family members, friends and even the government, who can lend support in times of need.
We hope that you've gained invaluable knowledge from this article and that you'll share it with other solo parents in your life. Thanks for reading!