The previous episode of OWWA at Your Service discussed the updates on DOLE-AKAP assistance. During this latest episode which was uploaded on March 5, 2021 talks about the TABANG OFW and Project EASE.
Hosted by OWWA Deputy Administrator, Mocha Uson, with guest OIC-Director OWWA Region VII, Mae D. Codilla, they shared updates on these two special educational assistance projects for the pandemic. In case you are an an active OWWA member or a family of an OFW affected by the COVID-19 outbreak, and you have dependents who want to enroll in school, please check out these projects and take advantage of them.
This episode is aimed to answer the following questions and more:
How to Avail the Project EASE & Tabang OFW?
Who can apply for these program?
What is the process of applying for these projects?
All these questions will be answered plus more updates on application procedures below.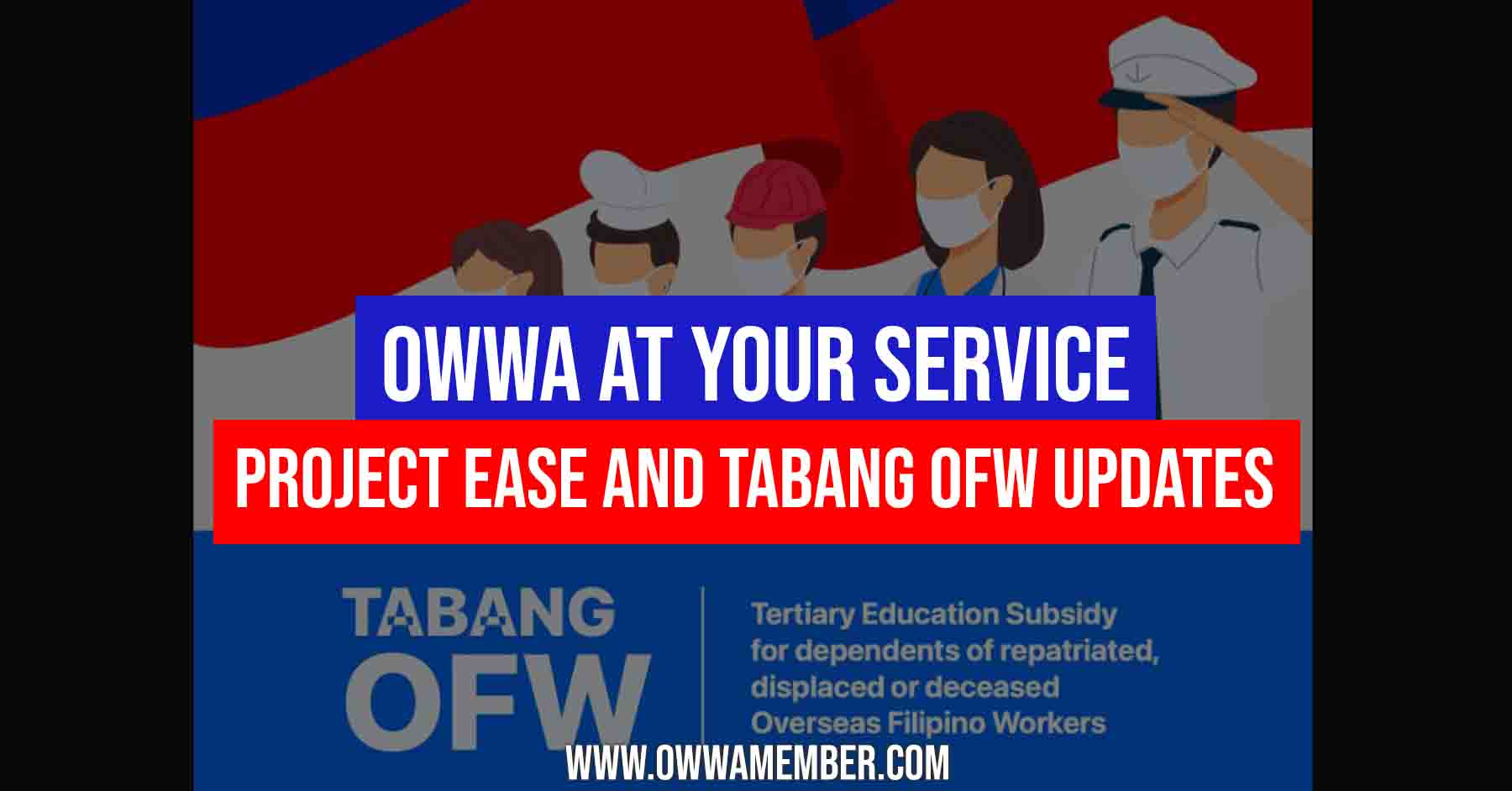 Special OWWA Education Projects: Tabang OFW and Project EASE
OIC-Director OWWA Region VII Mae D. Codilla is one of the guests who shared the details and procedure for both projects.
So there are two special projects for education by OWWA during this pandemic – Project EASE and Tabang OFW. Take note that these special projects are ongoing only until there is funding involved. If there is no more funding, there is a risk that these educational programs might be removed. So do take advantage of them while you can.
Tabang OFW
OWWA Tabang OFW is a one-time financial assistance worth PHP 30,000 for qualifiied dependents of OFWs who lost their jobs, returned to Philippines, or who died due to the COVID-19 pandemic.
This is a program that is implemented by DOLE-OWWA and in partnership with CHED's Unifast intended for dependents of deceased OFWs due to the COVID-19 pandemic.
This is a subsidized assistance for tertiary education and a one-time grant of PHP 30,000 to qualified dependents, whether active/non-active or even undocumented OFWs.
Who is qualified for Tabang OFW?
1 College-Level Dependent of a repatriated, displaced, or deceased OFW due to the COVID outbreak.
If you are a married OFW, your child or spouse can avail of the program.
If you are a single OFW, the sibling (sister or brother), or even the nephew or niece of single OFW can avail the program.
Tabang OFW Requirements
Below is a list of requirements of the said projects:
Copy of the Passport with signature page of OFW
Proof of Arrival (return to the country) – arrival stamp in passport or boarding pass of OFW
Proof of Loss of Employment (certification from employer, termination letter from agency, employer statement)
Death Certificate (if OFW is deceased)
Proof of Relationship between OFW and dependent (birth certificate for OFW parents)
Grades of dependent (from previous semester or schoolyear)
Proof of Enrollment (study load, enrollment registration for SY 2020-2021)
Project EASE (Educational Assistance through Scholarship in Emergencies)
Project EASE is a cash assistance of PHP 10,000 per year for 4 years for qualified beneficiaries of OFWs who are in college. So far, over 2210 OFWs in the Philippines have received the Project EASE.
Project EASE is a component of the collective assistance and restoration for emergence program for OFWs and their families affected by the COVID-19 pandemic. This is also an educational assistance of PHP 10,000 per year for 4 years to a qualified dependent of an OWWA member.
Who is Qualified for Project EASE?
Dependents of those who are in college (whether you are in 1st to 5th Year college).
If you are a married OFW, your child can avail the Project EASE program.
If you are a single OFW, the sibling (sister or brother) can avail the Project EASE program.
Project EASE Requirements
If you applied for the Tabang OFW program, you will also be applied to the Project EASE program.
Passport
Proof of Arrival in Philippines (arrival stamp in passport or boarding pass)
Proof of Enrollment and Grades of Dependent during previous Semester or Year Level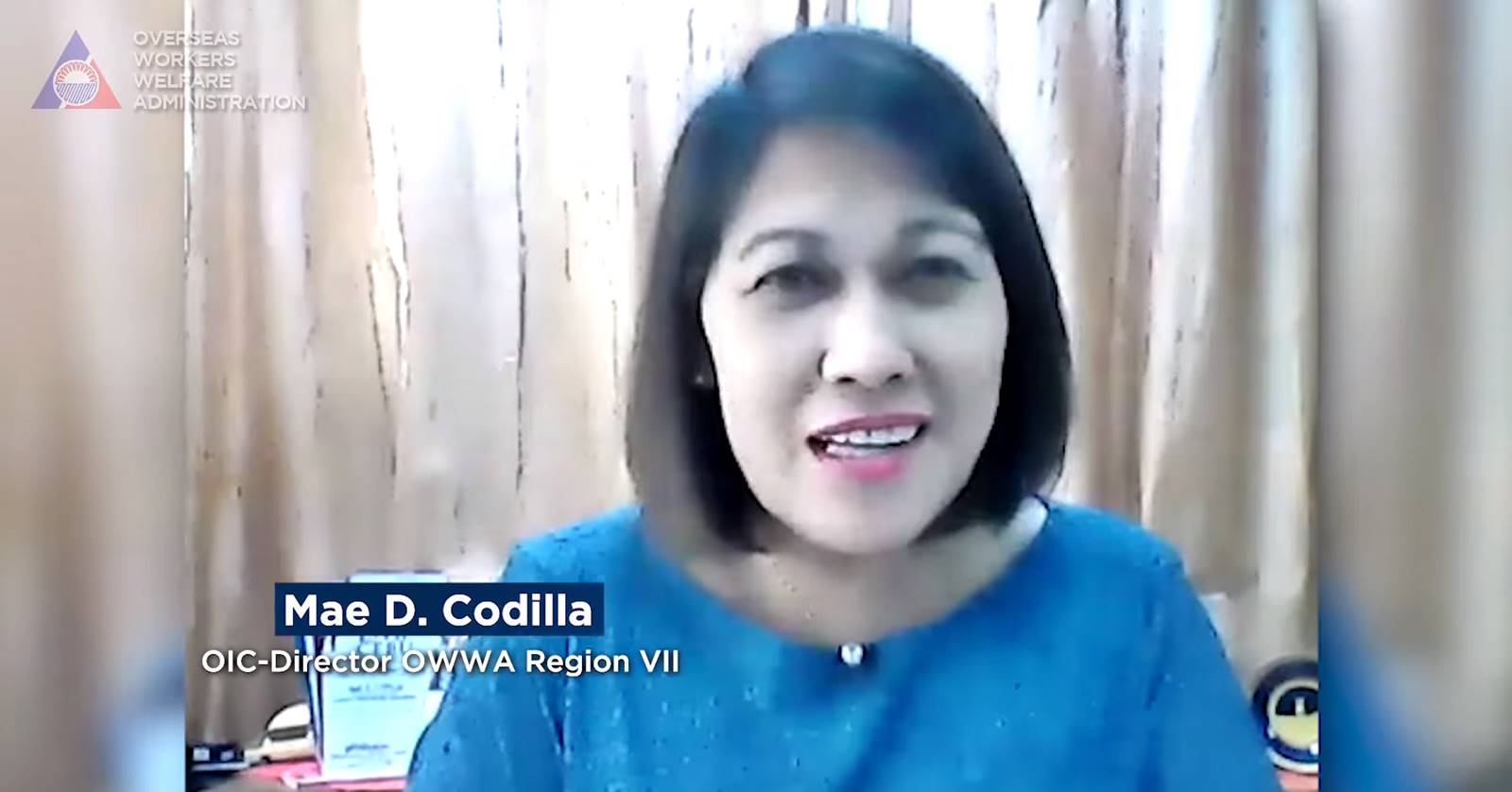 How to Apply for Tabang OFW & Project EASE OWWA Education Programs Online
All of these 2 programs, OFW dependents can apply for this online. As we are practicing social distancing, you can access the application online. No need to go to the OWWA regional office, you can just visit the website online. Below are the steps for the application of Project EASE and Tabang OFW:
1. Visit tabangofw-ease.owwa.gov.ph
2. Fill out the necessary information in the online application form and upload the important document requirements. Once successfully applied online, applicants will receive a notification that their application has been submitted.
3. Wait for OWWA to evaluate the online application.
4. Once approved, OWWA will send a text, call, or email to notify the status of their application. There will be a status whether if it is approved, denied, or pending application. Pending applications mean that they are lacking requirements.
5. Application will be printed and endorsed to the DOLE regional office for funding and release of the cash assistance.
6. The cash assistance will be released through a remittance center (Kwarta Padala via MLuillier or Palawan Express).
How to Check the Status of Your Application
To check the status of the application, below are the steps for these 2 programs:
1. Visit the OWWA website to check the application status:
For Tabang OFW, visit tabangtracker.owwa.gov.ph
For Project EASE, visiteasetracker.owwa.gov.ph
2. Applicants need to type their complete name and information so they can check their status of application.
Note: The system is designed that when you apply for either of these 2 projects, you will automatically be applied to both programs.
Even if you are an active or non-active OWWA member, you can avail the benefits
Reminders
Below are some important reminders and things to know about these two projects:
Applications are processed in a First-Come, First-Serve basis.
Applications that are pending may need to submit lacking documents. But applicants will be notified.
Once application is approved for Project EASE, OWWA will notify the applicants on the status.
There will be a scheduled briefing on the scholarship agreement.
Briefing/orientation about OWWA scholarships is done virtually.
After briefing, applicants will sign the scholarship agreement and then they claim the cheque of PHP 10,000.
For those who cannot visit the website, you may call the OWWA regional office for more information.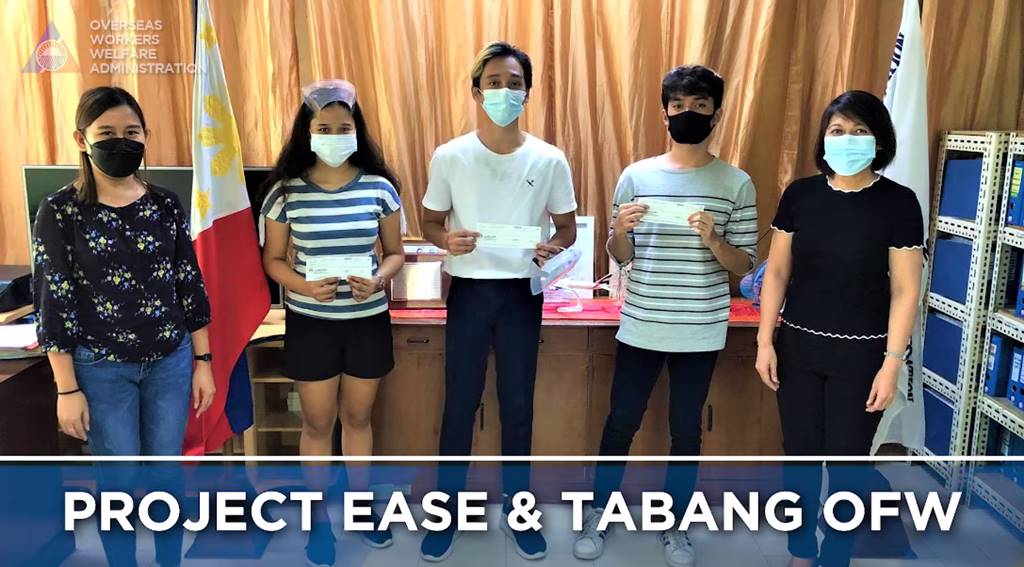 OWWA Project EASE & Tabang OFW News Updates
Here are some of the latest news and updates on these programs as of March 5, 2021.
2045 applications received for Tabang OFW and Project EASE
Project EASE and Tabang OFW go hand in hand.
88 beneficiaries for Tabang OFW have received the PHP 30,000 which amounts to PHP 2.6 Million
242 approved applications for Tabang OFW have been endorsed to DOLE for funding. Once funds are available for release, the beneficiaries will wait for the advise via MLuillier or Palawan Express to claim the amount.
161 approved applications for Project EASE.
130 dependents have received the PHP 10,000 cash assistance.
Applications are still ongoing.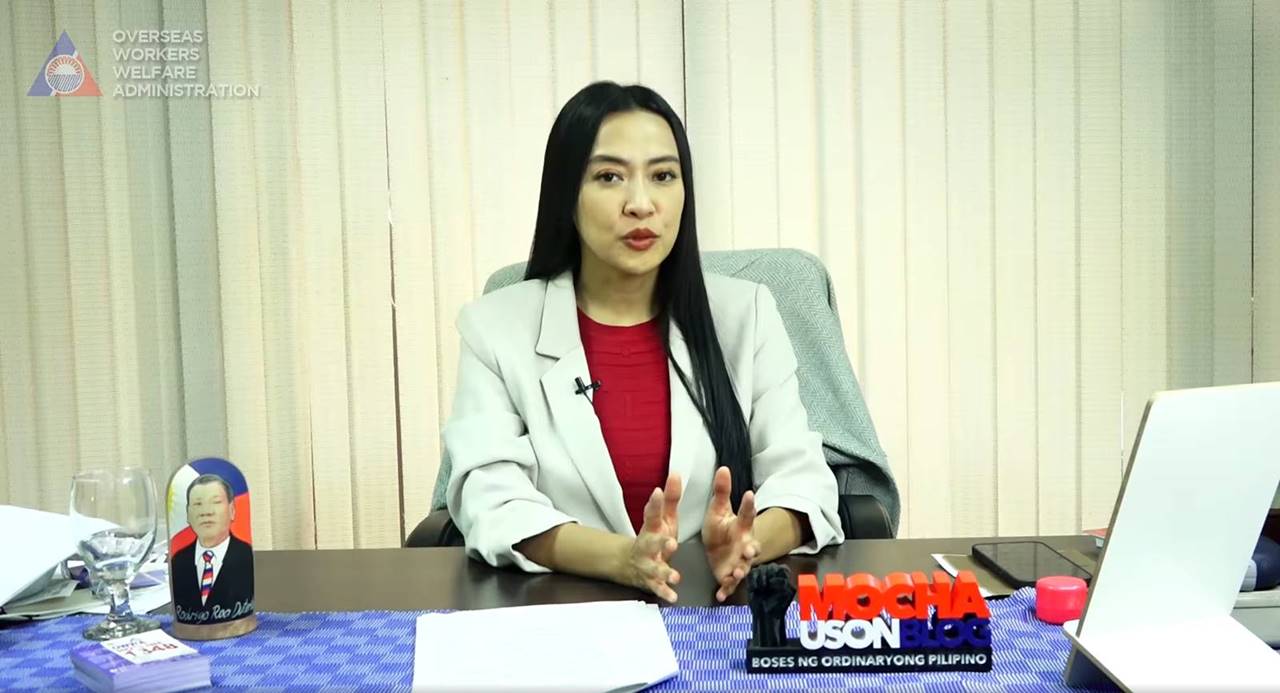 Project EASE Testimonials
On another note, the OWWA at Your Service has also shared testimonials from the applicants who have received the cash benefits via Project EASE
The beneficiaries have showed appreciation and thanks these programs by OWWA program as these has helped them pay for their tuition fees to continue their studies.
They shared the story of how they learned about these educational programs and how to take advantage of it.
Tabang OFW Testimonials
Beneficiaries have also expressed their gratitude for the Tabang OFW cash assistance. The cash aid has really helped them continue their education. Different beneficiaries from different regions in the Philippines thanks OWWA and DOLE for this program.
Contact Information
So that's it for this episode of OWWA At Your Service. We hope that you learned a lot from this video episode. For more information, you may visit www.owwa.gov.ph or visit the OWWA official Facebook Page for more updates (https:facebook.com/OWWAofficial). or call the OWWA Hotline – 1348
Video: OWWA AT YOUR SERVICE Project EASE and Tabang OFW
Watch the replay video below that was uploaded on the official FB Page of OWWA so you can watch a recap of this webisode:
Kabayan, usapang Project EASE at TABANG OFW tayo ngayon.
Paano makaka-avail ng Project EASE at TABANG OFW? Sino-sino ang pwedeng mag-apply sa programa na ito at papaano ang proseso ng aplikasyon?
Sabay-sabay nating alamin kasama si DA Mocha Uson at OWWA Region VII Director – Ms. Mae Codilla dito lang sa OWWA AT YOUR SERVICE.
Next week, abangan po si OWWA Region VIII Director – Mr. Sergio Borgueta, Jr. para sa usaping TULONG PUSO