The programs and services provided for Overseas Filipino Workers (OFWs) give them a sense of comfort, knowing that even if their work abroad fails, they can start anew. For women OFWs returning to the Philippines, the Balik Pinay! Balik Hanapbuhay! Program was duly created in 2011. This is one of the many OWWA Reintegration Programs available and focuses on livelihood assistance for Filipina overseas workers, to start and operate a livelihood undertaking for self-employment.
Not to be confused with the Balik Pinas! program, this Balik Pinay! program is centered around distressed and displaced Filipina women OFWs and gives them an opportunity through livelihood assistance worth Php 10,000.00. The program consists of livelihood skills training and distribution of the starter kits. These are to enable Pinays to start their own business and still continue to be income-generating.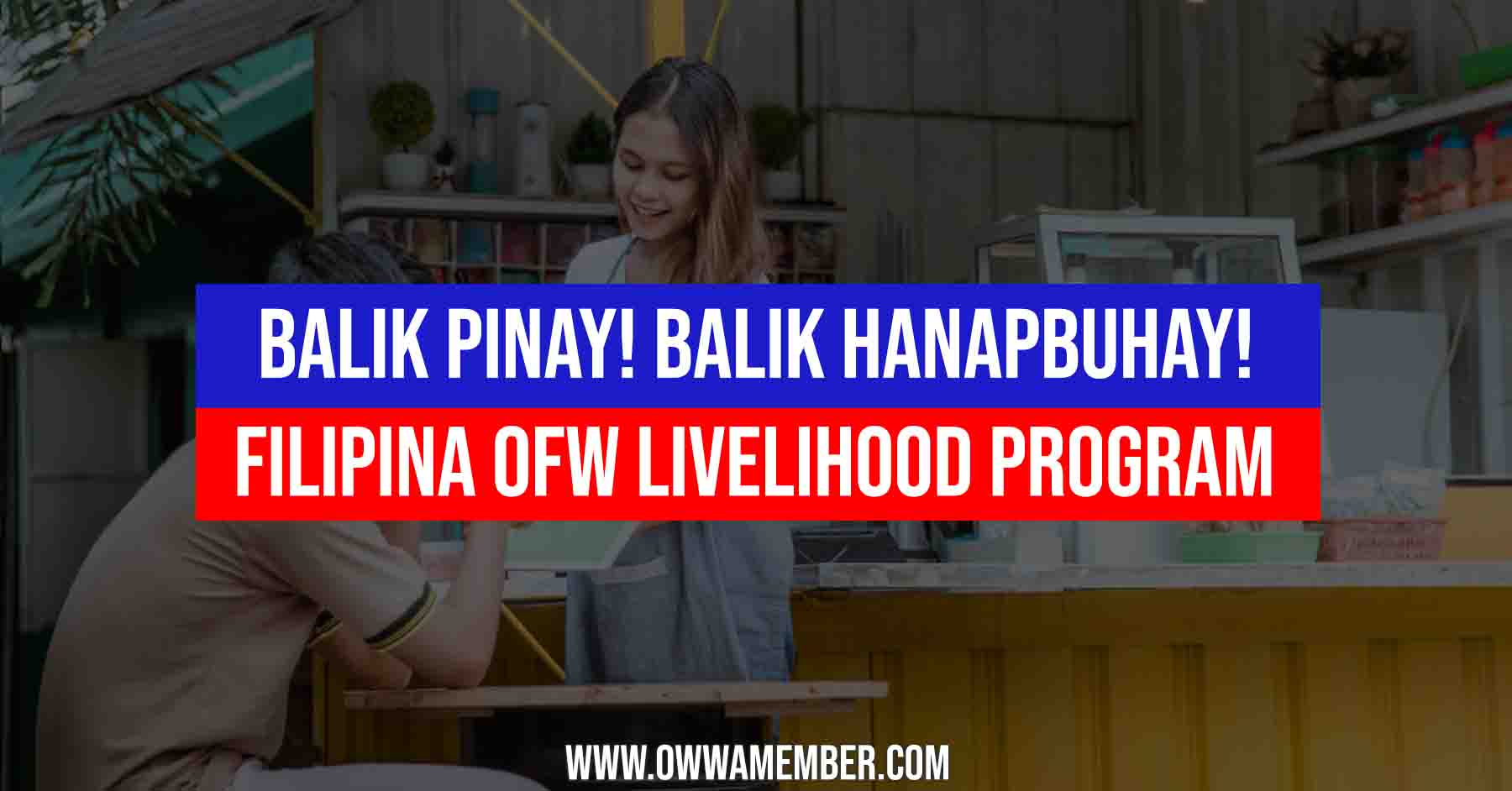 What is the Balik Pinay! Balik Hanapbuhay! Program?
The Balik Pinay! Balik Hanapbuhay! Program is a training and employment project intended to expand employment and economic opportunities for Filipina women, with a priority given to household service workers. After all, there are many cases of domestic helpers abroad who have been abused or did not get their salary, or finish their contracts for whatever reason. If these Pinays have been unsuccessful abroad or have to return home, they have something to do with their time and still be productive.
The Department of Labor and Employment (DOLE) implemented this program and provides women the necessary livelihood skills to improve their socio-economic well-being for their reintegration into the country. This is also to reduce or remove the socio-economic vulnerability.
The National Reintegration Center for OFWs (NRCO) is the program manager of this Balik Pinay program.
Objectives
The objectives of the Balik Pinay! Balik Hanapbuhay! Program includes the following:
To become multi-skilled by having access to training services/ assistance with the help of training institutions such as Technical Education and Skills Development Authority (TESDA), Department of Trade and Industry (DTI), and Agricultural Training Institute (ATI);
To be able to plan, set-up, start, and operate a livelihood project by giving beneficiaries with the ready-to-go roll out self-employment package inclusion of services consisting of pieces of training, business counseling, technical and marketing assistance services, and start-up kits;
To increase the chances of finding better job opportunities by providing displaced women with the proper skills deemed highly in-demand in the local labor market.
Livelihood Benefit Cash Assistance
For every eligible beneficiary, beneficiaries are entitled to a livelihood grant amounting to Php 10,000.00, which comprises of the following:
Php 2,500.00 Training Cost
Php 7,500.00 Starter Kit Cost
The Training Cost is an inclusion but not limited to honoraria, supplies and materials, and a demo kit. On the other hand, the business starter kit comes in equipment, tools and jigs, raw materials, and small start-up capital.
Qualifications
For you to be an eligible beneficiary of the Balik Pinay! Balik Hanapbuhay! Program, you must be qualified under the following categories:
Distressed women workers sheltered by POLO at the Migrant Workers and Overseas Filipinos Resource Center (MWOFRC);
Displaced women workers by the hostilities and conflicts in their host country;
Women workers who are victims of illegal recruitment and trafficking, exploited (unpaid and underpaid), sexually and physically abused, and whose contract was pre-terminated;
And other distressed and displaced women workers.
Document Requirements
To secure entitlement to the Balik Pinay! Balik Hanapbuhay! Program, you should prepare the following documents:
Copy of Passport Picture Page
Arrival Stamp – Date of the Last Arrival in the Philippines
Accomplished National Reintegration Center for OFWs (NRCO) Form
Simple Business Plan
Priority Hanapbuhay Business Projects
To help you identify what livelihood project you will take, we provide you with a list of the priority projects considered under Balik Pinay! Balik Hanapbuhay! Program. This will help you visualize what you would want to do as you come back to the Philippines.
The Priority Hanapbuhay Projects are mostly focused on Health and Wellness, which are considered as home-based income generating occupations:
Reflexology
Massage
Home Spa
Foot Spa
Cosmetology
Hair Cutting
Beauty Care
Manicure and Pedicure
Dress Making
Food Processing

Baking
Native Snack Preparation

Production of Bath Soap, Scented Oils, Herbal Medicine, Skin and Health Care Products
Personal Accessories Repairs and Maintenance
Handicrafts

Souvenir Items
Fashion Jewelry
Native Slippers
Bags
Accessories
Flower Arrangements
How to Apply for Balik Pinay Balik Hanapbuhay Program
In order to apply for the Balik Pinay program, below are the general steps:
Philippine Overseas Labor Office (POLO) will prepare the displaced Filipina applicant abroad for reintegration into the country.
POLO and applicant must secure the document requirements on-site and train the Filipina according to the chosen livelihood project.
POLO will assist the applicant to go through training on Basics of Entrepreneurship and set facilitate Business Planning.
Once the applicant graduates, she will be issued a certificate.
POLO staff will assign the applicant the livelihood course available to her.
Applicant to undergo the livelihood training and will be endorsed to the NRCO.
NRCO to process funding for the Livelihood Starter Kits and endorse the applicant to DOLE Regional Offices or OWWA Regional Welfare Office.
OWWA Regional Welfare Office will deliver the Starter Kit to the OFW at her registered home address.
Implementation Scheme
The implementation of the Balik Pinay! Balik Hanapbuhay! Program, shows that it is primarily an initiative to help women OFWs. The Philippine Overseas Labor Offices (POLO) personnel is responsible for preparing the list of distressed and displaced women OFWs for their productive reintegration into the country.
They are the ones tasked to complete the necessary requirements on-site and train you on your chosen livelihood skills and the basics of entrepreneurship and business planning. The POLO staff also ensures the business plan's submission as a requirement for graduating and issuance by POLO of the Certificate of Training on Livelihood Skills and Fundamentals of Entrepreneurship and Business Planning.
The heads of POLOs will ensure the availability of training courses of livelihood skills at the Migrant Workers and Other Overseas Filipinos Resource Center (MWOFRC) based on the need and viability of the undertaking. TESDA and other training institutions will conduct skills pieces of training for identified livelihood.
The expenses, such as the Skills Training Expenses and payment of trainer's honoraria, are cost-shared by the Department of Labor and Employment (DOLE) and Overseas Workers Welfare Administration (OWWA) according to the POLO Work and Financial Plan.
DOLE and OWWA will also issue the Claim Voucher upon arrival to the repatriated women. All POLOs are asked to submit a report which the Labor Attache duly signs after conducting the Balik Pinay! Balik Hanapbuhay! Program activities to the National Reintegration Center for OFWs (NRCO) and International Labor Affairs Bureau (ILAB).
Video: Testimonials from Beneficiaries
With the livelihood development assistance program is implemented, a lot of distressed and displaced Filipina OFWs are given the opportunity to get help from the said program. Some are still doubtful of the said program but below is a video that shows some testimonials from Filipina OFWs who benefitted from the Balik Pinay! Balik Hanapbuhay! Program.
Check out the video below for a glimpse from Filipinas who have availed of this program:
Filipina in Singapore Sets up Bread and Pastry Business
In the video, the first testimonial comes from a Filipina who worked in Singapore for 17 months. Unfortunately, she was forced to go home afterward because of her employer. She was then contacted by the DOLE-NRCO and was given the opportunity to attend a skills training for bread and pastry production under the said program.
Now, she is able to earn at least Php 1,200.00 a week from her pastillas and polvoron production along with having seven (7) partner stores to which she is delivering her products thrice a week.
Filipina in Saudi Arabia Sets up Small Bakery Business
Another beneficiary is a Filipina who was bound to work as a nurse in Saudi Arabia. After 8 years of working abroad, she returned to the Philippines to take care of her sick parents. She learned about the livelihood assistance program when she went to the PESO Office in LGU Baggao. From there, she was given a chance to participate also in the bread and pastry production training and was provided the starter kit by DOLE.
According to her, she started with a capital of Php 350.00 and her knowledge in making puto (rice cakes), and baking cake which she learned from the program. She said that even with a small capital, you can already start and grow your business as long as you have the interest and passion.
OFW Mother Uses Training for Massage Therapy Freelance Job
Lastly, a Filipina OFW learned about the program through the OFW Association she applied with. Despite having a stable and okay job abroad, she chose to go home because she found out that her being away affects how her children grow up. It is then she took the chance to avail the benefits and received the training for massage therapy.
She works for 7 days a week by appointments, in which she earns Php 300.00 – 600.00 and up daily. She also provides free training for those who are unable or weren't eligible to attend the programs to give them the chance to start their own livelihood projects.
Also Read: Balik Pinay Balik Hanapbuhay Livelihood Program for Filipina OFWs
Summary
These testimonies from Filipinas show that the Balik Pinay! Balik Hanapbuhay! Program has helped enough women OFWs and shows that this project is important. The DOLE-NRCO should continue the program because it is very important to Filipinas who need assistance and knowledge especially if they're unfortunate with their work abroad and want to start anew in the country. It is also important that the Filipina OFWs should have the passion and interest to invest and grow themselves in the process of training provided specifically for them.
To know if you qualify for the BPBH Program, you can inquire on your designated Philippine Overseas Labor Offices (POLOs). You can also contact the National Reintegration Center for OFWs (NRCO) or visit DOLE regional offices for more information. Your life is guaranteed to continue as you return to the Philippines, with the program providing you a chance of self-employment in the community.
With the BPBH Program, you are self-employed with the necessary knowledge you acquired, which you can share, inputs you can use for production and services, the proper tools, jigs, and equipment, and enhanced skills on entrepreneurship.
NRCO Contact Information
Website:                          https://www.nrco.dole.gov.ph
Email:                              nrco@owwa.gov.ph
Facebook Page:               https://www.facebook.com/dole.nrco
Contact Numbers:           (02) 527-6184 and (02) 526-2392       
Check out this link from POEA regarding this particular program – https://www.poea.gov.ph/AssistWELL/framed/balikpinay.htm