If you are looking for a job, OWWA provides several work possibilities and incentives to its employees. This Philippine government agency is currently hiring for various job openings which are posted on the Careers section of their website – https://careers.owwa.gov.ph/
In case you wish to apply for these opportunities, please make sure that you meet the qualifications in order to successfully be considered for these job positions.
Also Read: OWWA Membership Verification: How to Check Status of OWWA Online
This guide will help you in understanding how you can apply for these openings, and will also help you in knowing what to expect when it comes to OWWA's recruitment process.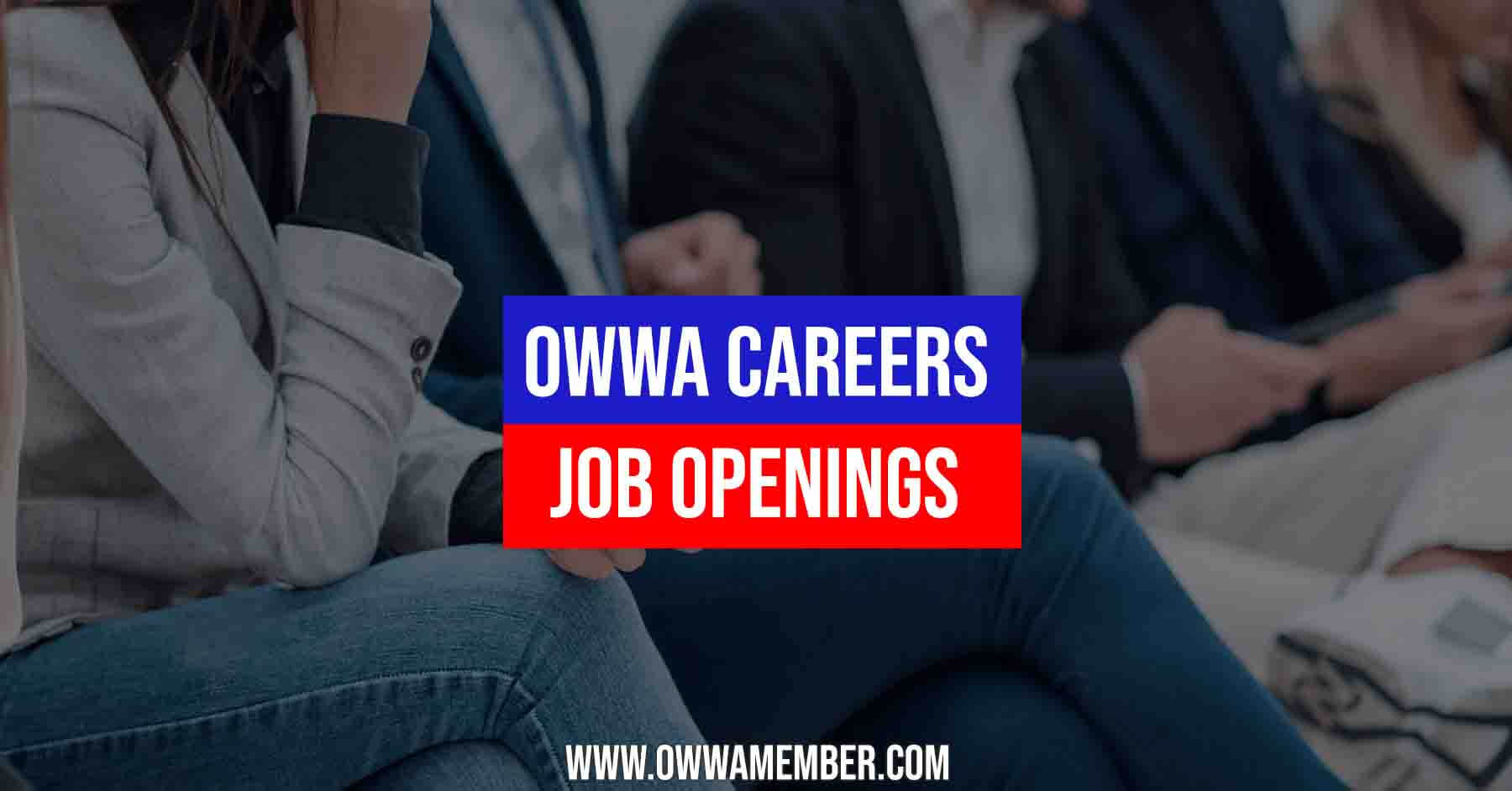 Overview
The Overseas Workers Welfare Administration (OWWA) is a membership organization and an affiliated agency of the Department of Labor and Employment (DOLE). Overseas Filipino Workers (OFWs) and their dependents are protected and promoted. It was founded in 1977 under the name Welfare and Training Fund for Overseas Workers.
OWWA has 31 overseas offices in 27 countries. It also has a presence in each of the seventeen (17) regions in the Philippines.
OWWA offers a variety of government opportunities and you can apply on these job opportunities.
What are the OWWA Job Requirements?
Be advised that each job position may have a different set of requirements so you need to open each job posting to see each detail. Below are some general guidelines in terms of the requirements:
Application letter indicating the position, office where the vacancy exists, and its Item Number, addressed to the given director.
Authenticated copy of Eligibility by CSC or Board Rating by PRC.
Awards received related to work performance (if applicable).
Certified photocopies of training certificates.
A certified true copy of your transcript of records/diploma.
Duly accomplished Personal Data Sheet subscribed and sworn to with photo (CSC Form 212 Revised 2017).
Individual Performance Commitment Review (IPCR) for the last rating period for applicants from government agencies OR Performance Evaluation System Rating for outside applicants.
List of at least five (5) references with complete contact information and email address for the following:

Superior
Peers
Subordinates (if applicable)
Clients (if applicable)

Service Record for applicants from government agencies OR Certificate/s of Employment with Duties and Responsibilities signed by the HR Officer for outside applicants.
Work Experience Sheet
What are the OWWA Careers Qualifications?
The qualifications for each job post also vary per position. Here are some general qualifications:
Education: Completion of two-year to four-year studies in college (it depends on the job vacancy)
Experience: 1 year (and above) of relevant experience (it depends on the job vacancy)
Training: 4 hours (and above) of relevant training (it depends on the job vacancy)
Eligibility: CS Subprofessional or First Level eligibility (it depends on the job vacancy)
Step by Step Process: Applying for a Job Hiring in OWWA Website
Please follow the process on how you can simply search for job opportunities and apply for a vacant position in the official website of OWWA. We have outlined the procedure below with their respective screenshot photos for better reference:
Step 1: Visit the official OWWA website.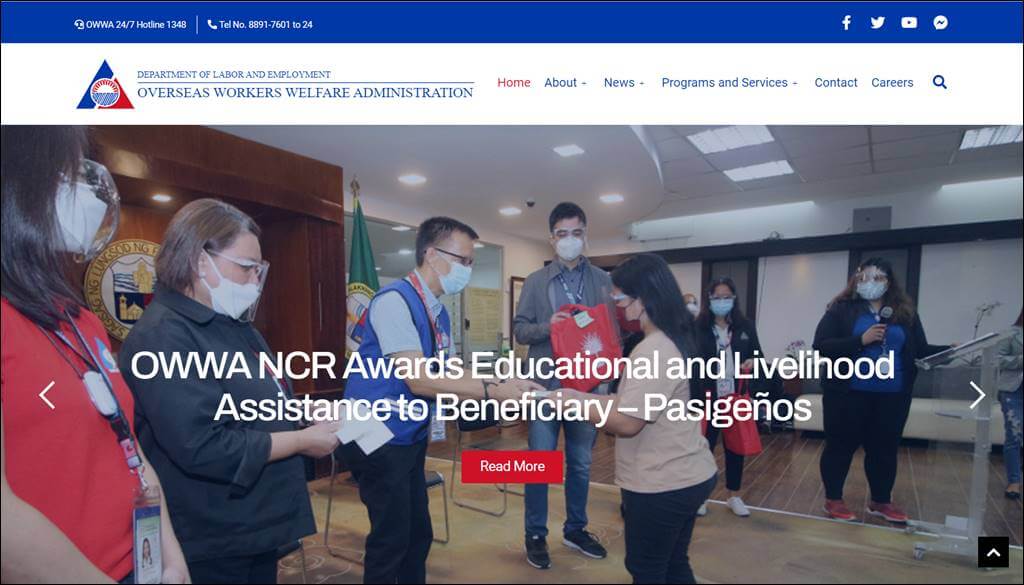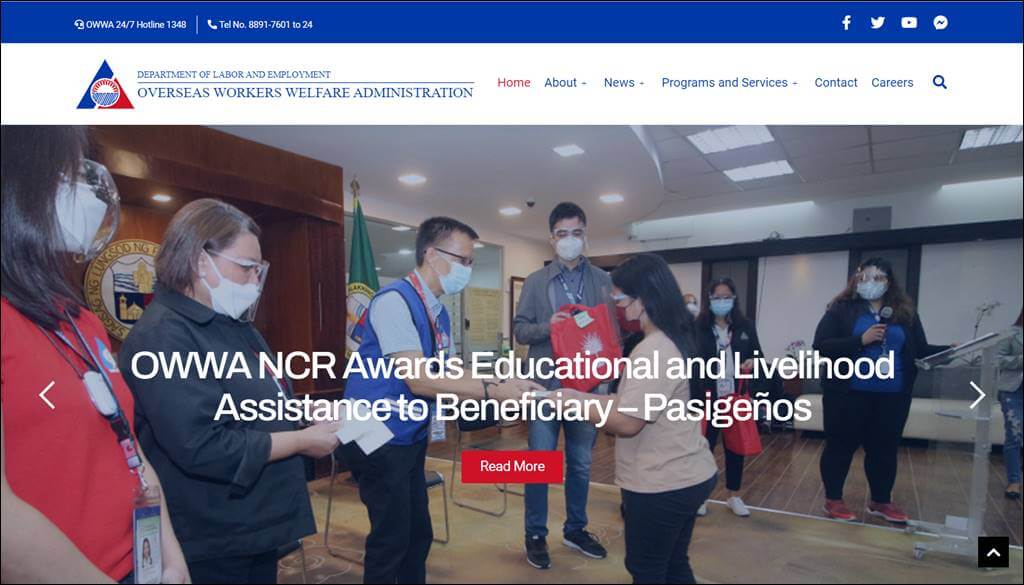 Step 2: Click the Careers button on the upper right part of the website beside the search bar.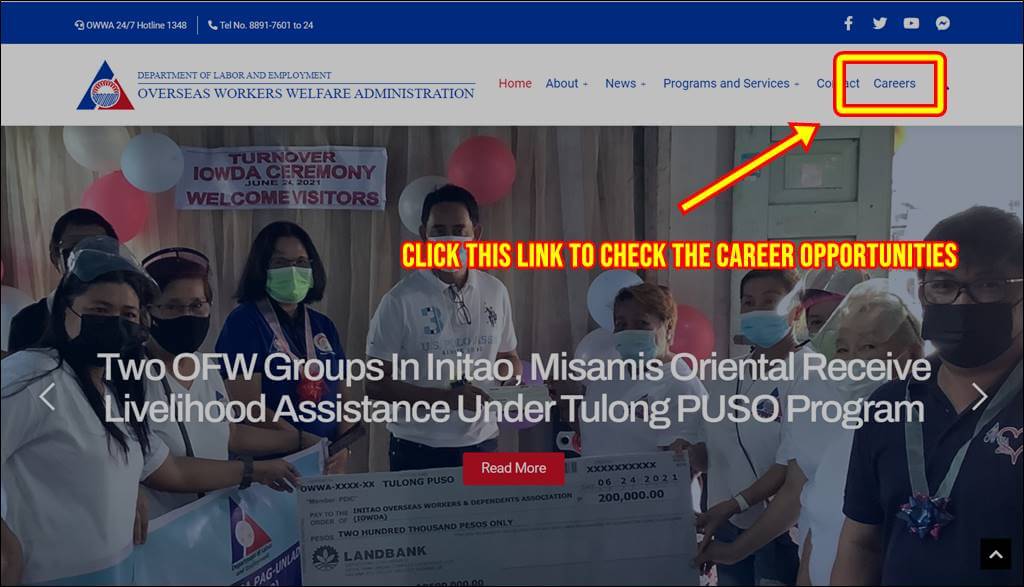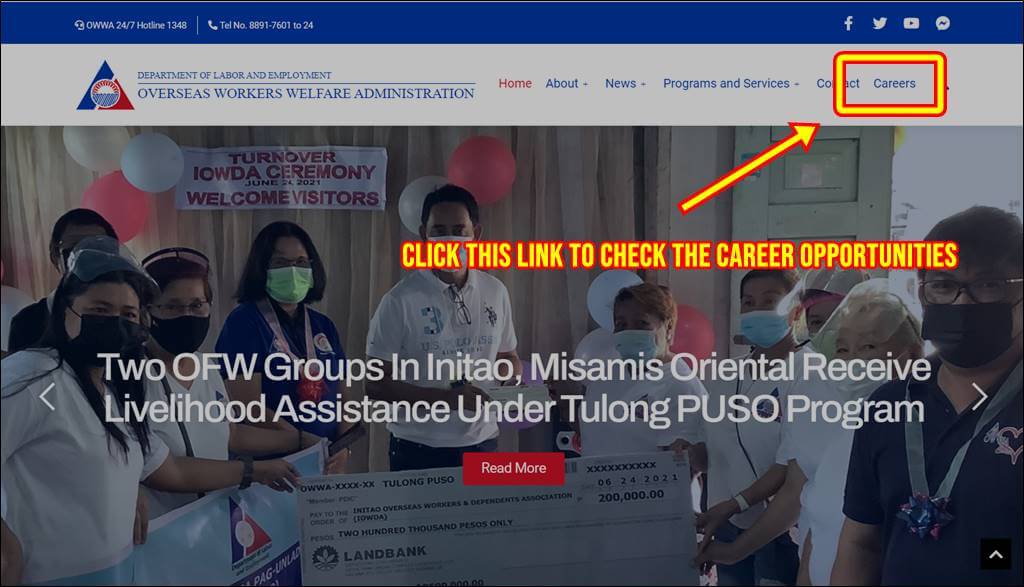 Step 3: Browse and select the available careers in your region.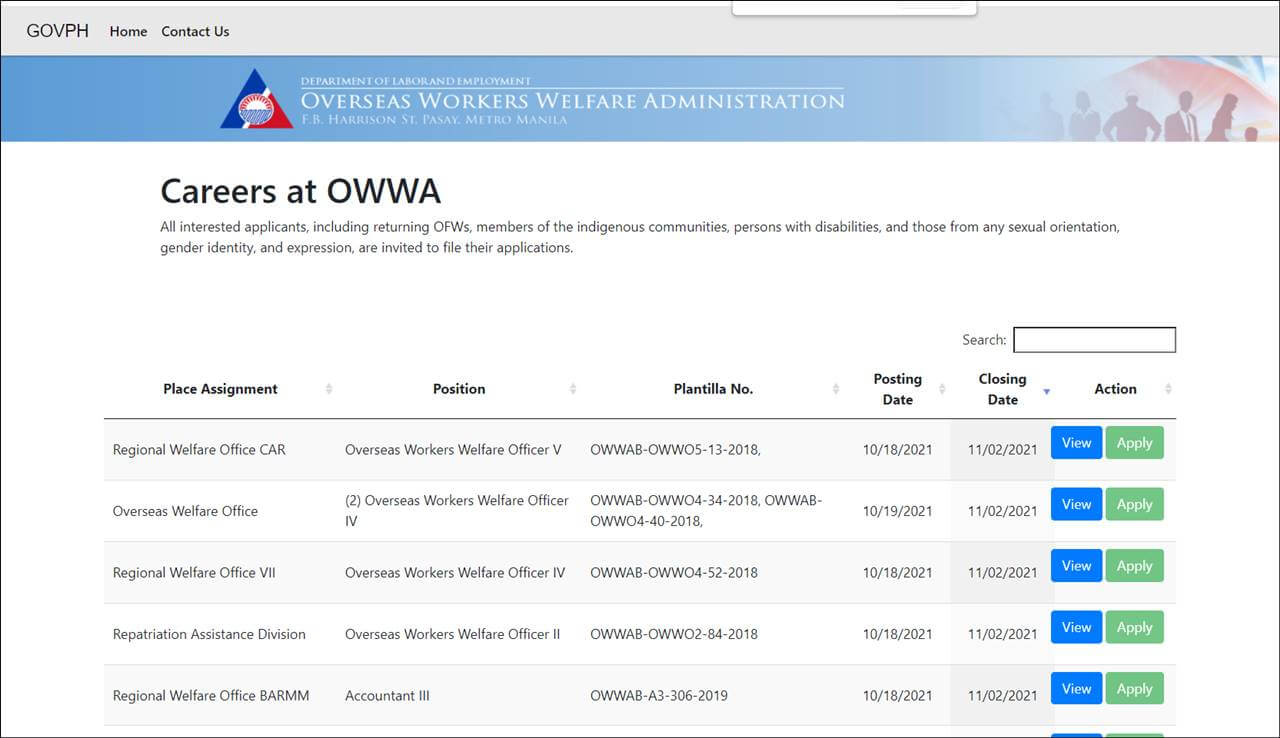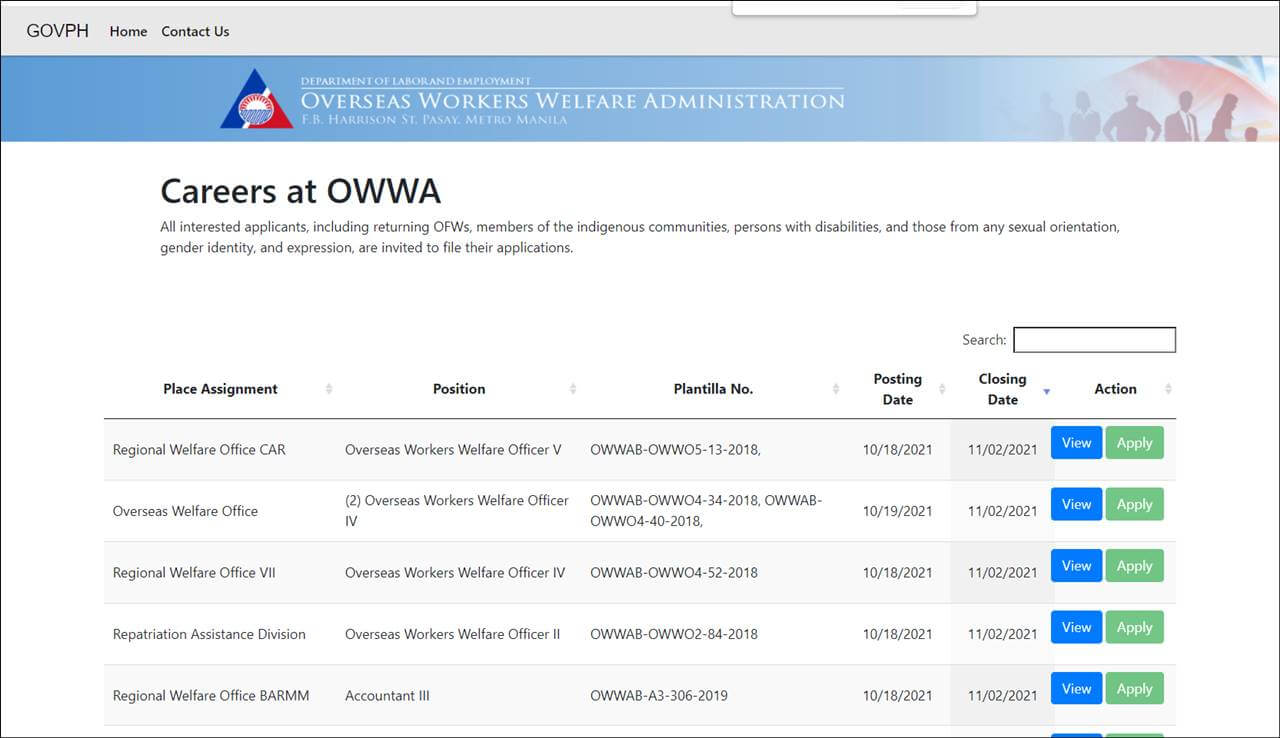 Step 4: To see the job description, click the view button.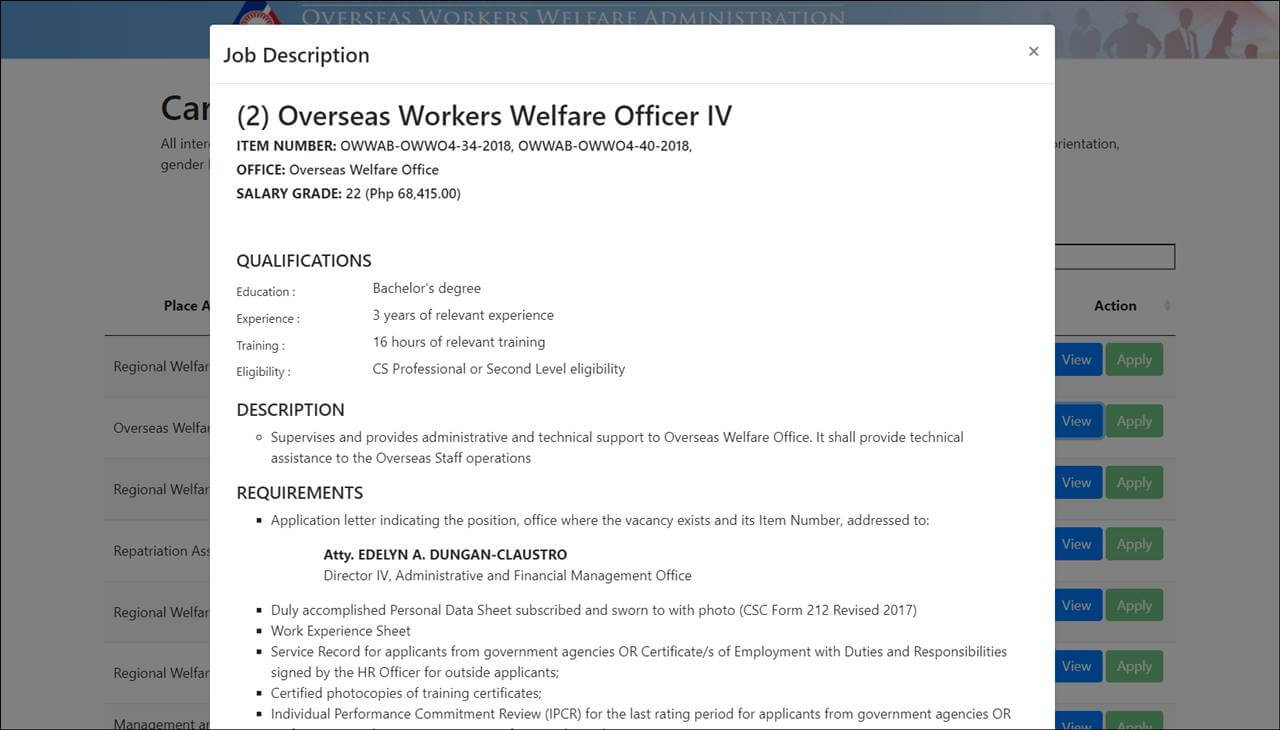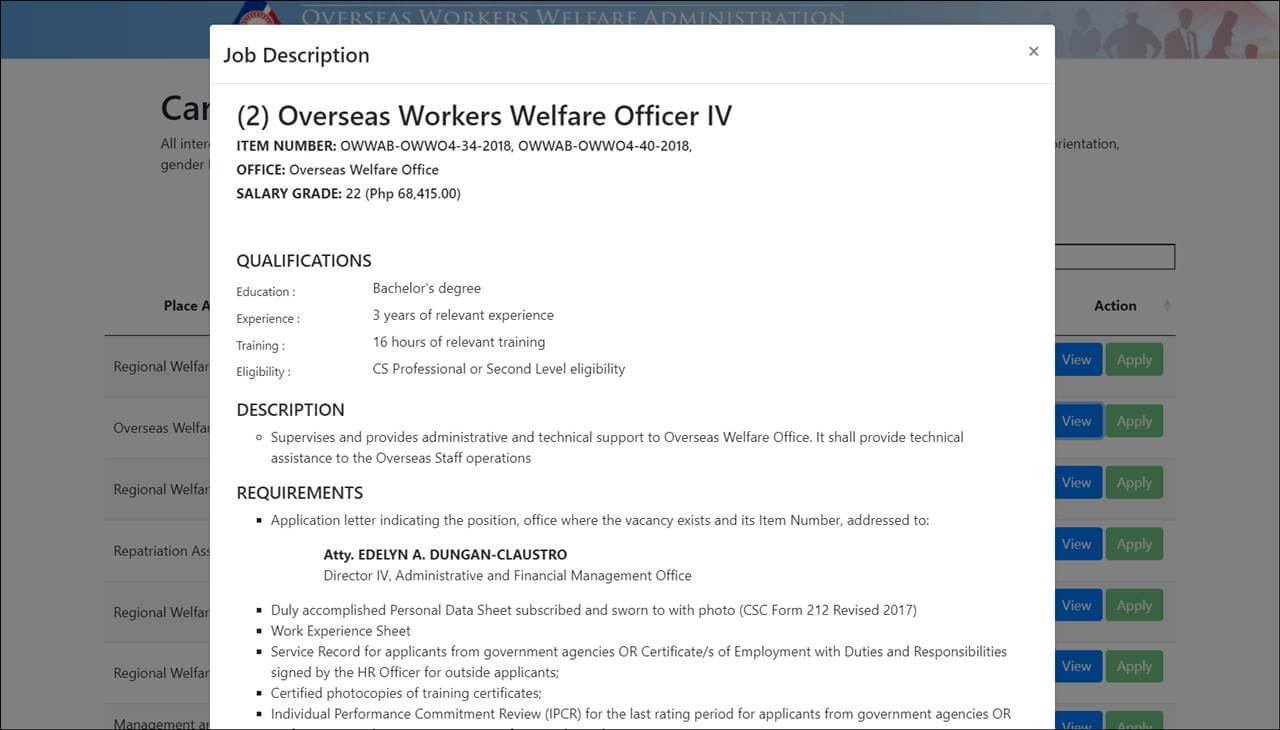 Step 5: If you want to apply for the available job, click the Apply button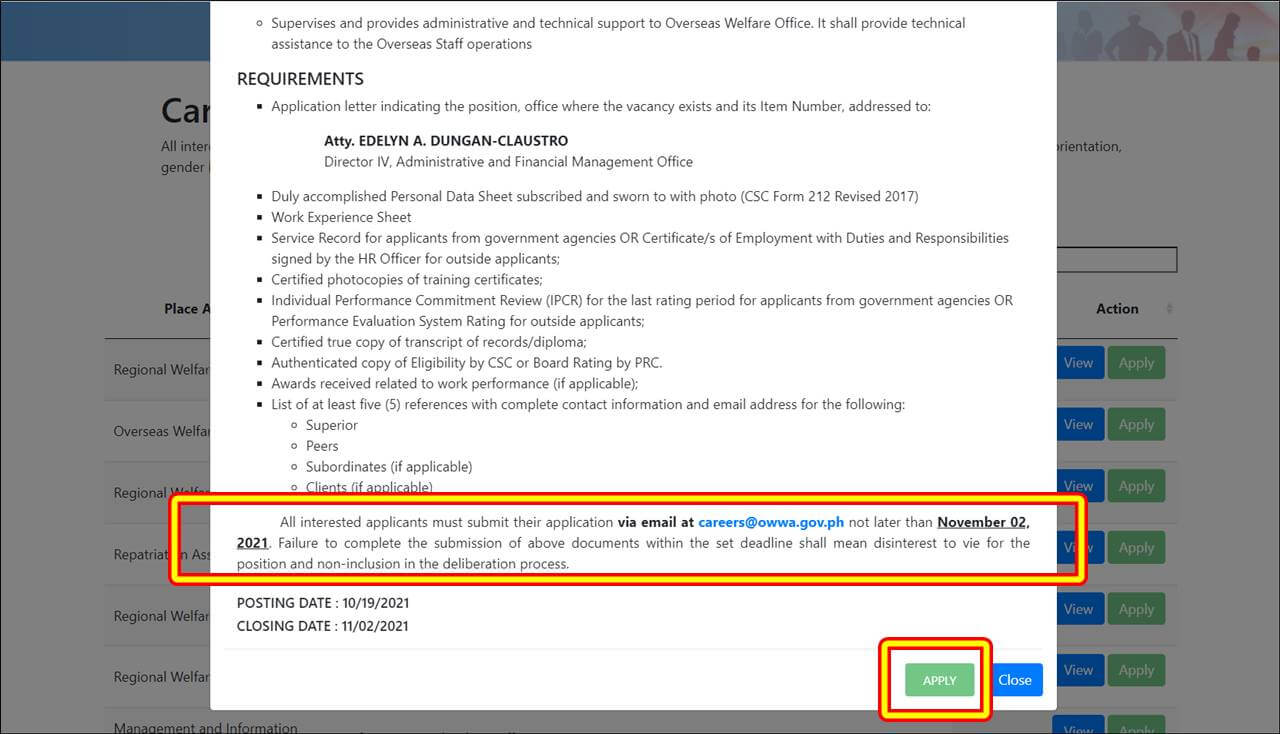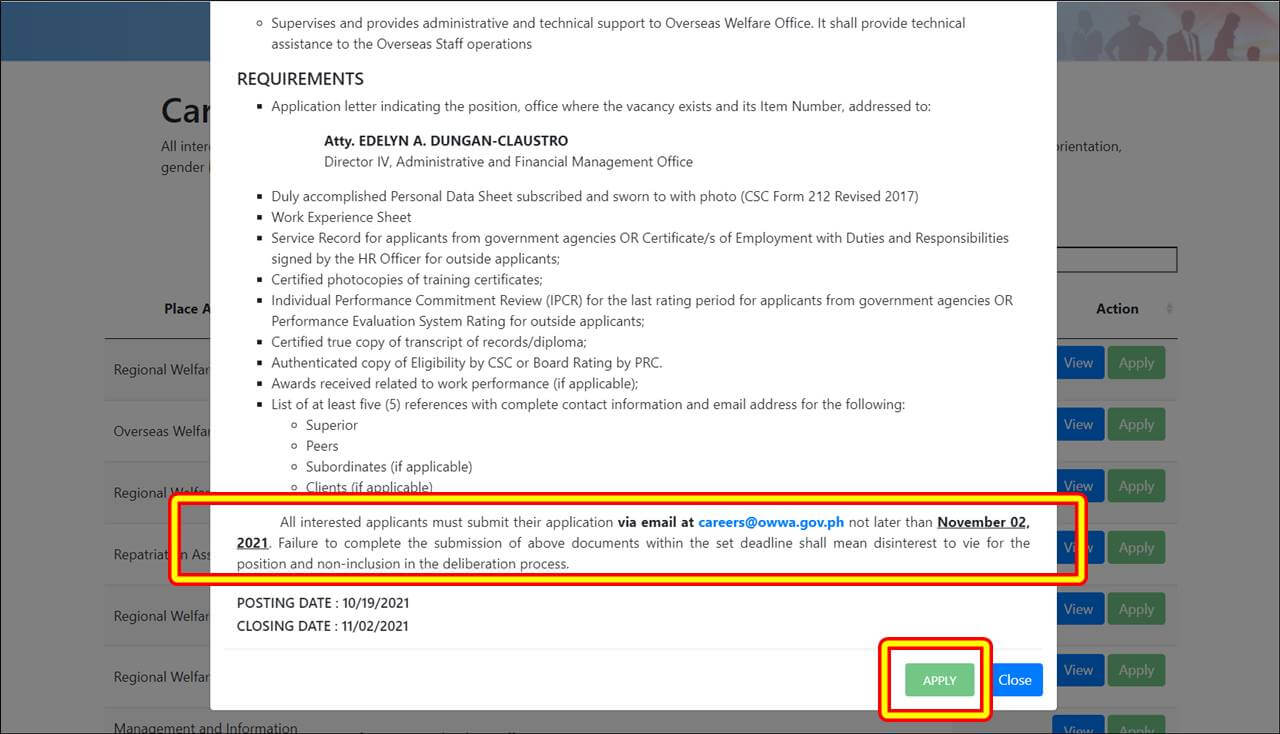 All interested applicants must submit their applications through email to careers@owwa.gov.ph by the specified deadline. Failure to submit the required documentation by the deadline will result in a lack of interest in applying for the position and exclusion from the consideration process.
What are the OWWA Employee Benefits?
Employees of the government play an important part in a variety of serious issues affecting the country's social, economic, and financial sectors. They work to improve living standards, ensure residents' well-being, and handle a wide range of issues, including homeland security and homelessness.
Here are some of the advantages that await you.
1. Job Security
Government positions like OWWA provide a consistent salary and job security, which is especially important during difficult economic times. Unlike private enterprises, which can go out of business at any time, federal institutions stay stable or evolve over time. In fact, corporate employees are three times more likely than government employees to be fired by their employers.
2. Jobs for Everyone
The OWWA has a career for everyone; whether you're interested in science, business, healthcare, or politics, the OWWA has a position for you.
3. Work-Life Balance
Every government institute has its own work culture, but one constant at OWWA is the provision of work-life balance. For people who work long shifts and have a long commute, OWWA offers flexible work schedules, telework choices, and remote working possibilities.
4. Plenty of Benefits
The benefits provided by OWWA always outnumber those provided by the private sector. Employees also have greater savings and investments by the time they retire, thanks to the excellent health and retirement schemes.
5. Competitive Pay
According to a survey, the government pays about 6% more per hour in wages and benefits than the private sector.
Every year, OWWA updates and publishes new pay tables that define wage ranges and benefits for government technical, administrative, clerical, and professional civilians.
The extra pay is determined by your job duties, performance, technical job needs, and educational background.
6. Opportunities for Professional Growth
In the next few years, more than 70% of OWWA staff will reach retirement age. This will provide profitable possibilities for fresh and young individuals to advance swiftly in their careers.
OWWA also provides excellent geographical benefits. If possible, you can work in multiple OWWA offices in different regions.
OWWA Work Abroad
In case you are wondering if you can apply for a job in OWWA abroad, the website currently only features opportunities for applicants to get a job in the Philippines. You may need to check the Career hiring vacancies from time to time if there are any updates for positions if there are jobs in POLO-OWWA offices.
Frequently Asked Questions
Here are some common questions and answers about applying for a job in OWWA.
1. What is the monthly salary rate in OWWA?
The salary range varies depending on the position you're applying for.
2. Is the OWWA Careers always available?
No, there is a deadline for each employment position advertised. You should submit your application before the deadline. Failure to provide the required documentation by the deadline will be interpreted as a lack of interest in the position and will result in removal from the selection process.
3. Is it possible for me to submit my application at the OWWA office?
Yes, you can submit your job application at the OWWA office mentioned, although it is preferable to do so online. You can do so by visiting the OWWA Career Portal
4. What are the requirements to be an OWWA Employee?
Each job position has a specific requirement so you have to check each job opening and the position that is available. There is no single requirement being present in order to apply as an employee of the government. You'll have a better chance if you have a bachelor's degree or higher, relevant experience with…
5. How long is the OWWA hiring process?
The process can take less than a month to years. It will depend on your qualifications and the type of job position you want to apply for.
6. What should I do if I got an email from OWWA about their job positions/internships/training?
You should go to the OWWA Career Portal and click the option that says "Click Here to Apply!"
7. How do I know what's in the employment package in OWWA?
This will be discussed during your interview process as salary expectations and employment packages are discussed privately.
Summary
As a summary, in order to send your application for a job in OWWA, you need to simply:
1. Visit the Official Website of the Government Agency
2. Click on "Careers" under Highlights
3. Click on the "Click Here to Apply!" button on each job listing or submit your CV application to the corresponding email address listed in each job opening.
OWWA offers a variety of benefits, including job security, work-life balance, and competitive pay. Employees also have the opportunity for professional growth.
As they are currently looking for new employees for various job positions. The agency is especially interested in hiring Filipinos who are qualified and have the necessary experience. If you're interested in applying, you must submit your application online by the specified deadline.
OWWA provides several work possibilities and incentives to its employees same in providing safety and opportunities to OFWs. OWWA will ensure that its employees are comfortable and flexible in their work environments.