The Overseas Workers Welfare Administration (OWWA) is a branch of the Department of Labor and Employment (DOLE) that deals with the welfare of Overseas Filipino Workers (OFWs) as well as their dependents. As an OFW, you need to make sure you keep your OWWA membership active.
This article will help you understand better the history of this government agency, the mission, vision, as well as find out more information on the benefits and services you can get as an active OWWA member.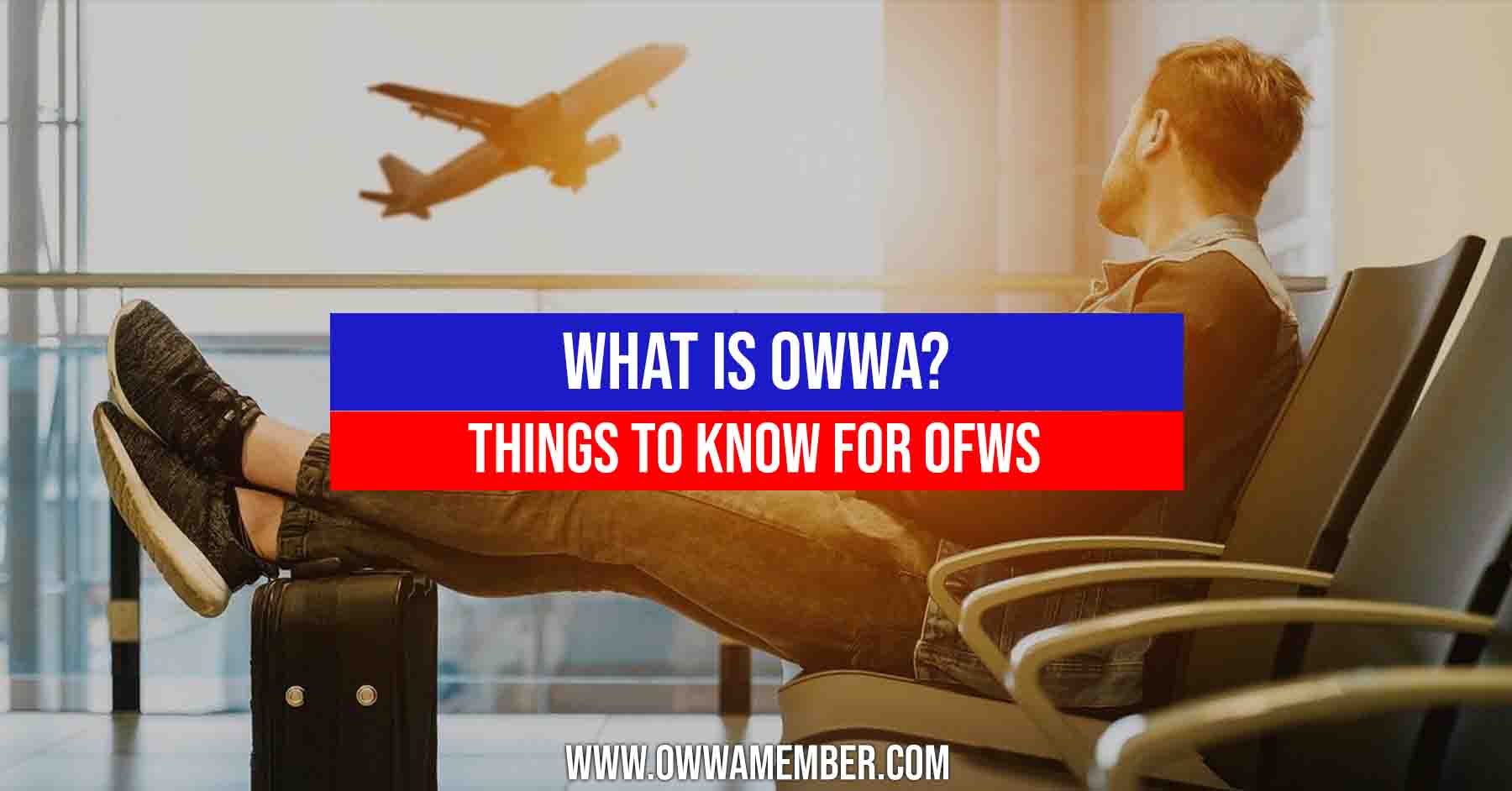 What is the Meaning of OWWA Philippines?
OWWA is an acronym that stands for Overseas Workers Welfare Administration. This is a government agency in the Philippines that aims to take care of the welfare of Overseas Filipino Workers abroad.
What is the Meaning of POLO-OWWA?
POLO stands for Philippine Overseas Labor Office. This is the dedicated office where you can inquire about OWWA programs.
History
It was organized on 01 May 1977, when the late President Ferdinand Marcos signed a letter of instruction in the creation of a Welfare and Training Fund For Overseas Workers in the Department of Labor and Employment (DOLE).
OWWA is managed by a Board of Trustees and has an Administrator and Deputy Administrator. It is a membership program where inclusion is mandatory in nature. It has its presence in twenty-seven countries with thirty-one overseas posts, and a regional presence in all the seventeen regions in the Philippines.
Mission
The Overseas Workers Welfare Administration (OWWA) is a national government agency vested with the special function of developing and implementing welfare programs and services that respond to the needs of its member-OFWs and their families. It is endowed with powers to administer a trust fund to be called the OWWA Fund.
Vision
By 2023, OWWA has instituted more effective mechanisms to ensure that the rights and interests of OFWs are adequate protected and safeguarded.
How is OWWA Funded?
The OWWA is funded through the pooled membership contributions or fees of employers, investments, and income from other sources.
OWWA's Mandates
It has a two-fold mandate:
Delivery of welfare services and benefits; and
Ensuring capital build-up and fund viability
What does OWWA do?
OWWA is a Philippine agency and its purpose is to take care of the welfare and protection of Overseas Filipino Workers (OFWs) and seafarers. OWWA focuses on the welfare of the Filipino workers and assists Filipinos in three stages:
Pre-Departure
OWWA prepares the Filipinos bound for abroad through basic language training and orienting them about working abroad and the culture and conditions of their destination countries.
On-Site
OWWA assists and protects the OFWs when faced with problems and concerns with their employers.
Upon Arrival Abroad
When the OFWs served their time abroad, OWWA continues to assist them with livelihood training, seminars, and programs for reintegration.
Social Benefits of Being an OWWA Member
In case you are wondering what services does OWWA provides, you can get a variety of benefits. Here is a list of Social Benefits below:
1. Disability and Dismemberment Benefit
A member will receive benefits of Php 50,000.00 for partial disability and Php 100,000.00 for the case of permanent disability.
2. Death Benefit
A member is entitled to Php 100,000.00 for natural cause of death and Php 200,000.00 for the accidental cause of death.
3. Burial Benefit
In addition to the death benefit, legal heirs will receive a rider of Php 20,000.00 for the funeral expenses.
4. Supplemental Medical Assistance for OFWs (Medplus)
For active OWWA and PhilHealth member OFWs, who are troubled with dreaded diseases and are hospitalized, are given supplemental medical relief. The financial assistance is equivalent to the PhilHealth benefits under its case rate system but not to exceed Php 50,000.00 per member.
5. Welfare Assistance Program
This program is extended for both active and inactive OWWA members or their families not entitled to any of the existing OWWA Social Benefit Programs and Services.
The coverage of this assistance program is:
What are OWWA Scholarships and Educational and Training Programs?
Here's an overview of the list of scholarships and training programs available for OWWA members.
Pre-Departure Education Program
Training Programs for Filipino Seafarers
Scholarships for OFW Dependents
Repatriation Program
The Repatriation Program aims to bring back distressed Overseas Filipino Workers (OFWs) and human remains. There is emergency repatriation carried out in the event of political unrest or natural calamities.
OFWs are accorded with:
Airport Assistance
Temporary Shelter at the OWWA Halfway Home
Psychosocial Counselling
Stress Debriefing
Transport Services to their respective Provinces
Reintegration Program
The Reintegration Program is a program that makes way for mainstreaming returning Overseas Filipino Workers into the Philippines. The program's coverage is:
1. Reintegration Preparedness (On-Site)
Value Formation Training
Financial Literacy
Entrepreneurial Development Training
Techno-skills and Capacity Building
2. Reintegration (In-Country)
Job Referrals
Business Counselling
Community Organizing
Financial Literacy Seminar
Networking with Support Institutions
Social Preparation implemented by OWWA Regional Welfare Offices (RWOs)
3. Balik Pinas! Balik Hanapbuhay! Program
This Balik Pinas program is a package of livelihood support and assistance providing immediate relief of returning member (distressed/displaced) amounting to a maximum of Php 20,000.00 as a starting or additional capital for the livelihood project.
4. Overseas Filipino Workers – Enterprise Development and Loan Program (OFW-EDLP)
This OFW-EDLP is an enterprise development intervention and loan facility of OWWA, in partnership with Land Bank of the Philippines (LBP) and the Development Bank of the Philippines (DBP. It is intended to support enterprise development among OFWs and their families.
Interest Rate: 7.5% per annum for the entire duration of the loan
Loan Purpose: Working Capital and Fixed Asset Acquisition
Project Cost-Sharing: Borrower's Equity: minimum of 20% of the Total Project Cost (TPC)
Loan Amount: The loan amount shall depend on project needs and amount of equity participation of the borrower
5. Tulong Pangkabuhayan sa Pag-unlad ng Samahang OFWs (Tulong PUSO)
This Tulong PUSO is a one-time grant assistance to support the livelihood projects/undertakings of OFW organizations. This is in a form of raw materials, equipment, tools and jigs, and other support services.
The amount is based upon the project requirement up to a maximum of Php 1 million for OFW organizations with more than 51 members.
How to become an OWWA Member?
Becoming an OWWA member is easy, you just need to apply to the nearest POLO-OWWA office abroad or if you are in the Philippines, head to the nearest Regional Welfare Office in your region. Or for a much easier process, download the OWWA mobile app and renew your OWWA membership online.