The Philippine Blood Coordinating Council (PBCC) is the governing body of the Philippine National Blood Services (PNBS). It launched in 1983, originally as the prime coordinator between the Department of Health (DOH), the Philippine National Red Cross (PRC), the health professional associations, the health-related organizations, and the local government units (LGUs).
Also Read: PCH – Philippine Heart Center – Purpose, Functions and Responsibilities
As an organization, the PBCC is tasked to disseminate accurate information to medical professionals and the general public regarding blood donations. It was designed to inform the public of the benefits and advantages of voluntary blood donations as well as to initiate, improve, and promote policies and procedures of blood banking and blood component therapy in order to achieve optimum and efficient blood utilization.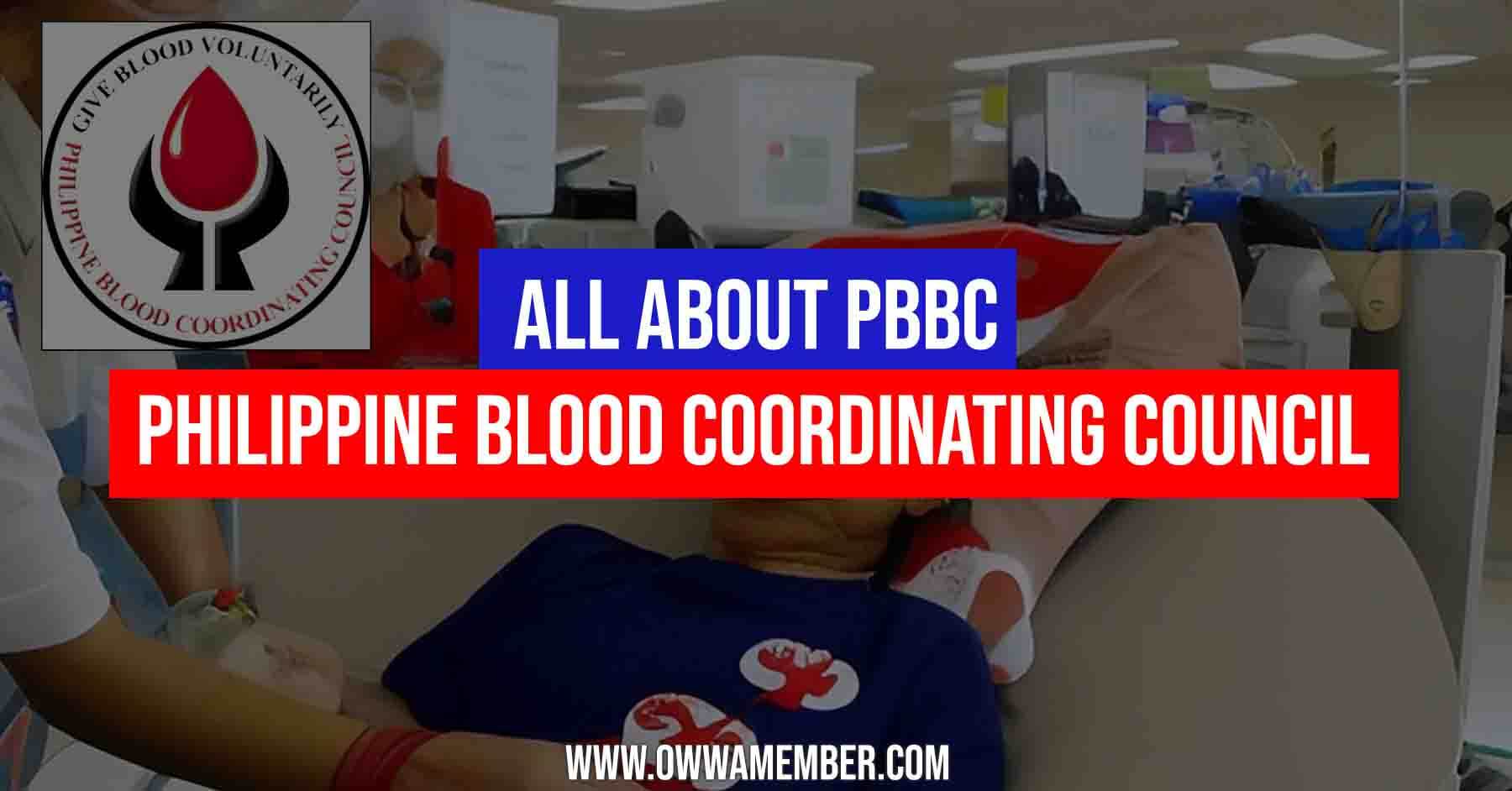 What is the Philippine Blood Coordinating Council (PBCC)?
PBCC stands for the Philippine Blood Coordinating Council. It is the educational arm and an active member of the tripartite department along with the Department of Health – National Voluntary Blood Services Program (DOH-NVBSP) and the Philippine Red Cross (PRC).
With the goal of supporting the continuous advancement of the health professionals of various Blood Service Facilities (BSFs), the PBCC provides training and workshops, as well as technical assistance to health service providers and policymakers.
As an institution, the PBCC has long become the designated educational arm of the national blood program. Throughout its existence, it has fulfilled its mandate by setting up programs intended to educate and enhance the interchange of concepts and workshops on highly-relevant topics with the goal of raising awareness on the need for sustainable blood programmes, robust multi-sectoral policies, meaningful community-based advocacies, and evidence-based protocols related to blood donation, transfusion, preservation, and banking.
Working closely with health professional organizations like the Philippine Society of Hematology and Blood Transfusion (PSHBT), the Philippine Medical Association (PMA), the Philippine Association of Medical Technologists (PAMET) and the Philippine Nursing Association (PNA), the PBCC also conducts training and workshops intended to push forward the development and continuous advancement of health professionals from various Blood Service Facilities (BSFs) nationwide, particularly in the face of the continuous threat of emerging infectious diseases (EIDs).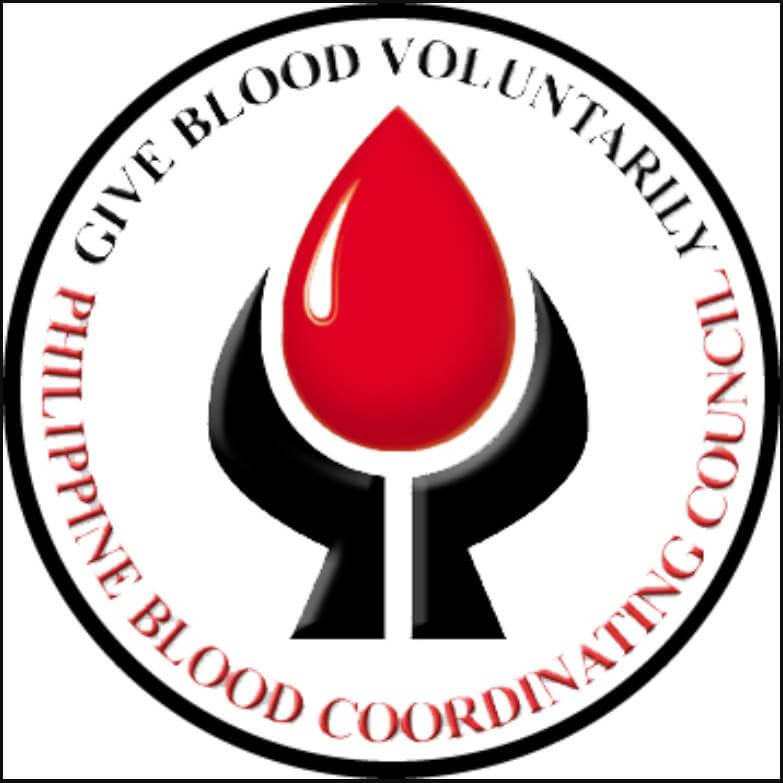 PBCC History
Long before the PBCC came about, blood collection and transfusion had already become a practice. In fact, the preservation and storage of blood in blood banks started early, during World War II, when anticoagulants became a thing. It wasn't until 1948, when the Philippine National Red Cross (PNRC) formally launched the National Blood Program (NBP) that a formal institution related to blood storage and banking was born.
It was created "To maintain a constant and ready supply of whole blood or plasma at least for emergency cases." Subsequently, commercial blood banks came about after the Blood Bank Law (Republic Act No 1517) was ratified to supplement the blood banks of government and private hospitals. The birth of commercial blood banks was primarily prompted by the inability of the PNRC NBP to meet the demand for blood with the supply from the hospital and commercial blood banks alone.
In 1957, the then PNRC NBP gained a new supporter when sixteen (16) blood donors decided to establish the Blood Galloners Club (BGC). In 1980, a professional ad hoc committee was formed to study the decrease in the number of professional blood donors, giving birth tothe idea of voluntary blood donation. It was also at around this time that the idea of a Joint Committee on Blood Banking composed of governmental agencies and health professional associations was born.
In 1983, Dr. Tomas Maramba, Jr., then-President of the Philippine Society of Pathologists (PSP) invited representatives of the DOH, PNRC, BGC, and other health professional associations to a meeting to discuss the need to promote voluntary blood, leading to the creation of PBCC at the PMA Auditorium on September 15, 1983. This creation of the council started the advent of voluntary blood donation on q large scale and improve the use of blood and blood components.
The creation of the PBCC pushed forward policies and programs that are intended to
Provide an adequate supply of safe blood for transfusion, principally via voluntary blood donation;
Encourage the efficient utilization of blood resources.
Ensure an adequate and equitable supply of safe blood and blood products to patients who need them.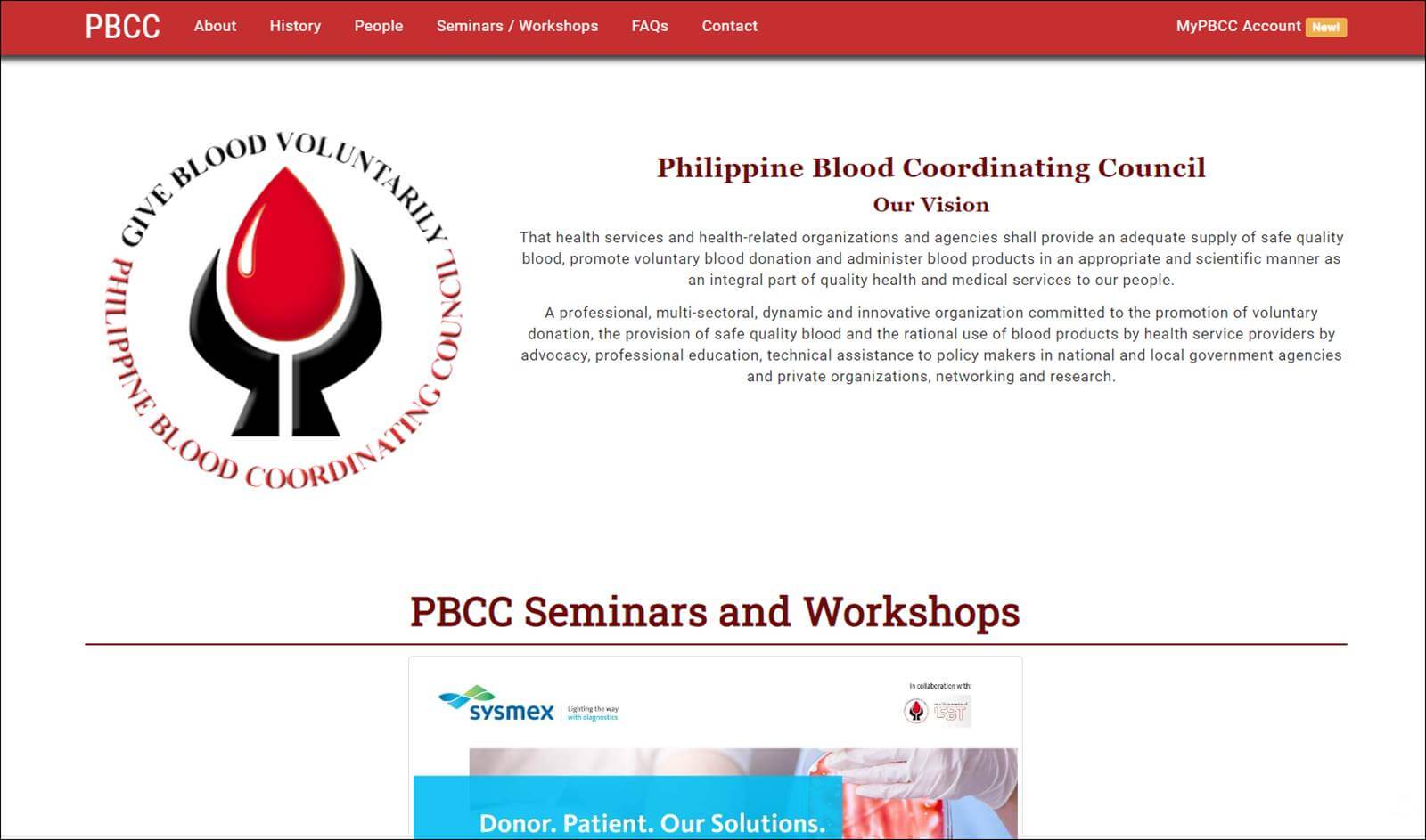 Philippine Blood Coordinating Council: Objectives, Functions, and Roles
As an organization, the Philippine Blood Coordinating Council (PBCC) operates with the following objectives, roles, and functions.
PBCC Objectives
Listed below are the actions and activities undertaken by the PBCC to underscore the importance of information regarding blood donation, transfusion, storage, and banking are:
To disseminate accurate information to the public, especially to children, about the benefits and advantages of Voluntary Blood Donation;
To motivate the various sectors of the society to donate blood voluntarily to ensure safer transfusion and to discourage paid system;
To educate medical and paramedical personnel regarding the proper use of blood;
To promote the use of blood component therapy for optimum blood use;
To improve blood banking procedures and policies especially in hospital-based blood bank;
To promote the interchange of concepts and experiences in blood donation and transfusion practices;
To foster participation in international in Blood Banking and Transfusion activities
PBCC Roles
In carrying out its objectives the PBCC serves in the following capacities:
Primary Objectives
Professional Education
Physicians, nurses and other users of blood
Pathologists, medical technologists and other blood bank personnel
Technical Advice to Policy makers and legislature, National and local government
Consultancy assistance to government agencies, hospitals , private sector and NGOs.
Secondary Objectives
Public information and education
Networking and Coordination
Research
Technical
Administrative
Psychosocial and behavioral
PBCC Functions
The PBCC plays a significant role as it participates primarily in the education of the medical and paramedical professionals related to:
Donor management
Phlebotomy for blood collection
Blood banking procedures
Total quality management
Rational and sustainable blood use; and
The organizational process of active hospital blood transfusion committees.
Video: Philippine Blood Services Act
Here's a video that will give you more information on the Philippine Blood Services Act, which was passed in 1994. This law established the PBCC as a government entity and empowered it to license, monitor, and regulate blood banks and transfusion services across the country.
The PBCC works tirelessly to ensure safe and adequate supply of quality blood and blood components for Filipino patients. It conducts research on the efficient use of blood products, organizes awareness campaigns such as World Blood Donor Day, and provides training programs for personnel related to donor management and phlebotomy, among many other activities. Its advocacy has saved countless lives
Frequently Asked Questions
To learn more about the PBCC, here are some of the most common questions and answers related to it:
1. Does the PBCC have blood or blood products?
No. The PBCC doesn't have blood or blood products as it is primarily engaged in educating medical and paramedical professionals regarding donor management, phlebotomy for blood collection, blood banking procedures, total quality management, rational and sustainable blood use and how to organize active hospital blood transfusion committees. The PBCC also produces public information campaigns related to voluntary blood donation and does not get involved in the retailing, reselling or dissemination of blood and blood products.
If you have blood needs, you will need to contact the nearest blood service facilities (BSFs)—either Blood Centers or Hospital Blood Banks—in your area
2. How do I become a PBCC member?
Becoming a PBCC member is simple. You just need to follow the steps listed below:
Step 1: You will need to create an account online at http://bit.ly/myPBCCAccount first.
Step 2: Once you have a MyPBCC account, you may register for a membership.
Step 3: After registration, you need to pay the membership fee either thru BPI bank transfer or GCash.
Step 4: After payment, you may already upload the proof-of-payment  and wait for the verification.
Step 5: Once verified, you are now an official member of the PBCC and can generate your virtual PBCC ID, request a physical PBCC ID, access the PBCC trainings and seminars, and enjoy the other benefits it offers.
3. How much is the PBCC membership fee?
A PBCC membership costs three hundred and fifty pesos (P350.00) only.
4. I was a PBCC member in the past, and I want to renew the PBCC membership now. How do I do that?
PBCC membership renewal is as simple as the membership application. You may simply follow these steps:
Step 1: Create a MyPBCC account at http://bit.ly/myPBCCAccount.
Step 2: Apply for membership via MyPBCC account.
Step 3: Pay the PBCC membership fee either thru bank transfer (BPI) or GCash.
Step 4: Once paid, wait for the verification of the secretariat
Note: It is important to remember that creating an account at MyPBCC does not automatically make you a member. The MyPBCC site is simply a platform to keep you updated about PBCC events and streamline your registration in the future should you be interested to join PBCC Events. You need to actually apply for membership via the same site to become a PBCC member.
5. Does the PBCC training earn CPD units?
Yes. Some training, workshops, and webinars are applied for CPD units at the Professional Regulations Commission (PRC). The Accreditation Numbers for such events that can be used to earn CPD units are usually posted on the PBCC website and the numbers can be verified at the PRC Website.
6. What is the PBCC membership for?
A PBCC membership is like a free pass that allows you to join or access PBCC training, workshops, webinars, and other events that you deem interesting. Other than that it also comes with other benefits related to blood transfusion and storage.
7. How can I be updated for PBCC events?
To stay updated on the latest PBCC news and events, you may regularly visit:
PBCC Official Website: www.pbcc.ph
PBCC Official Facebook Page: www.facebook.com/pbcc.ph
Contact Information
Philippine Blood Coordinating Council (PBCC)
Office Address: Bld. 18, Lot 16-D, King Edward St., Kingspoint Subd., Brgy. Bagbag, Novaliches, Quezon City
Telephone No.: (632)8-423-54-43
Mobile No: (0917)887 6015
Email: pbccsecretariat@yahoo.com
Summary
The Philippine Blood Coordinating Council (PBCC) may not be as popular or well-known as the Philippine National Red Cross (PNRC) or the Department of Health (DOH). However, it doesn't make the council any less important. As the leading agency in charge of blood reserves, storage, banking, and utilization, it is also in-charge of educating both medical and paramedical professionals, other health professionals, and even the masses about blood donations, voluntary blood donations, blood banking, and blood component therapy in the Philippines.