Filipino tourists and OFWs departing from the Philippines for international travel need to be aware of the recent revisions to travel and document requirements needed by the Philippine Bureau of Immigration. These updates are made effective on September 3, 2023 and provide clearer definitions regarding documents, inspection processes, and other related issues.
The new measure outlines the standard requirements as well as additional supporting documents for outbound travelers. It is important to note that foreign embassies up[on arrival may require additional documents depending on the country's regulations.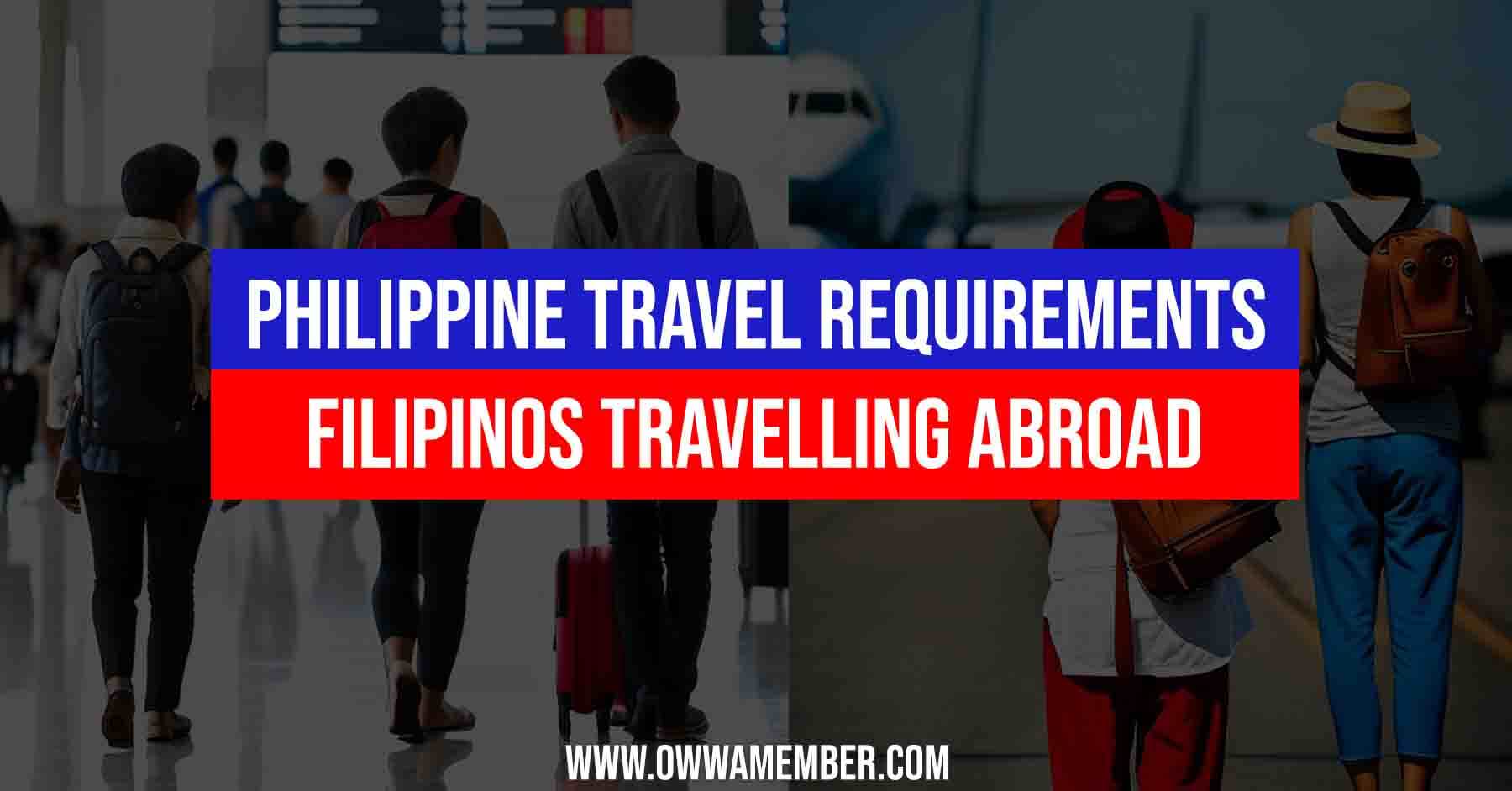 List of Important Documents for Outbound Travel for Filipino Passengers to Philippine Immigration
Before the anticipation of your international journey takes over, let's revisit the crucial documents you'll need when departing from the Philippines:
Passport Valid for 6 months – Confirm that your passport is valid for a minimum of six months from your expected date of departure.
Visa – Possess the appropriate visa, if required.
Airplane Tickets/Boarding Pass – Keep your boarding pass at hand for a smooth travel experience.
Return Ticket – If necessary, don't forget to have a confirmed return or roundtrip ticket.
Additional Documents for Different Categories of Travelers
Self-Funded Travelers
For tourists traveling on their own means:
Hotel Booking/Accommodation – Evidence of your accommodation should be available.
Financial Capacity to Travel – You need to prove your financial capacity or income source. This may include proof of employment.
If being sponsored by a relative abroad within the 1st civil degree, you need:
Original birth or marriage certificates or PSA-issued reports.
Copies of the sponsor's passport and work visa/residence permit, if applicable.
An Overseas Employment Certificate if the sponsor is an OFW.
For sponsorship by a relative abroad up to the 4th civil degree of consanguinity or affinity, you must:
Provide a notarized Original Affidavit of Support and Guarantee.
Include a confirmed return or roundtrip ticket.
Present birth or marriage certificates/report substantiating your relationship with the sponsor.
Non-Relative or Legal Entity-Sponsored Tourists
If you're a tourist sponsored by an unrelated individual or a legal entity, you will need:
A Notarized Original Affidavit of Support and Guarantee.
Convincing proof of the link between you and your sponsor.
A confirmed return or roundtrip ticket.
If sponsored by a legal entity, documentation proving the sponsor's registration.
Traveling with a Local Sponsor
For those traveling with a local sponsor:
An affidavit executed by your local sponsor, duly notarized.
Proof of your relationship with the sponsor.
A copy of your sponsor's return ticket aligning with your travel plans.
Overseas Filipino Workers (OFWs)
OFWs gearing for departure need:
First-time departing OFWs require an OEC or OFW clearance from DMW, a valid employment visa or work permit, an employment contract, and a visa usage undertaking or manpower request.
Balik-Manggagawa (BM) OFWs need a valid employment visa or work permit, an OEC or OFW clearance issued on-site, or a BM OEC Exemption, and proof of employment.
Direct-Hire OFWs need an OEC, E-receipt, or OFW Clearance, and a valid employment visa or work permit.
Special Travel Exit Clearance is necessary for locally employed seafarers on a Philippine Registered Ship's conduction from a foreign port to the Philippines.
Guidelines on Departure Delays and Secondary Inspections: Don't do These Things at The Airport!
The recently released guidelines highlight the circumstances when immigration officers may postpone a passenger's departure. These include:
refusal of secondary inspection,
suspicions regarding travel intent,
discrepancies or insufficiencies in travel or supporting documents,
hiding or misrepresenting travel details,
presenting fraudulent or tampered documents,
unmet conditions of previous deferred-departure, or
concerns about potential illegal recruitment or human trafficking.
Secondary inspections should ideally conclude within 15 minutes, starting with the interview by the secondary inspection officer.
This attention to detail and adherence to the guidelines reflect the IACAT's commitment to preventing human trafficking and protecting the rights and welfare of Filipinos. To report incidents of human trafficking, they provide the 1343 Action Line in Metro Manila or (02) 1343 outside Metro Manila.
IACAT (Inter-Agency Council Against Trafficking)
The Inter-Agency Council Against Trafficking (IACAT) is a multi-sectoral body composed of government, civil society, and non-government organizations working towards the prevention and suppression of human trafficking in the Philippines.
Its oversight over passenger departures at airports helps protect Filipinos, particularly those vulnerable to exploitation and illegal recruitment.
Philippine Bureau of Immigration Inspection Rules
If you are wondering about the rules and inspection when departing the Philippines, you now have a clearer idea of the documents required for outbound travel and regulations set by the Inter-Agency Council Against Trafficking (IACAT). Make sure that you are up to date with the latest information so that your journey is as stress-free as possible.
Here's the infographic about the documents requirement during inspection by PH Immigration officials: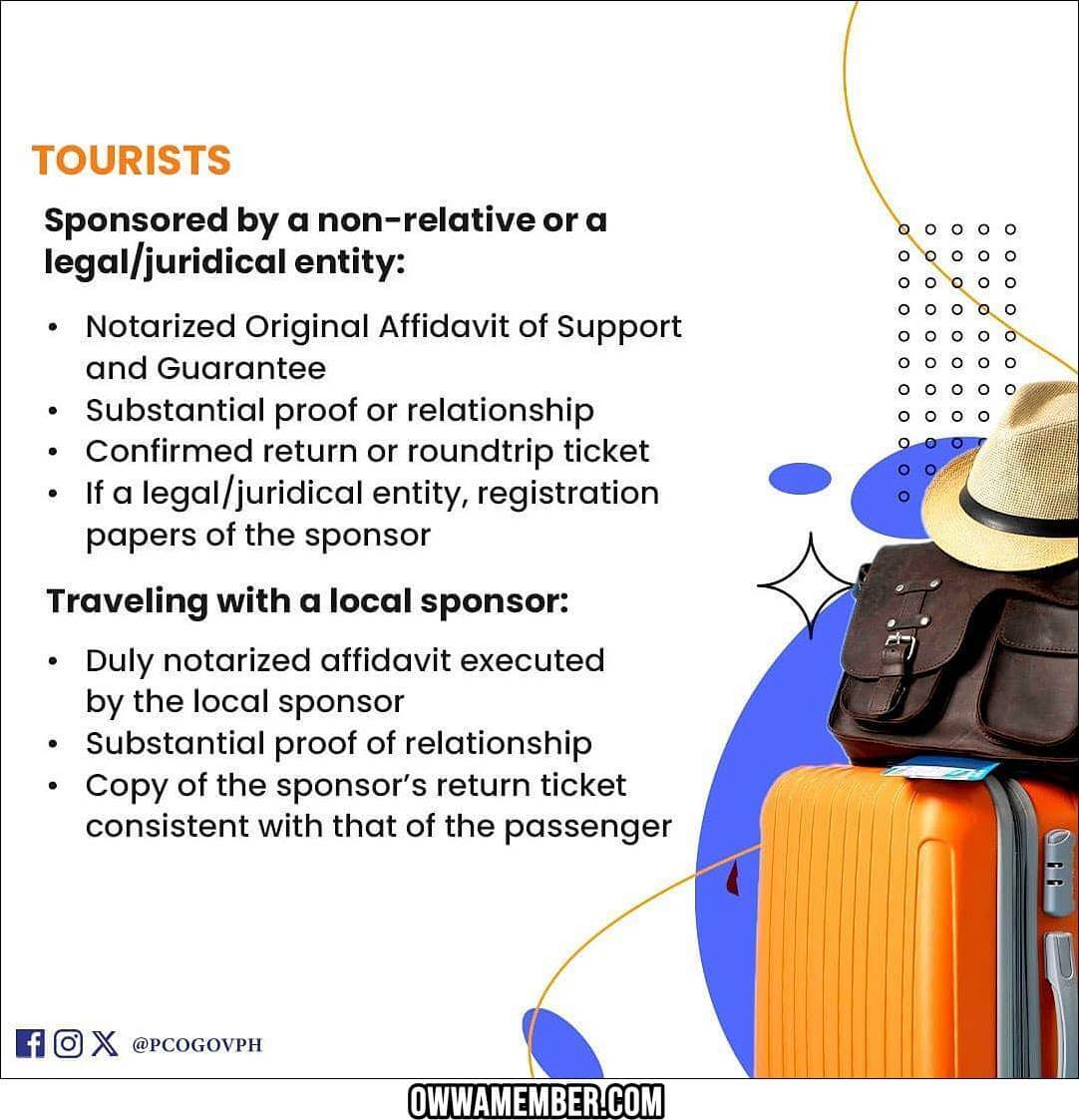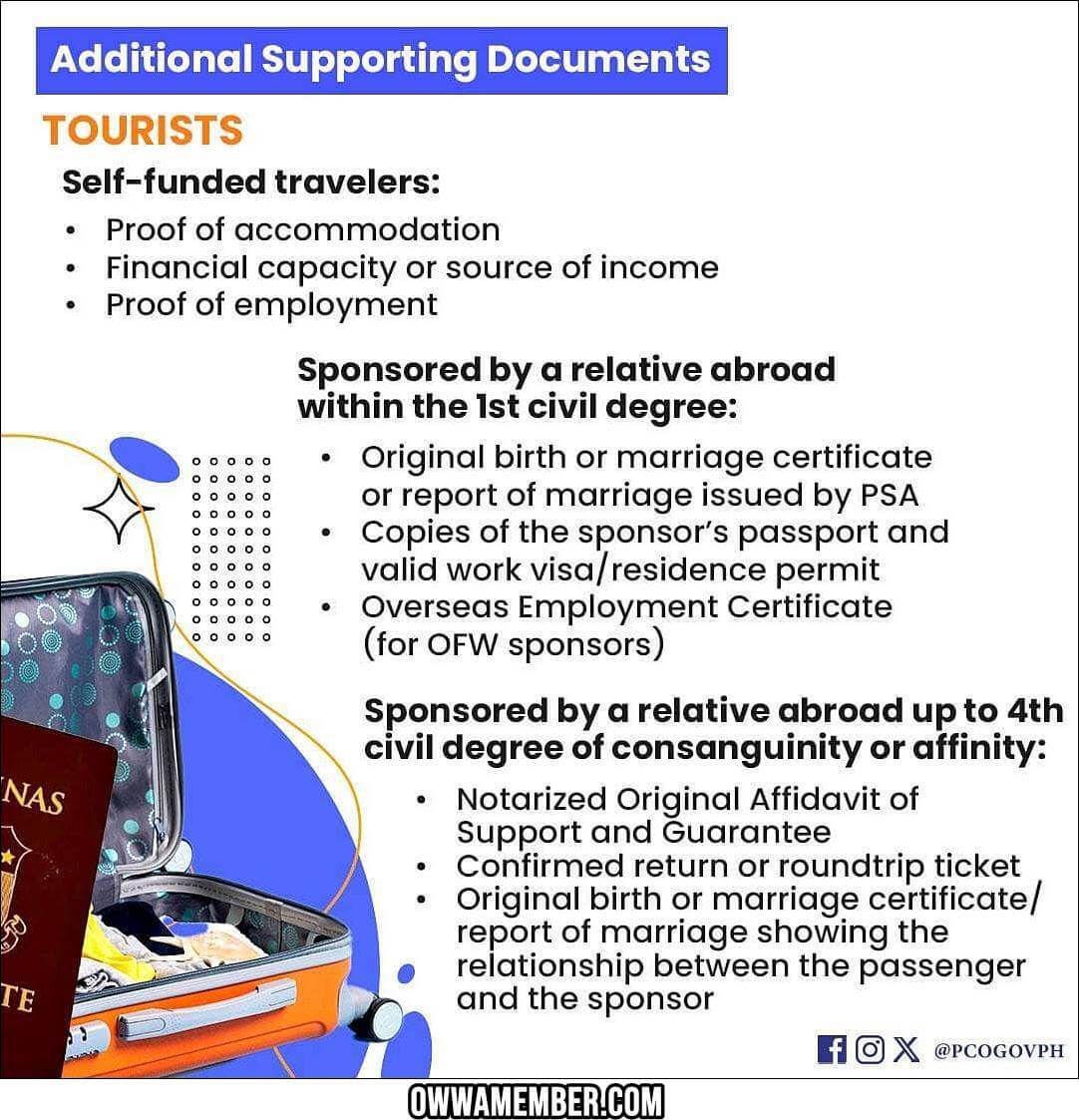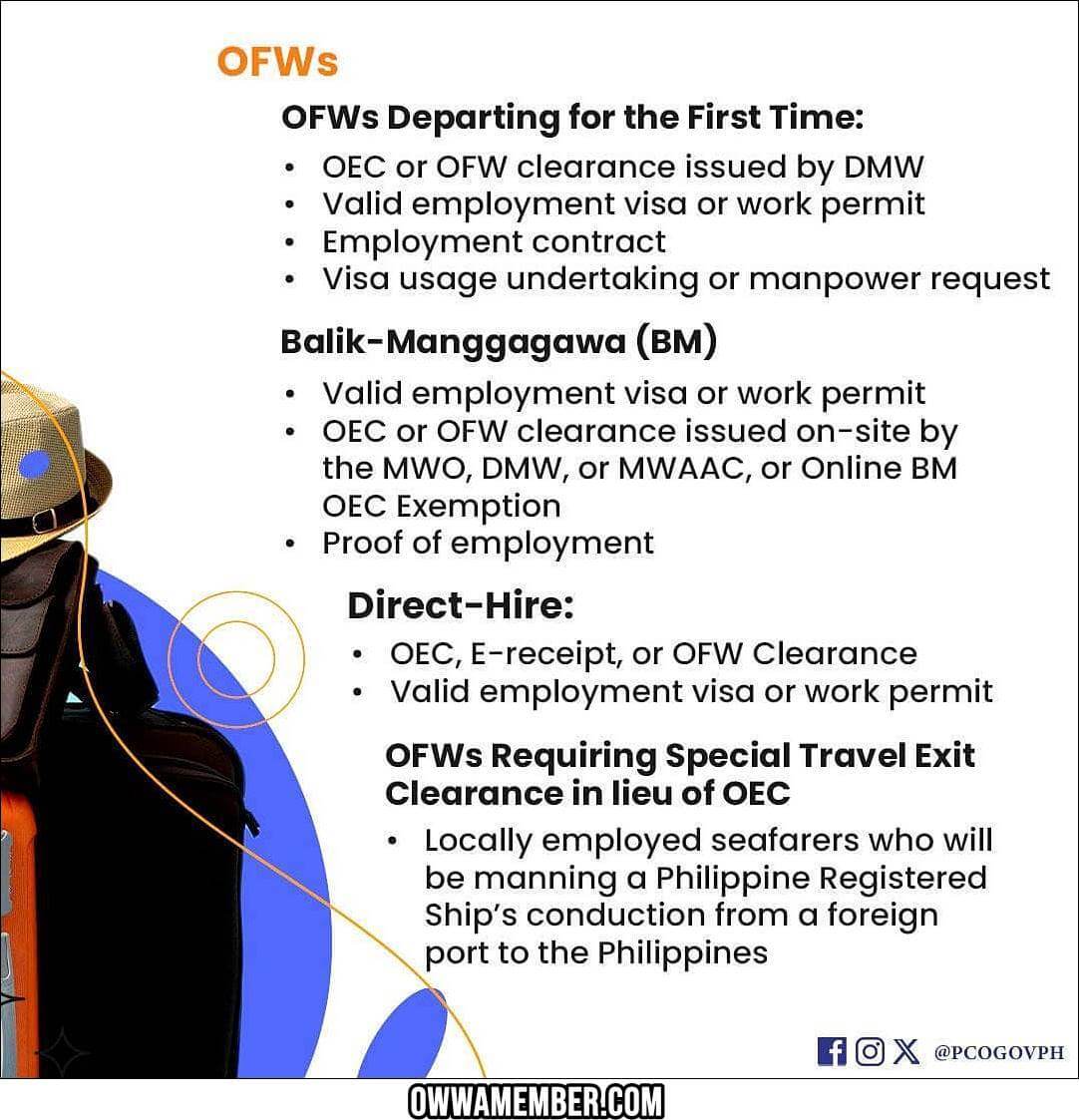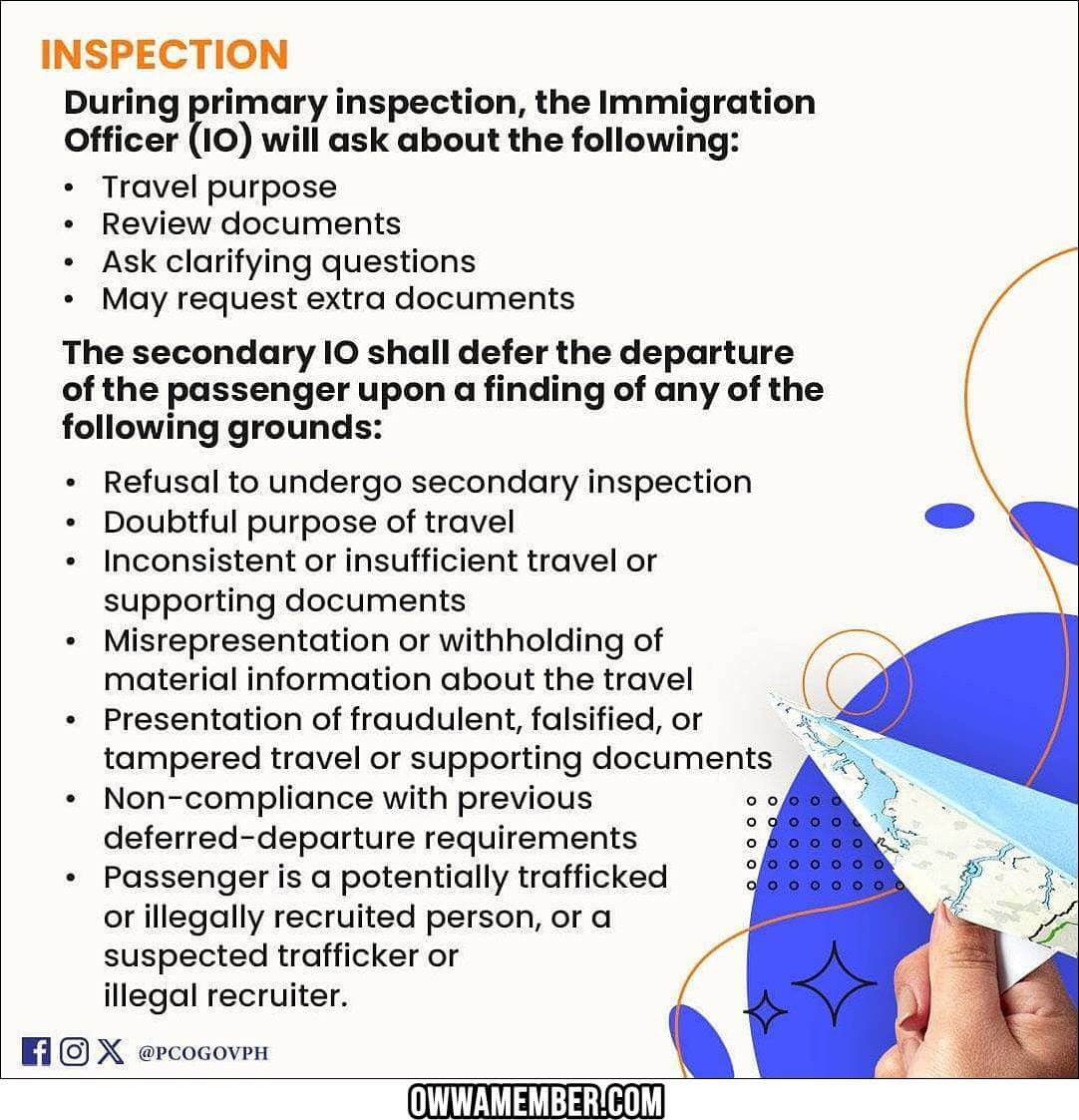 Along with being responsible for your safety during travel, remember to also be vigilant of human trafficking and be on the lookout for suspicious behavior or activities. Doing your part to report incidents of trafficking will ward off potential exploitation of Filipinos abroad from exploitation and human trafficking. Traveling should be an enjoyable experience, and we hope you make the most out of it!
Video: Revised Departure Guidelines for Filipino Passengers from Philippines for International Travel
Please check out this news report video by UNTV news talking about updates on the new guidelines for international travel:
In addition to the documents mentioned earlier, travelers should be aware of other laws and regulations in the country they are visiting so that they can comply with them accordingly. Some countries may have strict rules when it comes to carrying certain items or engaging in particular activities while abroad. It is important for
Summary
Understanding the updated travel requirements is key to ensuring a smooth and hitch-free journey from the Philippines. Effective from September 3, these guidelines are designed to simplify outbound travel for everyone, tourists and OFWs alike. Being prepared for inspections and adhering to the IACAT's guidelines not only streamlines administrative processes but also plays a part in protecting the rights and well-being of our fellow Filipinos.