You might find the ideal job on the Department of Migrant Workers (DMW) website previously known as the Philippine Overseas Employment Administration (POEA). The website is user-friendly, so it'll be useful. All you have to do is understand how it works.
DMW guarantees that POEA job orders from licensed agencies are legitimate. A lack of knowledge contributes to the fact that many overseas Filipinos workers (OFWs) fall victim to fake job orders. Searching for legit jobs on the POEA website can also give you more chances to be employed. With the help of DMW, you will gain access to numerous job orders available in various countries around the world. You can filter out which positions fit your qualifications and skills. You can also look for job openings that you find interesting.
This article explains how to find the ideal job abroad, as well as how to verify a job order's legality and an agency's licensing. As well as avoiding being a victim of illegal recruitment.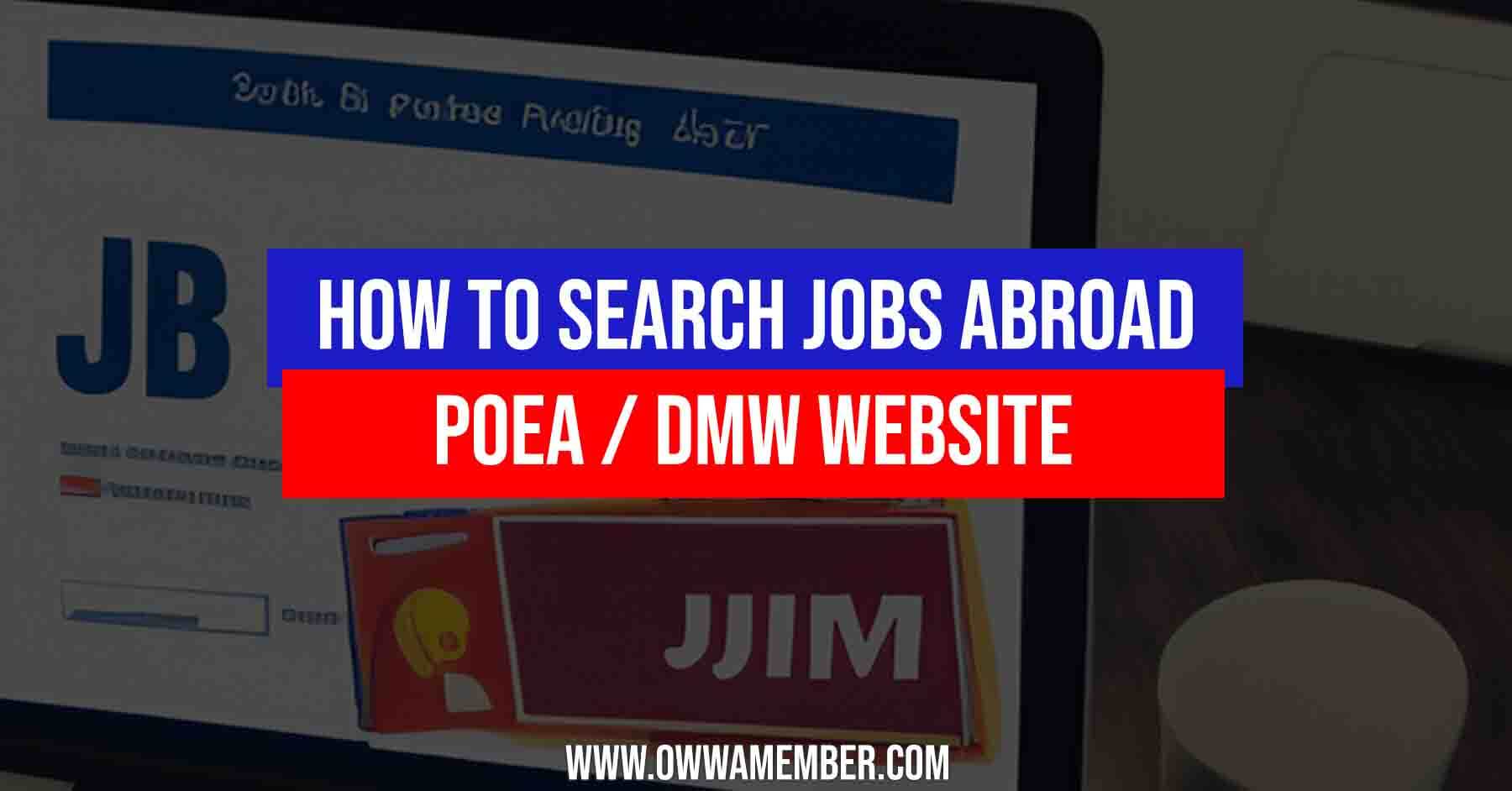 Aside from the job orders available on POEA website, DMW also offers helpful resources to help you become a successful migrant worker such as online seminars, forums and other informative materials about working abroad. With this, you can better prepare yourself before accepting any job abroad.
You should also take note that POEA website requires authentication before you can start your search for job orders. This ensures that all jobs posted on the website are legitimate and from reliable companies or agencies. Furthermore, it also allows you to double-check if an agency is licensed and not a fake one.
Qualifications
You must first determine whether you are qualified to work overseas and for the type of job posting listed on the POEA website. After all, you don't want to apply for jobs that you are not qualified for it. It is important to be aware of the requirements necessary for a certain job order, as well as familiarize yourself with the country's culture and language. In general, here are specified minimum age requirements: in order to be qualified for domestic employment, applicants must be over the age of 18 years old and physically fit to work.
Requirements
Following are the Documentary Requirements for Applying Jobs via DMW / POEA Website:
2 pieces 2×2 pictures
Active Email Address
Medical Certificate (if applicable)
Certificate of Employment (at least 2 years of experience)
NSO Marriage Contract (if married)
Passport
Postgraduate diploma (if applicable)
PRC License and Board Exam Rating (if applicable)
PSA Birth Certificate
Training Certificates from TESDA or TESDA-accredited centers
For Muslim Applicants: Certification from National Commission of Muslim Filipinos
NOTE:
The list was compiled using the most recent TWO years' length of active job orders from licensed recruitment agencies. It shows the job orders that remain after considering the workers whose documentation has already been processed by POEA.
If neither the employer nor the recruitment agency cancels the job orders, they are still regarded as active.
The website cannot ensure that the positions are still open nevertheless, as the hiring companies may have accepted qualified applicants for the listed jobs.
Check with the agency to see if the job order is still active.
How to Search for Jobs Abroad via POEA Website
The POEA website features a job search hiring for Filipino applicants looking for work abroad. You can follow the simple steps below in order to know how you can easily find a job opening based on the existing job orders for a certain position, location of country assigned, or recruitment agency handling the job order.
Step 1: Visit the DMW / POEA Online Service Website here – https://www.dmw.gov.ph/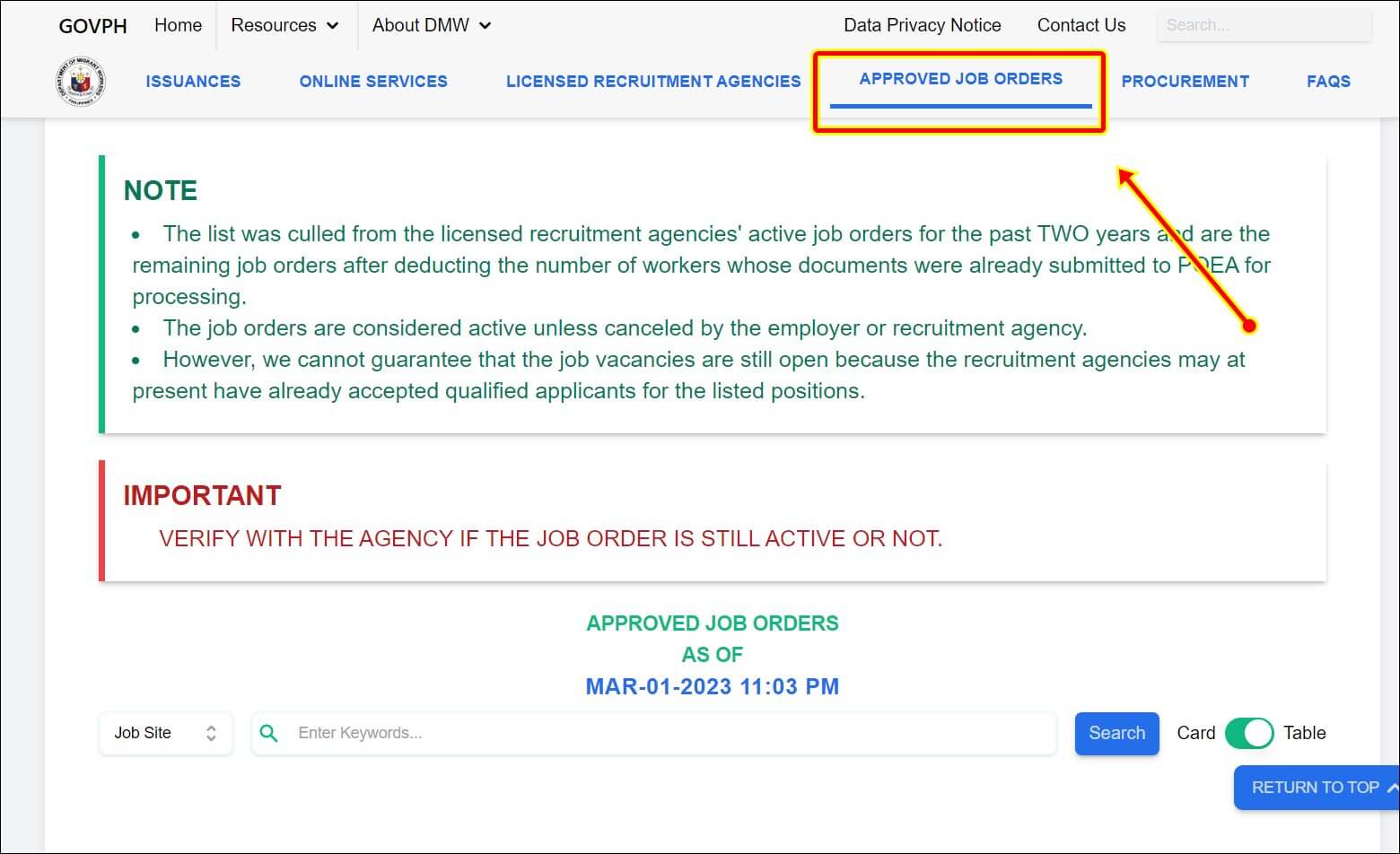 Step 2: Select "Approved Job Orders".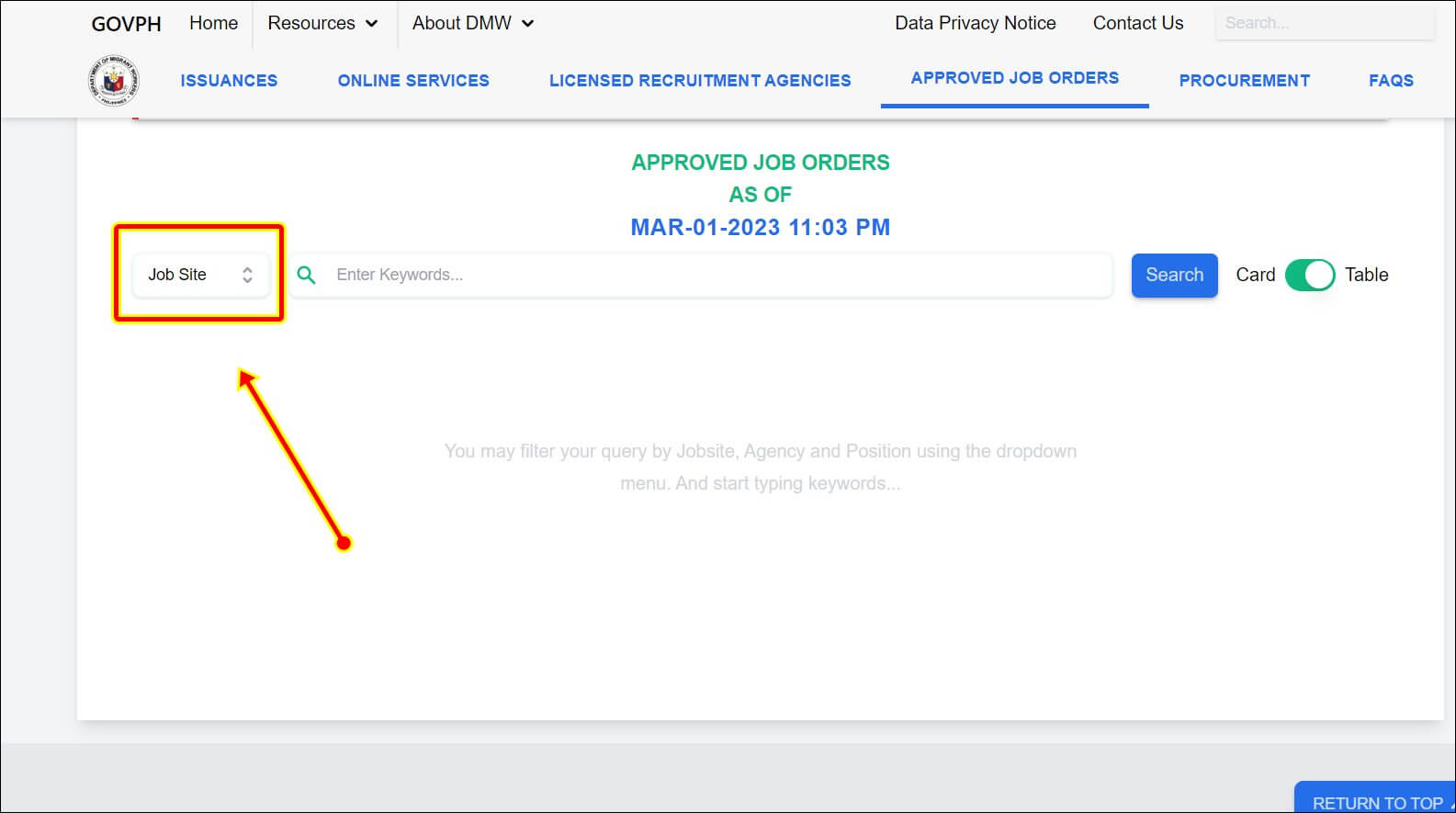 Step 3: On the Job Site tab, enter the country you want to work in. You can select between a card or table format for the list.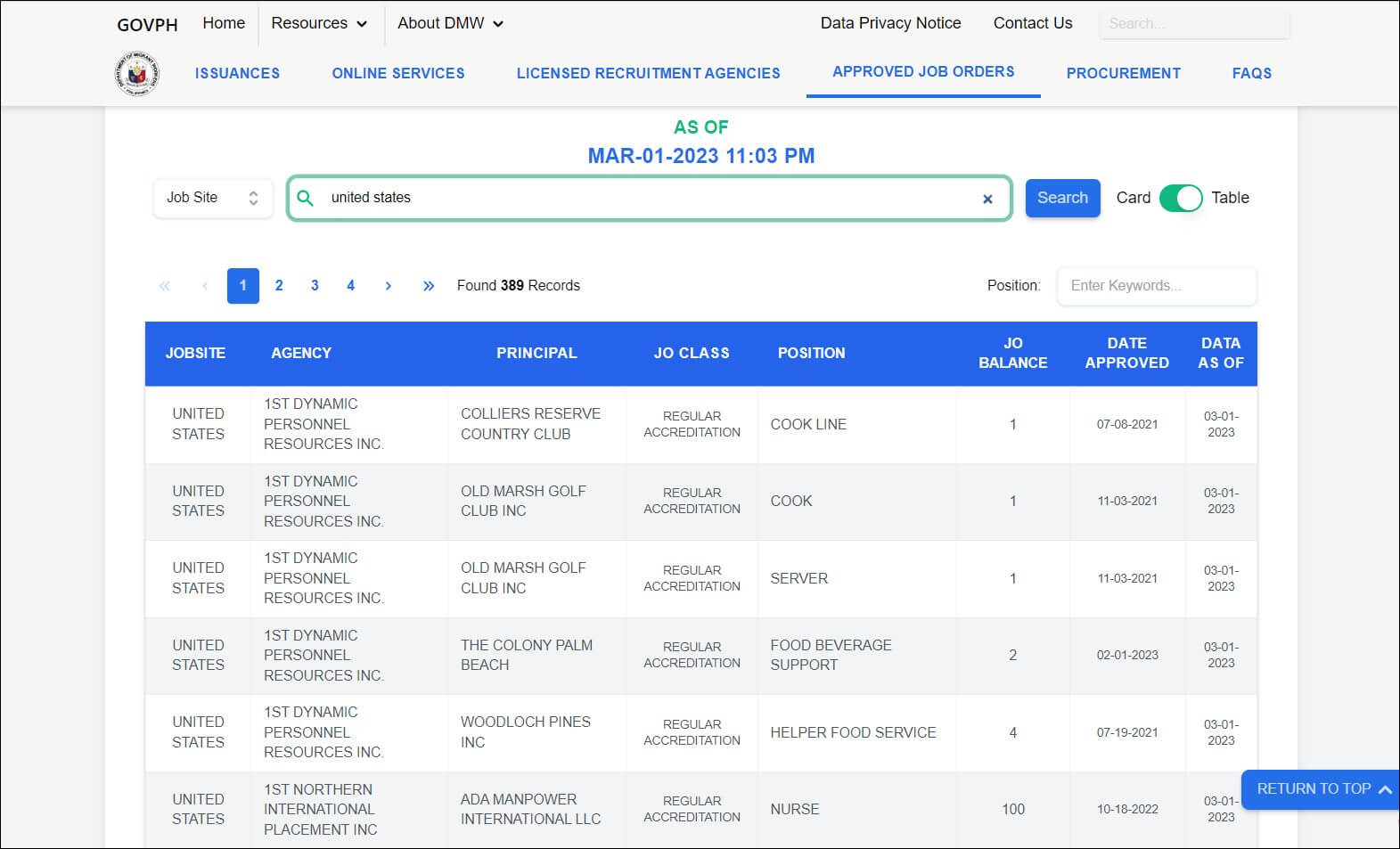 You will see DMW-listed and approved job orders for your selected country. Once you've decided on a position, get in touch with the DMW-accredited company for more details. Some positions require experience, while others don't.
How to Check if the Recruitment Agency is Licensed
Once you find a job opportunity for abroad work, it is important to check if the recruitment agency handling that job order is licensed by POEA. After all, you don't want to end up processing your documents for an unlicensed job agency in the Philippines. It is illegal to apply for a job if the recruiter does not have a valid license.
Step 1: Click "Licensed Recruitment Agencies" beside "Approved Job Orders".
NOTE: All employment agencies, both on land and at sea, that have been granted a POEA license to hire Filipinos for positions abroad are included on the list. Agencies with licenses that have been cancelled or suspended as well as those that have been permanently banned from working in the recruitment sector were also mentioned.
Step 2: This step verifies the agency's status. Type the name from your chosen agencies, then click "Submit." It provides the agency name, classification, status, expiration date, address, contact information, and other information. You can select between a card or table format for the list.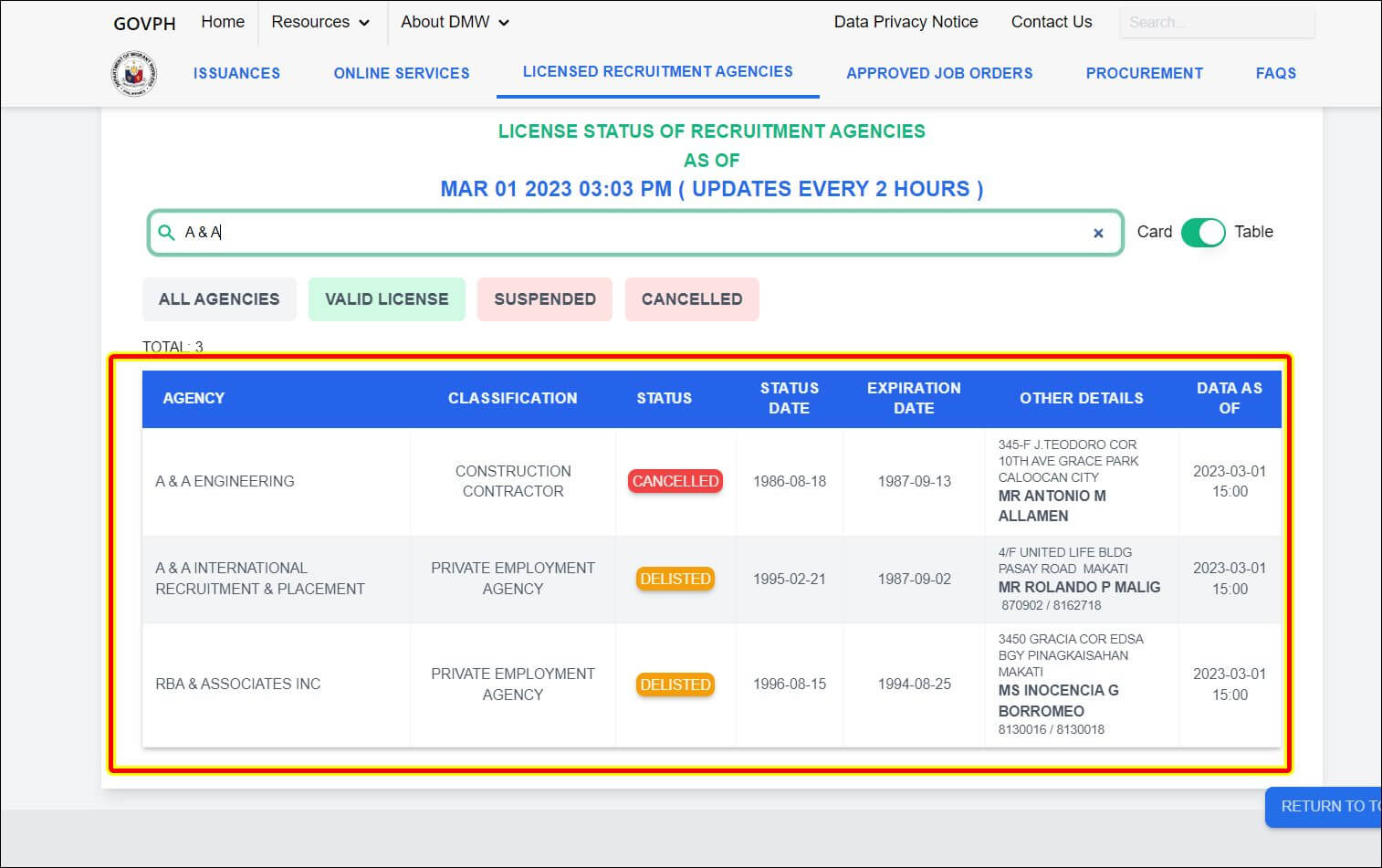 The agency's standing and license status can be determined by looking at this. You can choose and click whether you want to see all agencies, valid license, suspended, and cancelled. You can learn more about the agency' current status and get complete company information from this.
How to Get Better Chances to Get a Job Offer
To get better chances to get a job offer, you must make sure that your documents are properly authenticated and certified. This means that all the information on them is correct and up to date. Here are some tips for making sure that your documents match what employers require:
Step 1: Like with any job, prepare yourself to increase your job opportunities.
Step 2: For further details on the position, get in touch with the agency. These concerns range from what documentation is needed to what tests, training, and qualifications you need to comply with.
Step 3: Edit your Resume and portfolio after understanding more about the position to highlight the skills and experiences that the employer wants. You can learn about the work culture and customs of the country by doing an online search; this will help you ace your interview.
Step 4: In case employers look for applicants who speak the language fluently, practice listening to the language of your chosen country.
Step 5: Give the agency your resume, then wait for a response.
How to Accept a POEA Job Offer
If your interview goes well and you comply with the requirements, you'll be able to get a job offer. mentioned below are the steps you must take to accept a POEA-approved job offer:
Step 1: After receiving an offer, read and understand the contract before signing it. It is important that you review all of the terms and conditions stated in the contract including salary rate, duties, and responsibilities, as well as applicable benefits.
Step 2: Once the contract is signed, the agency will start processing your documents. They will also provide you with orientation on how to work abroad and ensure compliance with POEA regulations.
Step 3: Submit all the required documents according to POEA guidelines. These include passport, NBI clearance, medical certificate and other documents which you can check on the Migrant Workers and Overseas Filipinos website.
Step 4: Attend the Pre-Employment Orientation Seminar or Pre-Departure Orientation Seminar which is usually held by the POEA or OWWA. This seminar provides valuable information that all aspiring OFWs need to know before they go abroad, such as relevant laws and the rights of migrant workers abroad.
Step 5: Travel to your destination after the agency has processed your visa and other documents. Take all the necessary steps to ensure you are safe from start to finish. Once you have settled in, keep in touch with the agency and update them on your whereabouts.
After you have settled in your destination country, keep in touch with the agency and update them on any changes, such as a change of address. This will help both parties stay connected as well as ensure that you are safe and comfortable while working abroad.
Following these steps will help ensure that you have a successful experience abroad and can reap the benefits of being an overseas Filipino worker. Good luck!
Video: Paano Mag Inquire ng Licensed Recruitment Agencies at Approved Job Orders sa DMW (POEA)
There are other concerns that you need to consider when applying for jobs abroad like checking if the recruitment agency has a license.  Check out OFW-Youtuber "OFW Nonoy" in the video below as he discusses his experience checking licensed recruitment agencies and approved job orders
Frequently Asked Questions
If you have any further questions regarding "How to Search for Jobs Abroad via POEA Website", see the list of frequently asked questions and answers below.
1. Can I work abroad without an agency?
An employer cannot directly hire a Filipino national working abroad. There are still certain companies that can employ Filipino workers. Among those who are exempt from the immediate ban on hiring are international organizations.
2. Is it legal for a foreign employer to hire a Filipino worker directly for work abroad?
According to the Memorandum Circular, unless the employer is a member of the diplomatic corps, a member of an international organization, a head of state, or a government official with a rank of at least deputy minister, or in certain other circumstances, "No employer shall directly hire an overseas Filipino worker for overseas employment."
3. What does POEA's job order mean?
Job orders and requests for workers are sent to the POEA. The Philippine Embassy or the POLO (Philippine Overseas Labor Office) in the region attests to the job order. Job orders serve as the basis for the agency's or the POEA's overseas job postings.
4. What does an approved job order mean?
A company is already interested in interviewing and employing you if a job posting includes a job order that has been approved.
5. Which country offers Filipinos the most job opportunities?
Australia
Canada
Untied Arab Emirates (UAE)
United States of America (USA)
New Zealand
6. What is the period of the OFW contract?
The employee's departure from the country and arrival at the location of employment would mark the beginning and end of the contract, accordingly. Moreover, the term of the contract should be included, such as two, three, or five years.
7. Can I directly apply for Job using DMW / POEA website?
Yes, you can directly apply to the job openings using DMW / POEA website. You only need to search for the job that best fits you.
8. Is it possible to work abroad without experience?
You can work abroad even if you lack experience; several employers hire recent graduates. Nonetheless, a minimum number of years of work experience is required for some positions.
Summary
Being an OFW is difficult; you will move to a foreign country without any friends or acquaintances, which makes it hard to adjust, among other challenges. Always ask yourself a thousand times if you are up for the challenges of being an OFW.
It takes a lot of work and effort to apply for a job abroad. Luckily, DMW / POEA assist us in making the OFWs application simpler and more manageable. They have created a website that gives us many options to explore while staying in the comfort of our own homes.
These easy steps will provide a simpler way for you to apply.  Before you start looking for a job, make sure to list your aims and the companies you'd like to work for. Be patient. Finding the ideal job, though, might be worth the effort in the end.